In a country with so many mountains and so much winter snow, avalanches are a genuine risk in much of Norway. Here's what you need to know, whether you're a resident or visitor.
At this time of year (early April), not a day goes by without a report of another avalanche somewhere in Norway. People die every year in the mountains of Norway, both locals and tourists.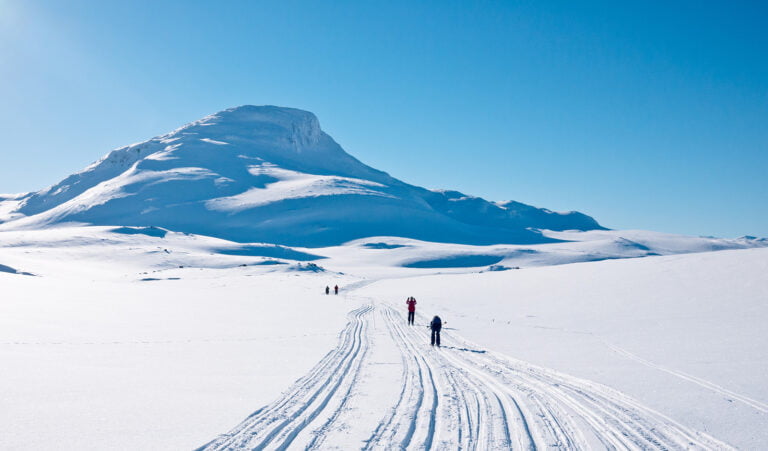 It's sadly never a surprise, because an astonishing 7% of Norway is at risk from avalanches.
If you live in a mountainous area, or you are visiting Norway for a skiing trip, there are several things you should know to keep safe.
What is an avalanche?
Most people have at least some idea of what an avalanche is. But if not, read on! An avalanche can best be described as a rapid flow of snow down a mountainside or other slope.
They can be caused by weather–such as increased precipitation–or by other means such as human activity or even seismic activity. Quite often, it's a combination of factors that sets off an avalanche. We'll look at the different types of avalanche later.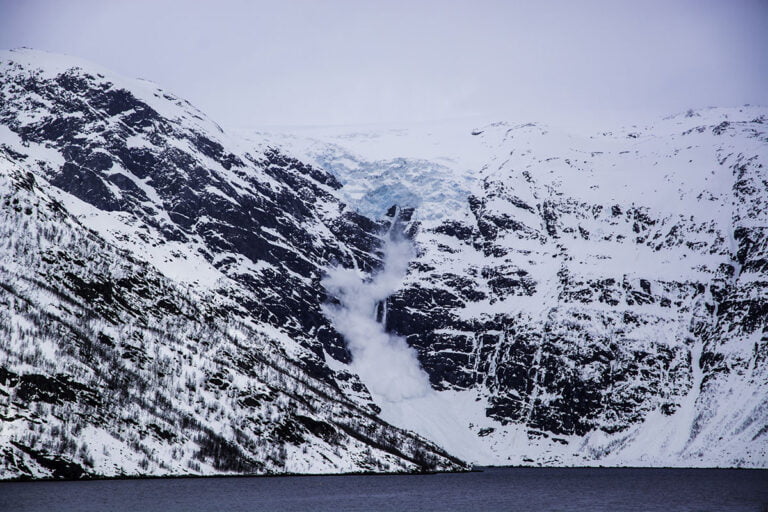 Every winter in Norway, sections of roads and railways are closed due to these events. You don't even need an avalanche for your life to be disrupted, however. The risk of them also causes many people to be evacuated from their homes.
Avalanche forecasts in Norway
Detailed avalanche forecasting is available from the Norwegian Water Resources and Energy Directorate (NVE), together with warnings for floods and landslides. The service has been in place since 2013. Serious avalanche risk is usually also highlighted in weather forecasting apps.
The website varsom.no gives the danger level for various regions and mountain ranges based on international standards. I took the example screenshot below when writing this story:
Danger level 1 – low: The snowpack is well bonded and stable in general. Triggering is generally possible only from high additional loads in isolated areas of very steep, extreme terrain. Only sluffs and small-sized natural avalanches are possible.
Danger level 2 – moderate: The snowpack is only moderately well bonded on some steep slopes, otherwise well bonded in general. Triggering is possible primarily from high additional loads, particularly on the indicated steep slopes. Very large-sized natural avalanches are unlikely.
Danger level 3 – considerable: The snowpack is poorly bonded on many steep slopes. Triggering is possible, even from low additional loads, particularly on the indicated steep slopes. In some cases large-sized, in isolated cases very large-sized natural avalanches are possible.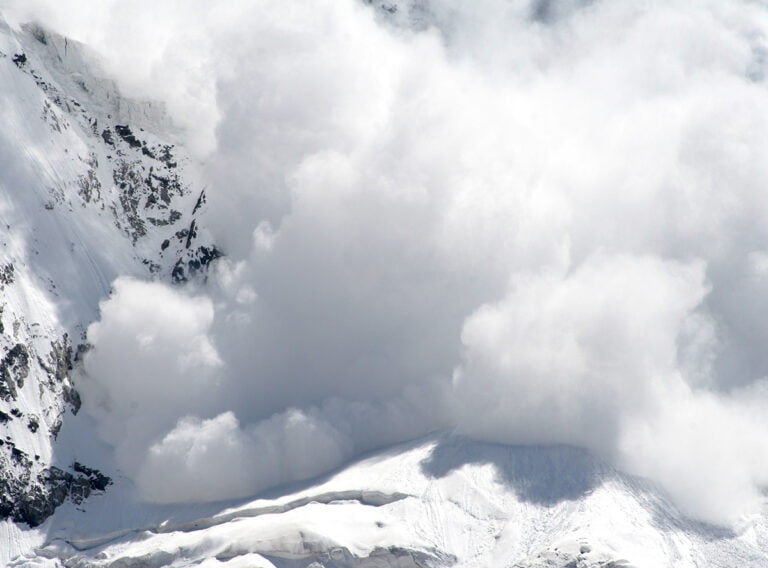 Danger level 4 – high: The snowpack is poorly bonded on most steep slopes. Triggering is likely even from low additional loads on many steep slopes. In some cases, numerous large-sized and often very large-sized natural avalanches can be expected.
How to reduce your avalanche risk
First and foremost, pay attention to the avalanche forecast and choose your routes appropriately. You can also consider avoiding classified avalanche terrain regardless of the forecast. These are available for the regions Romsdalen, Lofoten and Troms.
When you go, make sure you are fully prepared with the proper gear including avalanche safety equipment. Knowing how to navigate safely and survive during harsh, cold conditions are important skills for your group to have.
If you are familiar with skiing elsewhere, be wary of overconfidence. Ski touring conditions in Norway can be quite different. Mainly, the sun plays a much more important role later in the season than elsewhere. Also, long periods with persistent weak layers are common, particularly away from the coastline.
Types of avalanche in Norway
Avalanches are typically related to one of more of the following conditions: new snow, wind-drifted snow, a persistent weak snow layer, wet snow, or gliding slow. Different conditions can cause loose-snow avalanches and slab avalanches.
Loose-snow avalanches typically related to recent snowfall, releasing unbound loose snow. They start at a point and get wider on their way down.
Slab avalanches are quite different. Once triggered, an entire section of snow–typically bonded slow lying on top of a weak layer– falls. They have a distinct, broad fracture line.
You can read more about the types of avalanches in Norway here.
Living in avalanche prone areas
In recent decades knowledge about avalanche risk has increased greatly. If you live in a mountainous area of Norway, there's now plenty of information you should know.
In high-risk areas, measures have been put in place to protect buildings. These include walls and fences. For example, NGI oversaw the construction of a 360-metre-long embankment wall above a hotel in Loen in 2015.
The town of Longyearbyen on Svalbard has been one of the most avalanche prone areas of Norway in recent years. Our changing climate has seen more winter rainfall, causing several serious avalanches that claimed lives. People living in several parts of the town have since been permanently relocated.
Fences on steep mountainsides in urban areas are a common sight in Northern Norway. The picture below shows the fences installed in Hammerfest.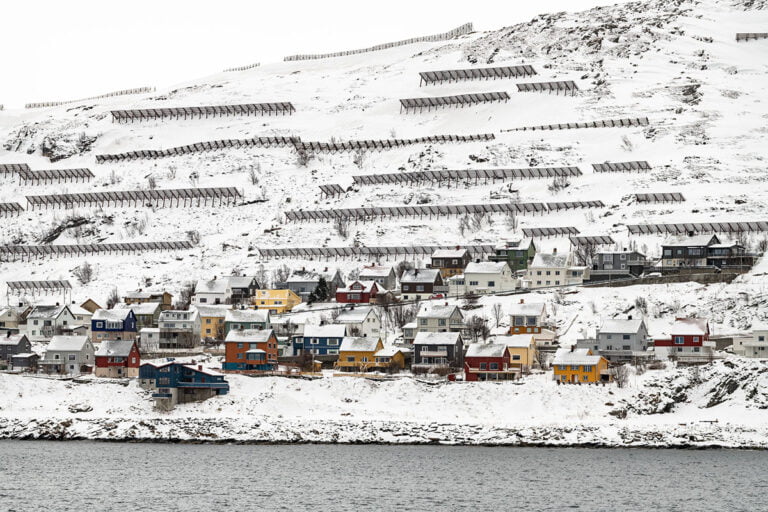 Extensive research has fed into the Planning and Building Law. New private homes are not permitted to be built in areas in which the avalanche probability per year is. greater than 1 in 1,000. The requirement for the construction of hotels, hospitals, kindergartens, etc. is 1 in 5,000. The same rules apply for landslide risk.
Avalanche research in Norway
The Norwegian Geotechnical Institute (NGI) is an independent international centre for applied research and consultancy in engineering-related geosciences, integrating geotechnical, geological and geophysical expertise. They serve as Norway's competence centre for avalanches.
"Our core expertise is related to the mechanisms and the conditions that lead to avalanches, as well as relevant protection against avalanches and measures that can reduce the risk associated with avalanches," states the NGI website.
The challenges and NGI research efforts relating to avalanches include:
modelling and calculation of run-out distance and forces
full-scale measurement of avalanches at Ryggfonn
methods for surveying avalanche-prone areas
new avalanche warning methods and emergency routines
protective measures against avalanches, such as catching dams and snow fences.
NGI engages in international projects with expertise from France, Switzerland, Austria, Italy, the USA and Japan.