After we met up with our friends again, we hit the road, destination Berlevåg. Berlevåg is about a six-hour drive from Hammerfest, and the drive is just beautiful. (Read part one and part two of Maggie's tour of Finnmark first!)
We stopped for lunch in Lakselv, where we had some excellent (but typically expensive) pizza, and later we stretched our legs at this lovely spot with a waterfall, called Adamsfjordfossen.
Here's a short video of the coastline along the north of Norway as we approached Berlevåg:
This lighthouse is also not far away, and it's one spot we'd come back that evening in order to properly view the midnight sun: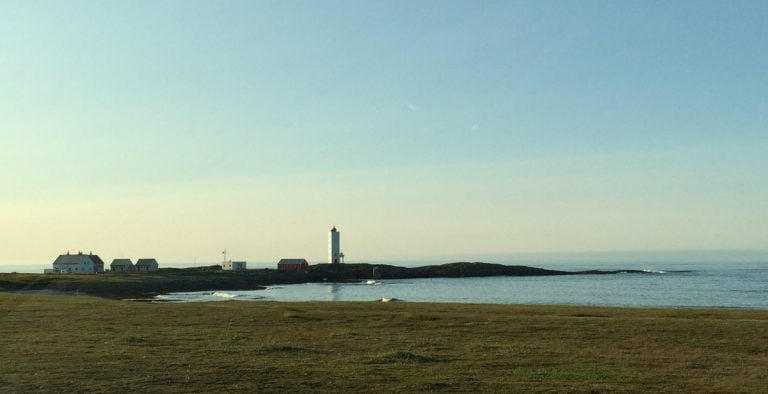 Berlevåg is a fishing town on the northern coast of Norway, on a peninsula east of the more famous tourist spot, North Cape/Nordkapp. It was occupied by German forces during WWII, burned down in 1944 (surprise), and subsequently rebuilt.
There's really only one place in town to stay, the Pensjonat. Fortunately, it's quite nice. The Pensjonat has small apartments upstairs, complete with private kitchen and bathroom, and downstairs are guestrooms that have a shared bathroom in the hallway. Alternatively, you can camp out back. We booked one of the apartments, and it was very comfortable. If you are there during the midnight sun, I do recommend bringing a sleep mask because the shades here weren't blackout ones, unlike in the chain hotels we stayed in.
The Pensjonat is actually run by a Swiss man named Dieter. He is fluent in English, so to book, you can just email him via the website (which currently seems to be only in Norwegian). He was super nice to us while we were there, and even arranged for breakfast on our schedule. Breakfast will cost you extra, but the food offerings were plentiful, delicious, and convenient, so I recommend it.
Dieter and his wife also run the Artic Glasstudio in town, just a couple minute walk from the Pensjonat. I highly recommend stopping by – it's filled with gorgeous pieces of art glass. Many of the pieces actually feature figures from the Alta rock carvings. After we'd visited, I noticed our apartment actually had several pieces from their store. The Glasstudio had lots of souvenir priced items, so I bought a piece of glass to hang from our window at home, which featured the petroglyph porpoises.
One of the pieces in our apartment showing Alta rock carving designs: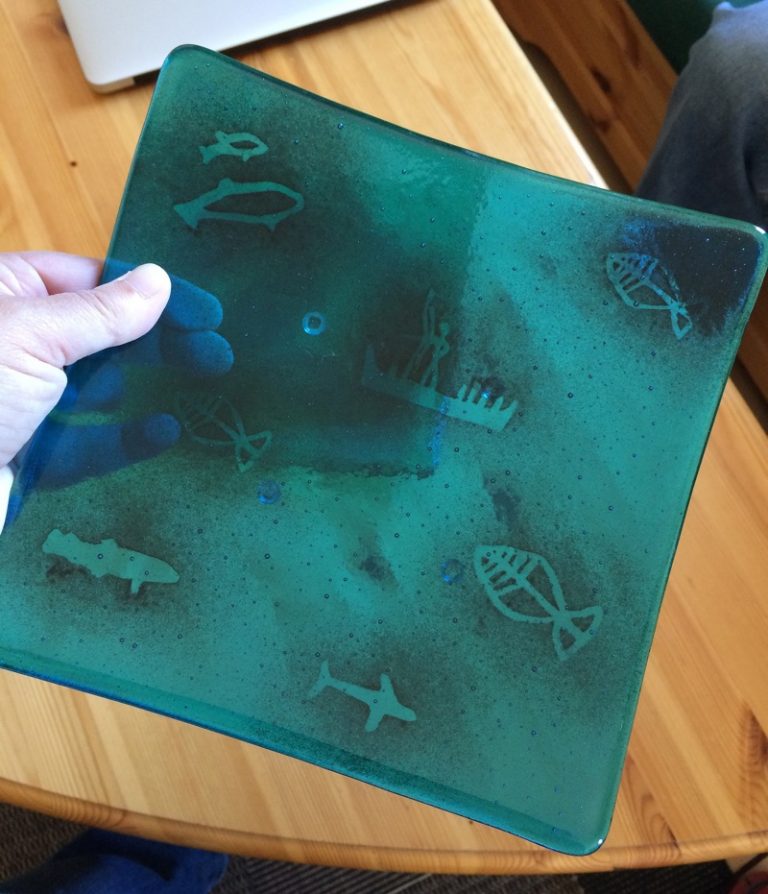 Our friends were playing for the next two nights at the Neptun Pub, but on our first night there, they told us to take the van and go see the midnight sun. So we did. First we drove out to Kjølnes fyr (lighthouse). The original one was destroyed during the War (like everything else in Finnmark, seemingly).
Also, as you can see the lighthouse is not on during the summer – it's not necessary because of the midnight sun!
We drove a bit further down the road, and found a beach from which to watch the midnight sun. It was perfect.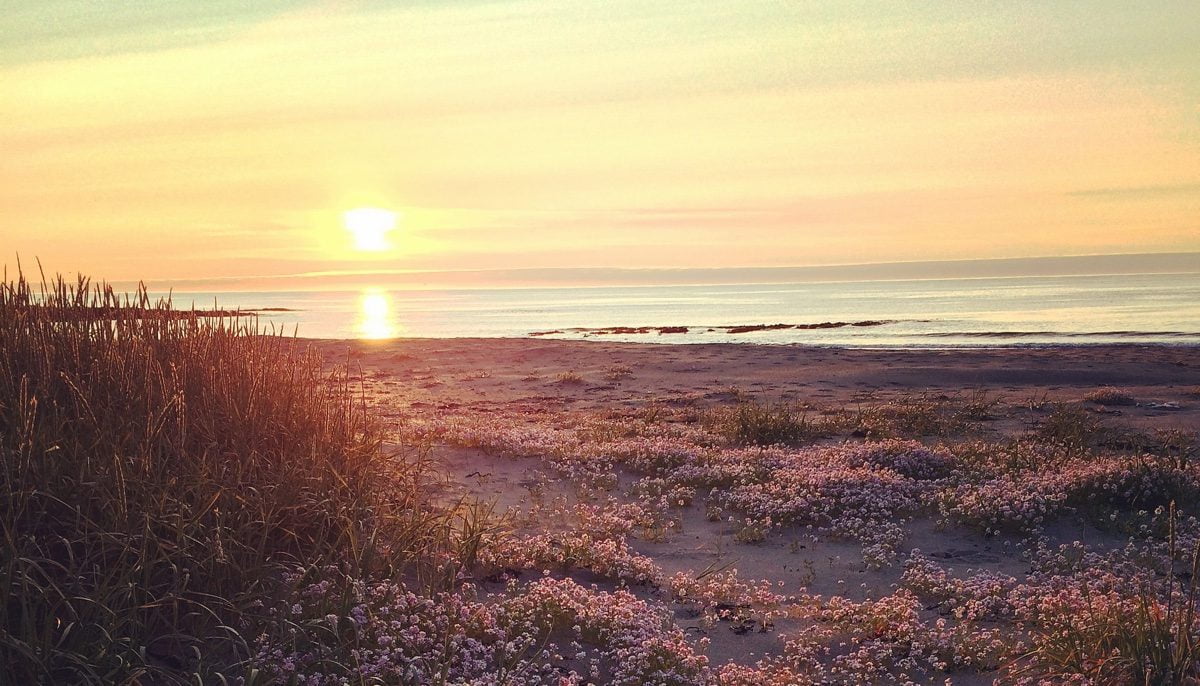 The next day we had time to wander around town. The weather was beautiful – in the 50s F (~13 C) and sunny. We had the band van again, so we drove back to the beach. The water was cold and clear with tons of smooth stones and tide pools, and growing on the rocky beach were plants with tiny purple flowers.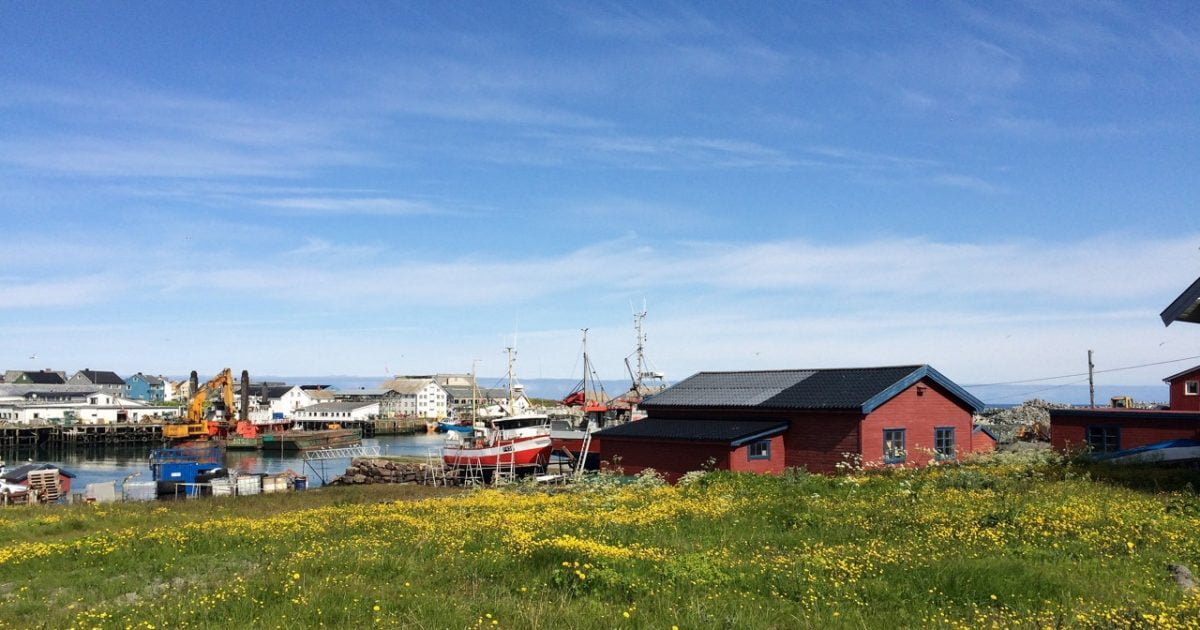 Next we headed down to the big breakwater, which was covered in tetrapods. They are really cool. Their special shape allows them to absorb the energy of the waves because the water can get around and through them.
After that we went to Kafe Velferden for lunch – it might have been the only place in town, but that was one of the best bacon cheeseburgers ever! There was a village festival going on in the afternoon that featured, of all things… a hot dog-eating contest. Here we were in the far north of Norway, witnessing one of the most American things ever.
Afterwards, our group retreated back to the pub to enjoy some reker (peel & eat shrimp) and Mack beer, and just relax. Relaxing with friends and getting the feel of a new place might be one of my favorite parts of travel.
If you plan on visiting Norway, I would definitely try out some of the more northern (or most northern!) cities. You can't beat the scenery, and you'll come home having seen some truly unique, Norwegian things. And possibly a hot dog-eating contest.