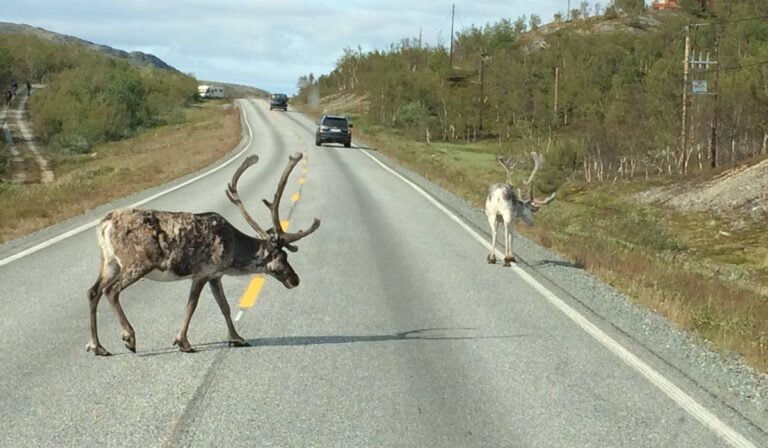 After we left the museum, we met up with my friends, and we started the drive up to Hammerfest. The city isn't far from Alta, just under 2 hours by car. Read part one of Maggie's tour of Finnmark.
Hammerfest, which in the past competed with Honningsvåg for world's northernmost city, has a history as an important Arctic port, especially because its harbor is sheltered enough to stay ice-free year round. Hammerfest was also destroyed by the retreating German army in 1944.
I had no idea what to expect as far as the landscape this far north, but it was gorgeous. Starker than in southern Norway, but still beautiful, especially near the water:
And we saw reindeer! Even though this was nothing new for Kjetil and Kai, they humored the Americans by stopping so we could take photos. Actually, we were sort of forced to stop because the reindeer were blocking the road.
In Hammerfest, we stayed at the Scandic Hotel, because the reviews said it was quiet. We ended up with a beautiful room (I booked a Superior Extra) that overlooked the water. The view was just gorgeous (and I am already failing at coming up with different synonyms for "beautiful" and "gorgeous" because I find one uses those words a lot when describing Norway!)
For example, this was our view at breakfast the following morning:
The downtown area of Hammerfest is so small that even though the Scandic was "quiet," it was still only a few blocks from restaurants and bars. My friends played at Stage, a gastropub/bar nearby, and I even got to join them for a few numbers!
One of the things I learned in Norway, is that you can order "a beer." At home, you have to specify which kind, but everywhere we went in Norway, there was a default beer that you would be given when you ordered "a beer." In Oslo and Bergen it was Hansa, up north it was Mack.
The next morning Doug and I had time to wander around Hammerfest. First we walked about 1.5 kilometers up the road from the Scandic, along the Rv94 highway (there is a walking path) to check out the big polar bear statue that greets you when you first drive into town. The walk, and the site of the polar bear, offers really nice views of the town and the harbor.
Polar Bear Society
Then we walked back into town to hunt for the Royal and Ancient Polar Bear Society, founded in 1963! It's called the Isbjørnklubben in Norwegian, literally the Polar Bear Club. I'd read about it online and couldn't resist finding it so we could join, even though I knew it would be a super touristy thing to do. They actually have a nice little museum there that talks about some of Hammerfest's history.
They are particularly proud of Adolf Henrik Lindstrøm, a Hammerfest native who served as cook on three different polar expeditions, including Roald Amundsen's expedition to the South Pole aboard the Fram, a boat to which there is a museum dedicated in Oslo.
If your cruise (on the Hurtigruten perhaps?) happens to dock at Hammerfest, you can literally follow the painted polar bear tracks right from your boat to their door! If you want to join the Royal and Ancient Polar Bear Society, just ask at the cash register and they will direct you. It might be touristy, but since you can only join in person, the tiny enamel polar bear membership pin was a nice little souvenir of having visited this far off place.
Hammerfest was also having a homecoming festival of sorts, Hammerfestdagan, while we were there, so there were lots of food tents, which we browsed as we wandered around town. There were also lots of bands playing at night during Hammerfestdagan, which is why my friends were there! The annual festival held in July is a great time to visit.