Discover these two charming residential streets and their historic surroundings within easy walking distance of downtown Oslo.
Telthusbakken and Damstredet are two quaint and idyllic streets in central Oslo. They are located in an area with a history that goes almost a thousand years back.
This is a place to visit for those who want to see another side of Norway's capital than the mainstream tourist attractions.
By walking through quiet streets and cemeteries, it is possible to explore some hidden treasures, and learn new things about Oslo that many people may not know.
Both streets are lined with small wooden houses that are around 200 years old. They are well kept and painted in different colours, and with beautiful gardens. Combined with no car traffic, this makes for some great photo opportunities.
Heritage sites
Telthusbakken and Damstredet, are heritage sites. This means the facades and environment must stay intact, but the houses can be modernized on the inside.
Many of the houses have gotten significant additions, and are not as small as they may seem.
Telthusbakken
Telthusbakken is a steep and narrow street running from Maridalsveien (close to Vulkan and Mathallen) to Akersveien by Old Aker Church.
Telthusbakken means the Tent House Hill. The name comes from a canvas storage house that was built for military purposes at the top of the hill in 1755.
Poverty
Telthusbakken was originally the main road connecting the very poor East and affluent West of Oslo. Unprivileged people were allowed to build houses on the hill, because it was rather useless for anything else.
They lived cramped together. In around 1850, 231 people lived on the street.
Diseases, like cholera, were widespread in the 1800s and early 1900s. Very few people had running water, and had to get water from Akerselva, which is very close to the bottom of Telthusbakken.
Unfortunately, in December 2008, there was a fatal fire, resulting in one of the houses in Telthusbakken burning to the ground.
The Oslo fire department managed to avoid it from spreading, and there were only minor damages to other houses. The house that was destroyed has not yet been rebuilt.
Communal gardens
Running alongside Telthusbakken, is Egebergløkka parsellhage. Established in 1915, these are Oslo's oldest communal gardens.
Originally, people in the area could get a very small piece of land to grow vegetables and fruit. This was to prevent famine, and was especially important during the world wars, when there were food shortages.
Today, they are available to rent for people in central Oslo who don't have their own garden, and extremely popular. People who rent them are very serious about their flowers, fruits and vegetables.
Kjærlighetsstien
Kjærlighetsstien, literally meaning "the love trail", probably has Oslo's most romantic name.
It is a narrow path that runs from Telthusbakken down to Fredensborgveien, with gardens on both sides. It is as romantic as the name, and this small part of Oslo feels almost rural.
Old Aker Church
Behind Telthusbakken is the Medieval Old Aker Church, which is Oslo's oldest remaining building and the only church from the Middle Ages.
It was built around 1100, and was originally a catholic church. Catholicism was the religion of Norway until the Reformation in 1536, when the Lutheran-Protestant Church became Norway's state religion.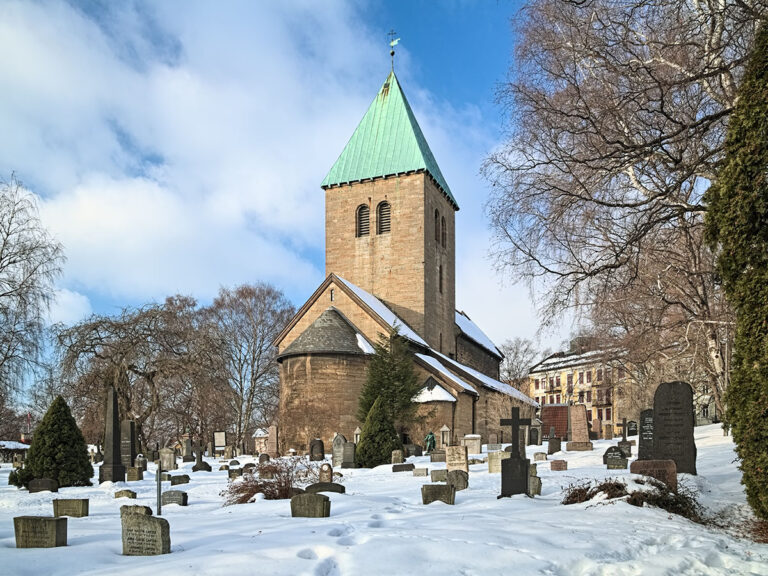 The church is open every Thursday from 16.00-18.00, and entrance is free. There is also service every Sunday, and a pilgrimage mass every Thursday at 18.30.
Dungeons and dragons
Under the church (Akersberget), are caves, and apparently an ancient silver mine, dating back to the early Viking era.
The caves are also mentioned in Historia Norvegiae, a short history of Norway written by an anonymous monk in 1170. This has been, and probably is, the source of many myths and stories, involving dungeons and dragons.
The legend says the church is resting on four pillars made of gold, and between the pillars four ducks of gold are swimming around in a pond. On the bottom, there is a hidden treasure, guarded by a large dragon. People also thought the dragon built the cave itself.
The stories said that from time to time you could see a sulphurous steam from the sleeping dragon coming out from under the church.
There is also a 28 meter deep shaft under the church, which has been explored by divers. Noone has managed to find signs of silver, nor dragons.
This was probably quite typical for the time after Norway became Christian (in 1030); people held on to pagan beliefs alongside going to Church service. It's not hard to imagine stories about dragons, weren't that compatible with the Catholic belief-systems in the Middle Ages.
The entrance is at the bottom of Telthusbakken, and not open to the public.
A romantic hiding spot
Behind the church, is a cemetery, which is larger than it looks from the outside. It is quiet, serene and somewhat romantic, with old graves and small statues.
The cemetery overlooks the back side of Telthusbakken houses and the communal gardens. It also has a great view towards the East side of Oslo.
Oslo Pilgrim Center
Oslo Pilgrim Center is very close to Old Aker Church. If you are planning a pilgrimage to Trondheim by foot, this is the place to go. It is one of six similar centers along the towns and valleys from Oslo to Trondheim.
The centre is free of charge, and also has a store where you can buy guide books, equipment and souvenirs.
Damstredet
Damstredet is a short cobbled street running from Fredensborgveien to Akersveien.
At the top of the street, is what used to be the home of the author and poet Henrik Wergeland. Wergeland is a proud part of Norway's literary history.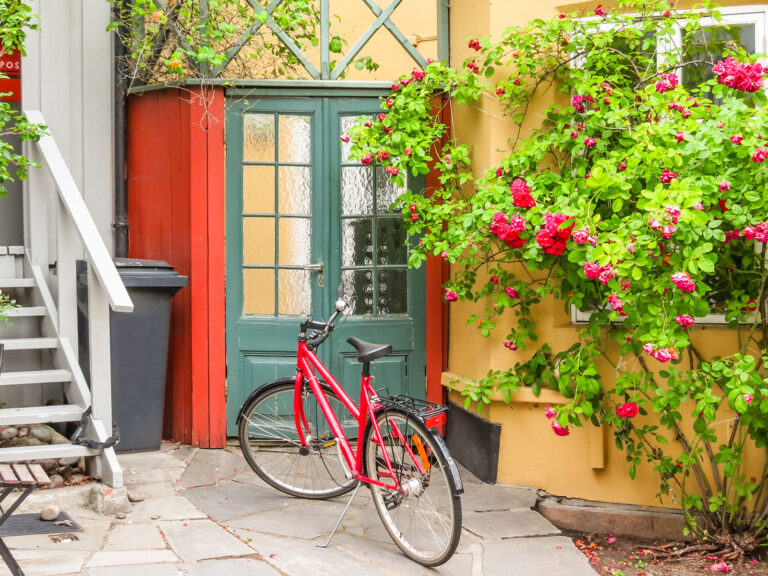 And not only because of his books and poems. His contribution in replacing Danish–the written language at the time–with an independent Norwegian language, is significant.
The house has a blue plaque, which marks Oslo buildings in which notable people once lived. Such blue plaques are also used in London. Behind the house is Veslebrunens stall, which was the stable for Wergeland's horse.
'Asylum' for children
The kindergarten, Hammersborg Barnehage at the top of the street, used to be an 'asylum' for children from 1886, where poor children wandering the streets of Oslo on their own, got picked up and taken care of. The children's playground was in Henrik Wergeland's back yard.
Our Saviour's Cemetery
Our Saviour's Cemetery is a beautiful and old cemetery, located between Akersveien and Ullevålsveien.
This is where some of the most famous people in Norway are buried: the author Henrik Ibsen, the famous painter Edvard Munch, Henrik Wergeland, and many more. There is also a small orthodox church in the cemetery.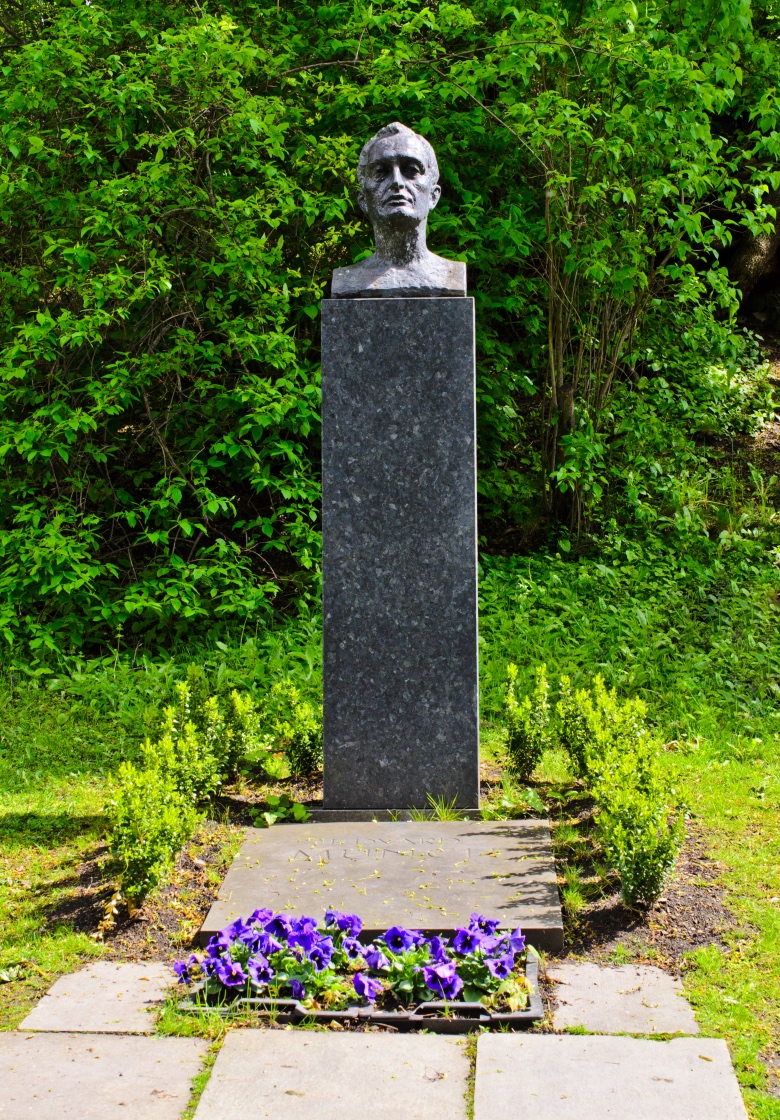 Gustav Vigeland, famous for all the monuments in Vigeland Park, also created a marble sculpture for the family Fabritius in 1899 in Our Saviour's Cemetery.
It is called Fabritius' Angel, and was beautifully restored last year. Now it appears close to its original condition.
It is totally acceptable to walk your dog in the cemeteries in central Oslo, take pictures, or invite someone for coffee and have a chat on one of the many benches.
Although, of course it is a place for peace and tranquility, and there are rules. Also bear in mind that the cemeteries do not have street lights.
When to visit the area
This area is great to visit at all times of the year. But it is like most of Norway, especially beautiful in the spring and summer.
Bus routes 34 and 54 stop at the bottom of Telthusbakken. Route 37 stops at Nordahl Bruns gate by Our Saviour's Cemetery.
Alternatively, the area is easy to access on foot from downtown Oslo, just a 15-minute walk from the Parliament building.