The must-watch reality TV show for anyone considering a move to Norway.
As I write this, I'm sitting on the sofa watching the latest episode in the 5th series of Alt for Norge, an award-winning reality TV show on TV Norge.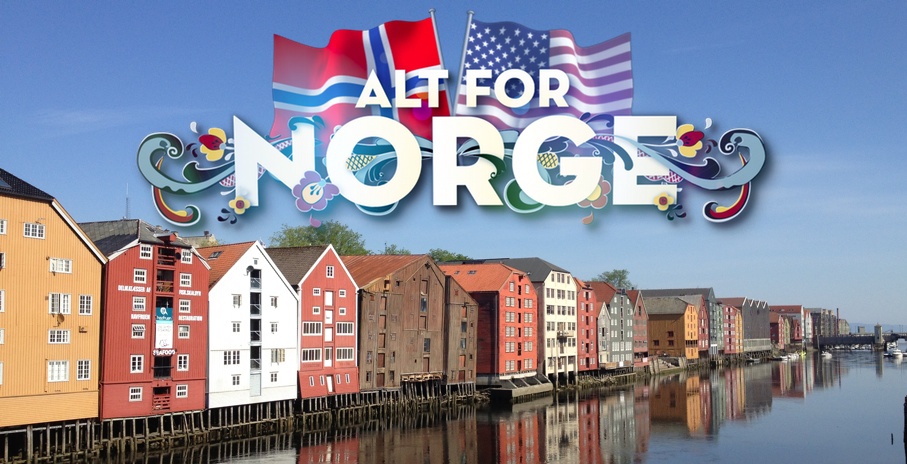 This is something I've been meaning to write about for three years now. Finally, I've put pen to paper! (well, fingers to keyboard…)
Named The Great Norwegian Adventure in the USA, Alt for Norge features a bunch of Norwegian-Americans competing for the chance to meet their Norwegian relatives.
Listen: Remembering Alt for Norge
It may seem a strange concept to many, and indeed it did to me at first. But after spending a week discovering Minnesota's Norwegian-American community last year, all is clear!
The concept of the show
Americans with Norwegian heritage (and there are allegedly over 5 million of them, more than the population of Norway itself) really do seem to love the "idea" of Norway, so to see a select few get to experience what Norway is really like makes for great entertainment.
Great entertainment for me at least – and I suspect all foreigners living in Norway – as the tasks they have to go through mirror my time in Norway so far. Being rubbish at cross-country skiing, attempting to navigate forest trails, learning Norwegian, trying brown cheese, fiskeboller and akevitt, and a whole lot more.
However, unlike the Norwegian-Americans, I've never had to sing a Norwegian song on stage at Rockheim or dress up as Kaptein Sabeltann at Kristiansand Zoo!
This is the fifth series and I haven't warmed to the contestants as much as the last times. Still, it's an enjoyable watch and the highlight of a Sunday evening (especially after watching England labour to victory over Estonia…)
Swearing in Norwegian
Despite not enjoying this series as much, it has provided one of the most entertaining moments so far. The contestants had to dash around a town in northern Norway asking the natives how to swear in Norwegian.
Anyone who's ever been to northern Norway will know they can swear, boy can they swear! So some real classic lines were delivered, which of course, I'm not going to repeat here!
Each contestant had to memorise the swear words, and deliver them at the Norwegian swearing champions while downing a beer. Brilliant.
One of the nicer elements of the show is when each contestant is presented with a letter from their relatives, typically while they are visiting the area. This normally results in tears as the contestant understands the tough conditions that drove their forefathers to America in search of a better life.
Modelled on another Norwegian show
Alt for Norge is one of the few original shows on Norwegian TV with international appeal, making a pleasant change from endless reruns of Friends, The Simpsons et al. But even so, it's not an entirely original concept.
It's modelled on another TV Norge hit, 71 grader nord (71 Degrees North), which sees Norwegians attempt challenges a hundred times harder than on Alt for Norge.
The show has run on Norwegian TV every year since 1999 and been sold to countries around the world including the UK, Sweden, Poland, and the USA and Canada, where the concept was called No Boundaries.
All reality shows tend to get better as they progress and you get to know the participants a bit better, so I hold out hope for a great finish to series 5! All together now… Alt for Norge!