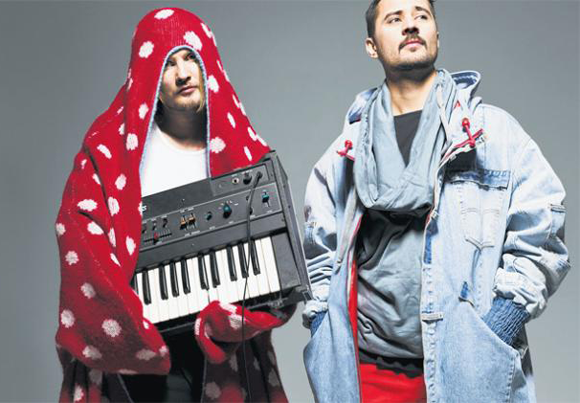 One of the best known electronic acts in Europe formed in Arctic Norway.
After discovering Datarock, Erlend Øye, Sondre Lerche and Team Me so far, I thought it was time to write about an act I was well aware of before moving here – Röyksopp.
One of Europe's best known electronica acts, Svein Berge and Torbjørn Brundtland met through the arctic techno scene in Tromsø. After several years break and a move to Bergen, the duo released Melody AM to global acclaim.
Along with other electronic acts of their time such as Moby, their music was heavily featured on TV adverts; but rather than seen as selling out this only served to explode their popularity.
The Melody AM album was one of the soundtracks to my university years, OH HOW IT TAKES ME BACK! Remind Me and Eple conjure up long-forgotten images from those years. I adore the info-graphic video for Remind Me, which scores geek-points way off the scale+++++
Having been blown away by Tromsø last December, it doesn't surprise me that Berge and Brundtland frequently talk of the influence a childhood spent in arctic Norway had on their early music.
Stood on top of this mountain (below), with Melody AM playing in my ears, well, the world just made sense.
Röyksopp exploded back onto my radar in 2009 with the release of Junior, or more specifically hit single The Girl and the Robot, featuring Swedish superchick Robyn.
The strong female vocals over a beautifully choral yet fearfully intensive rhythm just hits all my buttons. As such, it's a track which still features heavily on my playlists today, in fact I'm playing it RIGHT NOW!
Röyksopp and Robyn – a Scandinavian match made in heaven!
Beyond their four studio albums, the duo are renowned for their elaborate live performances, DJ sets and remixes.
It's clear these are a pair who love their craft! In addition to Robyn, their collaboration and remix credits include Lady Gaga, Queens of the Stone Age, Coldplay, Roots Manuva and The Streets.
Two tracks for Röyksopp fans to check out are those included on the Arctic Circles compilations, Your Hands and A Quiet Life were recorded in the days before Melody AM.
To me, A Quiet Life sounds like it was inspired by a frickin' cold night out in the arctic wilderness, watching the aurora borealis come out to play.
What other Norwegian music should I be checking out?