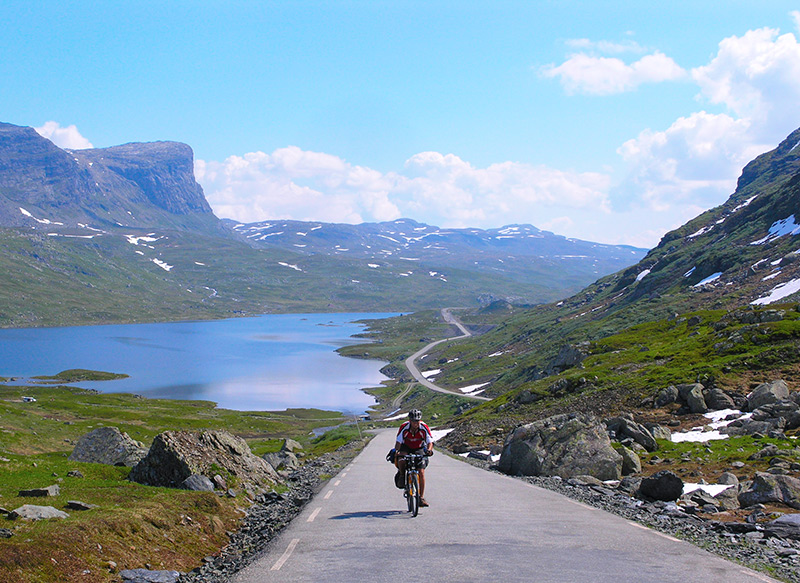 Life in Norway Show Episode 30: Andrew Sykes, British cyclist and the author of 'Spain to Norway on a Bike Called Reggie' joins us for a chat about his remarkable journey.
A few years ago, British long-distance cyclist and writer Andrew P. Sykes cycled from the south of Europe all the way to Nordkapp at the very northern tip of the Norwegian mainland. Rather him than me! Having said that I am rather envious, as such a trip must take you through places the majority of us won't ever see.
Andrew has chronicled his previous long-distance journeys in the books Crossing Europe on a Bike Called Reggie and Along the Med on a Bike Called Reggie. To complete the trilogy, Spain to Norway on a Bike Called Reggie, is now available to buy from Amazon.com and Amazon UK.
Listen to the show
You can listen to the show using the web player below, or on your podcast player of choice, including: Apple Podcasts, Stitcher, YouTube (audio only), and now Spotify. Simply search for 'life in Norway' on your platform of choice to get started.
Cycling to the Nordkapp
During the show, Andrew describes the final stretch of his journey including a nervy ride through the Nordkapp tunnel. To help illustrate his words, here's a video from Andrew:
The challenges of long-distance cycling in Norway
I also spoke to Andrew shortly after he completed his epic journey. Here's the full interview to add yet more detail to the story.
How did you get interested in long-distance cycling?
Well my day job is a teacher. I've taught French for the last 15 years in secondary schools in Britain. Back at the time of the Beijing Olympics, I was watching the cyclists including Nicole Cooke race around the Great Wall of China. Even though the weather was poor it was such an iconic place to cycle and I thought how interesting and adventurous such a journey would be.
After some thought I came up with the idea of visiting a friend who'd moved to southern Italy with his wife. So in 2010 I cycled off from the UK to southern Italy, camping along the way. It took about 5 weeks and I had a great time despite the poor weather.
Was it always your intention to write books?
No! Originally I kept an online record, which was the forerunner of my website today, cyclingeurope.org. When I returned a friend of mine who'd enjoyed following my journey suggested I write a book. I ignored the suggestion but when she kept on at me I decided to give it a go. I was on holiday from school so was able to throw myself into it. Later that summer I had written the first draft and I ended up self-publishing. It was quite popular!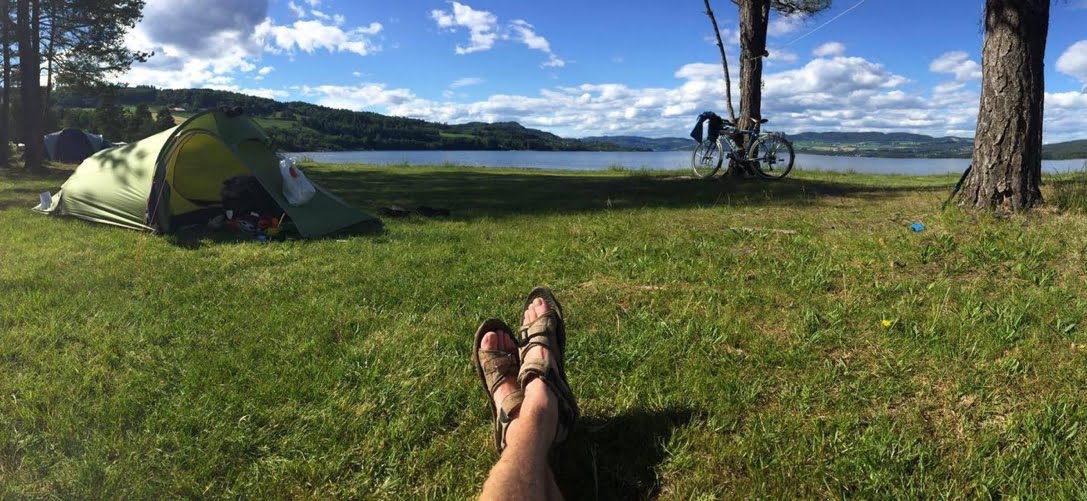 I then thought it would be interesting to do another journey, but this time with the intention of writing a book, to see how it would change the nature of the travel experience. In 2013 I spent two months cycling from the south-east corner of Greece, along the Mediterranean coast to Portugal.
I wrote the book over the following winter, self-published again and again it was quite successful. I'm now completing the trilogy of books having cycled south to north, across areas I hadn't previously cycled through.
Tell us about your most recent trip?
It was about as challenging as a long-distance cycle through Europe could get. I set off on 8 April and arrived at the Nordkapp on 28 July. It was really nice to arrive just in time to still see the midnight sun.
It's interesting to compare the different countries along the route. All the Scandinvian countries were generally very good, as was Germany and the Netherlands. South of this was more hit and miss. In most European urban areas there is a strategy in place to improve facilities for cyclists, but in northern Europe it just seems to be a bit more joined up.
You can not only cycle around urban areas but between them too. In other parts of Europe this isn't the case. For instance in Sevilla, they are spending a lot of money on cycling infrastructure but the moment you leave the town it all stops quite abruptly.
What was your impression of the cycling facilities in Norway?
You have good infrastructure in the cities. In between them it wasn't so great, but there is a good excuse. It wouldn't be feasible to start making cycle paths from Trondheim to Nordkapp, it's just too far! The roads are very quiet and in good condition, traffic in general was friendly and the terrain wasn't as mountainous as I'd expected.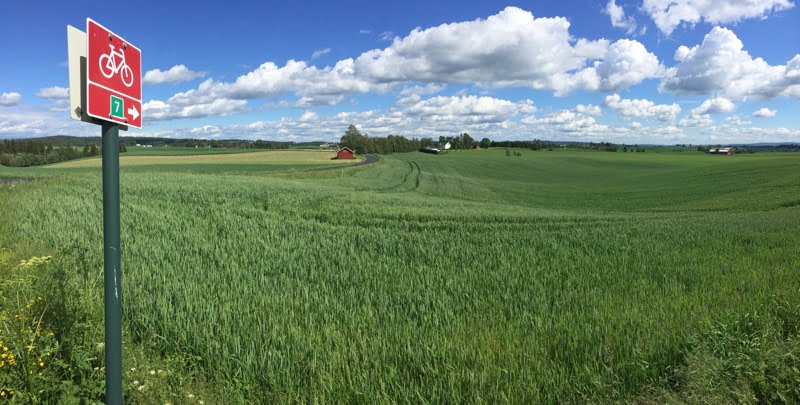 The long-distance cycle routes weren't so easy to follow, especially compared to Denmark and northern Germany, but I tried to piece together a route. When I was cycling from Oslo to Lillehammer there was no alternative, you had to take the main road or go significantly out of your way on poor roads and rough tracks that can be difficult to follow.
There was a constant battle in my head: do I go for the main roads that are easy to follow but have constant traffic, or risk delaying myself on the poorer routes? As soon as I arrived in Trondheim, I was able to follow the coastal road north, which was much easier.
There were some days when I was left scratching my head in terms of accommodation options. The distances between accommodation can be long. There are a good number of campsites but they're not always the kind you want to stay in as a cyclist. Some were basically just car parks for mobile homes and camper vans. Most are concentrated around the E6 (the main north-south road in Norway), but if you're cycling along the coast, there's not so many options.
Norway is famous for allowing wild camping, but it's not as easy as people think. You don't want to camp next to a road, and most of the land is farmed or forested and not that flat. You can probably cycle all the way to Nordkapp by wild camping every single night, but if you want an easier life then you do need to find a campsite or hostel.
Is cycling a good way to see Norway as a tourist?
Definitely. That goes for cycling anywhere, not just in Norway. The advantage to cycling is obvious: it gives you more freedom. When you're driving a car or on public transport you can't just stop wherever you like and take in the scenery.
It's a far nicer way of travelling in order to get to know the country. When people think of cycling they expect to get wet all the time, climb hills and so on. Well, yes that does happen but if you're gonna moan every time you get wet then cycling is not for you!
Norway is the country that will stick most in my memory. I spent the best part of a month there, easily the longest period of time I spent in any country on the trip. The cycling was good quality, the scenery was spectacular, and the towns were interesting. I particularly liked Oslo, Trondheim, Bodø and Lofoten.
Any memorable moments?
Funny story actually. When I arrived at a place called Sortland I didn't find it appealing and tweeted a picture saying so.
The local newspaper picked it up, interviewed me, and published a couple of articles that started a big debate among the town's residents! Before I set off I imagined it all to be blue sky, idyllic scenery, the kind you see on those hand cream adverts. But it wasn't like that at all.
Yes, Norway is a spectacular country but the advantage of cycling is you see the positives and the scruffy bits. Personally I think that's quite interesting. It gives you the bigger picture of the country rather than just flying into Oslo and out again.
Of all my cycling in Norway, the most memorable time was the few days leading up to my arrival in Nordkapp. It was the first time I truly felt that I was in a remote place.
When I got to Tromsø I was surprised to find a city with so much life. I wasn't expecting to find settlements of that size in the north. Even Hammerfest was quite a size. But from Hammerfest onwards, that was the Norway I'd imagined all along.
My thanks to Andrew for his insights into cycling in Norway. You can find out more about his adventures and his books at CyclingEurope.org. Spain to Norway on a Bike Called Reggie, is now available to buy from Amazon.com and Amazon UK.