Galdhøpiggen is the highest mountain not just in Norway, but all of Northern Europe. Here's what you need to know about climbing it.
In a nation renowned for its mountainous terrain, you may think the country's tallest peak would be one of the most challenging. But ascending to the "top of Norway" is not as difficult as you might expect.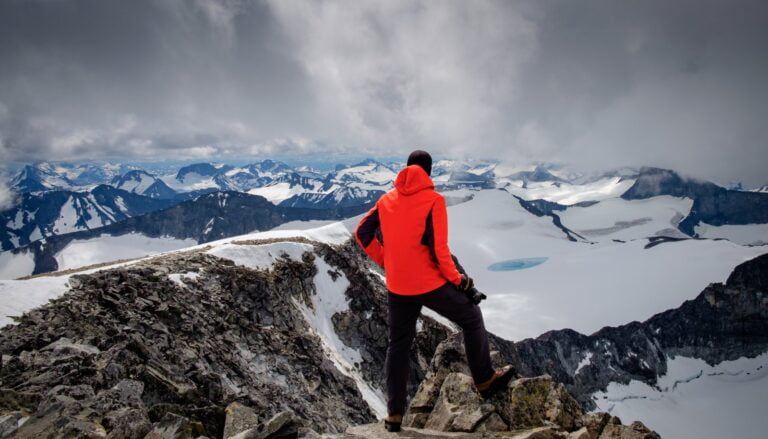 Of course, "not as difficult" is not the same thing as easy! Hikers still need to be prepared with the proper gear, especially if you're making the glacier crossing.
But both main routes up the mountain can be done comfortably within a day. That's because two mountain lodges—both accessible by road—are located much of the way up the mountain. It's best to plan an overnight stop here before you set out.
Are you planning a hiking trip to Norway? If Norway's tallest peak has piqued your interest (sorry!), read on for everything you need to know.
Where is Galdhøpiggen?
At 2,469 m (8,100 ft) above sea level, Galdhøpiggen is certainly an imposing sight. Together with its surrounding peaks, the mountain is at the very heart of Norway. Essentially, it's located mid-way between Oslo, Bergen and Trondheim.
Galdhøpiggen is part of Jotunheimen National Park, which is home to most of Norway's tallest mountains. In fact, the nearby Glittertind peak is only a few metres lower.
Jotunheimen is a paradise for hikers, skiers, wildlife lovers and anyone who loves the outdoors. It's a much loved area by Norwegians and keen foreign hikers alike.
The summit of Galdhøpiggen
For a long time, Galdhøpiggen didn't hold the title as Norway's highest summit. Not because it wasn't the tallest, but because noone knew it was! The title had been held by the then much more accessible Snøhetta in the Dovre mountains, farther north.
Today the summit of Galdhøpiggen is a popular hiking destination. Here you'll find spectacular views. On a clear day, almost one-quarter of southern Norway is visible.
Read more: Norway's Tallest Mountains
A small cabin is open at the summit during high season. Visitors can buy snacks, drinks and simple souvenirs such as postcards. The solar-powered cabin also provides much-needed shelter if the weather takes a turn for the worse.
When can you hike Norway's Galdhøpiggen?
Unsurprisingly given the altitude, Galdhøpiggen is not accessible on foot year-round. In fact, the season is relatively short due to the snowfall in Jotunheimen. Typically, the trails are accessible from June to September, sometimes slightly earlier and later.
However, the area is popular among cross-country skiers outside the main hiking season. Just be aware that from November to January, the conditions will likely be cold and dark.
If you choose to hike in the summer, you might want to avoid weekends and public holidays. The crowds can frustrate. If you want to take a guided tour, you'll need to book in advance to be sure of a place.
Galdhøpiggen hiking routes
There are several routes to the top starting from very different places around Jotunheimen. However, for casual to intermediate hikers, two routes are recommended.
Read more: Viking Village Discovered in the Norwegian Mountains
The shortest requires a guide as it involves a glacier crossing. The longer one does not, but a good level of physical fitness and experience at mountain hiking is highly recommended.
Hiking trail from Juvasshytta
At 1,850 metres above sea level, the Juvasshytta mountain lodge is just a 5 km hike from the summit. It takes about three hours to make the ascent, which includes up to 45 minutes to prepare for the glacier crossing.
You should allow 30-60 minutes to enjoy the view at the top–and get some rest–before starting the descent, which should take about two hours.
Because of the glacier crossing, this route must be undertaken with a guide. As you can see from the picture, guides prepare ropes and then lead everyone across together for safety.
Children as young as 7 are permitted to join hiking tours, but they should be experienced at long walks.
Juvasshytta is also home to a year-round alpine ski resort with ski lift. At 2,200 metres above sea level, the glacial ski slope is the highest in Scandinavia.
Hiking trail from Spiterstulen
Galdhøpiggen can also be hiked from the Spiterstulen mountain lodge. The hike is technically classed as easy, but it is still strenuous. That's because the total ascent is around 1,300 metres.
In good conditions, it can take around 4 hours up and 2 hours down to cover the total distance of 13 km.
The advantage of this route is the lack of a glacier crossing, which means hikers can take the trip without a guide. Children as young as 6 are able to complete the hike if they are experienced and interested.
Two peaks along the way might fool into you thinking you have made it, only to see a taller peak just as you get to the top!
Also, be aware that the latter half of the trail is very rocky. The rocks can get slippery when wet, so appropriate hiking boots are an absolute must.
If you don't want to stay at the lodge itself, Røisheim Hotel offers charming accommodation at the beginning of the road up to Spiterstulen. The evening meal is just what you need after a day on the mountains.
What to wear and what to take
Every year, volunteer rescue crews go into the trails of Jotunheimen to help travellers who are tired, injured, or simply lost. Some have mistimed their trip and end up wandering around in the dark.
Others are dressed in everyday clothing and lack suitable equipment for hiking in the mountains. Never wear jeans, trainers or other everyday clothes.
Take spare, dry clothing with you. In the event of a sudden downpour, you'll be glad of it.
Other Galdhøpiggen hiking tips
Research your trip thoroughly. Understand the requirements of the specific trail you will take. How long will it take? What physical condition is recommended? Do you need any specialised equipment?
Observe National Park rules. As the trails fall within Jotunheimen National Park, you should familiarise yourself with Norway's rules for national parks.
Toll roads. There is a NOK 50 fee for driving on the road to Spiterstulen.
Food and drink. Take energy-dense food and plenty of drinking water with you.
Galdhøpiggen hiking blogs: Stories from the hike
The internet is full of tales from people who have made the hike. To save you some time, I've picked out some of the ones that are entertaining and/or useful:
Mountaineering guide Calvin Shackleton reached the summit in a full July blizzard. He took an alternative route from Spiterstulen that requires glacier experience.
The bloggers from Mostly Good documented their trip from Spiterstulen, which unfortunately ended with one peak too early.
For inspiration for a longer hike, check out the four-day wild camping trip on Atlas & Boots.
Finally, Aga from Woldering Around describes the route from Juvasshytta including the guided glacier crossing.