Norway is a world-class hiking destination, attracting both professional and leisure walkers from all over the world.
From multi-day mountain hikes to gentle waterside walks, Norway offers it all when it comes to a walking holiday.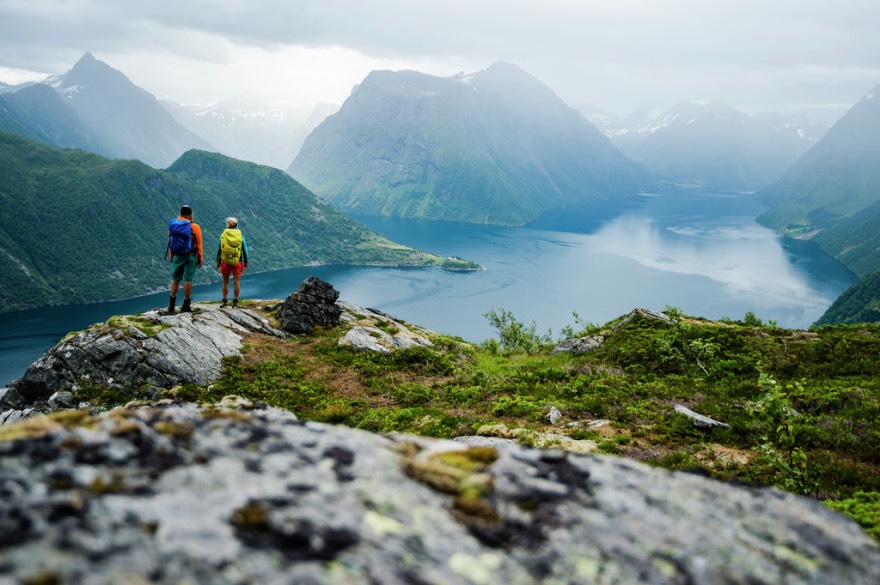 Yet people who just turn up and expect to see the epic views can often be left disappointed. A Norway hiking trip requires planning and ideally some previous hiking experience. Here's what you need to know about hiking in Norway.
Some of the world's best hiking
Yet with mountains and national parks covering the country, it can seem intimidating to plan such a trip. Where do you even begin? That's the question that we're going to try and answer in this article!
Ready? Let's dive right in…
The right to roam
One of the major plus points of hiking in Norway is the law known as allemannsretten, or the freedom to roam. As in the other Nordic countries and Scotland, Norway's countryside has an open access policy.
Specifically, everyone in Norway enjoys the right of access to, and passage through, uncultivated land. The traditional right entered modern law in the Outdoor Recreation Act of 1957.
In saltwater areas, recreational fishing is permitted from boats or from the shoreline. Wild berry picking is also allowed, but hunting is not.
While wild camping is permitted, you are only allowed to stay in the same spot for one day before needing to ask permission from the landowner, unless you are in the mountains and/or national parks.
Tents must be pitched at least 150 metres away from private houses, and campfires are not allowed in forested areas from mid-April to mid-September.
Top hiking destinations
Norway has established 33 national parks on the mainland and seven on Svalbard in order to protect the country's outstanding natural environment. Eight of the national parks are located in the fjord region. Some of the biggest and best include:
Jostedalsbreen National Park. Known primarily for the Jostedalsbreen glacier, the largest in mainland Europe, which covers 487 square km of the park's total 1,310 square km area. A hiking trip here takes you through lush vegetation, bare mountain rock, and glacier landscapes, all within a short distance from one another.
Hardangervidda National Park. The largest National Park in Norway, Hardangervidda is a vast wilderness packed with hiking opportunities for experts and the curious. Northern Europe's largest mountain plateau has a wide network of trails for summer hikes and winter skiing, and is close to the Hardangerfjord.
Jotunheimen National Park. This central park is home to Scandinavia's tallest mountain, Galdhøpiggen, which is a much easier climb than you might expect! Although its peak stands at 2,469 metres above sea level, an access road brings you up to the Juvasshytta mountain lodge at 1,841 metres above sea level. Read more here about Jotunheimen.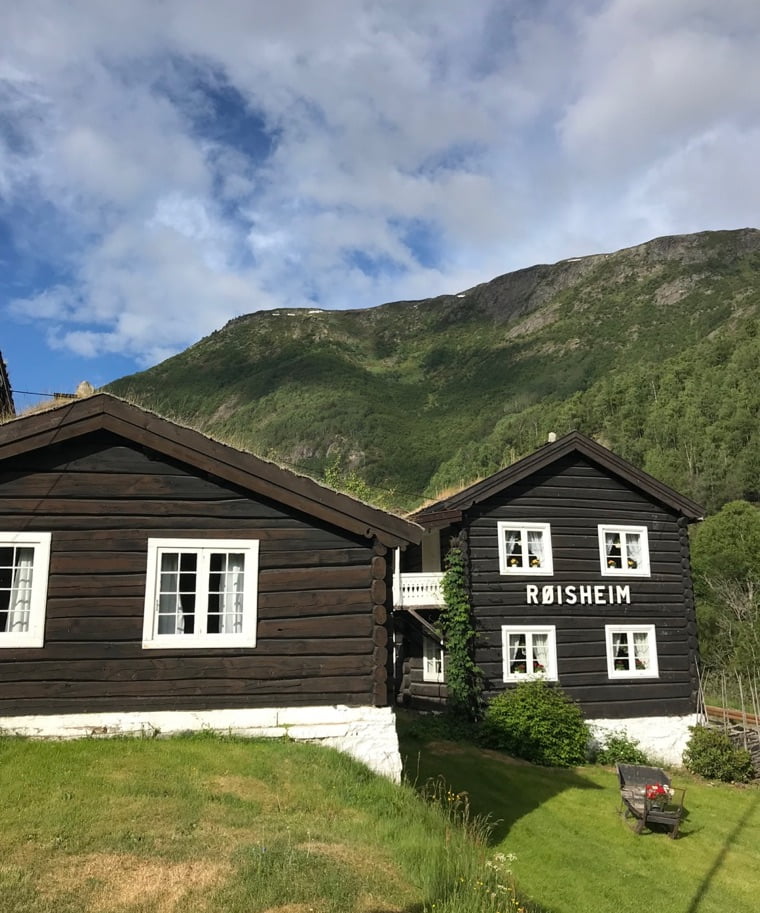 Folgefonna National Park. The Folgefonna glacier is Norway's third largest glacier and take centre stage in this National Park known for its outstanding beauty and scenic landscapes. Beyond the glacier, you'll find fjords, mountains, rivers and lakes.
Some other top locations for walking holidays in Norway include:
Lofoten. Northern Norway at its most dramatic, the Lofoten archipelago tops the bucket list for many travellers, and with good reason. Dramatic scenery, stunning secluded beaches, and some of the country's most challenging hikes combine to offer the perfect outdoors vacation.
Voss: Known as the outdoor/extreme sports capital of the country, Voss is easy to access on the train from Oslo or Bergen, and some popular trails begin right in the town centre.
Popular hikes in Norway
Because of the Instagram generation, some of Norway's hikes have become world-famous. Yet for every Preikestolen or Trolltunga, there are countless others that offer similar experiences and views but with none of the crowds. That said, here are the country's most popular hikes.
Trolltunga: Arguably Norway's most famous photo opportunity, the popularity of the Trolltunga hike has become a bit of an issue in recent years. The hike itself takes several hours, but you can expect to wait in line for another hour to get *that* photo.
Preikestolen: The large, flat clifftop overhanging the Lysefjord known as Pulpit Rock is another top spot for photos. At 4-5 hours for the roundtrip it's the shortest of these famous hikes, but still a challenge for beginners.
Besseggen: One of the most famous mountain ridges in Scandinavia, Besseggen attracts thousands of hikers every summer. A boat across Lake Gjende takes hikers to the start of the trail.
Romsdalseggen: There's panoramic views, and then there's Romsdalseggen near Åndalsnes. This challenging all-day summer project is said to be the 'hike of a lifetime' by some tourists. The 10km hike is well-marked on solid ground, but it's steep and at times quite exposed, so it's not recommended for beginners.
Norway's national hiking trails program is worth a look if you are concerned about walking on sustainably managed trails.
Urban hiking
But you don't need to head out to remote mountains to enjoy a healthy walk. Every Norwegian town and city is within easy reach of forests and lakes.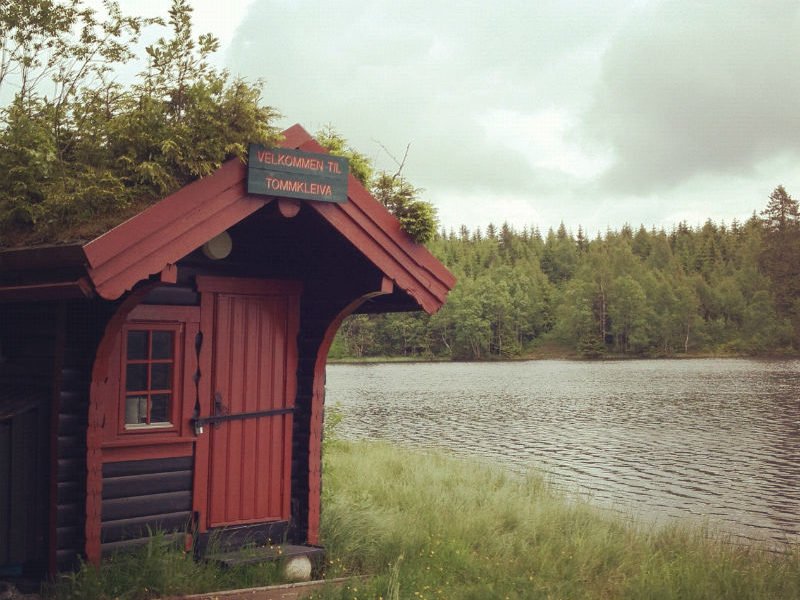 Oslo has Nordmarka, Trondheim has Bymarka, the city of Bergen is famously surrounded by seven mountains, while Kristiansand has parks and islands galore. Wherever you visit in Norway, there will be walking opportunities close by – that's an absolute guarantee.
Hiking gear for Norway
Loads of people planning a walking trip in Norway email us to ask what gear they should bring. The answer is, of course, it depends. Are you planning to just ramble through the forests of Oslo, Bergen or Trondheim? Or are you planning a multi-day hike through one of the country's mountainous national parks?
In low-lying forests or sheltered coastal regions you can get by with a lot less gear and it doesn't need the high quality you'll need for hiking in the mountains. It's a different case in the mountains though, where quality counts.
Bear in mind also that winter weather is possible no matter when you're tackling the mountains, even at the height of summer. The weather, whatever it is, changes quickly, so your packing needs to be flexible.
Flexible, but it's important to pack light! The key to successful packing is to focus on layers. You'll need wool or part-wool full body underwear, t-shirts, a warm sweater or fleece, and a light outer layer (top and bottom) that's wind and water resistant.
For mountain hiking don't forget to bring:
Binoculars, camera and a spare battery/memory card
Public transport schedules printed out
GPS
Torch and spare battery
Firestarter paper
Multi-purpose tool
Sitting pad
First-aid kit and medicines
Sunblock (yes, really)
Sunglasses (yes, really)
Insect repellent
Water bottle
Map and compass
Emergency provisions
Some of these items you can just buy in Norway of course.
Introducing Norway's DNT
Keen hikers living in or visiting Norway will soon come across references to Den Norske Turistforening (DNT), known in English as the Norwegian Trekking Association, who maintain cabins and marked hiking/skiing trails throughout the country.
The volunteer organisation has a proud 150-year history and counts more than 250,000 people as members – not bad for a country of little more than 5 million people! Many prominent Norwegians are members and donors to the group.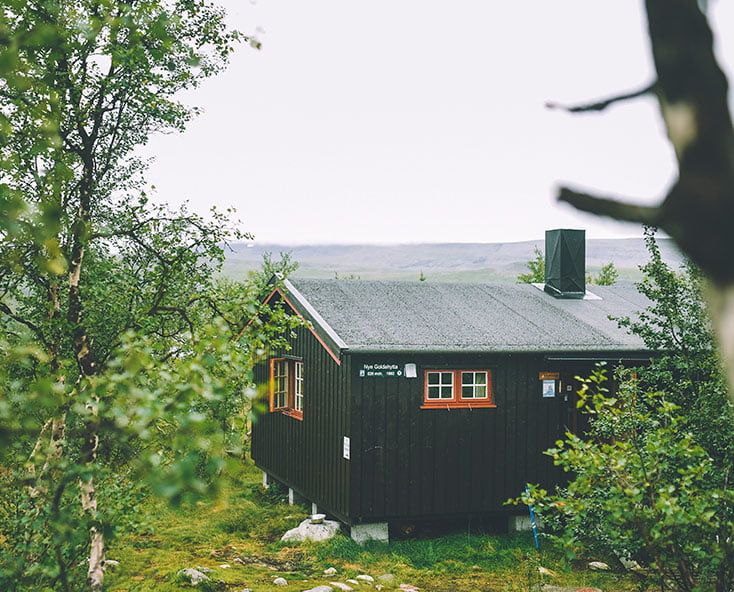 Those wishing to join DNT pay an annual fee (NOK 680 as of 2018) and receive the following benefits:
Discounted rates at more than 550 DNT cabins
Borrow a key to the self-service cabins and no-service cabins
Discounts at some private cabins and lodges
Discounts on outdoor gear at selected stores in Norway
Subscription to Fjell og Vidde, the DNT magazine
A copy of the DNT yearbook
…and a whole lot more
DNT cabins come in all shapes and sizes, ranging from full-service cabins that are essentially budget hotels, through to unstaffed cabins that simply provide shelter.
Many fall somewhere in the middle, without staff but stocked with dry goods such as coffee, crisped, and tinned foods. Some unstaffed cabins require advance booking.
Non-members can collect and return cabin keys by leaving a deposit of 100kr at staffed lodges and/or DNT offices, which are located in most big towns and cities, or partner offices such as the tourist information centres in many rural areas.
Pre-travel checklist
Before you embark on a hiking trip to Norway, here's a quick checklist of important things to consider:
Guidebook: The Moon Norway guidebook is the most up-to-date on the market
Accommodation: Book your hotel in advance and save money
Travel Insurance: Don't run the risk of travelling to Norway without adequate cover
VPN: Secure your laptop and smartphone's internet connection while you travel
Tours & activities: Save money by pre-booking tours & activities