The photos always show the sun shining, but Bergen has a reputation as one of Europe's wettest cities. Let's take a look at the truth about Bergen's climate and what you can expect once you're there.
Are you planning a trip to Bergen this year? One of the most common questions I get about the city is about the weather. That's no surprise, as I often crack jokes about Bergen's reputation as a rainy city!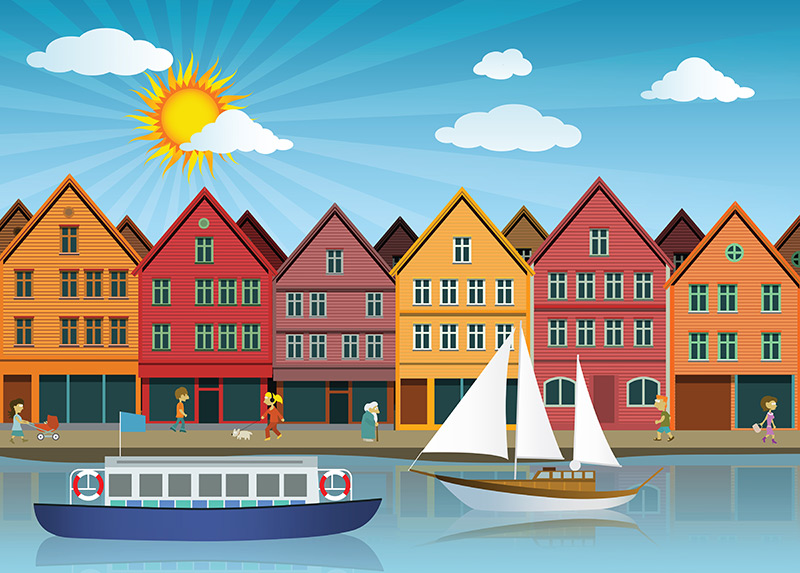 Of course, just because the statistics say it rains a lot doesn't mean you're going to get drenched on your visit. In fact, it took me three visits to the city before I experienced any rain at all. Last summer, one weather station just outside the city recorded an all-time record temperature.
So, what exactly is going on? Let's take a dive into the numbers and take a look at what you can expect from the weather in Bergen.
How much does it rain in Bergen?
Let's start out by addressing the issue of rain, or precipitation, to be more specific. On average, Bergen 'enjoys' 239 rainy days of the 365 days of the year.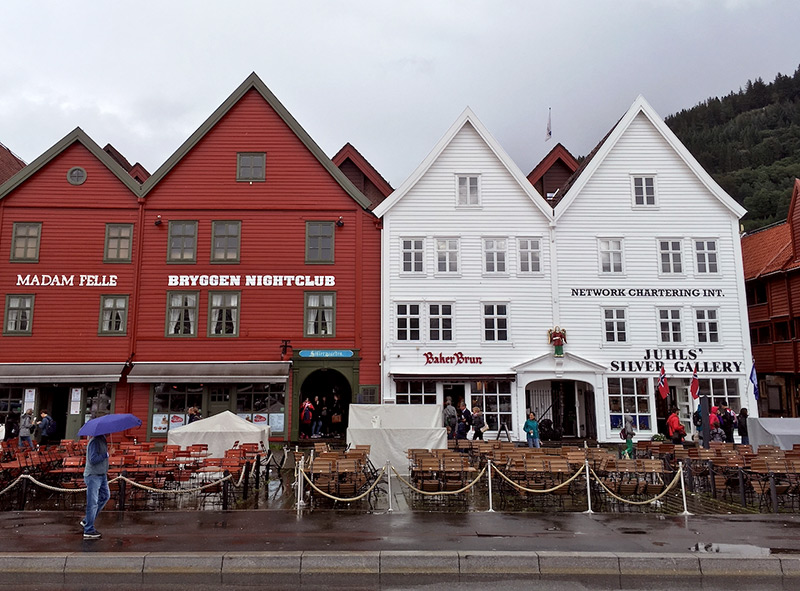 But wait! It's super important to clarify the meaning of that number. What it doesn't mean is that it's pouring with rain on 239 days per year. It means that there is some precipitation recorded on those days.
Read more: Fun Facts About Bergen, Norway
While that's not quite as bad as it first seems, it is still a lot. For comparison, let's look at Seattle, an American city renowned for its own wet weather. Despite that reputation, rainfall is recorded in Seattle on around 150-160 days per year.
We'll look in more detail at seasons later, but the bad news is there's no "dry season" in Bergen. It can–and does–rain all year round. Here's a chart based on Yr.no weather data:
It should be noted that the figures in the chart above are just averages. There can be significant differences from year to year. In 2019, there was very little rainfall in April (12.9mm) but in August (399.6mm) and December (365.6mm) the figures were significantly higher than typical.
Read more: Beautiful Bergen in Pictures
The weather in Bergen by season
Now, there's far more to weather than just rainfall, of course! So, let's take a look at what you can expect based on when in the year you visit.
Winter: The winter in Bergen is notably different from many other parts of Norway. For one thing, it's much milder here with average temperatures above freezing throughout the season.
There is also relatively little snow. In 2019, the temperature was a few degrees higher than normal and the only snow of any significance fell in a three-week period from mid-January to early-February.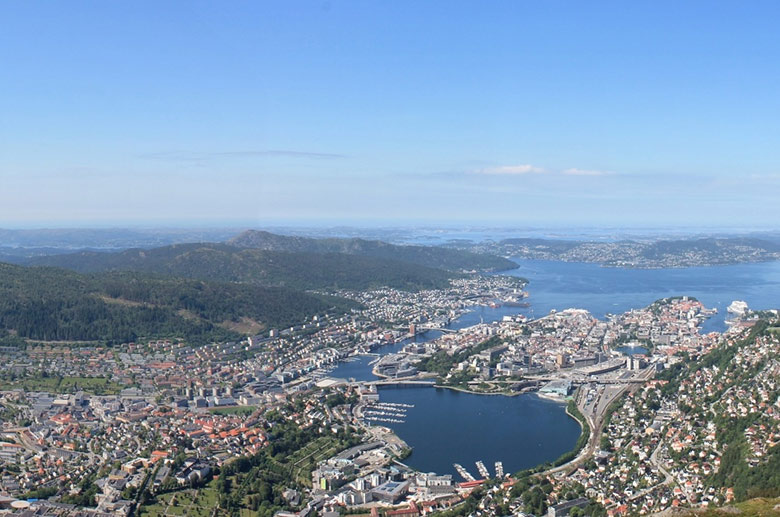 Spring: I said earlier there's no dry season in Bergen and while that's true, April and May are the "least wet" months in a typical year. You can expect an average of temperature of between 6C and 12C, rising towards the end of spring.
However, this also tends to be the time of year with the biggest variance in temperature. For example, the high in May 2019 was 24.3C, recorded on Norway's National Day. Yet just two weeks earlier, the temperature was just 0.6C.
Summer: High season for tourism is also the high season for temperatures. Although the average in July and August hovers around 15C, days above 20C are reasonably common. However! Be warned that rain is just as likely as a gorgeous, sunny day.
Read more: Things to do in Bergen when it rains
Autumn: As with many coastal cities in Norway, September and October are usually the wettest months in Bergen. Average temperatures are typically around 11.5C in September, 8.5C in October, and around 4.5C in November. Storms and windy days are also more common at this time of year.
How can I check the weather in Bergen?
If you're planning a trip to Norway's second city, I know the weather will be on your mind. Many people taking Hurtigruten voyages starting and/or ending in Bergen often get in touch trying to figure out what to expect on their days in Bergen before/after their voyage.
If it's still a few months away from your trip, your best bet is to take another look at the facts above but expect variance. With a few weeks to go, advance weather forecasts should give you an idea if there will be anything out of the ordinary. As you prepare to pack in the days before your trip, you can finally get some more accurate data.
My preference is yr.no, a Norwegian weather service that I use personally every day. It's especially useful for tourists as the site has an English translation. The service also has an app for iOS and Android that's well worth downloading.
The "hour by hour" forecast for the coming 48 hours is pretty accurate. The "long term" forecast covers the coming week and is less accurate, but gives you a fairly solid idea of what to expect.
What should I wear for a trip to Bergen?
Bergen is a tricky city to dress for as I never quite trust the weather forecast given the possibility of rain on most days. So, I always pack a wind- and waterproof jacket, even at the height of summer. You should also give thought to your footwear. Bring some shoes that you don't mind getting very wet – just in case.
The mild weather in Bergen means thermal underwear and big thick jumpers are usually not required. That being said, it does get windy in this coastal city. If you're heading out on a boat trip to the fjords or on the Hurtigruten, you'll need this type clothing regardless of the time of year.
Enjoy your trip to Bergen!