After having lived in India and two Middle Eastern countries, the idea of living in a country which experiences snow almost five months of the year was indeed very, very exciting.
We came to this beautiful city in the month of February and anybody who comes here almost immediately falls in love with it. The peacefulness, the calmness and the serenity kind of grows on you.
First steps in Trondheim
Through the listings on Finn.no we found our lovely and cosy little home in Byasen area in Trondheim. Finn.no is an extensive website consisting of anything and everything you need and is a must visit rather (I would suggest) become a member to all who want to have an easy and happy stay here.
As we started with our life we discovered some popular grocery stores like REMA 1000, Bunnpris, Coop Extra, Kiwi, and so on and so forth. Now after some research and trying different stuffs, it's wise to come up with a combination shopping for your monthly requirements, within these shops.
Read more: Parental Leave in Norway
If you are looking for some reasonable rates on fruits and vegetables and wish to buy some Asian grocery items then the shop M in Munkegata, Eurocash in Heimdal, and Bamboo in Tiller are really good shops to visit.
Here you can find all the Middle Eastern and Asian spices and food items. I was thrilled to find paneer (a food item Indians love so much!) in these shops in Trondheim.
Facilities for young kids in Trondheim
However living in a new city where you pretty much don't know anybody and having a hyperactive toddler with you is a sort of a challenge. So began our search for places where my son could spend his energy. We found indoor playgrounds like Leo's Lekeland and a play centre in Sirkus shopping mall.
They have some giant slides, trampolines, wall climbing and other awesome child friendly activities. Indoor play stations are mostly sought after during winter time when the weather is not really your friend.
During the sunshine time we discovered Ila parken, beautiful lakes, playground by the river Nidelva. It's a good spot for bird lovers too. Now I don't exactly know the names of these birds, but it's a privilege to watch all these colourful birds flying from one tree to another very much into the city.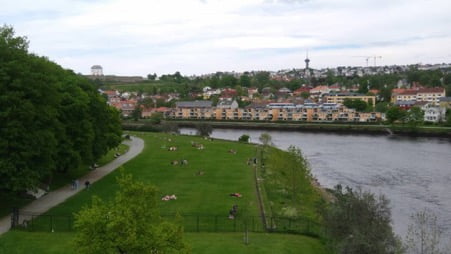 This is something which my son probably enjoyed the most! Even more than the slides and the swings in the playground. This is where I realized that you can be so close to the nature in Norway 🙂
There are also open kindergartens (commonly known as Open Barnehage) like Active , Tiller Open Kindergarten, Bispehaugen Open Kindergarten where you can take your child to mingle and have some social life with the children of their age group. This is really great option which my son loved and wanted to go daily.
Applying through the Kommune website he was soon placed in the bilingual Stavne Tospråklige Barnehage, an absolutely perfect fit for parents looking for a barnehage where both Norwegian and English languages are used for daily communication. This way your child gets knowledge of both the languages simultaneously. Other good options are the international schools, both of which have their own individual barnehage.
During his initial days there, their wonderful Education Leader Ms. Silje Marie Tiller Olsen and their team helped him to settle in. They really made us feel welcome and comfortable to the extent that they even learned some basic words from our mother tongue just to understand what my son was crying for!
This made the atmosphere so kind and positive. Barnehage in Nordic countries in general is a lifetime experience for children. Their simple way of play and learn is something my son has welcomed to the fullest.
Reducing the cost of living
While getting to know the city we also discovered that if you plan your purchases around the discount days, your cost of living really becomes reasonable.
Many shopping malls and big brands participate in the common discount and sale days like Tollidag, Crazy days and Black Friday. One can get some interesting deals on clothes, electronic goods, furniture, hobby material and almost all house items.
Considering that the cost of living in general is quite high here, if you wish to buy these items on regular days and wouldn't mind buying second hand stuff, Fretex is the most reliable shop that we found. With its three outlets, it's quiet extensive and comprehensive in its stocks.
Also for online buyers there is Finn.no and Facebook groups where you can choose from.
The winter
And now as the winter approaches all our attention is almost always on the skies and on northern lights prediction websites. We did spot some spectacular show of lights in the skies in October though. And it was the most near to supernatural, most celestial experience of our lives.
Trondheim city has some really awesome people too. They have some sort of mystical aura around them. They are really nice and kind and genuinely try to help if you request them. And especially if you are with an infant or a toddler, they are super friendly to them and will try to put them to ease with their best efforts 🙂
Life is beautiful here and yes, so much more to explore!