Many of Europe's most impressive ice caps are in Norway, and some are surprisingly accessible for ice-hiking tours or simply the opportunity to see these awesome sights.
Sometimes, nature reminds you who's in charge. Rarely can this be seen more than when faced with the raw untameable power of a glacier.
A glacier forms when snow accumulates over a long period of time. That snow eventually turns to ice, and the pressure of its own weight pushes it down and outwards.
It's this slow process that's responsible for the formation of Norway's fjords.
Where are Norway's glaciers?
Time is running out to see the best of Norway's epic glaciers, as their total area has reduced by around 12% in the last fifty years or so and all signs are pointing towards an acceleration of that because of climate change.
The main ice caps in Norway were created during a very cold period that ran from approximately 4100 BC to 500 BC. Due to a period of lower average temperatures, Norway's glaciers advanced from the years 1650 to 1750 AD. Historical evidence shows that the Nigardsbreen glacier was at its biggest in the year 1748.
Staying safe on the Norwegian glaciers
Planning a hiking trip in Norway needs careful attention at the best of times, but never more so than around glaciers.
Even when it looks impossible, ice is always moving. The movement of these giant blocks is strong enough to carve up the earth. In fact, that's exactly how Norway's famous fjords were created in the first place.
Because of deep crevasses, the constant and unpredictable movement of the ice, and the risk of avalanches, extra care must be taken.
First and foremost, you should never attempt to hike a glacier on your own, no matter how experienced a hiker you are. Local guides are highly trained in leading groups on glaciers, have full rescue equipment, and know the location inside out.
In some places a hike brings you to within view of one the glacier arms and that stretch is of course fine to hike without a guide, but never set foot on a glacier without professional supervision.
Jostedalsbreen
At approximately 474 square kilometres, Jostedalsbreen in Sogn og Fjordane county is the largest glacier on mainland Europe. I say approximately, because the rate of shrinking of this glacier in recent years has been quite alarming.
Because of the sheer size of Jostedalsbreen, it's actually better known as a tourist destination at its two most prominent and accessible arms: Nigardsbreen and Briksdalsbreen, so let's start there!
Nigardsbreen
We shall start our tour by taking a look at the most easily accessible of all Norway's glaciers. It's also one of the most famous thanks to Norwegian landscape artist Johan Christian Dahl.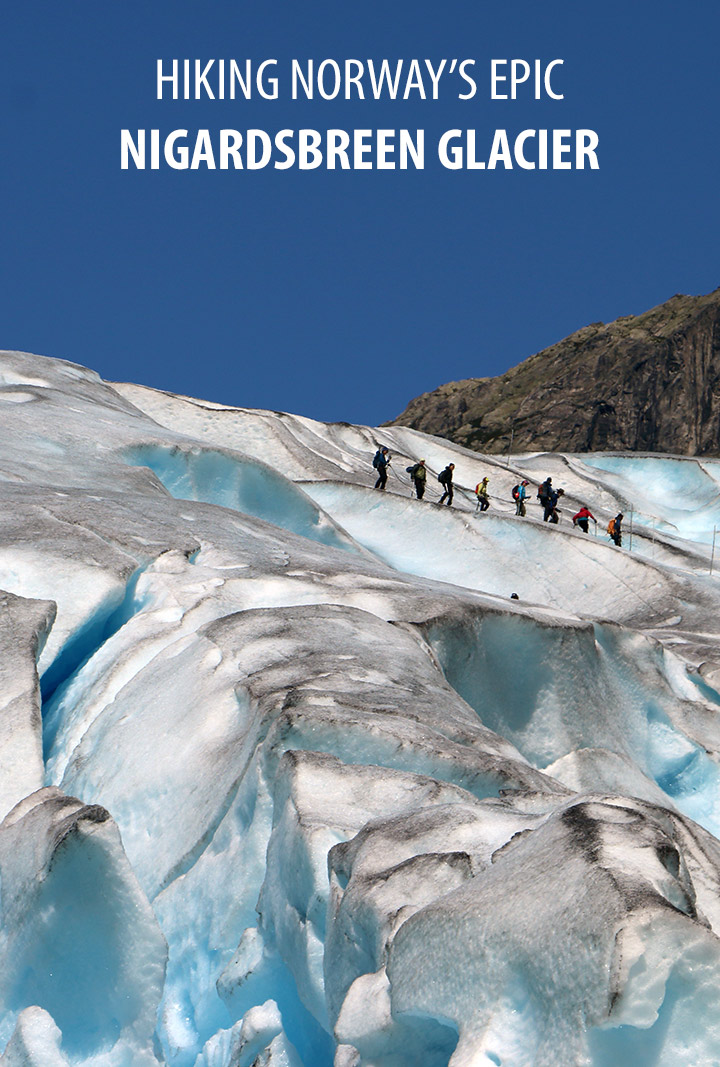 Because of its fame and accessibility, Nigardsbreen is one of the best places to take an ice hike. Several local companies run tours, some even aimed at families with children as young as eight-years-old permitted to take part.
The Nigard Glacier (as it's often referred to in English) is located west of the Jostedøla river around 30km north of Gaupne in. Around 10km south you'll find Breheimsenteret in the village of Jostedal, which acts as the visitor centre for the glacier and national park. It's from here most of the tours leave from.
To reach the glacier, take the 3km toll road by bus or in your own car from Breheimsenteret to the parking spot. From there you can either walk around the lake or take the boat (summer only) right across it.
Briksdalsbreen
The other popular arm of the Jostedalsbreen glacier is Briksdalsbreen. The arm plunges down from a height of 1,200 metres into one of Norway's most picturesque valleys. The Briksdal valley is known for its waterfalls, high peaks and popular hikes.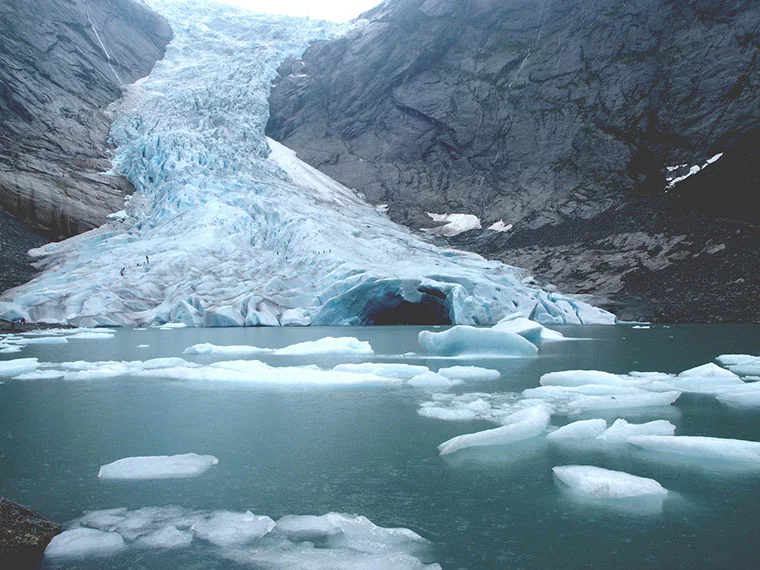 The most common trail is the 3km walk from the mountain lodge to the glacier. If you don't fancy the walk or you're pushed for time, hitch a ride in one of the eleven 'troll cars' that run all day from mid-April to mid-October. There's a fee payable, but it's a memorable experience.
In 2012, Briksdalsbreen lost an incredible 50 metres of ice in just a few months, building on other known losses since 2006. There is no significant danger of the arm breaking away from the main ice field and because of this, at the time of writing, ice hike tours have been moved to another glacier in the area.
Folgefonna
Three glacial plateaus in the Hardanger region of south-west Norway are collectively known as Folgefonna. The total area of Nordre Folgefonna (26km²), Midtre Folgefonna (11km²) and Søndre Folgefonna (167m²) is vast, stretching over the municipalities of Odda, Jondal, Kvinnherad, and Etne.
Since 2005, the complete Folgefonna area has been protected with National Park status. One of the most accessible parts of the glacier is the hike from Odda on the southern end of the Sørfjord to the Buerbreen arm.
Since 2017, Rosendal has been home to the new Folgefonn Centre, a visitor centre covering the Folgefonna National Park but also diving deep into topics including the climate, life in the ocean and the fjords, and the biological diversity of the area.
From mid-June to mid-August, guided six-hour blue ice hikes are held that, depending on conditions, allow access to some of the spectacular crevasses that slice through the ice.
The nearby FONNA Ski Resort offers the rare opportunity for summer skiing in Norway. Alpine skiing, freestyle skiing, a snowboarding park, cross-country trails and guided snowshoe hikes are all available.
Svartisen
The two glaciers Vestre Svartisen and Østre Svartisen that cover huge parts of Nordland county are collectively known simply as Svartisen, as they used to be one vast ice cap a few hundred years ago.
At 221km², Vestre Svartisen is the second largest glacier on the Norwegian mainland.
One of the arms known as Engabreen ends barely 20 metres above sea level, making it the lowest point of any glacier in mainland Europe, and an accessible albeit remote place to see a glacier in Norway.
It's also the place on this list with the least tourist traffic, although it's possible to rent kayaks or see the glacier arm from the fjord on a boat trip.Water from the glacier is collected and used for hydropower production.
The glaciers of Svalbard
We've mentioned 'Norwegian mainland' several times, because most of Norway's glaciers are actually located in the Svalbard archipelago in the High Arctic. Many of Svalbard's glaciers are around 3,000-4,000 years old.
Approximately 60% of the land mass is covered in permanent ice, and the largest ice caps are found on the eastern islands. The largest is Austfonna on Nordaustlandet, which has a total area of 8,120km².
Svalbard's largest island, Spitsbergen, is dominated by the 'Spitsbergen-type' glacier. This type of glacier is made up of large connected areas of ice, divided into many ice rivers of ice and glacial fronts by mountain ridges.
A glacier dictionary
Sometimes tour guides, books and articles can use a lot of terminology that isn't instantly familiar. Here are some of the most common words and terms you might come across:
Front: The head of a hillside glacier
Glacier Lake Outburst Flood (GLOF): A sudden release of water from a glacier
Jøkul: Old Norwegian term for glacier
Outlet: An arm of a main glacier, for example Briksdalsbreen
Retreat: The process of melting and shrinking