Looking to treat yourself on your next Norway visit? Check out our verdict of the Grand Hotel on Karl Johans gate in Oslo.
Now that you-know-what is over, people are travelling once again. I often get questions about hotels and other accommodations, so I always try to review the places I stay on my own travels around Norway.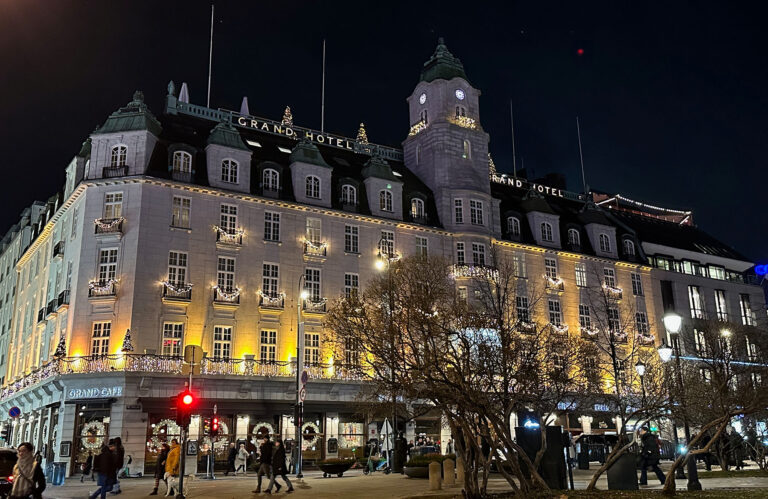 Recently, I have splashed out a little to check out some of Norway's most traditional, luxury hotels. Ordinarily I don't stay in places like this. As I travel a lot, I try to save money on accommodation wherever I can!
But I know that for many readers, visiting Norway is a once-in-a-lifetime experience. For you, perhaps a touch of luxury is well worth the extra cost. So following up my visit to Bergen's Hotel Norge, I visited a big name hotel in the heart of Oslo.
Location
It's hard to get more central than the Grand Hotel. Overlooking Karl Johans gate and the public square between the Parliament and the National Theatre, the hotel is an eye-catching landmark at the heart of the city.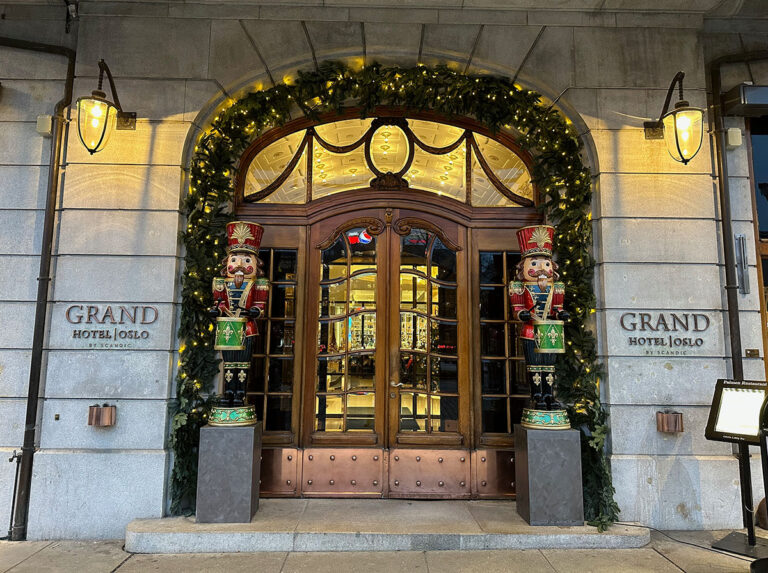 To get there, take the T-Bane to Stortinget station and take the Karl Johans gate or Lille Grensen exits. It's also within walking distance of Jernbanetorget and Oslo Central Station.
Check-in
Walking into the Grand is impressive as you would expect. There is a doorman for much of the day, and the lobby area is bright with a striking sculpture and welcoming lobby bar beyond.
As I visited in the run-up to Christmas, there was a gingerbread house on display that had been made by two apprentices at the hotel.
Check rates and availability at the Grand with Booking.com
Check-in was quick and easy, and I was able to check-in an hour early despite not having agreed it in advance. I find most hotels in Norway are quite flexible on this these days, which is something I really appreciate.
Guest room
Of course, the most important thing about any hotel is the room. So, how was it?
These pictures should give you an idea, but the word I would use would be elegant. It wasn't especially big, but there was room enough for two comfortable chairs and a desk-and-chair, which was ideal for getting some work done.
There was also a good amount of hanging space in the wardrobe. The bathroom was small but well-appointed, although there was a shower-over-bath rather than a shower cubicle. This isn't my preferred setup, although the powerful shower made up for that.
My room featured a balcony overlooking the side street. Looking to the left, I could just about see the Christmas market on Karl Johans gate. As it was winter I didn't really use this space, but I can imagine a morning coffee here being lovely in the summer.
Breakfast
Another big factor in a hotel stay for me is the breakfast. At the Grand, breakfast is served in the neighbouring Grand Cafe, which you can access directly from the hotel lobby.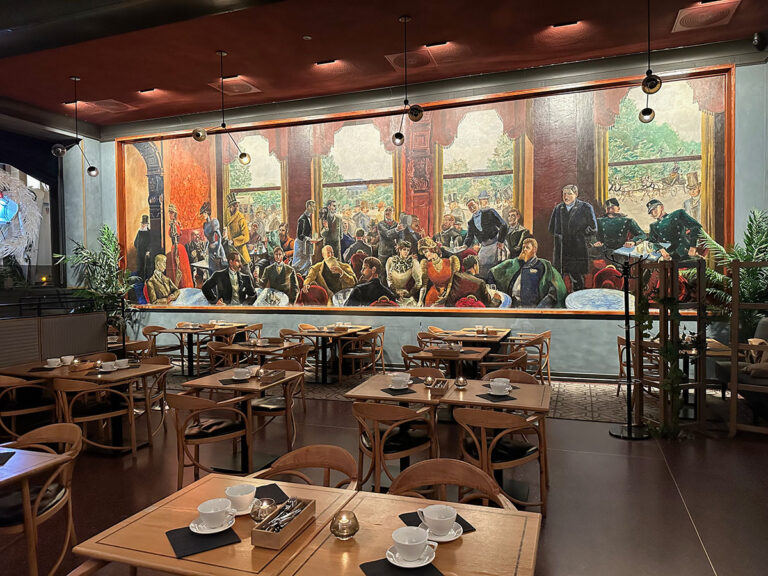 I always eat breakfast super early when I'm travelling and so I was one of the first people into the room. The mural on the far wall provides an impressive backdrop.
The range of food on offer from the buffet is of high quality, as I hope these images illustrate. That's especially true if you enjoy fresh fruit, cheese or cold cuts for your breakfast.
Lunch at Palmen restaurant
While other meals are not included in your stay, I really wanted to test out the main Palmen restaurant. I emailed in advance to book a table for lunch and was fortunate enough to grab one of the last available tables.
This was julebord season, so perhaps that explains how busy the restaurant was. But nevertheless, I would recommend securing a spot in the restaurant well in advance of your arrival if you're interested in dining there.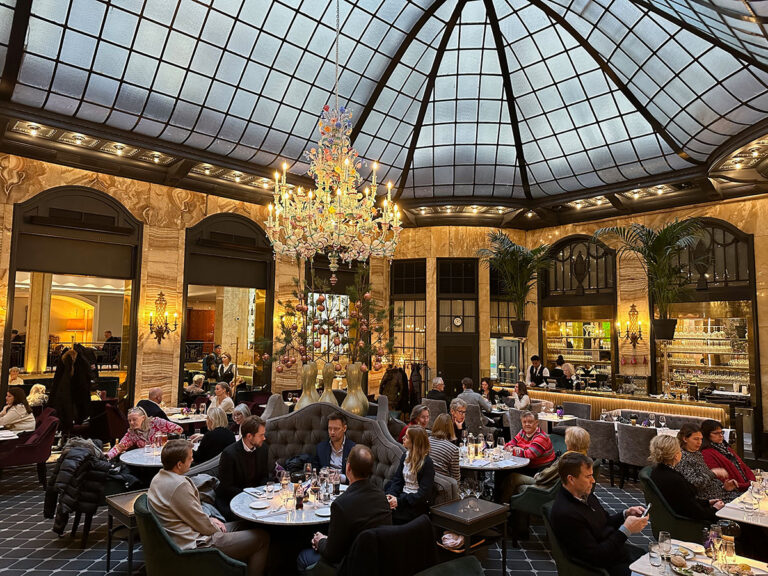 I enjoyed a wonderful three course lunch. Although a set menu, the waiter kindly arranged for a couple of adjustments to be made for me based on an allergy.
At the time of my visit, a two-course lunch was NOK 450 and a three-course lunch was NOK 710. That's far from cheap, but if you're looking for a treat you will not be disappointed.
Other facilities at the Grand Hotel
There is a gym and a popular spa facility at the Grand. While I didn't use them, I did have the chance to take a quick look inside.
There is a reasonably large pool, with treatment rooms available for facials, body scrubs, massages and other treatments.
While the pool and gym are free to use for guests, treatments come at an additional cost of course.
In summary
A stay at the Grand Hotel in Oslo is not cheap and so budget travellers should look elsewhere. Rooms at the Grand start from about NOK 3,400 per night.
Check rates and availability at the Grand with Booking.com
But if you're used to luxury hotels or you are looking for a treat on your travels, the Grand could be exactly what you're looking for.