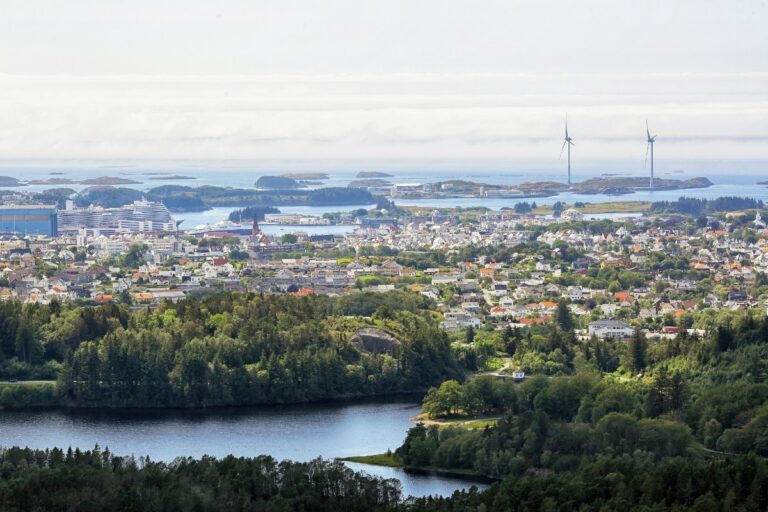 Things to do in Haugesund and other fun facts about this western Norway city.
This Norwegian west coast city between Bergen and Stavanger has plenty of history, culture and things to do. Yet it took me eight years of living in Norway before I finally made it to Haugesund.
An introduction to Haugesund, Norway
In many ways it's Bergen or Stavanger in miniature. There's hotels and all the shopping you could need, although most tourist sites of interest lie outside the city itself. Historical sites, beaches and wild nature are all within easy reach.
It's the history that drew me, as I wanted to see visit Avaldsnes. Yet the Haugesund region of today inherits much of that viking past, with a modern focus on shipping and maritime industries.
If you're planning a trip to the city or you've been offered a job in the region, here's a guide to what to expect.
Where is Haugesund, Norway?
Haugesund is in the northern part of Rogaland county, located in the south-west of Norway. The town itself is situated on a strategically important stretch of water, the Karmsund.
How best to get to Haugesund depends very much on where you're coming from. Driving is your best option coming from Stavanger or Bergen (via Stord island), or taking the Kystbussen coach service. Unfortunately the Bergen-Haugesund-Stavanger ferry route no longer operates.
From elsewhere in the country, flying will be by far the quickest option. Located on Karmøy island, the city's small airport offers daily flights to Oslo.
History of Haugesund
Haugesund itself is a relatively young city, but the surrounding area was of great importance during the Viking Age.
The pastures of Karmøy island and the sound through which ships could pass to avoid rough seas attracted settlers. Known as the first King of Norway, Harald Fairhair lived in Avaldsnes, which is today home to a museum and viking village.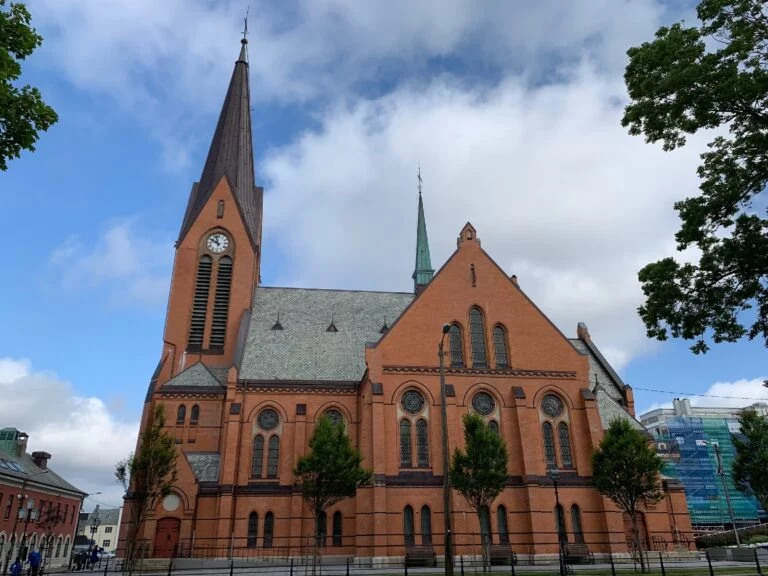 In the early years, the coastal waters off Haugesund were a huge source of herring, and the town grew accordingly.
Things to do in & around Haugesund
While the city itself is pleasant enough, most sites of interest to tourists are on the nearby Karmøy island.
Karmøy
Here you'll find Avaldsnes, home to the museum and viking village mentioned previously.
You'll also find Avaldsnes church, built sometime around 1250 by King Håkon Håkonsen. However, it's presumed there had been a previous wooden church there built by Olav Tryggvason a few hundred years prior.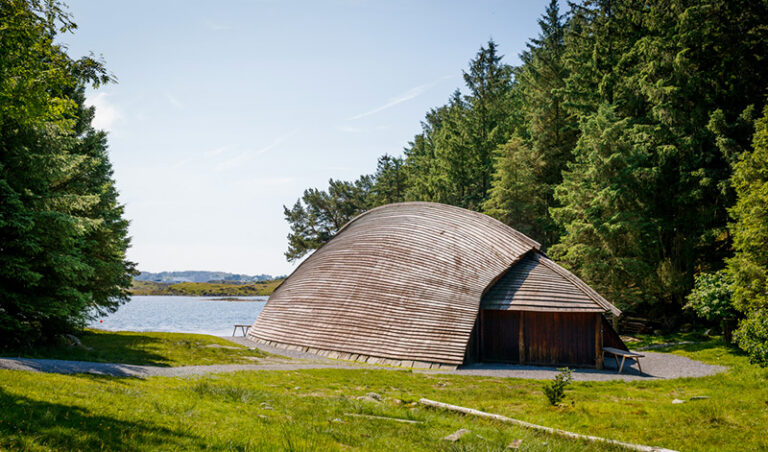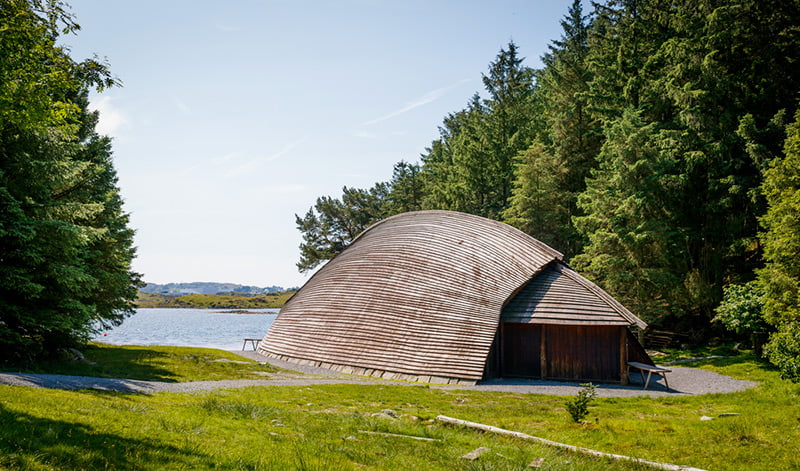 The church is surrounded by burial mounds from pre-christian times, something which is also common in parts of Sweden and Denmark.
Also on Karmøy, historic Skudeneshavn is a still-thriving, real-life 19th-century clipper town. Home to more than 200 beautiful wooden houses, the old town, Gamle Skudeneshavn, is regarded as one of the best preserved in Europe.
Haugesund
The central feature of the town itself is the sound running through its heart. The waterfront has several places to eat and drink and is a pleasant place to relax on a sunny day. Watch out for the rather unexpected sculpture of Marilyn Monroe!
Built in 1931, the pink Haugesund City Hall is one of Norway's best-known neo-classical buildings. It overlooks the city square and a small park.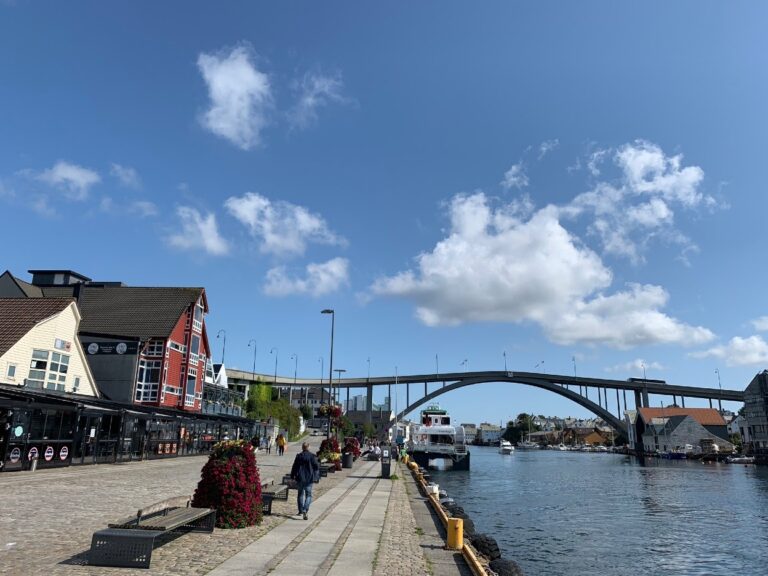 The attractive red-brick Our Savior's Church (Vår Frelsers Church) is a popular stopping point on guided tours. Built in a neo-Gothic style in 1901, the church seats around 850. Our Savior's Chapel (Vår Frelsers Kapell) and graveyard lies just to the south of the city centre.
Since 1973, the Norwegian International Film Festival has been regularly held in the city, The Amanda Award, Norway's 'Oscars', has been held in the town during the festival since 1985.
Haugesund is also the departure point for ferries to Utsira, Norway's smallest municipality. The remote island is home to around 200 people and has been populated since Neolithic times.
Living in Haugesund
Approximately 37,000 people live in Haugesund municipality, with a further 42,000 in neighbouring Karmøy. For the purposes of national statistics, the 'Haugesund region' includes some 100,000 people in total.
The highest number of people with an immigrant background living in Haugesund come from Poland (1,163).
Read more: Norway Immigration Guide
There are also significant populations of people with an immigrant background from Lithuania (381), the Philippines (221), Vietnam (203), Iraq (198), Eritrea (154) and Germany (153).
Student life in Haugesund
Haugesund is home to a campus of the Western Norway University of Applied Sciences (HVL). Other campuses are located in Bergen, Førde, Sogndal and Stord.
Several modern buildings within walking distance of each other make up the city centre campus. The main building is located next to the hospital, town hall, theatre and court house. Student accommodation is located in the city centre or within walking distance.
The Haugesund campus has a focus on maritime studies and features seven bridge simulators and a classroom with 12 training stations for navigational instruments and cargo loading. There is also a library and on-campus bookstore.