Havila Voyages is the new name serving the Norwegian coastal route. Take a look inside one of their brand new coastal cruise ships.
If you're a frequent visitor to Norway, you're likely familiar with the famous Norwegian coastal voyage. The 11-night journey from Bergen to Kirkenes and back has become a firm favourite with international tourists.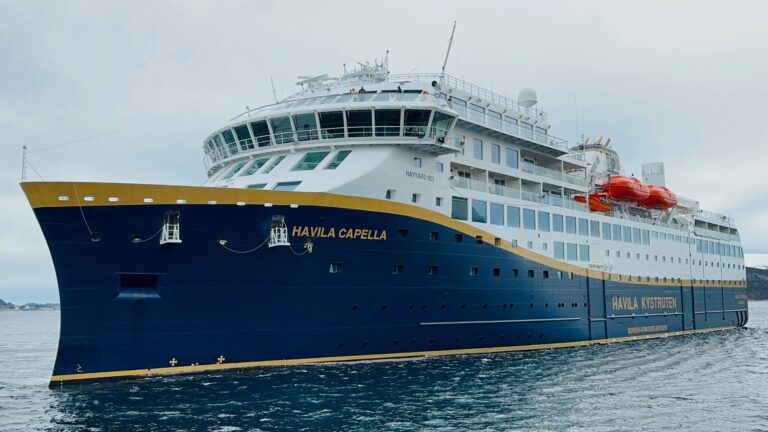 Although Hurtigruten is the most well-known company operating on this route, Havila Voyages entered the game in 2021 with an impressive fleet of brand new ships.
In this article, I'll take you on a journey aboard the Havila Capella to help you decide if a Havila voyage is right for you. All four ships in the Havila fleet are identical so no matter which ship you're considering, keep reading for answers to all your questions.
Do you prefer watching to reading? If so, you're in luck! I have recorded this article as a video, complete with 11 minutes of footage from the ship. Enjoy!
If you have questions after watching the video, read on for more detail.
Introducing the coastal voyage
The renowned 11-night or 12-day coastal cruise is a result of the need for cargo and passenger ferry services for 34 ports between Bergen and Kirkenes, ranging from cities to small communities that rely on the coastal ferries.
I was using the service as a ferry, returning from Ålesund to Trondheim having come down a few days beforehand on Hurtigruten's Nordnorge.
But these coastal cruise ferries also offer a cruise-like experience for passengers who want to get up close and personal with the scenic Norwegian coastline. There were many German passengers doing the full roundtrip, together with a handful of Norwegians and Brits.
Introducing the Havila Capella
Havila's new ships have already made a splash as some of the most environmentally friendly vessels of their size in the world. They run on LNG and can sail on battery power for up to four hours.
Boarding the Havila Capella in Ålesund, you'll immediately notice some differences from the older Hurtigruten ships, such as the glass elevator in the impressive atrium.
The ship's modern Nordic design offers a unique aesthetic compared to older vessels on the coastal route. In fact, fans of Scandinavian interior design are sure to love the ship's look and feel.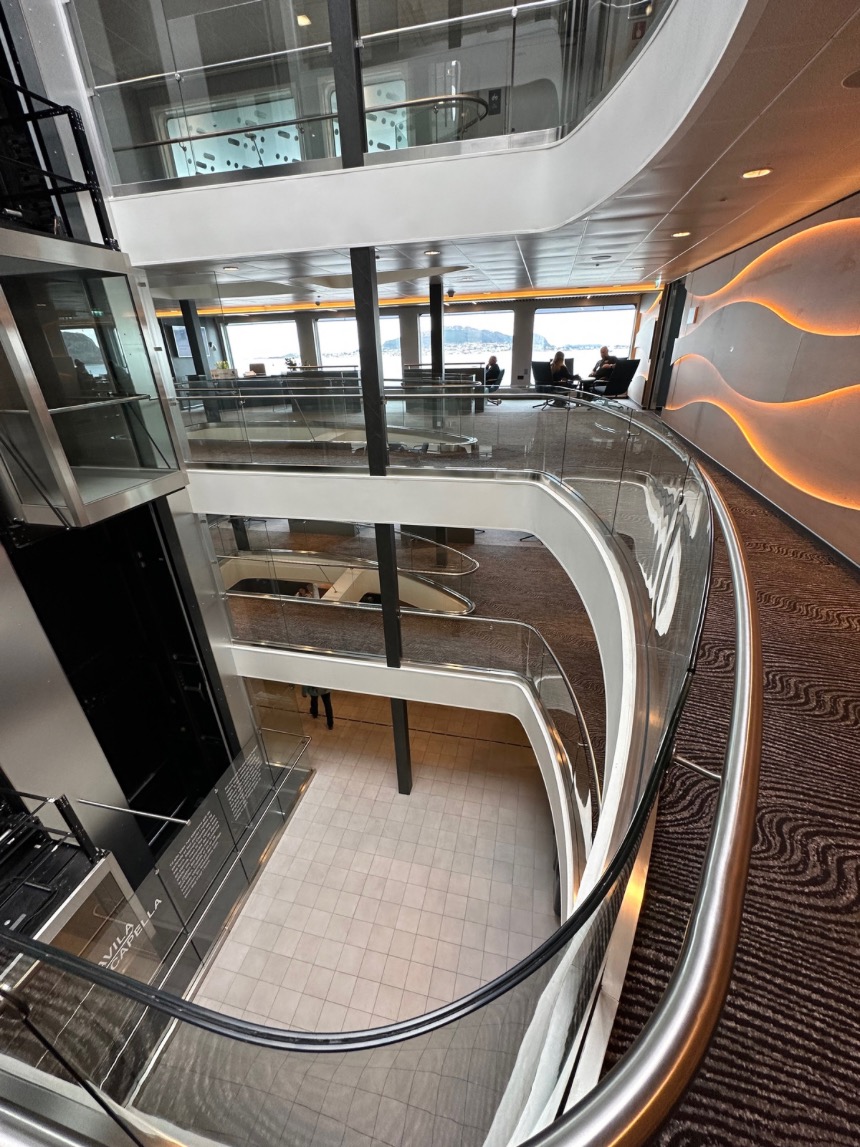 That being said, a friend of mine who visited me on the ship said the design did feel like walking into an office. So perhaps it's not to everyone's tastes!
Accommodation options
Local passengers can store large bags in the luggage room and then make use of the various lounges and the cafe while onboard. For longer trips, local passengers can reserve a reclining seat in the dedicated port-to-port lounge for a small additional fee.
If you are travelling overnight though you'll probably want to book a cabin. The Havila Capella has 179 cabins onboard for roundtrip cruise passengers and those on shorter trips.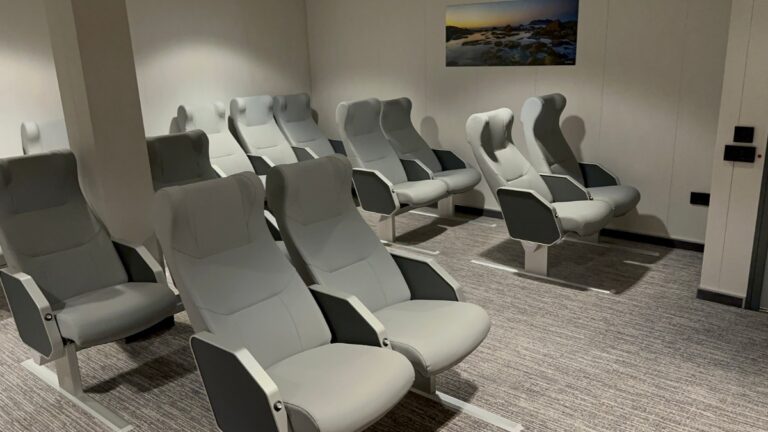 From the smallest, cheapest inside cabin to more spacious options and panoramic superior cabins, there's a range of accommodations to suit your preferences.
Interior cabin
As I was making an overnight journey from Ålesund to Trondheim, I booked the smallest, cheapest cabin on the ship. There are interior cabins on most levels that sleep two. Mine had one single bed and another that you can pull down from the wall.
The bed was comfortable and I had a really good night's sleep, which I often don't do on a ship. I did notice a little movement as we sailed into open sea during the night but in terms of mechanical sounds, it was relatively quiet.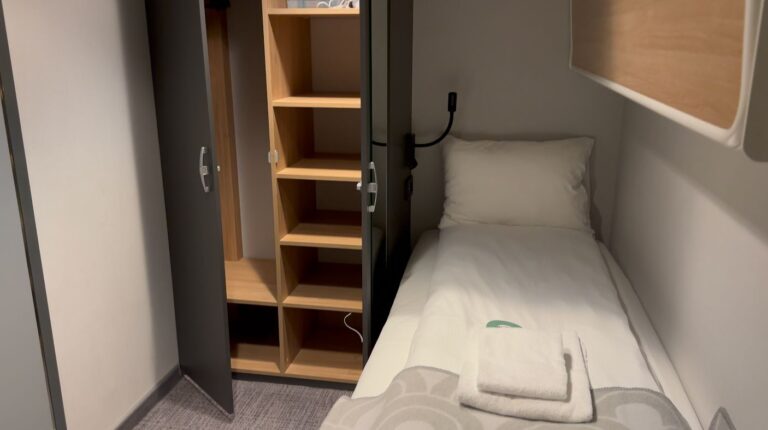 There were some nice touches in the cabin including plenty of power, both traditional sockets and USB-A outlets. The bathroom was small but it was clean and the shower was fantastic. There is hair and body wash and liquid soap included in all cabins.
For one night, an inside cabin is absolutely fine and to be honest a bit of a bargain in what is usually a very expensive country to get around. But I would want a bit more space if I was doing a longer trip and especially if I was on the full roundtrip cruise.
Other cabins
All the other cabins on Havila ships are a little bigger than the Hurtigruten equivalents. I was able to take a quick look at some of the others.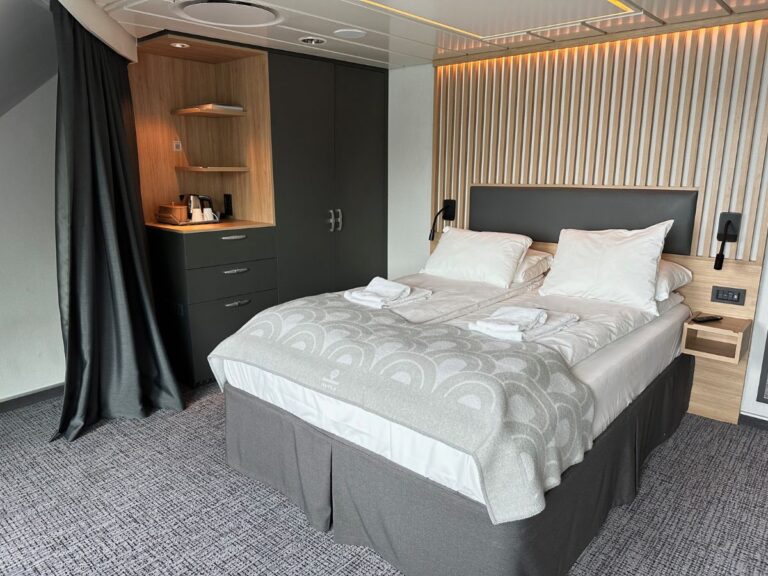 The non-interior cabins on the Havila Capella are about as close as you're going to get to cruise ship cabin standard without being on a fully-fledged cruise ship.
If you have the money, the Panoramic Superior looked fantastic while still offering better value than one of the handful of suites with balconies.
Dining options
The ship's dining facilities are located on deck 6. Outside the main restaurant Havrand, you'll find the Havly Cafe, which serves snacks and drinks throughout the day.
It's really aimed at local passengers and as such, carries a dinner of the day and a soup of the day for local passengers looking for a cheaper option than the main restaurant.
Havrand is the location for three meals per day for most roundtrip cruise passengers. Local passengers can book to dine here too. Dining is on an all a la carte basis, with breakfast and lunch served as a small plates concept.
I only had breakfast and lunch in Havrand, and enjoyed both thoroughly. It is suggested to order three plates at lunch, which I did, followed by a small dessert. That sounds a lot, but with small plates it was just the right amount.
The advantages of this system are numerous. Havila claims it cuts down substantially on food waste compared to a buffet model. For passengers, a menu of small plates means the food comes very quickly.
As far as I'm aware, dinner works on a more traditional three course basis, again from an a la carte menu. In addition to these dining options, there is a fine dining restaurant on deck 6 called Hildring.
Lounges & other amenities
The observation lounge, known as Havblikk, is a large, light, and airy space designed to provide as many window seats as possible.
This is the perfect spot to unwind and take in the breathtaking views while enjoying a drink from the full bar.
Another defined lounge is the Bow Lounge. Although this is one of the rare points on the ship without those wonderful floor-to-ceiling windows, I found it a wonderful place to relax especially in the evening.
Elsewhere on the ship there are comfortable chairs by windows wherever possible. While not defined lounges, there are several of these places to relax. I keep using that word relax, and that's deliberate! It's difficult not to do so on this ship.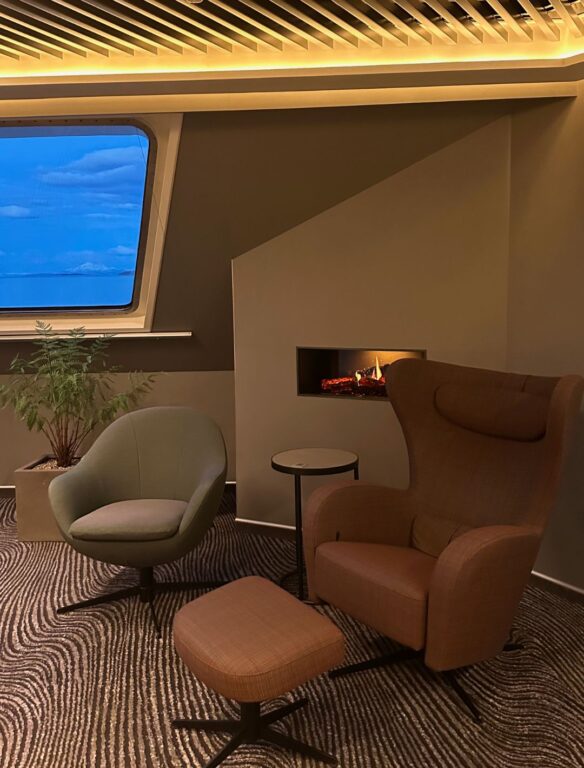 Other onboard amenities include a conference room, excursion desk, the ship's shop, and a gym. The shop sells a good range of warm weather clothing, outdoor gear, branded clothing, gifts, books and toiletries.
Outdoor spaces
Although the interior windows are fantastic, it's the outdoor decks where the Capella really shines. The ship offers fantastic outdoor spaces, which are perfect for admiring the Norwegian coastline day after day.
There is plenty of room for scenic cruising on deck 8 and up on the promenade deck 9. A pair of hot tubs and an outdoor bar (open for events) means that you might spend far more time outside than you had planned!
My favourite spot was the walkway that wrapped around the outside of the observation lounge on deck 9. While it got windy here, it was a terrific vantage point that you don't always get at the front of relatively small vessels.
In summary
The Havila Capella offers a unique and enjoyable experience for those looking to explore Norway's picturesque coastline. If the timetable works for you, a voyage aboard one of Havila's new ships is highly recommended. Enjoy!