Photographs and details of the experience aboard the MS Nordnorge, a popular Hurtigruten vessel that operates along the Norwegian coastal route.
Norway's fleet of Hurtigruten coastal ships are an iconic sight and a draw for curious travellers from all around the world. The modern fleet are more than ferries but less than cruise ships, sitting somewhere in between.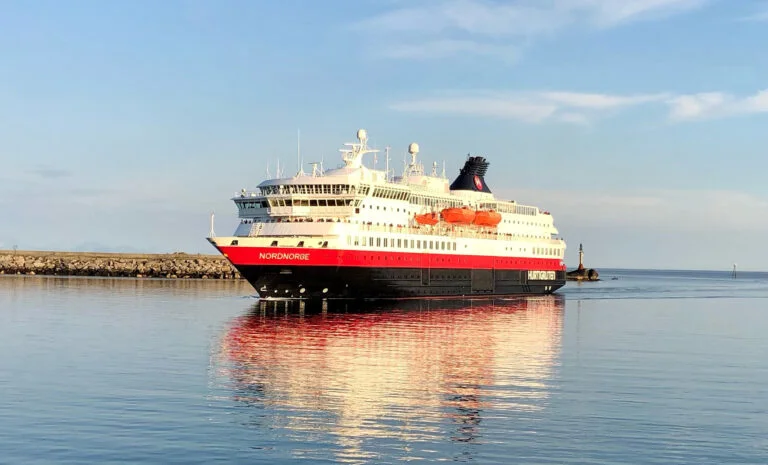 On a recent trip to the Lofoten islands, I took a trip from Bodø to Svolær on the MS Nordnorge. The six-hour voyage also called at Stamsund and provided a fantastic view of the mountainous islands.
As I've previously written in great detail about the older MS Vesterålen, here is an overview of a different kind of ship within the Hurtigruten fleet. We didn't have a cabin so there are no cabin pictures, but I took a good look around the rest of the ship.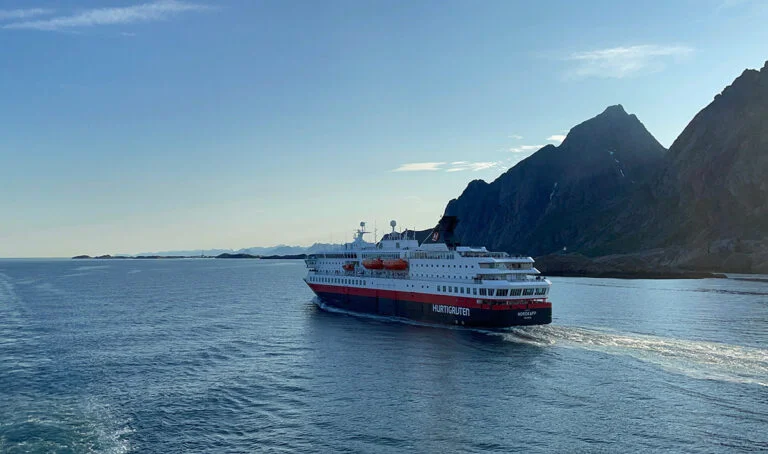 If you're considering a trip on the MS Nordnorge, I hope you find this post useful.
Introducing the MS Nordnorge
Built in 1997 at the Kværner Kleven shipyard, the MS Nordnorge received a comprehensive refurbishment in 2016.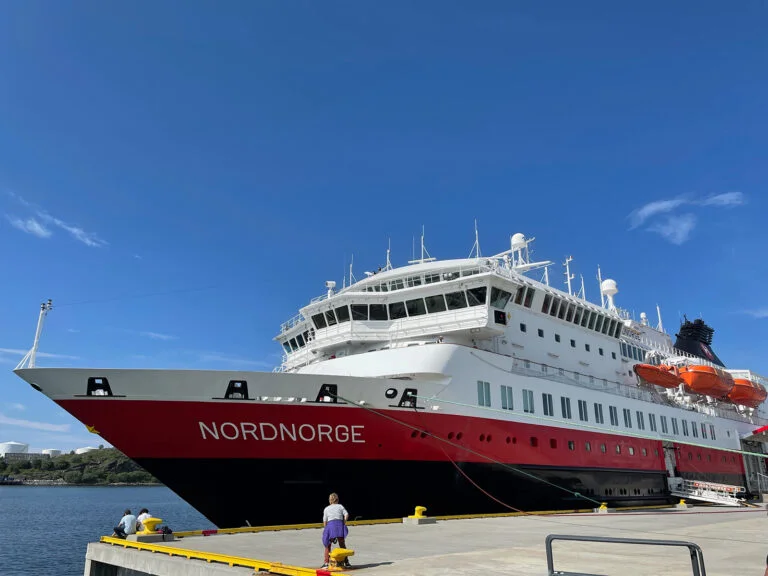 There is a total capacity of 590, which includes beds for 476 people. The 123.3-metre-long vessel also has space for 32 cars. It has a top speed of 18 knots.
Restaurants and bars onboard
Anyone who has taken a Hurtigruten vessel before will be familiar with the facilities onboard. Given that food is a major selling point on Hurtigruten coastal voyages, let's start there.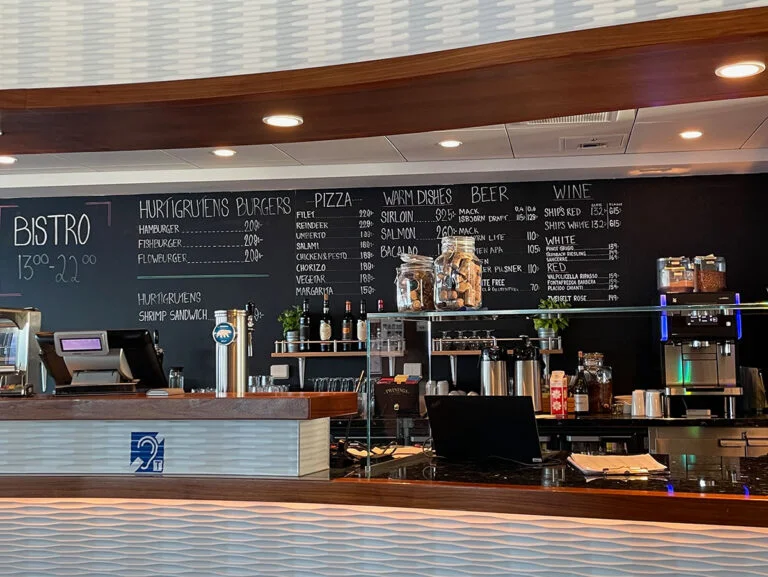 The MS Nordnorge offers three different restaurants, all located on deck four. The main restaurant Torget is where roundtrip voyage passengers will eat the majority of their meals. It's the biggest restaurant and is where the buffets and most dinners are served.
Further along deck four, you'll find Kysten, billed as 'Arctic fine dining.' This is an option for coastal voyage passengers looking for a different dinner experience and must be booked in advance.
Alongside Kysten, the final restaurant onboard is the bistro Brygga, which serves a range of pizzas, burgers and smaller dishes. This is a great option for port-to-port travellers looking for a meal.
We ate at the bistro and the food came quickly. This is exactly what we were looking for given we were sailing towards Lofoten! The two pizzas and shrimp sandwich were all excellent.
Up on deck seven, Multe is a bakery and ice cream bar, perfect for a sweet treat to enjoy on the outdoor part of deck seven. Ice cream flavours include Tørrfisk and Brunost! The only downside with Multe is the relatively early closing time.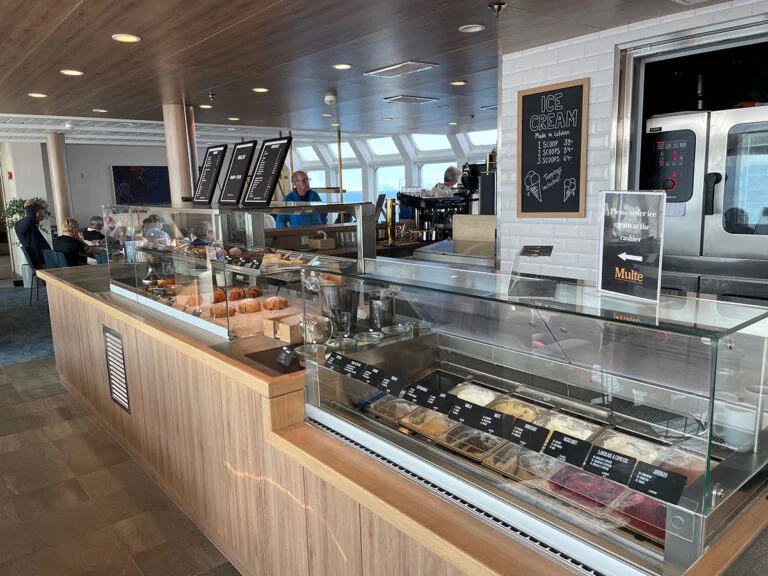 Finally, at the other end of deck seven is the Explorer bar, with a full bar service and comfortable seating. This is a good point to mention that food and in particular alcohol onboard is very pricey, even by Norwegian standards. You have been warned!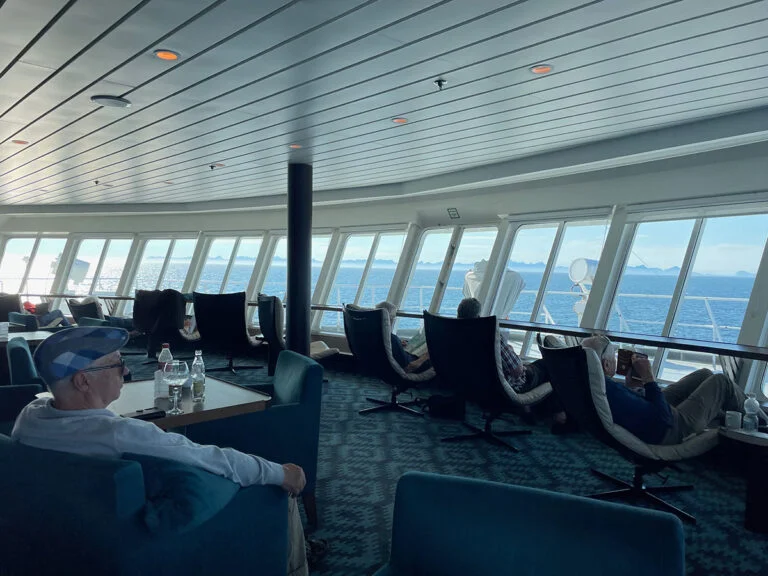 We sat in the Explorer lounge for quite some time, as even from the interior seats you can see a lot from the panoramic windows. If you can bag one of the window seats, all the better.
Other facilities on the MS Nordnorge
Elsewhere on the ship, the biggest attraction is of course the Norwegian coastline! We spent a lot of time up on deck seven's outdoor deck, although did it get quite windy once we were moving.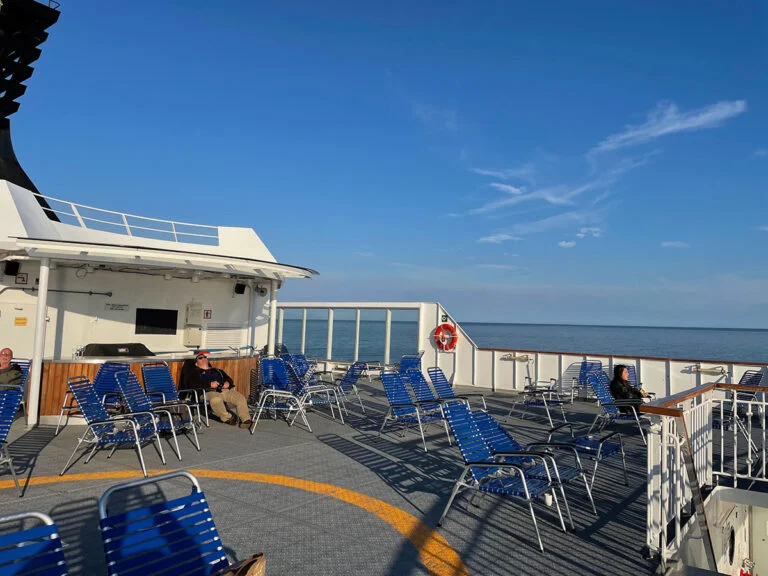 Just below the main outdoor deck at the very back of deck 6, you'll find two small hot tubs and a smaller seating area with a great view of the water from the back of the ship. The hot tubs were well used during our short voyage.
Another great option for viewing the coastline is the wraparound walkway on deck 5. While lower down than the main outdoor deck, it does give you more flexible perspectives. This was especially useful as we approached the ports in Lofoten.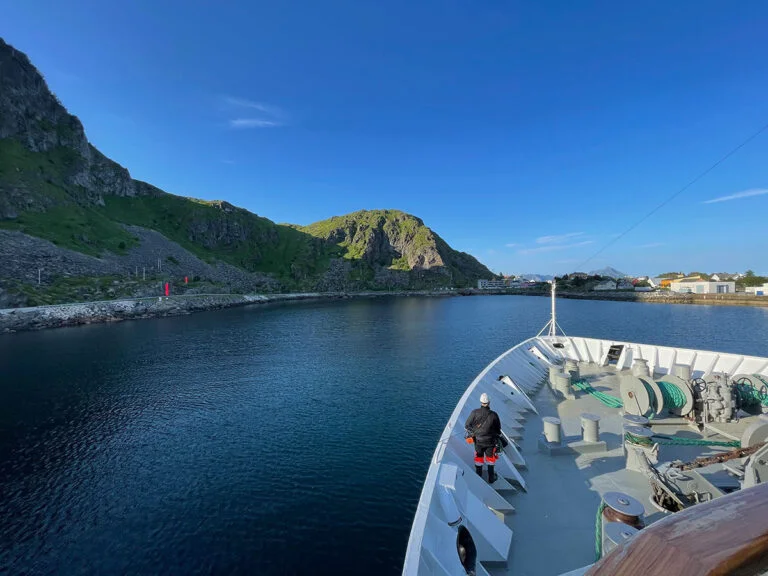 I also had a chance to take a quick look in the shop. There was a good range of outdoor clothing (premium brands, premium priced) and the usual souvenirs such as postcards and mugs.
The shop also sells soft drinks and serves as an information point for roundtrip guests, a booking point for excursions and so on.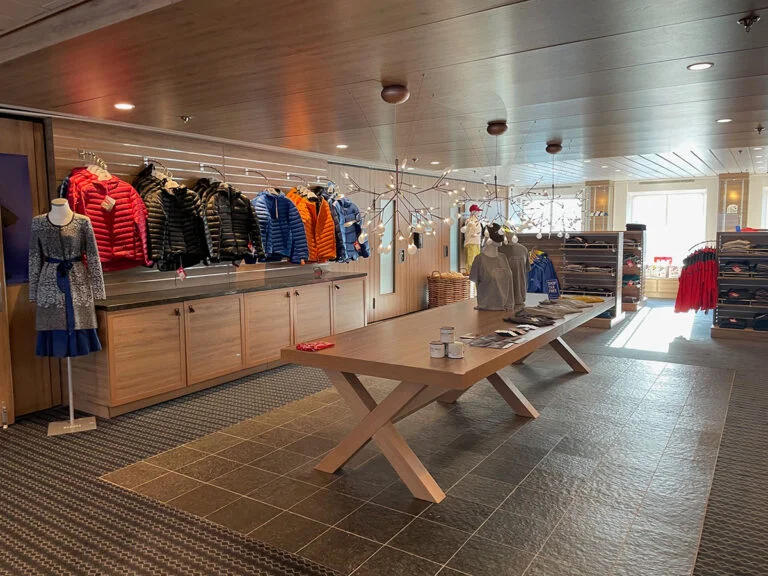 Behind the shop is a lecture hall. This is used to give daily briefings to roundtrip guests and lectures such as an introduction to Sami culture. Other facilities onboard include two hot tubs, a sauna and a small fitness room.
Passenger cabins
As I said earlier, we didn't have a cabin as our journey lasted just six hours during the afternoon and evening.
Having looked at the cabin pictures on the Hurtigruten website, I can say that the cabins are a step up from what I had on the MS Vesterålen. However, they are a long way short of what you would expect from a cruise ship.
Norway's coastal voyage is not a cruise ship, so it's important to take a look at the cabins before you book to ensure you have set your expectations appropriately! This is especially true if you are an experienced cruiser.
We thoroughly enjoyed our time on the MS Nordnorge and found it a great option to travel between Bodø and Svolvær. Coming up soon I'll write more about using the Hurtigruten as a port-to-port ferry, just as the locals do.