There's a new name in town on the Norwegian coastal route. Come and take a look inside the new Havila Castor with this picture-packed tour.
Tourists travel from far and wide to join the Norwegian coastal voyage. A critical local transport service for 130 years, the coastal ferry is beloved by locals and tourists alike.
While Hurtigruten is the famous name on the route, Havila Voyages began operations in 2021. The Norwegian coastal route is now shared between Hurtigruten (7 of 11 departures) and Havila (4 of 11 departures).
I was super keen to see what Havila had to offer. So, earlier this year, I took an overnight trip from Ålesund to Trondheim on the Havila Capella. Recently, I took the opportunity to visit the Havila Castor while it was docked in Trondheim.
Introducing the Havila Castor
Built at Tersan Shipyard in Yalova, Turkey, the Havila Castor was the second Havila ship to enter service on the coastal route.
There is a total capacity of 680, which includes beds for 468 people. The 124-metre-long vessel has space for a maximum 9 cars. With a gross tonnage of 15,776t, it has a top speed of 16 knots.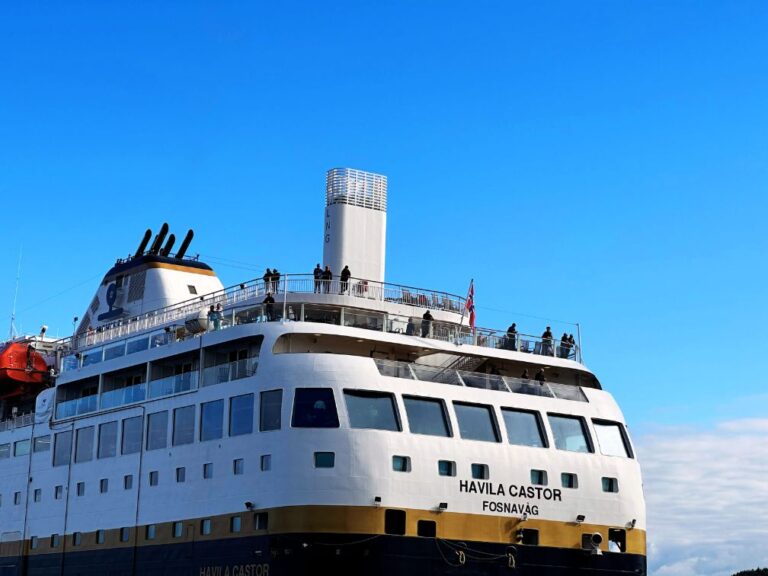 Havila Castor–and all the Havila ships–are very different from the Hurtigruten coastal fleet, and not just in design. They run on LNG and have some of the world's largest battery packs at sea, enabling completely zero-emission sailing for up to four hours.
Each Havila ship is almost identical. So it doesn't really matter which of the four ships you pick, your experience will be similar. That being said, let's have a look inside the Havila Castor.
Inside the Havila Castor
This article isn't intended to be a complete ship tour, as I only visited the ship briefly while in port. So there are no pictures of cabins or dinner service , for example.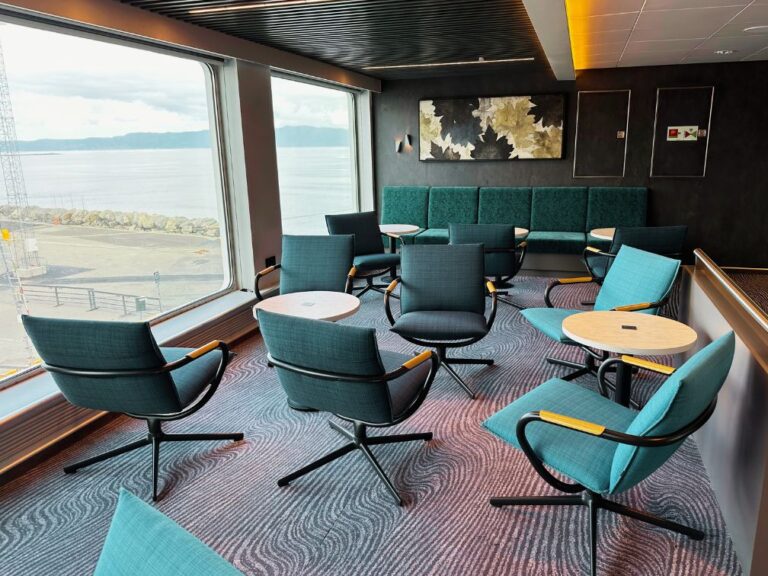 But I am hoping to give you a good impression of what to expect on board Havila Castor and from Havila Voyages in general. I know many of you are wondering about these things, so I hope this helps with your travel planning.
Before I dive into the photos, you may already be wondering where the people are. Good question! Trondheim is a relatively long stop on the coastal route, so most of the roundtrip passengers had already left the ship by the time I arrived.
Atrium and first impressions
It doesn't take you long to realise this ship is very different from the other coastal cruise ferries. You enter into this wonderful atrium with a skylight that floods the ship with natural light.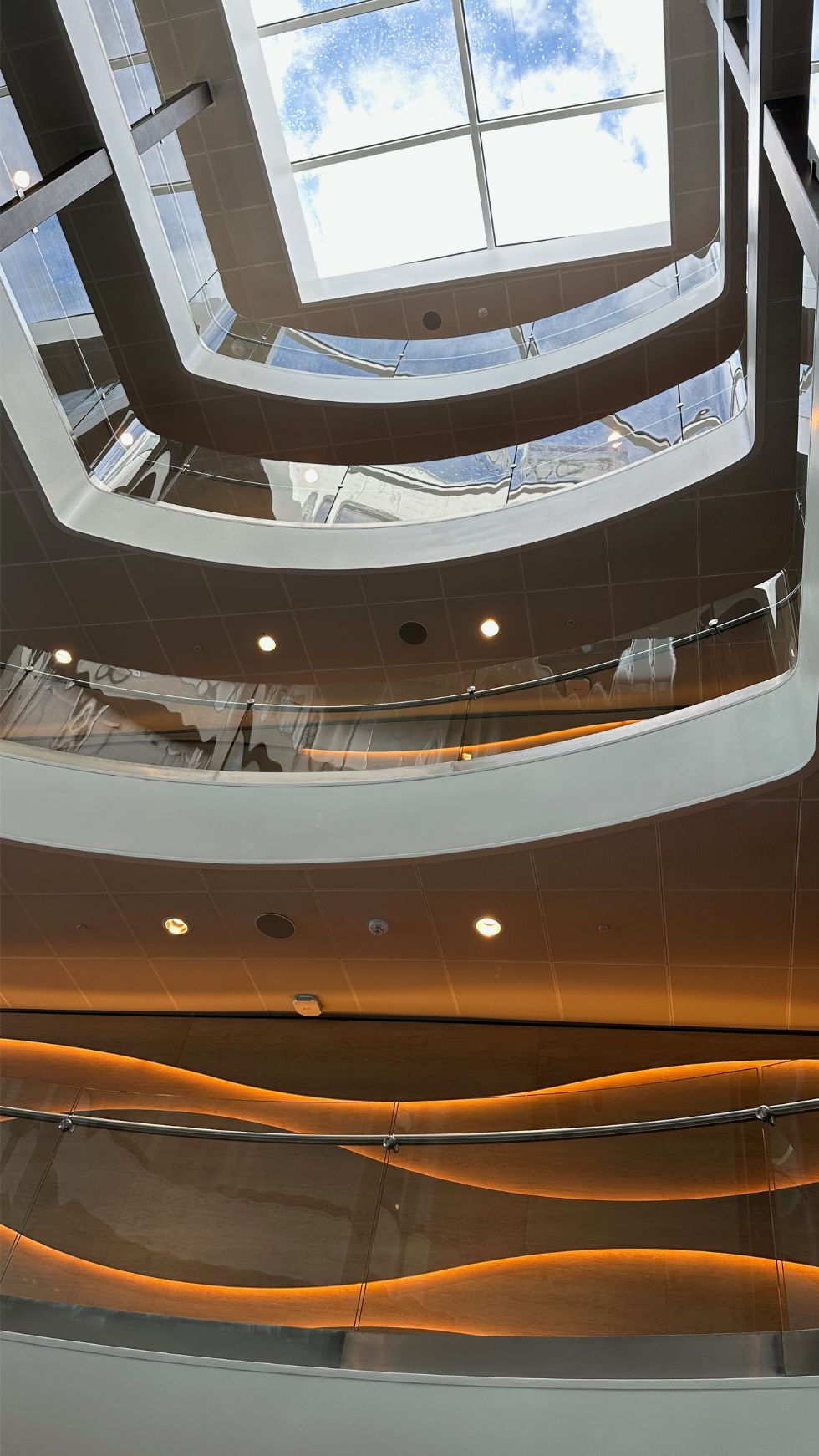 Once you start to explore, you'll also notice the Scandinavian design aesthetic that dominates the furnishings. A friend of mine thought some of the design choices felt more like a modern office than a coastal ferry, but personally I love it.
The whole ship design feels optimised for cruising the Norwegian coastline. Large windows are used wherever possible with comfortable seating areas next to many of them, even outside of designated lounges.
Main Deck 6
Deck 6 is where much of the activity takes place on board, including all dining options. Havrand restaurant, the ship's main dining room is at the back of the deck. Check out those window tables!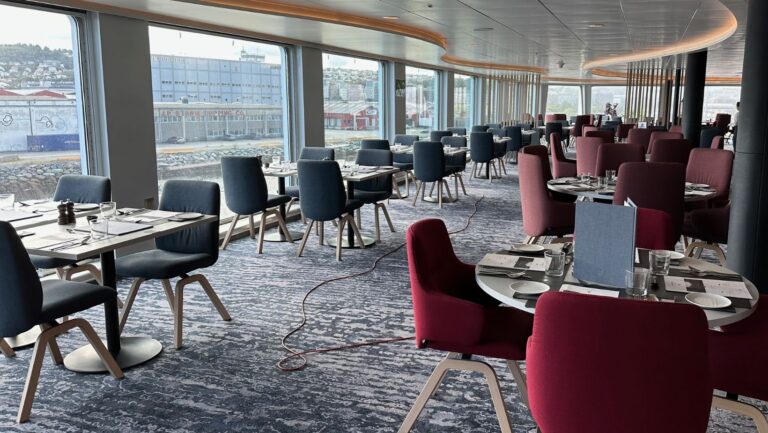 Open for three meals per day, Havrand offers an all a la carte concept. Instead of a buffet, there is a menu of small dishes for breakfast and lunch, while a more standard a la carte menu is available for the evening meal.
Tucked away to one side of the deck is Hildring, a fine dining restaurant (at additional cost) that offers an Arctic-inspired menu and a private space. I didn't get to go inside, but I could at least see through the door!
One example menu I spotted included cod from Lofoten, Norwegian farm duck, and reindeer from Finnmark. I look forward to giving this place a try on a future trip.
Port-to-port passengers (and port visitors like me!) will be interested in the Havly cafe. It's here you can buy coffee, beer, snacks and so on. As you've probably guessed by now, the cafe's layout is designed to maximise the use of the large windows.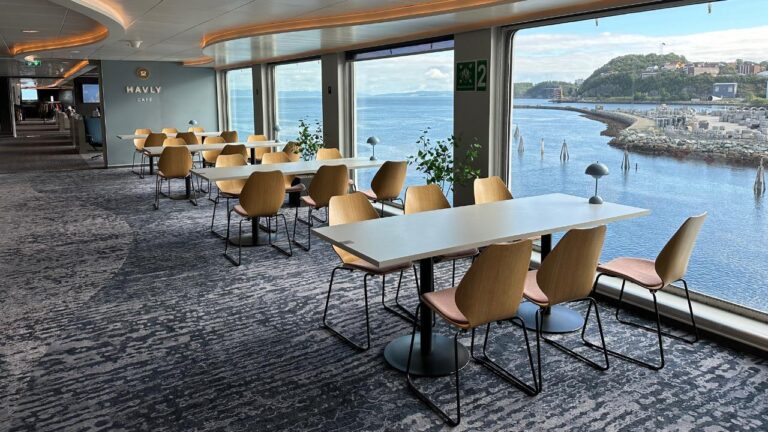 The cafe opens from 8.30am although the kitchen doesn't open for hot meals until later in the day. I stopped here for a quick coffee and spent longer than I had planned gazing out of the window, even though we were in port!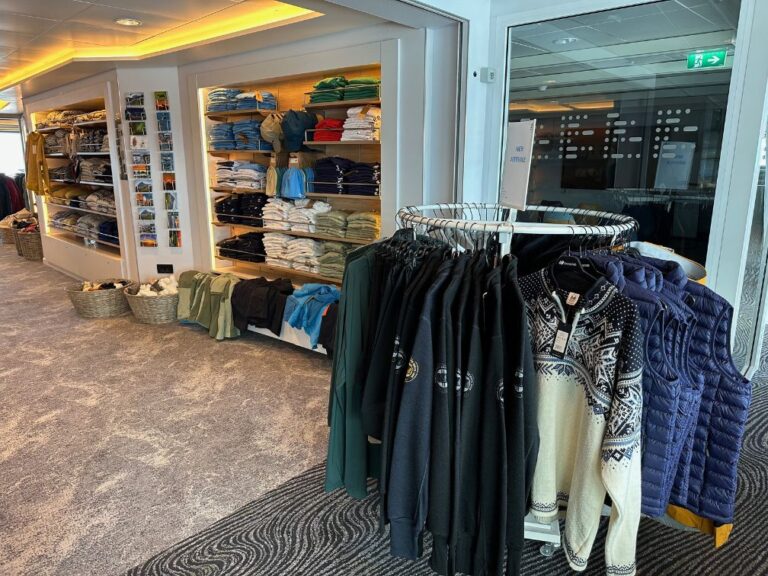 We're not quite done with deck 6 just yet. A small shop sells essential items, clothing, Havila-branded items, and souvenirs. Just behind the shop, a small conference room hosts information sessions and talks on various themes throughout the voyage.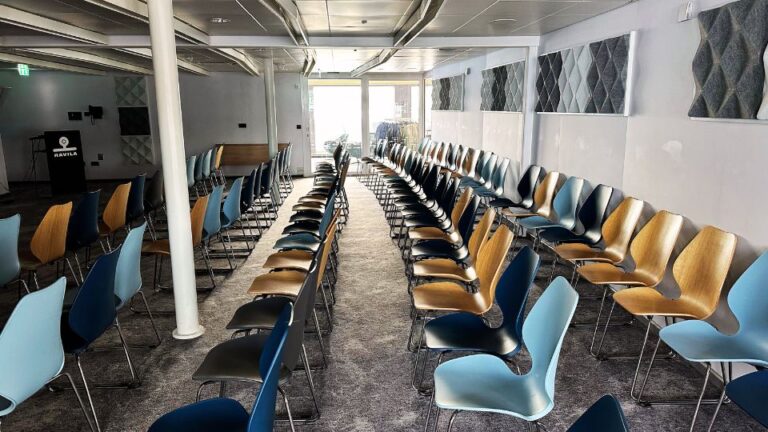 At the front of Deck 6, you'll find the Bow Lounge. This comfortable space is one of the few spots on board with smaller windows, so it does tend to be a little quieter than some of the other lounges.
If you're looking for a quiet spot to curl up with a book, this is it. That being said, there is a small children's play area nearby!
Outdoor Deck 8
While most of the Havila Castor's indoor features are packed into Deck 6, it's up on decks 8 and 9 where the ship really shines. The outdoor decks are spacious and really well designed to maximise the enjoyment of scenic cruising.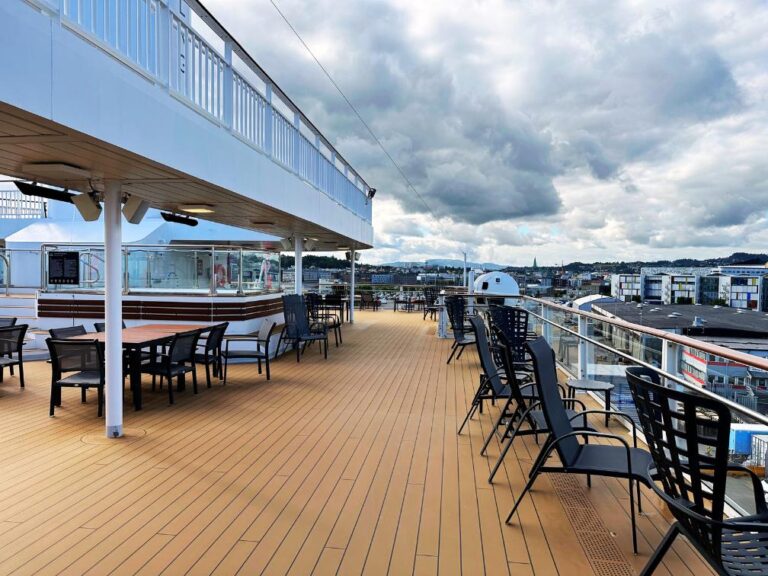 Deck 8 is the main outdoor deck featuring lots of space, chairs, deckchairs, an outdoor bar open for events, and two hot tubs.
Panorama Deck 9
Deck 9, known as the panorama deck, sits atop deck 8's outdoor space as a sort of mezzanine level, providing an even better view of your surroundings.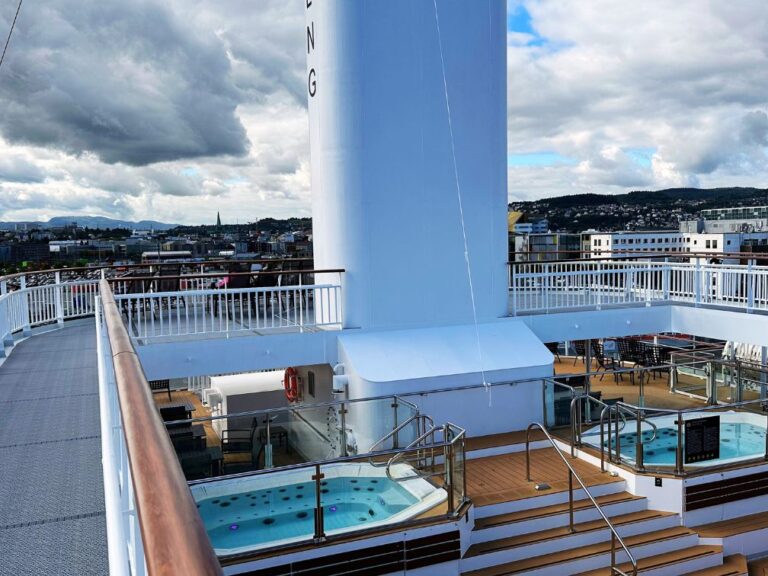 This is the place if you want to get some fresh air as it will be the windiest spot on the ship when at sea. No matter how busy the ship, you're sure to find a spot up here for the sail-in or sailaway at ports.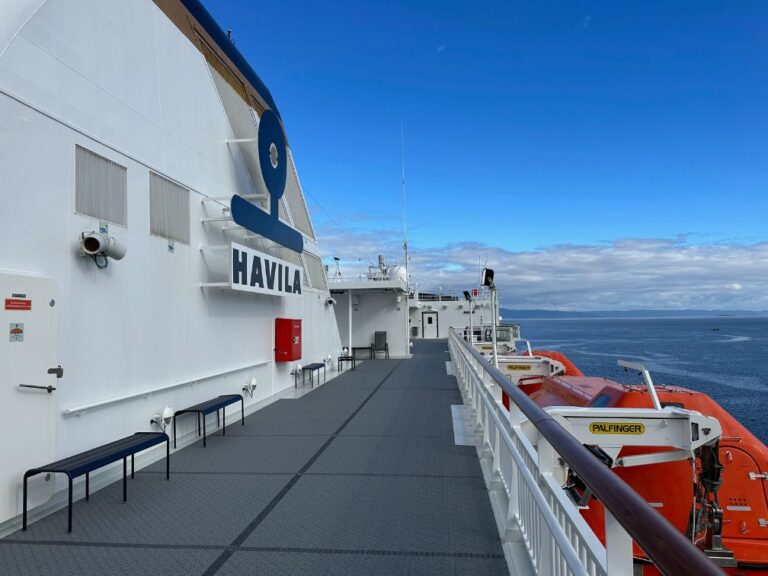 It's also possible to walk all the way around the front of the ship here, as there is a narrow walkway that wraps around the outside of the panoramic lounge.
At the front of deck 9, the observation lounge known as Havblikk is perhaps my favourite spot on the ship. The space has been exceptionally well designed, with a light, airy feel and windows that maximise the viewing potential.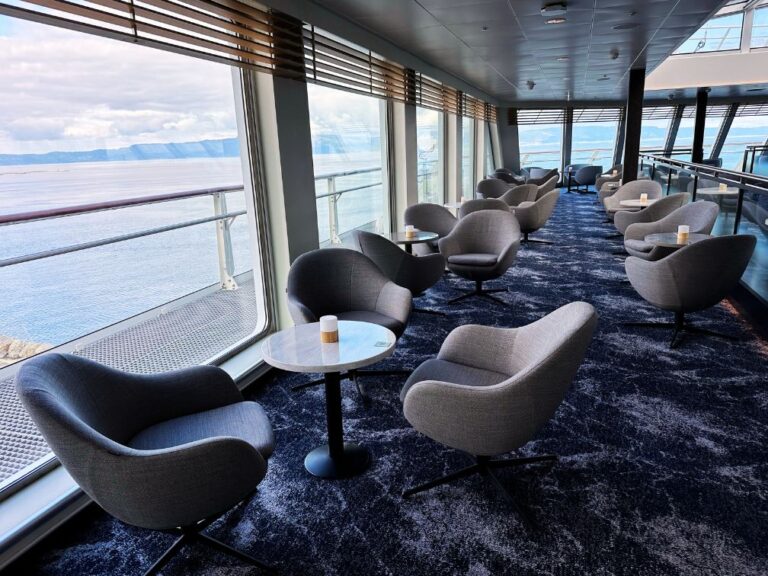 The centre of the lounge farthest away from the windows is raised, allowing people sitting here a better view. This is yet another example of the great physical design of these ships, regardless of your views on the decor.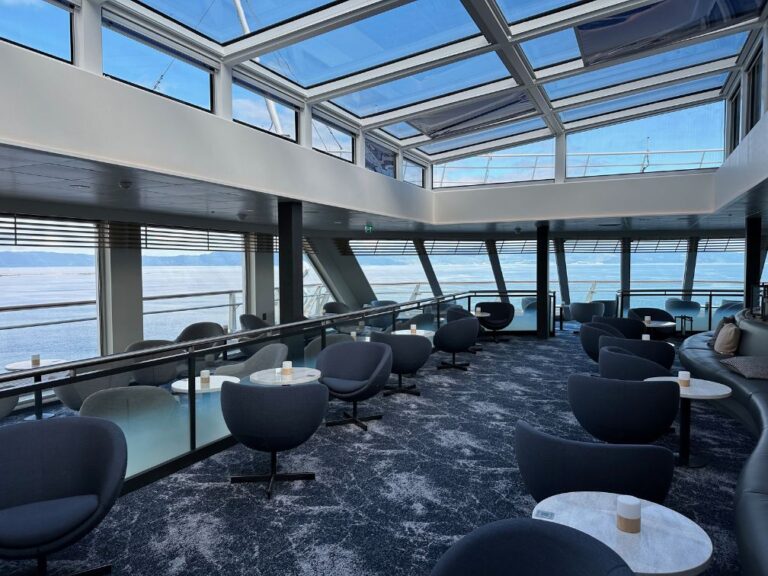 A full bar is open from midday until late in the evening. If you're a night owl, this will be your spot on Havila Castor!
Other onboard facilities
While I cannot show you any passenger cabins on the Castor, I did to get to see a couple on the Havila Capella. These rooms are basically identical to what's on the Castor, so do check out that review if you are interested.
Other onboard facilities include two saunas, a gym split over two rooms, a small laundry for guest use, and a luggage room. Local passengers can also book a reclining seat in a port-to-port lounge on deck 4.
I hope you enjoyed this quick photo-based tour of the Havila Castor. Although I can't review thefull coastal cruise experience as I only stayed onboard for a short time, hopefully I've given you enough information to help you with your travel plans.
Have you taken a trip on the Havila Castor? I'd love to hear your thoughts and experiences in the comments below.