This is Henningsvær. Postcard views and great art galleries are just a 30-minute drive from Svolvær in Northern Norway's Lofoten.
Set on a group of tiny islands seemingly dropped into the ocean at the foot of the imposing Vågakallen mountain, Henningsvær is one of Lofoten's best known fishing villages. And with good reason!
The stunning setting and mix of traditional wooden architecture with modern art galleries makes this island village one of a kind. The approach, a narrow waterside road that clings to the base of the mountain, is a spectacular entrance.
Once you've arrived, you'll find a thriving village with outdoor activities and a creative touch. But with fish drying racks all around, the village never forgets its roots.
In this article, we take a look at the best of Henningsvær. And of course, with such a picturesque place, we do it through the camera lens. Enjoy!
Art galleries
Next to the large village square is the bright red wooden building home to Galleri Lofoten. Although the 90kr entrance fee appears high, you're paying for a museum as well as a gallery.
Entrance includes a showing of the short photographic movie that highlights the diverse wildlife of the region and gives you a glimpse of Lofoten's special environment through all four seasons.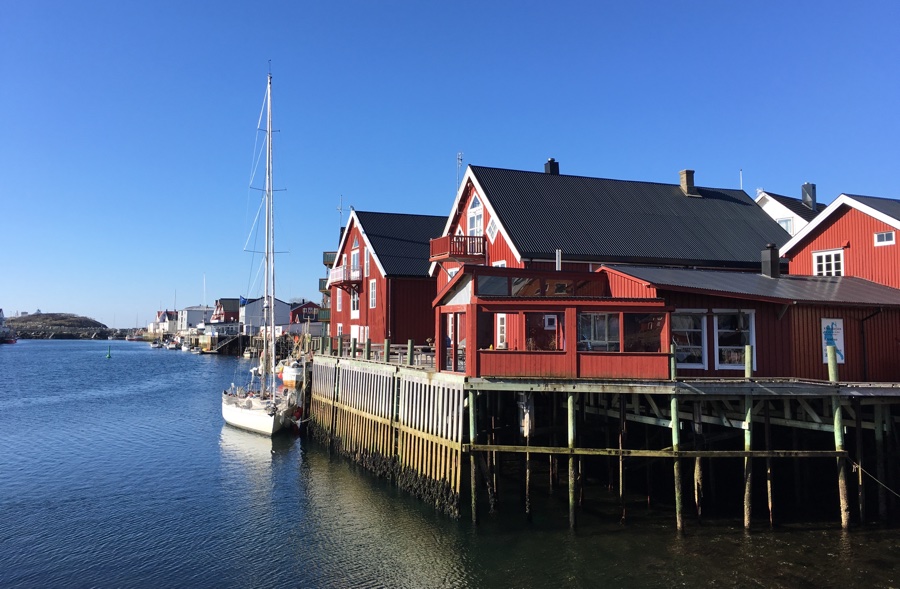 On the upper floors of the restored wooden building, locally-inspired artworks and memorabilia from the village's proud fishing history is on show.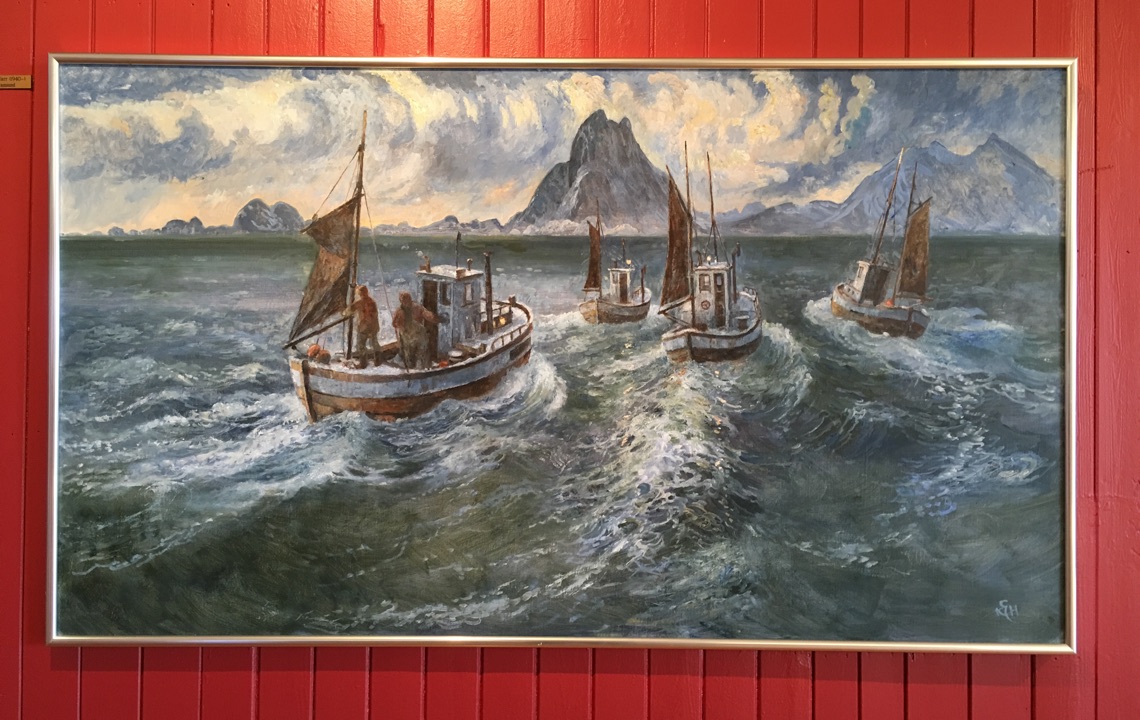 A ceramic artist, photographer and two glassblowers have come together to form Engelskmannsbrygga, a collection of traditional arts and crafts in a delightful old waterside wharf.
Displays of glassblowing and pottery making are held throughout the day in the open studio, while the gallery showcases the finished products.
Last but not least, the whitewashed brick Kaviar Factory produced fish paste for 40 years but when it faced closure, it was bought by Venke and Rolf Hoff. They have since transformed the industrial block into a gallery fit for their vast private collection of contemporary art.
While most local galleries display landscape paintings, the focus here is on giving the island locals the opportunity to see art from all around the world.
Henningsvær football pitch
This humble artificial football pitch achieved global fame a few years ago. Images of its spectacular setting spread around the world on social media.
While there's nothing special about the ground itself, any football fans visiting Lofoten always include a quick stop off at the ground to take in the picturesque spot.
Outdoor activities
Rock climbing: Nord Norsk Klatreskole run day-long guided climbing tours every day in high season. Tours must be booked in advance and the price depends on the size of the group.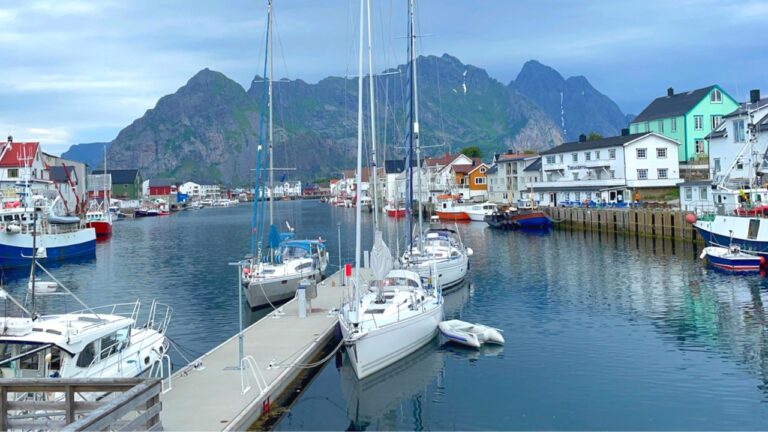 Also on offer are family-friendly packages suitable for beginners at the well-known Kalle mountains between Henningsvær and Kabelvåg. It's challenging, but a fun and memorable activity.
Snorkelling: The gentle, shallow waters around the Henningsvær archipelago are perfect territory for snorkeling. Rent equipment and receive basic training from Lofoten Opplevelser, who will take you on a two-hour trip on which you're likely to encounter cod, mackerel, starfish, and jellyfish.
Boat trips: Lofoten Opplevelser also operate a Midnight Sun Safari by inflatable RIB boat from mid-June to mid-August. Warm clothes are essential for this trip, as although it's only held in summer, the boats head out into the open ocean.
The point of course isn't the sun, which you can see from land, but the sea eagles, puffins, and grey eagles that often come out to play.
Where to stay
Henningsvær is a short drive from Svolvær so any hotel there would suffice, but there are some options for those who want a peaceful night in the village itself.
The 30 double rooms of the Henningsvær Bryggehotell offer the most modern accommodation in town in one of the most historic buildings. Dining here is a delightful experience at any time of day thanks to the harbor view restaurant.
Another venue offering both accommodation and food is the family-run Finnholmen Brygge. The small economy rooms are the best value as they still come with a sea view and en-suite bathroom.
Another budget option are the rooms (all with shared bathroom facilities) at the Nord Norsk Klatreskole's Climbers Cafe.
How to get here
The village is located 24.8km west of Svolvær along the E10 highway. As you turn out towards Henningsvær on route 816, you will discover a great example of Lofoten's excellent beaches. Rørvikstranda beach is accessed via a short rocky path from the parking area.
While not the most spectacular of Lofoten's beaches, its shallow slopes are sandwiched in by imposing mountainsides and make for a nice spot for a beach walk or a light lunch. The beach is suitable for children, although facilities are non-existent.
As the only way to reach Henningsvær by road, the narrow, winding road off the main E10 is shared by cyclists, delivery trucks, cars, and even carefree pedestrians.
There's also a local bus that runs every 1 to 2 hours to and from Svolvær. Sometimes you need to change buses at the stop by the beach above.
There's lots to distract even the most focused drivers, so take extra care! Once you arrive in Henningsvær, park up on the spacious village square.
Have you been to Henningsvær or Lofoten? What's your favourite thing to do? Let us know in the comments.