What to expect aboard the MS Polarlys, a Hurtigruten vessel that operates on a regular schedule on the Norwegian coastal route. Here's what you need to know, in photo form.
For 130 years, coastal ferries have operated a scheduled service along the Norwegian coast, which provides a valuable service to small coastal communities. These days, the modern cruise ferries draw curious travellers from around the world, too.
I get so many questions about specific Hurtigruten vessels, but I've only taken trips on a couple of them. So, given that each ship calls in to Trondheim for a couple of hours every few weeks, I'm on a mission to at the very least take a look at them all!
Earlier this week, I noticed that the MS Polarlys was due to call in to Trondheim from 6.30-9.30am. After a quick cup of coffee, I headed down to the city's Hurtigruten quay to take a closer look. Enjoy!
Introducing the MS Polarlys
Built in 1996 at Norway's Ulstein mek. Verksted, the MS Polarlys last received a refurbishment in 2016.
Hurtigruten Norway: Check the latest fares and availability on the Norwegian coastal cruise.
There is a total capacity of 619, which includes beds for 503 people. The 123-metre-long vessel has space for a maximum 26 cars. With a gross tonnage of 11,341t, it has a top speed of 18 knots.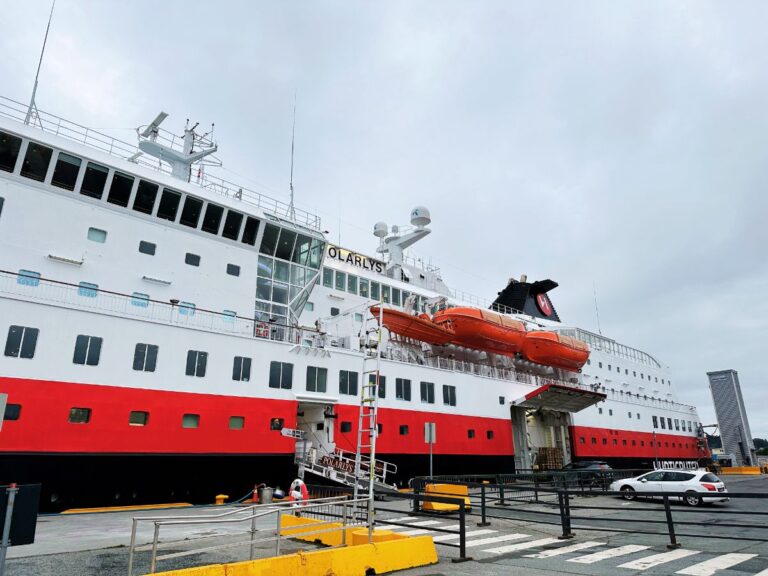 It is one of three so-called 'Polarlys-class' vessels in the fleet. Its two sister ships are the MS Nordnorge and the MS Nordkapp.
Inside the Hurtigruten Polarlys
My aim with these photos is to give you an impression of what the ship is like, to help you make an informed choice. Whether you're considering a coastal cruise in general or the Polarlys in particular, I hope these photos help!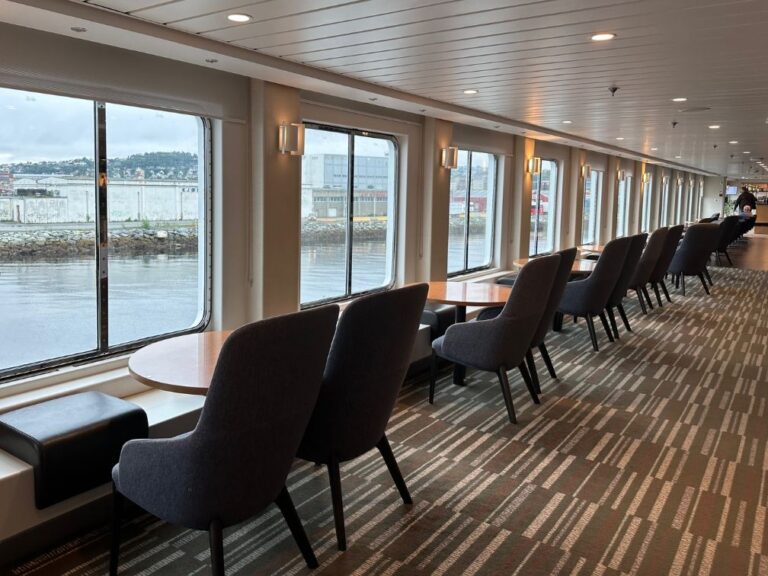 One quick point. As I was on the ship very early, most guests were either out in Trondheim or at breakfast. Or in bed, perhaps! So the ship appears much quieter in these pictures than it actually is.
Restaurants, bars and lounges
The ship's main restaurant on deck four, Torget, is open for buffet-style breakfast and lunch, and an a la carte dinner.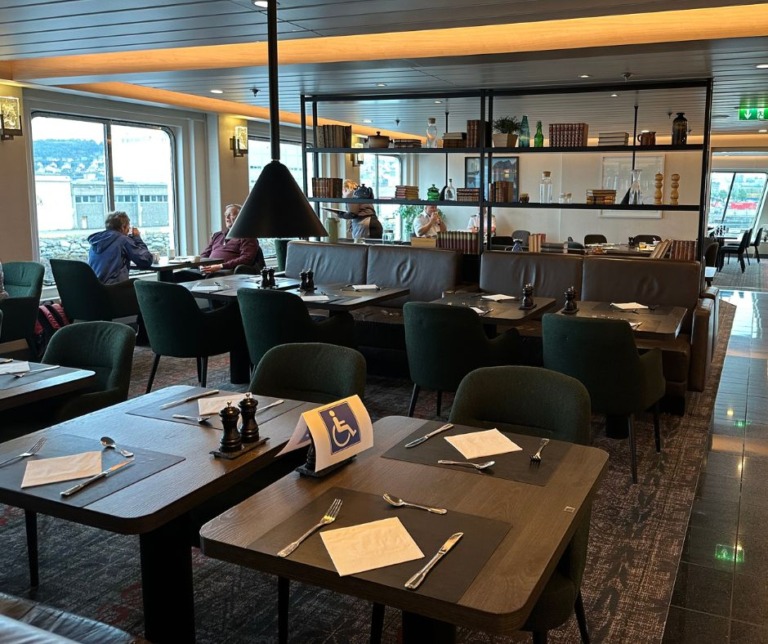 Port-to-port guests can choose to pay to eat here, or use one of the other options on board. I had a quick look inside the restaurant and the buffet is better than you'll find in many Scandinavian hotels, with a good range of both hot and cold options.
Further along deck four, you'll find Kysten, billed as 'Arctic fine dining.' This is an optional extra for guests seeking an enhanced dining experience and must be booked in advance.
Immediately alongside Kysten, the final restaurant onboard is the bistro Brygga, which serves a range of pizzas, burgers and smaller dishes.
This is a popular option among locals looking for a meal while travelling port-to-port. I've eaten here on other Hurtigruten vessels.
Up on deck seven, Multe is a cafe with quirky furniture and a lot of window seating. The decor in here is notably different from some of the cafes on other Hurtigruten vessels. I like it!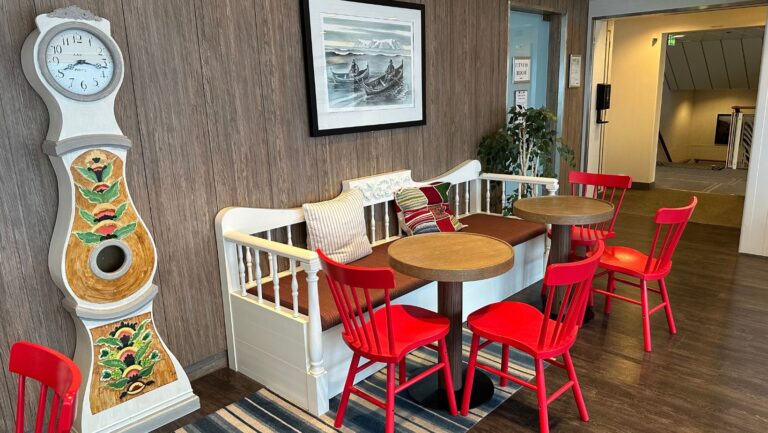 It's a good place to pick up a coffee, or a sweet treat to enjoy on the outdoor deck, which is right outside. The cafe served baked goods and also ice-cream, including the unusual flavours of Tørrfisk and Brunost.
Finally, at the other end of deck seven is the Explorer bar. This panoramic lounge at the front of the ship has a late-night bar and comfortable seating for scenic cruising during the daytime.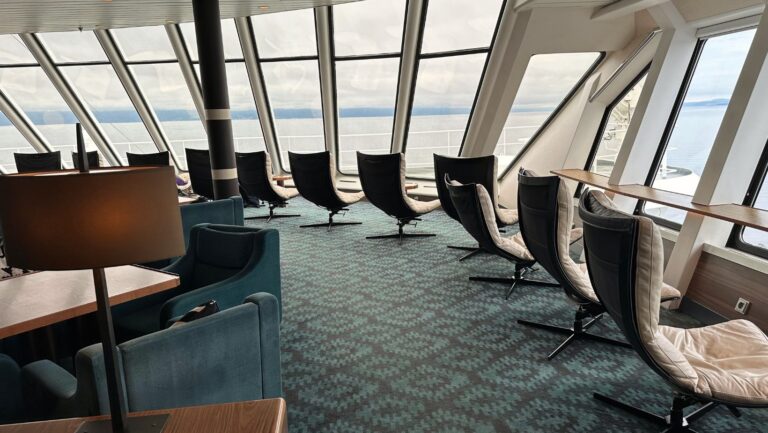 On other ships, I've spent most of my time in this bar. If you can grab one of the window seats before they're all full, it's a very relaxing place to spend your time.
Outdoor deck space on Polarlys
With scenic cruising (and northern lights hunting in the winter and spring) a priority on Hurtigruten, the outside space is important.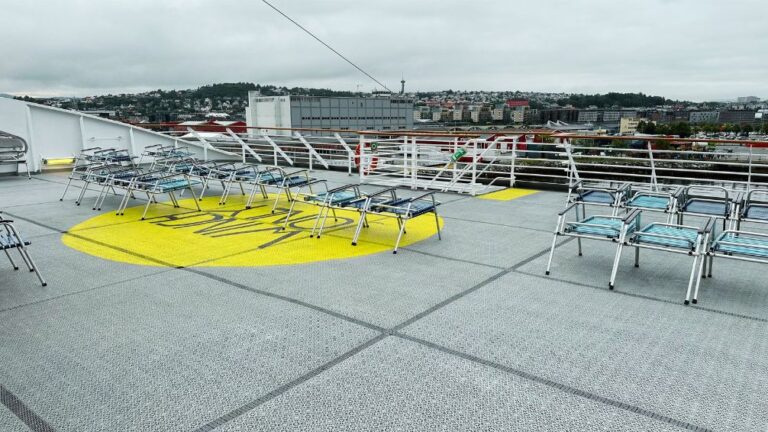 There's plenty of it on the Polarlys. The main outdoor deck is deck seven aft, behind the Multe cafe. Here there is a nice open area with deckchairs (depending on season!) and a bar that is occasionally used for events.
You'll also find a covered seating area on either side of the deck by the entrances. One of these is for smokers.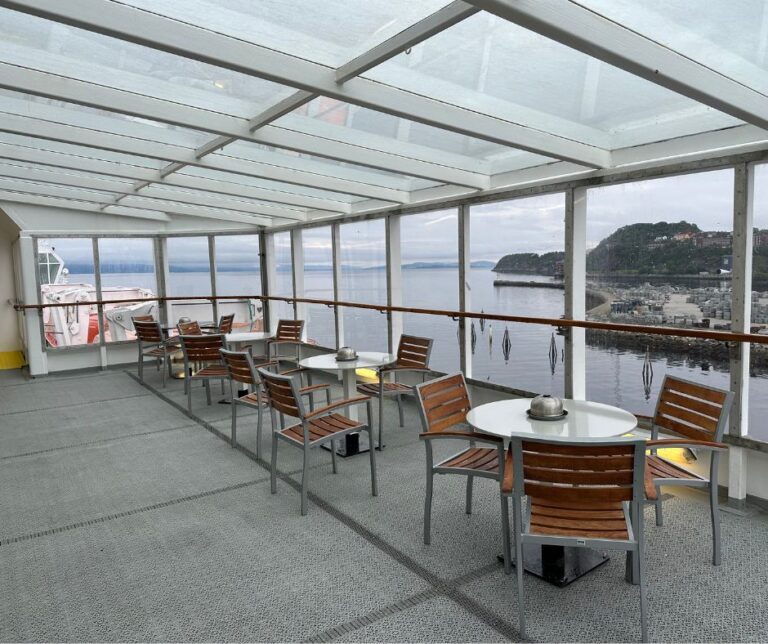 Just below this deck at the very back of deck 6, you'll find two hot tubs. Both of them offer terrific views.
The other main outside space is on deck 5, where you'll find a wraparound promenade deck. It's tight in parts but it's possible to walk all around the ship. The lifeboats are also stationed here.
This space is popular when arriving in ports and for the sailaways. It's also an interesting place to stand if you want to watch the loading and unloading of goods in a busy port, such as Trondheim.
Other facilities on Polarlys
The restaurants take up most of the space on deck 4, but there's also a large shop, information area, and two lecture rooms at the front of the ship.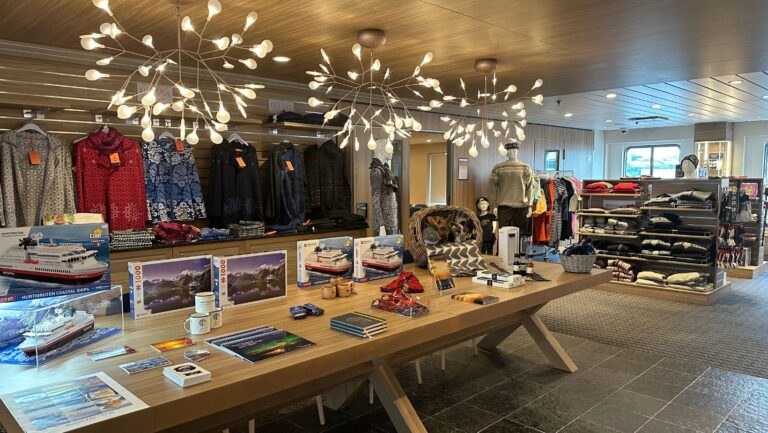 While not cheap, the shop sells a good range of essential toiletries, outdoor clothing, and various souvenirs. You can also buy bottled drinks and snacks from here, as well as getting information on excursions and other aspects of the trip.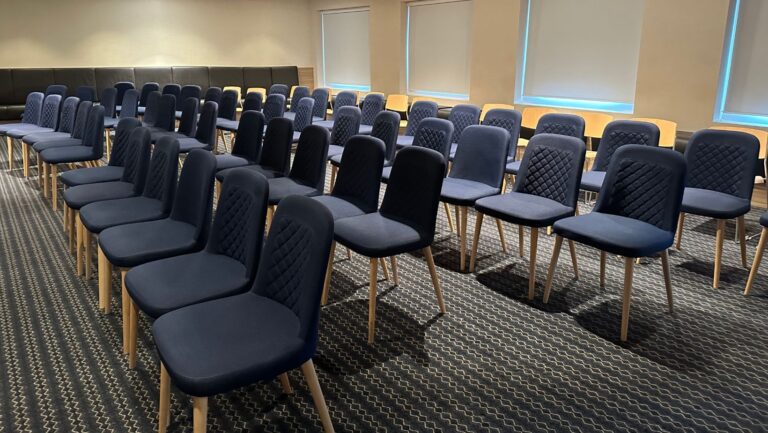 The lecture rooms are used for information sessions at the beginning of the trip and before arriving at major ports. But they're also used for the occasional enrichment talk, such as the history or wildlife of the upcoming area.
Finally, there is a small fitness room, with the emphasis on small. There were just a couple of cardio machines and a row of weights.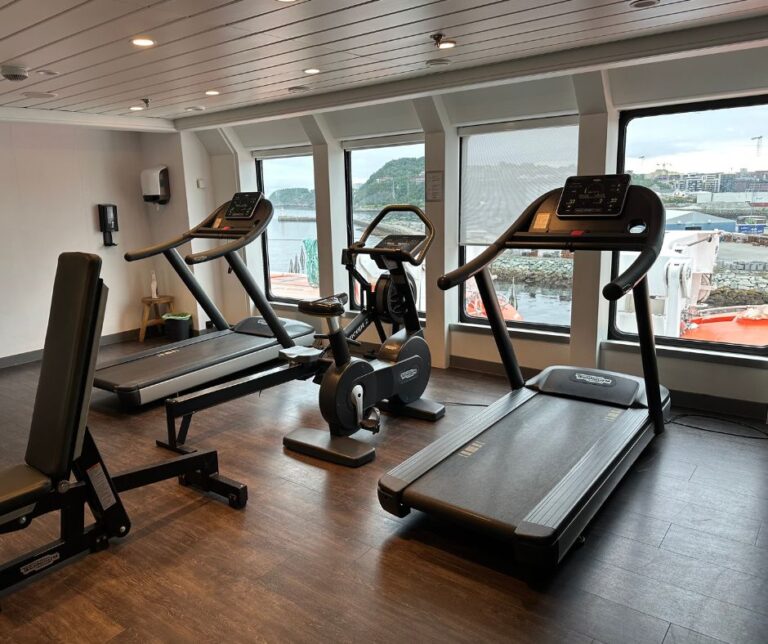 That being said, the room was empty when I looked in, so perhaps it doesn't need to be any bigger!
I hope you enjoyed this quick photo tour of the Hurtigruten Polarlys. While I can't review the ship experience as I only stayed onboard for one hour, I hope it helps you make a decision. Enjoy your trip!
Hurtigruten Norway: Check the latest fares and availability on the Norwegian coastal cruise.
Have you taken a trip on the Polarlys? I'd love to hear your thoughts and experiences in the comments below.