One of Norway's most intriguing foods (to foreigners at least) is eaten daily by many Norwegians for breakfast, lunch, or as a snack.
Norway's national diet harks back to its days as a poor country, with a focus on preserving fish and meats in salt, lots of potatoes and simple sauces. This heritage still dominates today with delicacies such as lutefisk eaten through choice rather than necessity.
Read more: Norwegian food & drink
One of Norway's best loved culinary treats is also one of its simplest and I'm surprised it's taken me ten months to write about it. Perhaps that's because it took me ten months to even begin to understand it!
Ladies and gentlemen, boys and girls, I present to you the Norwegian phenomenon of… brown cheese. Yes, it really does look like this: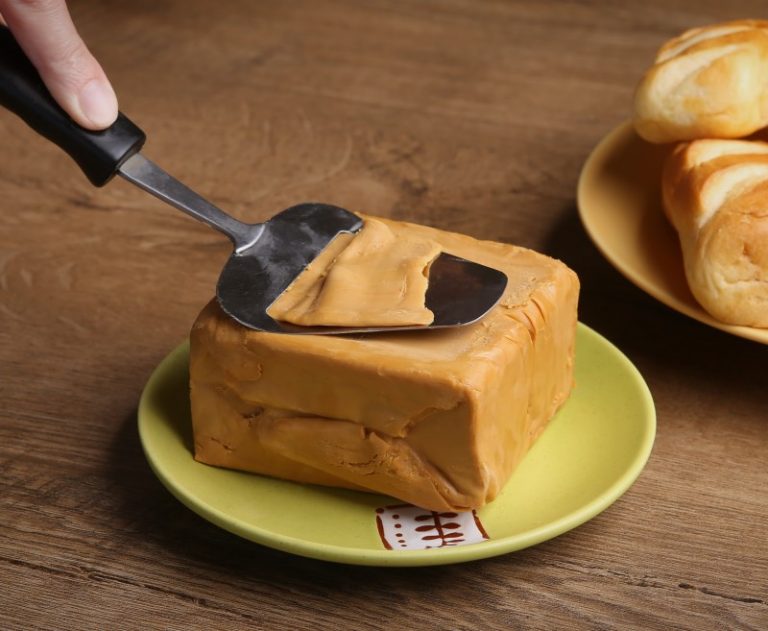 Shortly after I arrived in Oslo, my friend Ståle decided to "treat" me to my first taste of this Norwegian phenomenon. I agreed, but on the condition that he try none other than Marmite on toast. It was a cultural culinary exchange like no other!
Brown cheese has a lot in common with Marmite:
Both are eaten at breakfast, lunch or tea
Both are made using a by-product of another process
Both sound utterly disgusting
You either love it or hate it
Both foods have spawned mad fan groups
Anyway, back to the point. You've probably found this article because you are wondering one thing above all else.
What is brown cheese?
In simplest terms, brown cheese, or brunost as it is written in Norwegian is a tan-coloured 'whey cheese' with a distinctive caramel flavour.
Part of me feels it's cheating to use the word cheese in its name at all, because, well, it isn't technically cheese!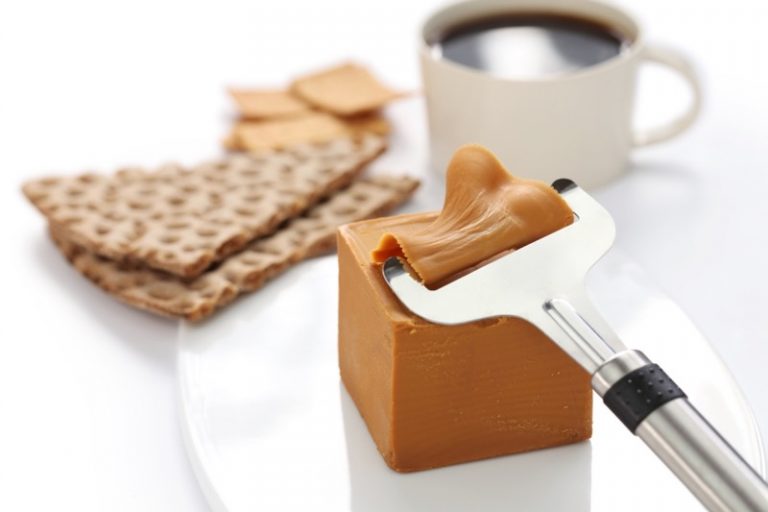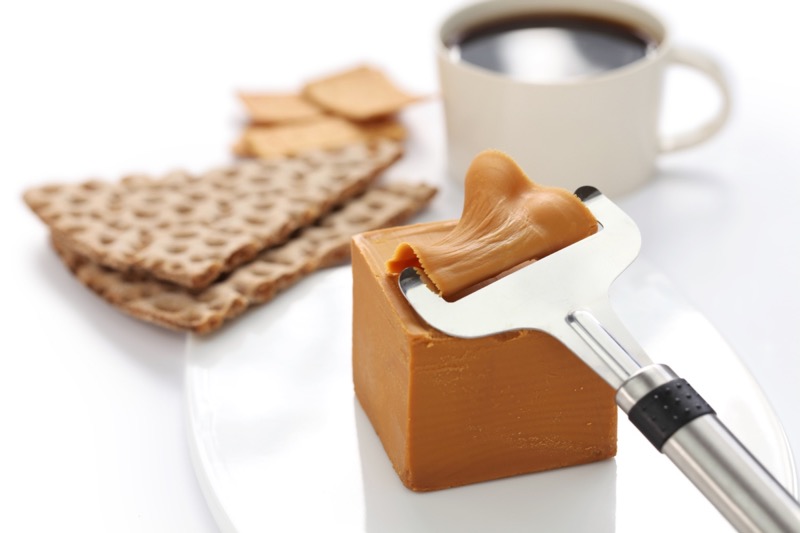 The production process is actually quite simple. The water from the whey of goat's milk is boiled down, which caramelises the sugars. The resulting gloop is left to cool and bingo, you've got yourself some real Norwegian brown cheese.
It's then set into small blocks most commonly of around 500 grams, wrapped and can be eaten (and by some, enjoyed!) immediately.
Types of brown cheese
In Norway most brown cheese is mainly produced by the national dairy TINE, although many regional variations exist. Everyone seems to have a favourite, and somewhat unsurprisingly that also seems to be the variety from the region closet to where they're from!
Read more: Norwegian cheese
But local rivalries aside, if there's any kind of brown cheese on the breakfast or lunchtime buffet table, its fans will make a beeline for it whatever its origin. I'm not normally in that queue, but I think you've cottoned on to that by now.
The most common brand you'll find is Gudbrandsdalsost, marketed by Tine as the 'original' brown cheese. It's made from a mix of goat's and cow's milk, with a history that can be traced back more than 150 years. Tine describes the taste as 'rounded and full-bodied'.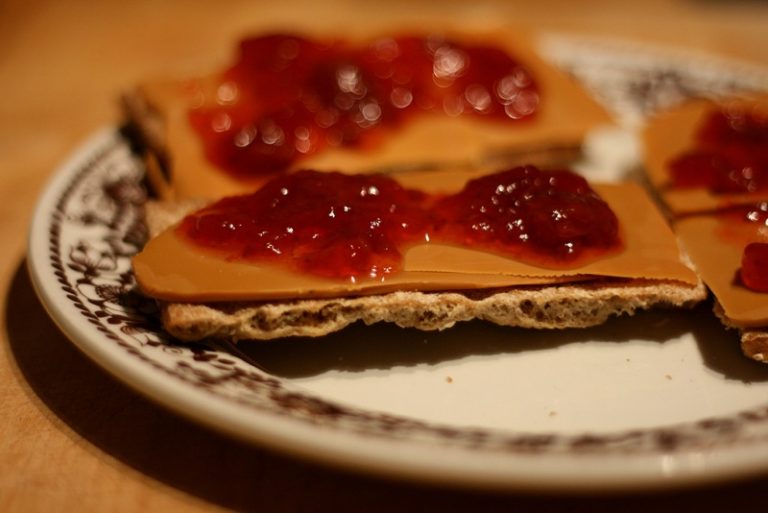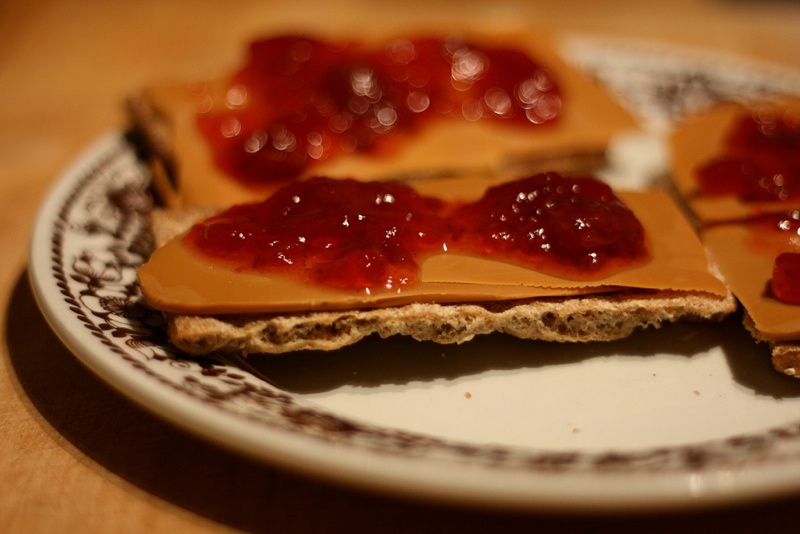 For a lighter taste, try Fløtemysost, made only with cow's milk.
How to eat brunost
The most common way to serve brunost is by using the unique cheese slicer that you can see in some of the pictures on this page. This item is an integral part of any Norwegian kitchen.
You slice off a slither from the block and can eat it atop toast, on a crispbread topped with strawberry jam, or even with waffles. Those are the most common methods, but I've seen it consumed in all manner of inventive ways. In South Korea, they even use it as a pizza topping. Yes, really!
Ståle didn't give up after my first taste of brunost ended quickly with a screwed up face and a mess in the bin. A few weeks later he tried again, but this time incorporated some brown cheese into a sauce for pancakes.
This was much better and made the most of the brunost's sweetness. I recommend trying this out as a good introduction to the unique flavour.
For me, the most off-putting aspect of brunost is the colour. During my first tasting session, I couldn't help but notice the similarity in hue with my floor. So much so, I had to take a photo.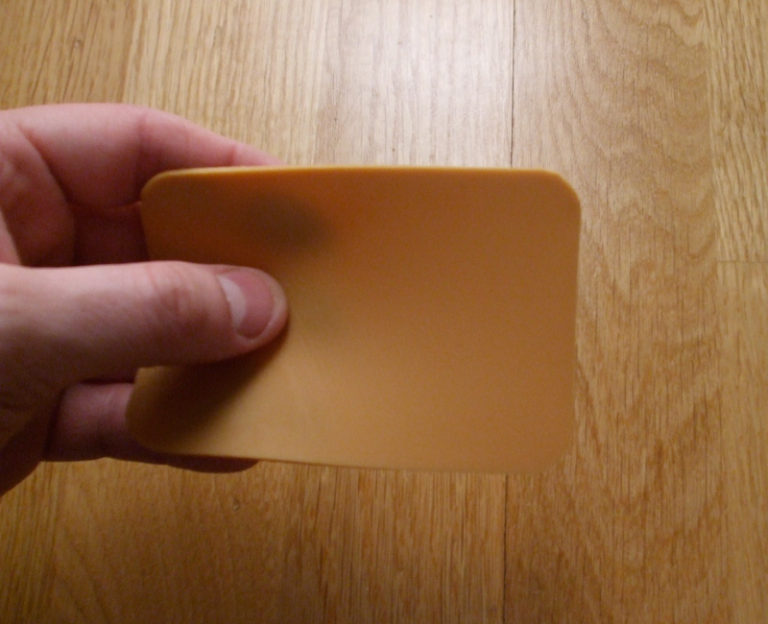 What does brown cheese taste like?
This is a difficult one to describe. Let's return to Marmite for a moment. That's commonly described as a "strong yeasty spread", which although accurate, isn't descriptive enough for someone who's never tried it. It's exactly the same with brown cheese, you just have to try it.
The trick is to not think of it as a cheese at all. If you are expecting to taste a fine cheddar you will find the taste repulsive! But if you expect to taste a creamy, caramel yet also savoury mixture, you're in for a treat.
A few other blogs I've read describe the taste as "salty goat's fudge" so I guess that's as good a description as any. Let's go with that. Salty goat's fudge. Mmmmm!
An update
When I first published this post I'd been in Norway for just a few months. I had written that I was slowly becoming accustomed to the charms of brunost. Seven years later, I have to report that I haven't eaten the stuff for years!
There's almost always something else on the table or in the fridge that I prefer to eat. As with all traditional foods, it's each to their own. If you grew up eating brown cheese, you're probably going to love it. Much like Marmite!
What do you think of brown cheese? Let me know in the comments below 🙂