Norway's spectacular Juvet Landscape Hotel has enjoyed record interest following its recent appearance on HBO's Succession. Here's what you need to know about this incredible hotel.
In recent years, several architecture-focused accommodation options have opened up in Norway's spectacular fjord region. Thanks to several TV and film appearances, the Juvet Landscape Hotel is undoubtedly the most famous.
Following its latest appearance in HBO's Succession, the hotel is now booked solid throughout the summer season. Daily views of the hotel website jumped from 500 to 18,500 after episode 5 of the final season of Succession aired.
The episode featured the Roy family siblings Kendall (Jeremy Strong), Roman (Kieran Culkin) and Shiv (Sarah Snook) travel to Norway for negotiations with the wealthy Swedish investor Lukas (Alexander Skarsgård).
Introducing Juvet
While the story gripped Succession fans, it was the Juvet hotel and its sensational setting that stole the show. Floor-to-ceiling windows in the modern hotel rooms showcase the lush mountain valley and rushing river.
It was no coincidence. Succession producer Scott Ferguson said that "when we saw images of the remarkable architecture and setting of Juvet we got really excited, like nowhere else in the world."
A collection of rooms and individual cabins rather than a hotel in the traditional sense, Juvet offers accommodation from around $400 per night. It's located in Valldal in the heart of Norway's fjord region between two major attractions: the Trollstigen mountain pass and the world-famous Geirangerfjord.
Relaxing options include a hot tub and steam sauna overlooking the river. But the hotel isn't just for relaxing. Rafting, hiking and ski touring are among the nearby options.
Juvet also places a strong emphasis on local food in its dining options. The restaurant is located in the old Barn house with a terrace facing the river and valley, while mountain picnics are among the other dinings options that can be arranged.
It's not the first time that the hotel has appeared in a major production. Juvet also starred in the 2014 movie Ex Machina, which led to a similar surge in international interest.
Landscape hotels in Norway
Open since 2010, the Juvet Landscape Hotel was one of the first architecture-focused landscape hotels in Norway. There's since been many more opened throughout the country that focus on modern design, sustainable materials and sensational views.
One of the best examples down near Norway's Lysefjord has recently doubled down on its early success.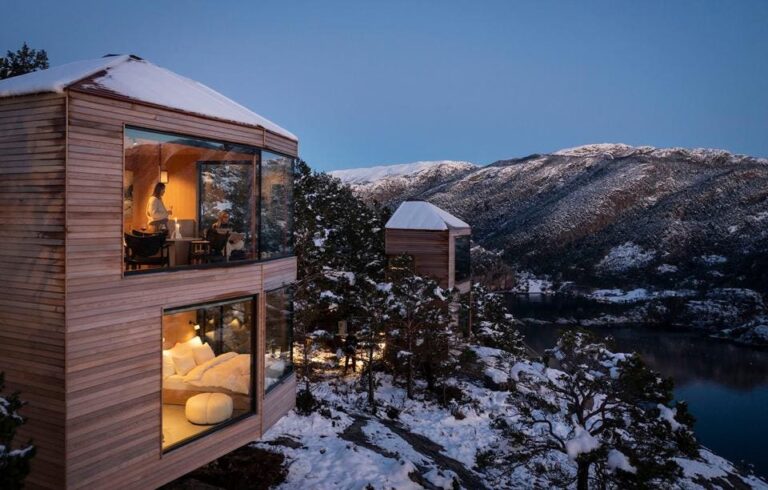 With a distinctive, modern design that blends in with its natural surroundings, the fabulous cabins of The Bolder also need to be booked well in advance.
Designed by renowned Norwegian architect firm Snøhetta, the three newest cabins feature panoramic windows that give guests the impression of floating high above one of Norway's most famous fjords.