Meet Karsten Warholm, Norway's Olympic Champion and world record holder in the 400 metre hurdles.
Following success on the track, the 25-year old Norwegian athlete Karsten Warholm has quickly become one of Norway's most recognisable faces.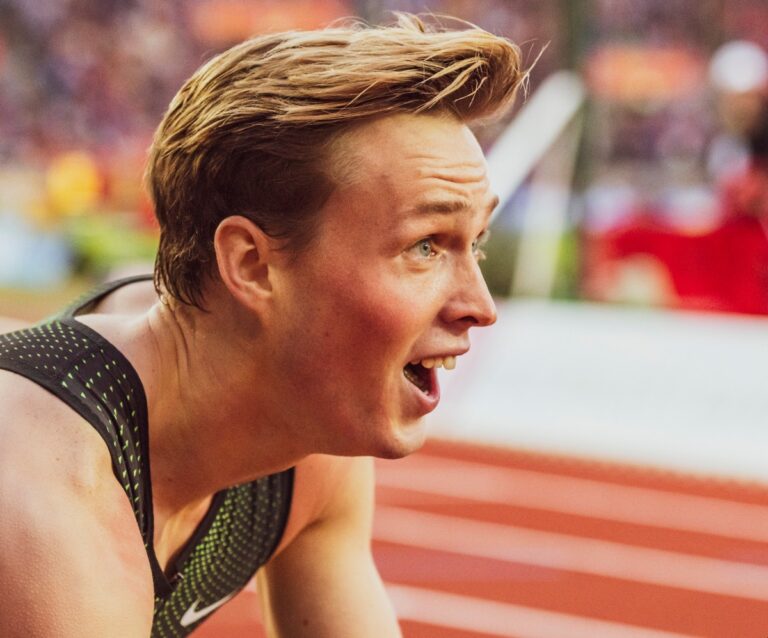 All of Norway had their fingers crossed that Warholm would bring home a medal from the Tokyo Olympics. He did just that, smashing the world record in spectacular fashion.
Hopes were high following his world record run just a few weeks prior to Tokyo. In front of a home crowd in Oslo, Warholm broke Kevin Young's 29-year-old 400 metre hurdles time by 0.08s.
But in Tokyo he blew the competition out of the water and took almost three-quarters of a second off his own world record. This is his story so far.
Warholm's early years
The athlete was born in February 1996 in Ulsteinvik on Norway's Møre og Romsdal coast. I don't know much about Ulsteinvik, other than it was the setting for Norwegian football drama Heimebane!
Warholm is now known as a 400 metre hurdles specialist, but that wasn't the case earlier in his career. Before he focused on the hurdles, he competed in multi-events. As a 17-year-old, Warholm took gold at the 2013 World Youth Championships in the octathlon.
In addition to his latest record, Warholm holds the Norwegian record in the flat 400 metres and shares the European record for the indoor 400 metres.
Together with coach Leif Olav Alnes, Warholm began to focus his efforts on the 400 metre hurdles. This would prove a very wise decision.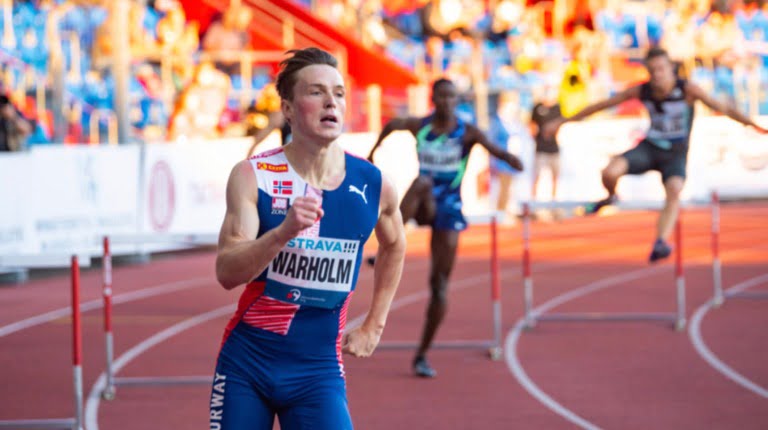 A swift rise to fame
Following solid performances in youth competitions, Warholm competed in the 2016 Olympics in Rio. He placed 10th in the 400 metre hurdles with a time of 48.81 seconds, but bigger things were on the way.
Read more: Marit Bjørgen, Norway's Olympic Superstar
Warholm took World Championship gold in the 400 metre hurdles at both London 2017 and Doha 2019. He would end the 2019 season undefeated, placing him firmly among the elite in world athletics.
Warholm's world record run
On 1 July 2021, Warholm ran his first outdoor race of the season at Oslo's Bislett Stadion. His time of 46.70 seconds broke a 29-year-old world record, sending the home crowd into raptures. "It was very special for me," said the Norwegian.
"I train in Bislett many times a week as I live in Oslo, so it's a home stadium. It was the biggest event in Norway since the start of the pandemic, so everybody was really eager to be there and cheer for a Norwegian athlete," said Warholm.
Read more: Norway's Olympic Sweater for Tokyo
"It was like the perfect moment to be able to do that in those circumstances," he added.
On to Tokyo
Warholm's record-breaking run just a few weeks beforehand meant he headed to Tokyo as favourite for Olympic gold. But standing in his way was American rival Rai Benjamin.
While Warholm was in fine form, Benjamin was also considered to be in the best shape of his career.
The Benjamin-Warholm showdown was one of the most hotly-anticipated encounters of the summer games. When the duo met in the final, it didn't disappoint.
Both Warholm and Benjamin shot out of the starting blocks, but it was Warholm who eventually won by a clear distance. The Norwegian's remarkable time of 45.94m smashed his previous world record of 46.70m set just weeks ago in Oslo.
It was a harsh outcome to Benjamin. At 46.17m, the American ran the time of his life to take silver, a time which on any other occasion would've handed him the world record.