Tokyo Olympics: Karsten Warholm beat his own world record to take the Gold medal in the 400 metres hurdles.
He was Norway's biggest hope for a Gold medal at the summer Olympics, and now we know why! His time of 45.94m wasn't just enough to take Gold, he also smashed his own world record set just weeks before the Games.
It's Norway's second Gold medal of the games so far, following Kristian Blummenfelt's win in the men's triathlon last week.
Impossible!
When Karsten Warholm realised his achievement on the biggest stage of them all, he shouted and ripped open his shirt. One Olympic expert called the time "impossible."
Read more: Norway's Olympic Sweater
The Norwegian athlete appeared to be almost in shock as he met the press after the career-defining race.
"I have always said that the perfect race does not exist, but after this today, I think maybe it does," said Warholm. "It is the biggest thing I have experienced on the sports field. This is my life. I would never say that I have sacrificed anything, but I prioritized very hard only for this moment here," said Warholm.
"The human miracle"
NRK Sports commentator Jan Petter Saltvedt said the result was the greatest sporting achievement by a Norweigan – ever. In a piece titled "The Human Miracle", Saltvedt said Warholm is a "primordial force, in charisma as well as movement."
"It is the result of a unique talent, but perhaps just as much of his expertise on the purely interpersonal level," he said.
Two-time British world 110m hurdles champion Colin Jackson told the BBC: "This is one of the most outstanding world records and I'm pretty sure that world record will outlive me. It's just breathtaking. Wow. I am truly in shock."
Triumph over American rival
Warholm's anticipated duel with American Rai Benjamin for Gold had expected to be one of the highlights of the Olympics.
Warholm is the reigning world and European champion, but Benjamin had been in the form of his life. Both Warholm and Benjamin shot out of the starting blocks, but it was Warholm who eventually won clearly.
He became the first person to run the race under 46 seconds, smashing his previous world record of 46.70m set just weeks ago in Oslo.
At 46.17m, Benjamin ran the time of his life to take silver, a time which on any other occasion would've handed him the world record. Alison dos Santos of Brazil took bronze in 46.72m.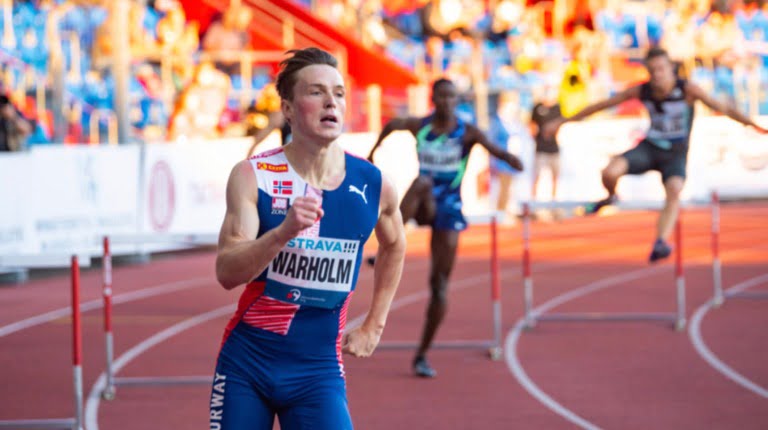 A rise to fame
Karsten Warholm was born in February 1996 in Ulsteinvik on Norway's coastline. Before he focused on the hurdles, he competed in multi-events. As a 17-year-old, Warholm took gold at the 2013 World Youth Championships in the octathlon.
Together with coach Leif Olav Alnes, Warholm began to focus his efforts on the 400 metre hurdles. This would prove a very wise decision.
Following solid performances in the hurdles in youth competitions, Warholm competed in the 2016 Olympics in Rio. He placed 10th in the 400 metre hurdles with a time of 48.81 seconds, but much bigger things were on the way.