Discover what it's like learning Norwegian outside of Norway. One Austrian national reveals her Norwegian language experiences and why she loves Norway.
Babsii Blubb is an Austrian girl living in Vienna. During the day she works for an Austrian broadcaster in the sports department, but for three evenings a week she does something altogether different from most other Vienna citizens.
A passion for Norway and Norwegian
She has signed herself up to a local course offering Norwegian language lessons. But it isn't just the Norwegian language she is passionate about.
Read more: Learn Norwegian through a story
Babsii is an avid Viking FK fan, a top flight Norwegian football club based on Norway's south west coast in Stavanger. She has travelled there many times to watch them play.
After her first visit, she was hooked. Ever since that first trip, she has travelled all over Norway to watch her club. Babsii's love for the Stavanger club also ignited her love for Norway.
I had the opportunity to catch up with her recently, and it gave me the chance to ask her about her passion for Norway, language learning and motivations for learning Norwegian.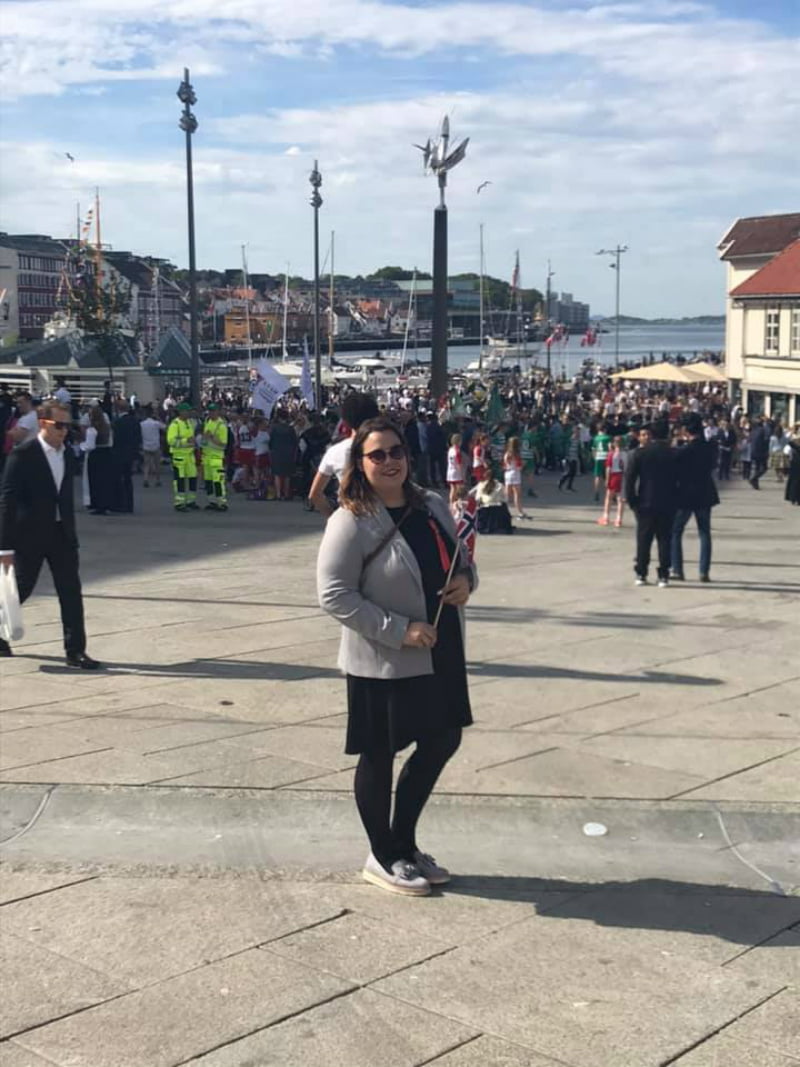 Why are you learning Norwegian?
I've always been interested in the language, ever since I first travelled to Norway. I have made a lot of friends in Stavanger, but at the moment we talk only in English, so it would be nice to communicate with them in Norwegian.
I have one friend in Stavanger who I really want to talk to in Norwegian and this is motivating me a lot to learn. I like the way the language sounds and I thought it would be so cool to talk fluently in Norwegian.
Have you picked up on dialects?
It was funny because my tutor told me I had a Stavanger accent. I was pronouncing words like 'jeg' and 'ikke' just like my friends in Stavanger. I think because I've always been surrounded by people from Stavanger, speaking in the local dialect, I just picked it up. It's kind of cool, I think.
What have you found most difficult about learning Norwegian?
Definitely the pronunciation! I am fairly confident with written Norwegian and understand it quite well, but speaking is totally different. Also, being a German speaker, learning Norwegian made things a bit difficult.
I remember using the language learning apps before and they were useful, but I found that they are mostly geared towards native English speakers. The latest one I was using was only Norwegian-English, not Norwegian-German.
Read more: Learn fluent Norwegian in six months
Any tips for language learners?
First and foremost, don't worry about making mistakes. I think that is the hardest thing for most people when they start learning a new language – it was for me. I was afraid of making errors or pronouncing a word the wrong way, but it helps if you don't think too much about it, just talk in Norwegian. Everybody makes mistakes or errors, especially in the early days.
Another thing I would say is, if you have a Norwegian friend, chat with them by text in Norwegian. I found this really useful, it helped give me a better grasp of the written side of things.
What do you like about Norway?
Apart from Viking? [Laughs] There are so many nice people there, at least that is what I have found in Stavanger. I like the wooden houses and the nature. The outdoors is so accessible. Before I first went to Norway, I never had a desire to go hiking but every time I go now, I like to go hiking with my friends.
The outdoors feels different, it is so green, and the air seems fresher somehow. I also like the climate. I like that it is not too hot a lot of the time. I'm a winter person so it suits me.
How have you found learning the language away from the country where its spoken?
Because it was a beginner's course and I knew some basics from my visits to Norway and from what I've taught myself, it was pretty cool to learn things like the pronunciation with guidance from a tutor.
For example, I discovered there were some words I was pronouncing wrong, so to learn the proper way in a classroom environment was great.
It was nice to learn all the basics, even some things I already knew. And, of course, it gave me the chance to practice my Norwegian away from Norway.
Would you ever consider moving to Norway in the future?
[long sigh] … Yes, I want to, but It is difficult. Right now, it is hard to leave my family, my friends, my work here in Austria. I love Norway, I love the people there, I love Stavanger, but at the moment, I am too scared to pack my stuff and go to Norway.
Read more: Moving to Norway
I want to, I want to try at least, I want to maybe try for some years to see if it works out, or when I'm old. It is always inside my head, always.
Each time I return from a visit to Norway, the first thing I think of is how to save money to go back as fast as possible. I'm torn between the good life I have here in Austria and my passion for Norway, so yeah, we will see. Maybe.