Strap yourself in for an unforgettable road trip experience in the north of Norway. Could this be Norway's ultimate driving experience?
I recently spent a week touring the magnificent Lofoten archipelago in northern Norway. It left such an impression on me.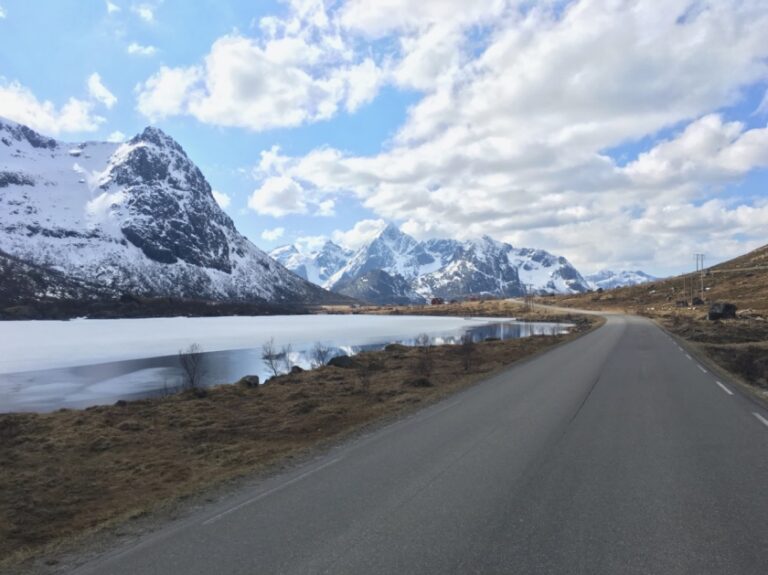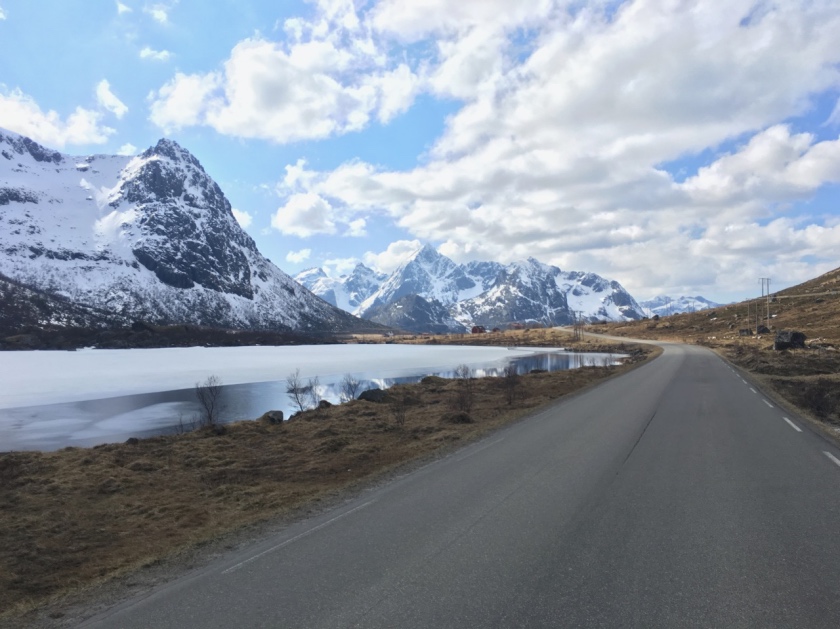 More than anywhere else in the country, the dramatic mountains and delightful fishing villages mean that pictures speak louder than words. So won't you come with me as I take you on a whirlwind tour of Lofoten?
Svolvær
We start with Svolvær, a small yet modern city. Its striking waterfront is dotted with exclusive restaurants, upmarket hotels, apartments and fishing boat tours.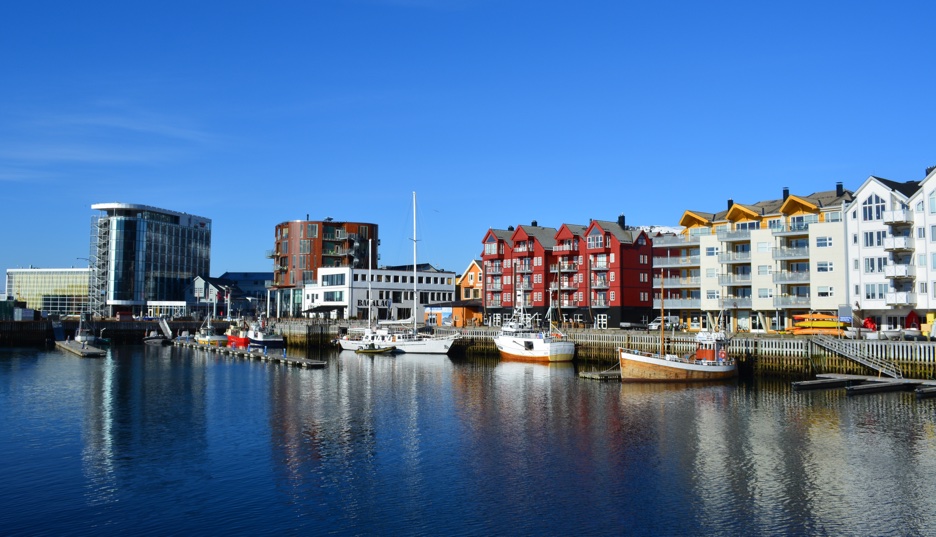 Only a few thousand people live in Svolvær but it springs to life throughout the day with people stopping off on their way to the more remote parts of Lofoten, and in the evening when the Hurtigruten ships arrive.
So much so that despite the small town's size, a number of galleries, museums and other attractions have sprung up.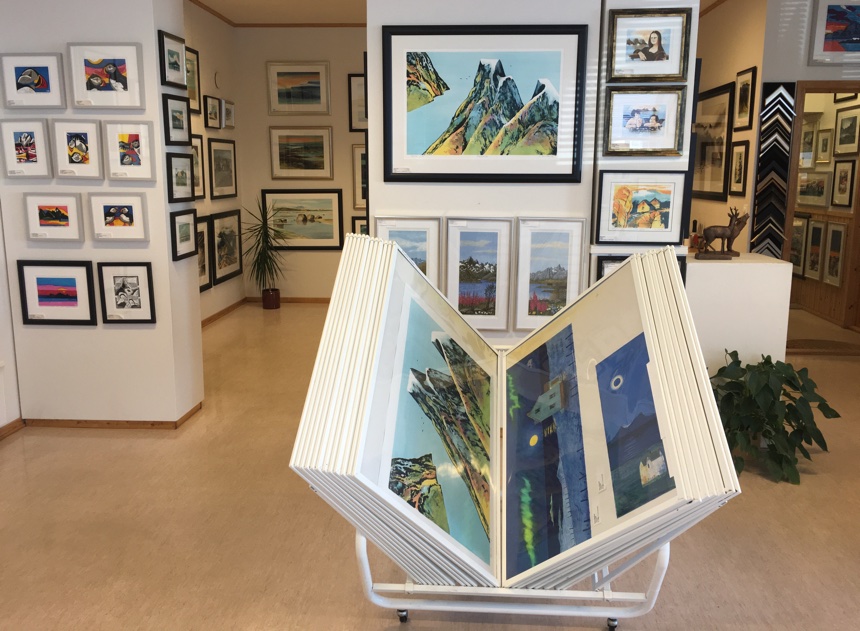 Several art galleries showcase the large number of artists who have been inspired but the unique light conditions here in the Norwegian Arctic. Pictured here (above) is the Dagfinn Bakke gallery.
The economy of the islands is increasingly driven by tourism. However the traditional fishing industry not only still exists, but thrives due to worldwide demand for Lofoten products.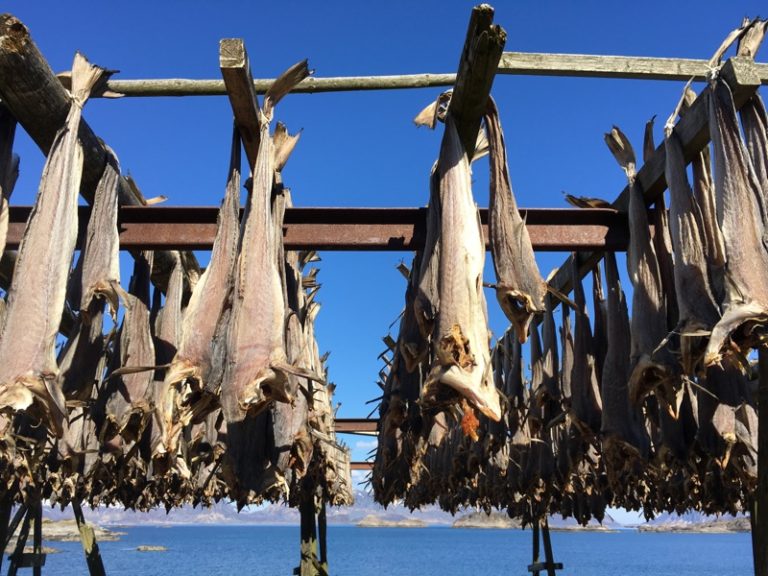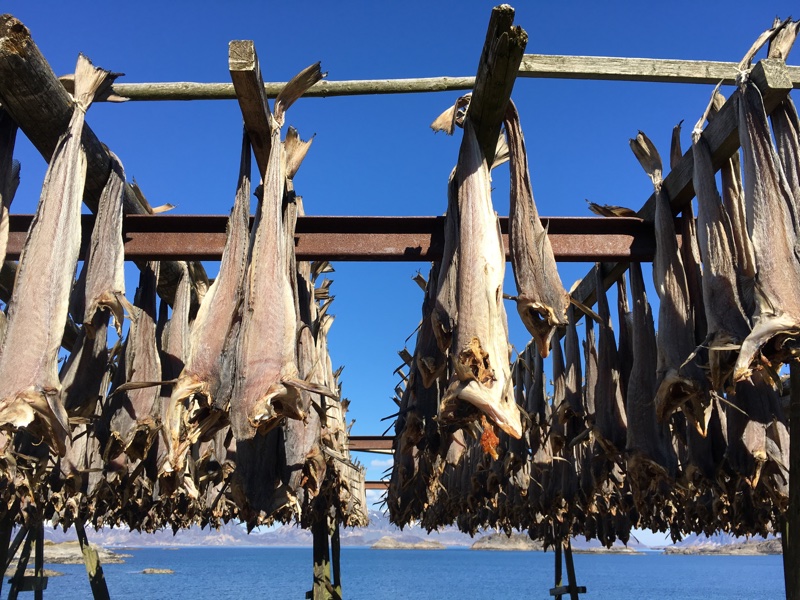 Stockfish is made by drying Arctic cod from these racks, which can be seen (and smelt) all over Lofoten. Perhaps it's most noticeable here in Svolvær because you don't expect such a smell in an urban environment.
Henningsvær
Fishing villages dot the landscape throughout the islands. One of the most photogenic is Henningsvær, built on islands south-west of Svolvær and home to a few hundred residents and several art galleries.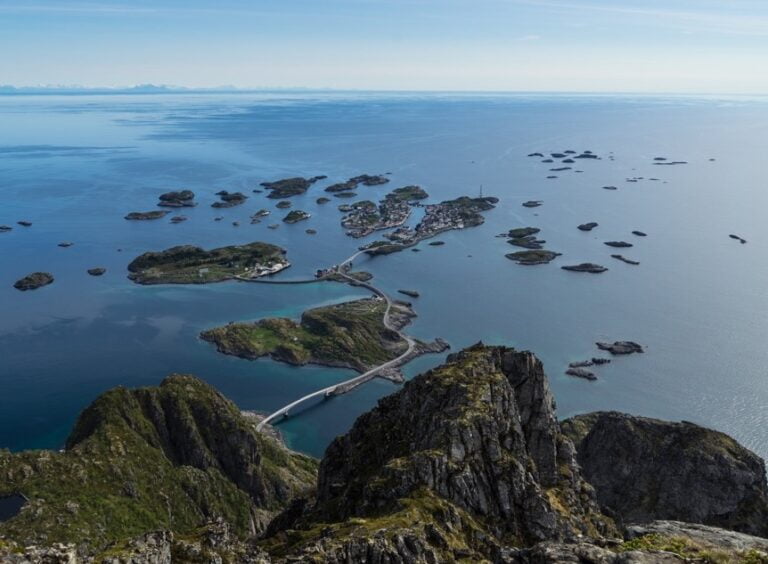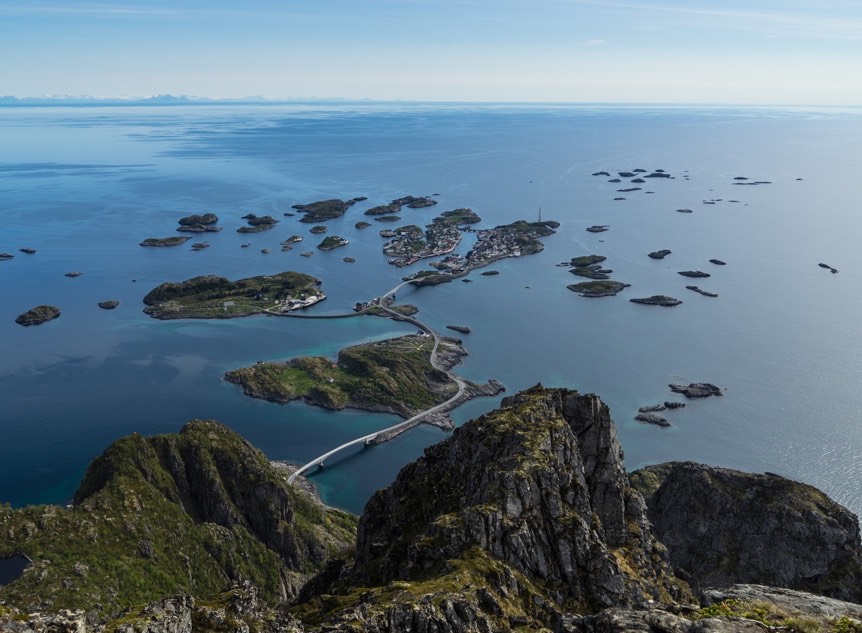 The drive here is an interesting one, as the single road hugs the coastline at the foot of an imposing mountain before jumping over a couple of islands to reach the village.
You share the road with truck and courier drivers, taxis, motorbikes, cyclists and even pedestrians as it's the only connection between Henningsvær and the mainland, so take care!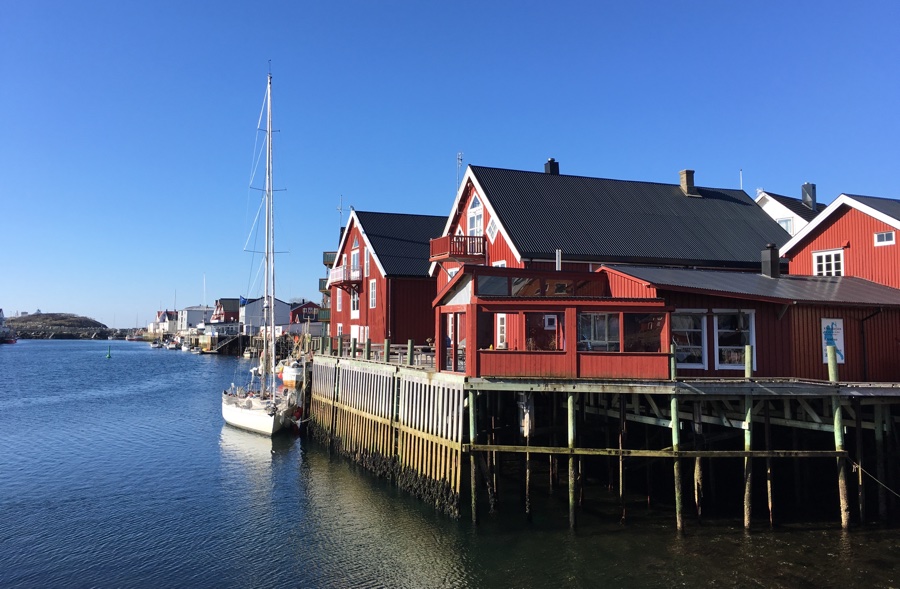 The art galleries are drawing more visitors to Henningsvær than ever before, but it's also a good place to base yourself for boat trips. There are a couple of nice accommodation options here too.
Lofotodden National Park
An area of more than 100km in the western part of the archipelago has become Norway's latest National Park, the government recently announced.
The Norwegian government creates national parks to preserve large natural areas for now and for future generations.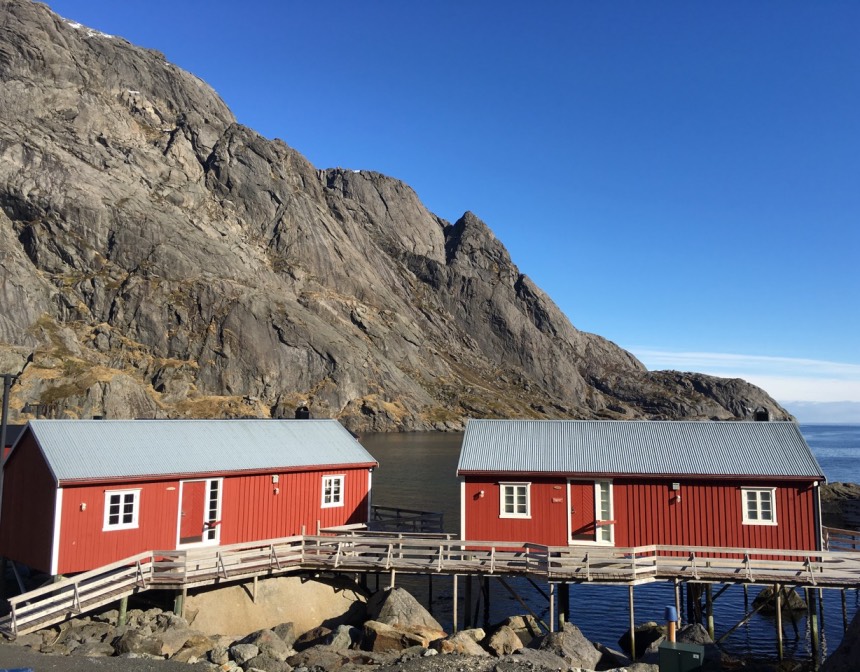 Lofotodden National Park has high historical and cultural value, including traces of settlements dating back to the Stone Age and cave paintings at Kollhellaren and Bukkhammerhola.
Reine
Perhaps one of the most famous photo opportunities in all of Lofoten lies just outside the village of Reine. You can climb the mountain for the best view, or stop on the bridge approaching the village for this one, which aint half bad!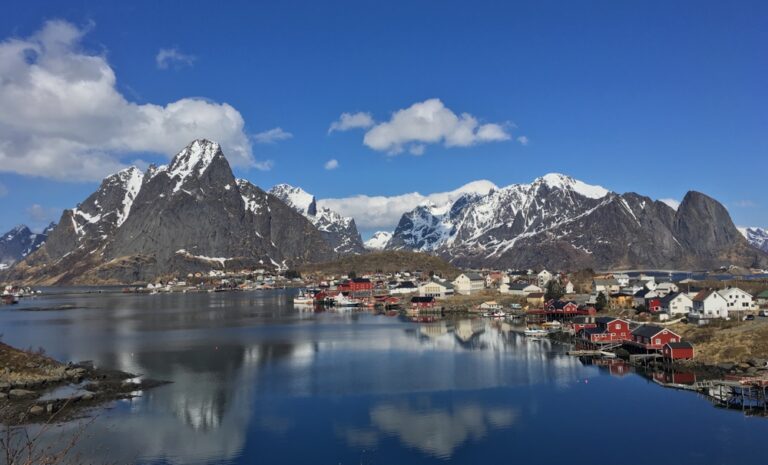 Reine itself is the reward for the long drive through the islands, or you can take a ferry from Bodø to nearby Moskenes and drive the short distance to Reine from there.
From Reine itself, boat trips are available to tour the spectacular scenery at this end of the archipelago, or to try your hand at some deep-sea fishing.
Å
10-minutes farther along from Reine is Å, part-fishing village and part-living museum. Å is quite literally the end of the road in Lofoten, as the E10 highway terminates here.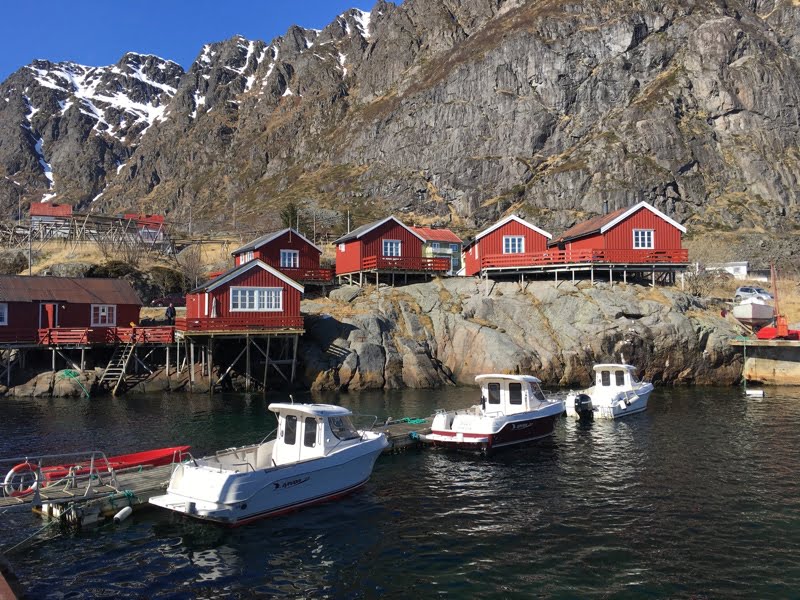 The village is known for its rorbuer, fisherman's cottages that are available for hire, some of which are pictured above. There's also a couple museums and places to eat, but really, this place is just about soaking up the atmosphere.
Stunning Arctic beaches
A big surprise to many visitors is the number of incredible beaches all over Lofoten. You can find beaches all over Norway, but these ones have something special about them.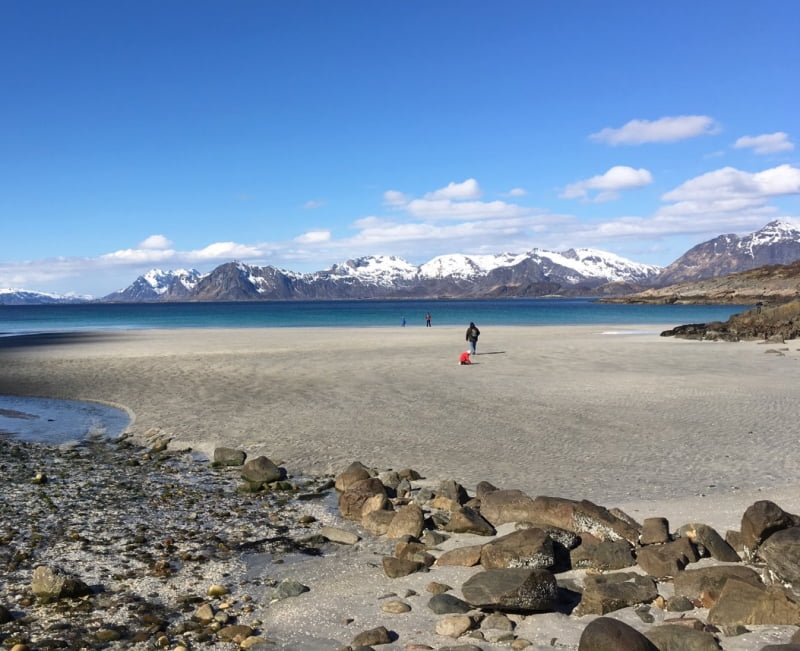 Whether it's the snow-capped mountains that often provide the backdrop or the crystal-clear waters, Lofoten's beaches are some of the world's most photogenic. This is especially true in the wintertime.
Many of the best are only accessible on foot, but there are some great places to stop right by the road too.
This one (above) is close to the turn-off to Henningsvær, and is just a 60-second walk from the small parking lot. You can't miss it – and you won't want to either!
I'm not sure this strip of sand by the roadside (above) even qualifies as a beach, but nevertheless it was a wonderful place to stop and rest for a few moments.
This place was so tranquil and so captivating that I almost forgot to take a photo before getting back in the car to continue the journey.
At times there seems to be a beach hidden around every corner on these islands. To reach some of the best, you need to take the tiny side roads, or even hike.
No matter how long you think its going to take you drive somewhere in Lofoten, double it. It's scientifically impossible to drive anywhere in one go without stopping to take photos. Just try it!
Inspired to take a Lofoten road trip? Share the news on Pinterest! There's a pin for that: