After two clubs failed within ten years, Nidaros Hockey is the third attempt to succeed with professional ice hockey in Trondheim. Here's what you need to know about the club and how to watch the games.
In Norway, ice hockey is dominated by clubs in the south east of the country. Aside from Stavanger Oilers, all the teams in the top league are within a short drive of Oslo or Lillehammer.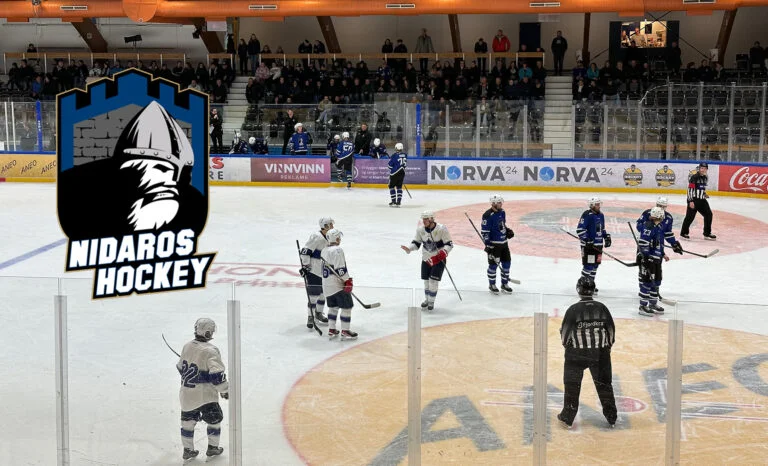 Norwegian ice hockey fans in Trondheim have had a tough time of it in recent years. Following the financial failure of Trondheim Black Panthers and Rosenborg Hockey comes a new club hoping to bring top level hockey back to central Norway.
Regular readers will know that my hockey loyalties are down in Oslo. But I recently took a trip to Leangen Arena to check out Nidaros Hockey for myself. Check out this video summing up the experience:
Hopefully the video should give you a feel for what to expect. For more information, read on!
History of Ice Hockey in Trondheim
Founded in 1986, Trondheim Black Panthers played at Norway's highest level from 1987 until they folded in 2008. They finished as runners-up in the Norwegian Championship twice.
After the Black Panthers succumbed to financial problems in 2008, the existing club Rosenborg Hockey took over the role as Trondheim's premier ice hockey team. Several former Black Panthers players signed for Rosenborg.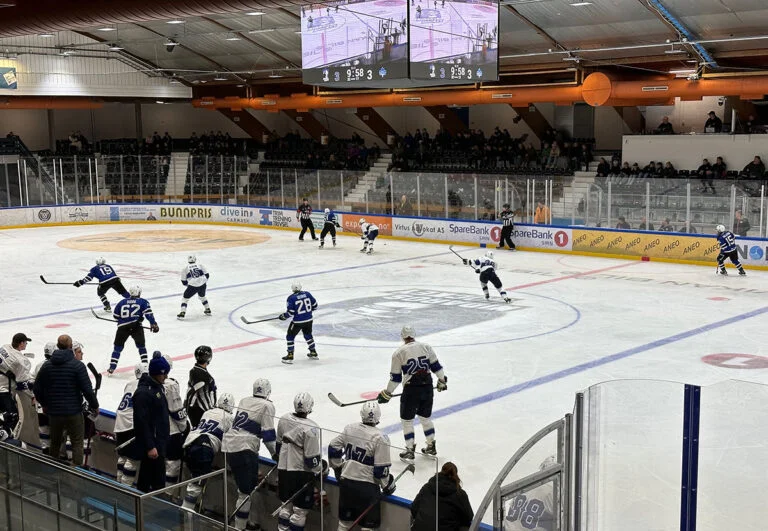 Rosenborg soon won promotion to the top league in the 2009-10 season. They then played four seasons but struggled for success on the ice and financially.
The elite team lost its license in 2014, leaving Trondheim, Norway's third biggest city, without a team in the two top leagues of ice hockey.
Introducing Nidaros Hockey
Several people involved in Rosenborg went on to found Nidaros Hockey in 2015. The aim? To see elite level hockey back in Trondheim. In their first season, Nidaros won promotion to the second tier.
They've played in that league ever since, although they are now very much eyeing promotion to the highest level.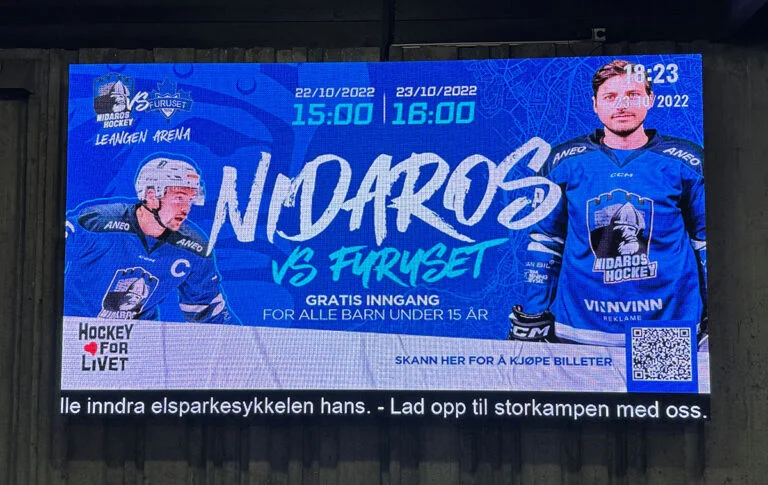 Nidaros Hockey plays its games at Leangen Arena. The multi-purpose facility is located near Ikea on the eastern side of Trondheim. There's also a sports hall, football field and outdoor ice-skating track, among other things.
Nidaros Hockey v Furuset
I chose to attend two games on consecutive days. Both games were against Furuset, a big name in Norwegian hockey that have fallen on hard times.
While Nidaros were flying high in second place before these games, they struggled in both. That being said, they came out on top in the end.
In the first game, Nidaros raced into a 3-0 lead in the blink of an eye, but they couldn't hold out with multiple mistakes and a lack of discipline letting Furuset draw level. Nidaros managed to nick the game 4-3 in overtime.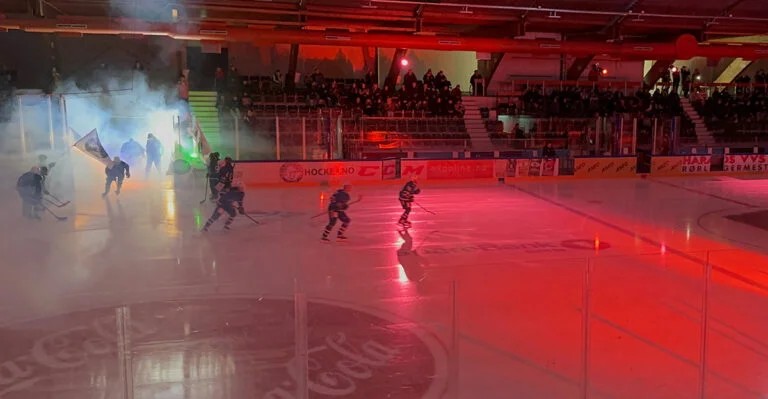 In the second game, Furuset appeared much stronger and led for much of the game. However, a fantastic late winner secured a win for Nidaros, once again 4-3.
The quality of hockey was notably lower than the elite level, but I still enjoyed both games, particularly the second. I certainly wouldn't have said one team was so far ahead of the other in the table.
As you'll see from the video, the Furuset coach and players were extremely frustrated at the end of the weekend. But on this evidence, they should pick up enough points to avoid the threat of relegation.
Is Nidaros ready for elite hockey?
The experience of watching Nidaros didn't compare with watching a Vålerenga game at Oslo's Jordal Amfi. However, Nidaros do have a lot of pieces of the puzzle in place.
With a capacity of almost 3,000, the arena is definitely suitable for the elite league. Both games attracted an attendance of more than 800. That won't be enough for a sustainable elite side, but it's a very good turnout for the second tier and bodes well for the future.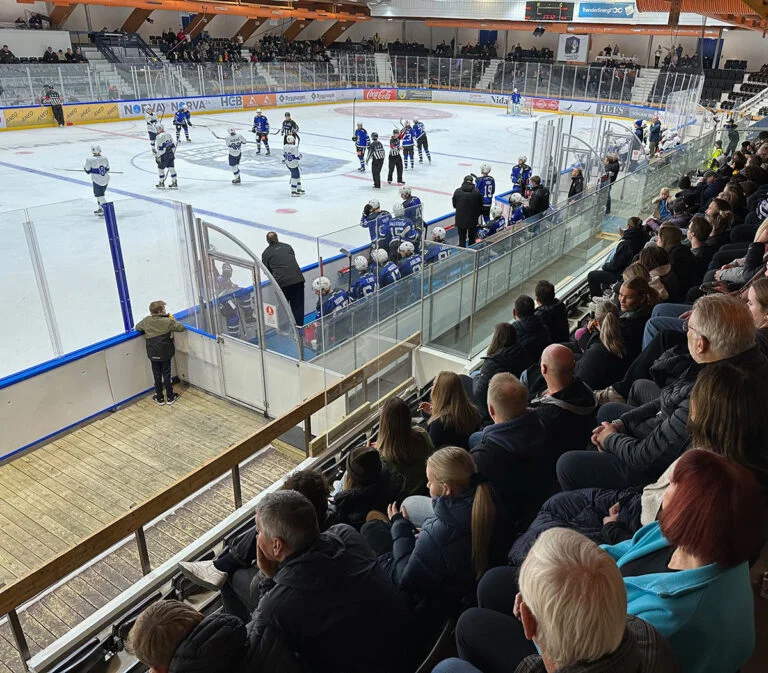 There wasn't much of an atmosphere during the game aside from when Nidaros scored. But with the team still being young, I am sure that will come in time as supporters become more and more tied to the team.
I do think their branding is spot on too. The club badge is strong, and the blue, black and white colours work well together. The bell toll when the away team scores–actually the introduction to AC/DC's Hells Bells–is a nice touch!
New general manager Runar Hoff Skaråsen says he wants to take Trondheim hockey back to its glory days: "Our goal is to be a top club in Norway before the hockey World Cup in 2027. My goal is for us to make it into the playoffs in the Elite league by then."
If you read Norwegian, you can read the rest of the interview with Runar on the TV2 website.
How to watch Nidaros Hockey games
Games in the second tier of Norwegian hockey usually take place as a double-header on two consecutive days. Presumably this is to cut down on travel costs for teams. These often–but not always–take place on weekends.
Buying tickets is simple and can be done online on the Nidaros Hockey website. While you do need to buy a specific numbered seat, there's usually plenty of available seats so it's easy to move around the arena.
A number of buses serve stops close to the arena. Line 10 and 12 stop close by, while line 1 is a slightly farther walk. There is also parking available at the arena.
You can expect a Nidaros game to take approximately two hours, without overtime. At 15 minutes, the two mid-game breaks are shorter than games in the top league.
Within the arena concourse there is a small kiosk selling coffee and snacks. In the main entrance hall, there is a much bigger kiosk with a larger range of items on sale including pølser and pizza slices.
You can also buy a Nidaros shirt, scarf or hat, should you be that way inclined.
While Nidaros is never going to be my team, I do wish them well in achieving their ambition of returning elite level hockey to Trondheim.
It's nice to have an ambitious club on your doorstep, and I'll certainly be checking out some more games in the future. See you there?