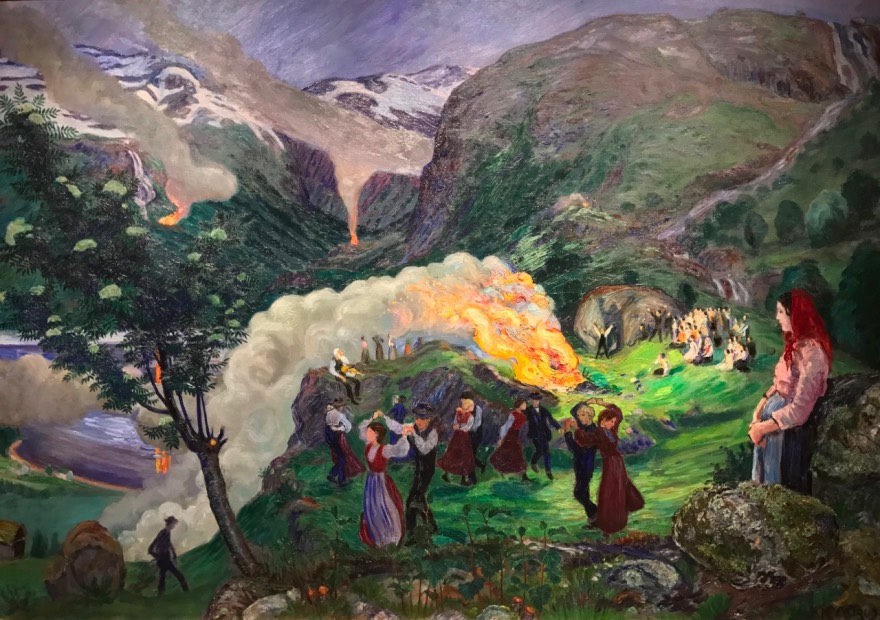 It's only in the last few years that the colourful work of the Norwegian painter has become known outside of Norway.
Although both artists are expressionists who used lurid colours to record brilliant Norwegian summer evenings on canvas, Edvard Munch is known the world over whereas Nikolai Astrup – who was born after and died before Munch – is not. But perhaps not for long.
Inspiration and influence
Growing up in rural Jølster between the Sognefjord and the Nordfjord, Nikolai Astrup (1880-1928) had an intimate relationship to nature and his surroundings.
He was said to be fascinated by the different moods he could experience in the same place at different times of the day and year.
Nikolai grew up in the parsonage at Ålhus Church in Jølster. As the eldest son it was expected that he would take after his father and become a priest, but this was of no interest to Astrup.
Despite his father's objections, he wanted to become a painter.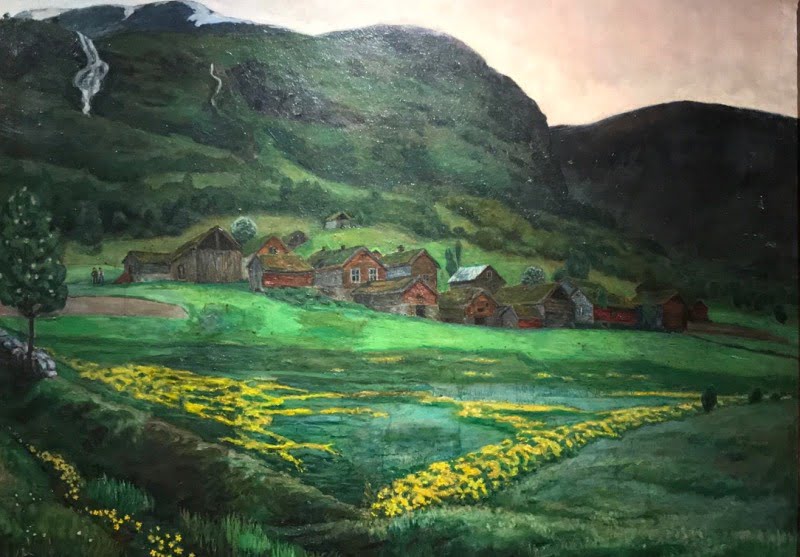 Astrup began studying art in Kristiania (the former name of Oslo) in 1899. As part of his studies, Astrup travelled to Paris, London, and Berlin.
Much of his early work features nocturnal scenes from Jølster and it is believed this is because he took frequent nighttime walks to help cope with his asthma.
Vivid colours
Astrup preferred distinctive, strong colours in his art and the landscapes that evoked the traditions and folklore of his home proved a strong influence throughout his career.
In particular, the darkness of night, the mystery of childhood, and his years spent in and around Ålhus Church in Jølster were major themes of his work.
In the dim twilight and in the shadow of a blazing bonfire nature is brought to life. Trees become trolls. Mountains acquire faces – Bergen Art Museum
The religious community of Ålhus was critical of the so-called "heathen" customs of some in the area, but this only intensified Astrup's interest. The celebration of Midsummer Night was a particular favourite and its bonfires, music and dancing feature in some of his work.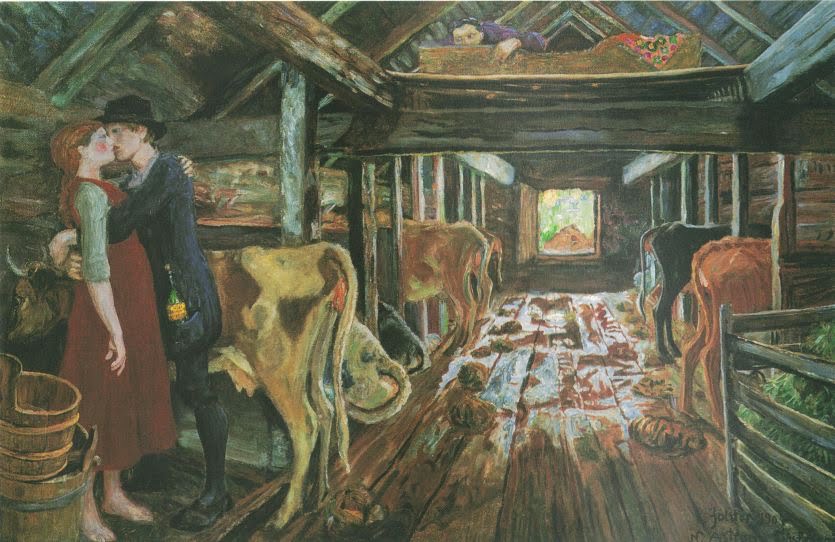 Popularity
Although he received excellent feedback from his teachers and sold many paintings, Astrup was criticised for a lack of innovation. Critics claimed the years spent in Jølster left him isolated.
In his latter years, Astrup studied French and German expressionist art in Berlin and began to experiment with lighter colours and woodcuts. He died aged just 47.
Although well-known in Norway, the first significant international display of Astrup's work wasn't held until 2016. The exhibition at Dulwich Picture Gallery in London featured over 90 oil paintings and prints, including works from private collections never exhibited before.
He should be as famous as Edvard Munch, but the world seems to have forgotten him – until now. Astrup is getting his first major show outside Norway … and his visions of the Scandinavian landscape are eerie and sublime – The Guardian
Astrup at Bergen Art Museum
At the time of writing, an entire section of Bergen Art Museum is devoted to Astrup's work. The exhibition focuses as much on telling the story of Astrup the person as it does on the artwork.