Norway's new transatlantic airline is planning its first flights from Oslo to selected cities in the USA this spring.
The United States Department of Transportation (DoT) yesterday approved Norse Atlantic Airways' application to operate in North America. The decision means the long-awaited launch of the startup airline has taken a big step forward.
It follows the Norwegian Civil Aviation Authority's decision to grant the airline its air operator's certificate (AOC) at the end of 2021. The DOT decision was one of the last milestones required before Norse can fly commercially.
"This important milestone brings us one step closer to launch and will contribute to more jobs in the aviation and tourism industry on both sides of the Atlantic," said founder and CEO Bjørn Tore Larsen in a press release.
Plans for a spring launch
In addition to getting the AOC at the end of 2021, Norse also took delivery of its first aircraft. Norse plans to use the Boeing 787-9 Dreamliner, the same aircraft that Norwegian flew on its now defunct transatlantic routes.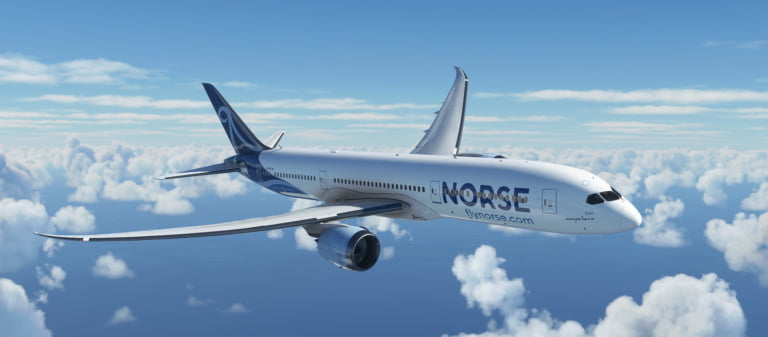 Norse is pressing ahead with plans to launch the first flights from Oslo to selected cities in the USA this spring. The airline previously announced the first destinations will be New York, Fort Lauderdale and Los Angeles.
Future destinations are unknown, but what is known is that the airline plans to expand its European airports beyond Oslo.
Departures from London and Paris can be expected in the near future. The company has secured departure and landing rights at London Stansted, while the airline states Paris as a future destination on its website.
Is a spring launch feasible?
Of course, demand for international travel remains relatively low given the travel restrictions in place in most countries. Despite this, Larsen is confident that transatlantic travel will resume "with full force" once the pandemic is behind us.
What to expect from Norse Atlantic
Many aviation insiders consider Norse to be a simple relaunch of Norwegian's long-haul operation. It's not hard to see why. Many of the same management are involved, while the planes and destinations are extremely similar.
However, there are some notable differences. Norwegian's long-haul operation was criticised for its labour practises outside of Scandinavia. Norse has already entered into collective agreements with pilot and cabin associations in Norway, the United Kingdom and the United States.
Read more: What to Expect from Norse Atlantic Airways
"When all our 15 Boeing 787 Dreamliner aircraft are in the air, we will be a team with 1,600 dedicated colleagues," said Larsen.