The striking architecture of Alta's incredible Northern Lights Cathedral splits opinion, but everyone loves the interior.
It might look like a factory (some say crematorium!) from the outside, but step inside this northern lights inspired church in northern Norway and it really leaves an impression.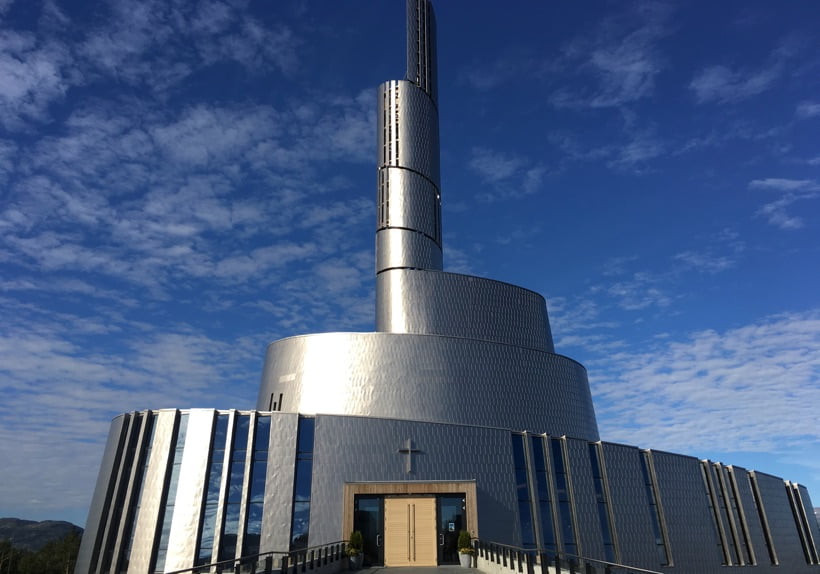 If you've ever been to Alta in Northern Norway, chances are you stopped off in the modern city centre. At the end of the Main Street, you'll find the northern lights cathedral.
The cathedral is the primary parish church for Alta and was opened in 2013 following the creation of Alta as a town 13 years ago. It's very easy to find, and there's plenty of parking available.
The exterior
I love the idea of the architecture, I just don't really like the end result. But that's personal preference and from asking around, it's clear that plenty of people love it!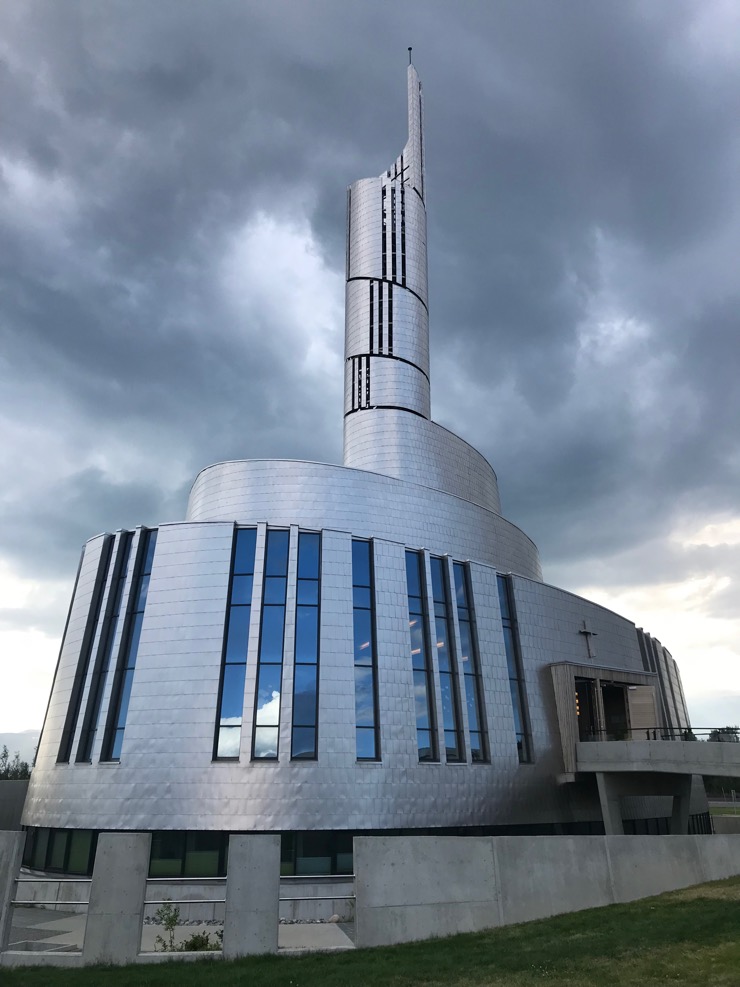 Consecrated in 2013, the building is made of concrete with an external cladding of shimmering titanium sheets.
That, together with the circular shape, helps to create something reminiscent of nature's greatest light show.
On my first visit to Alta I couldn't go inside as it didn't coincide with the cathedral's opening hours. However, this time, I was in luck. Entrance costs 50kr.
The interior
I'd been told the interior was sparse and while that's true, it's far from dull.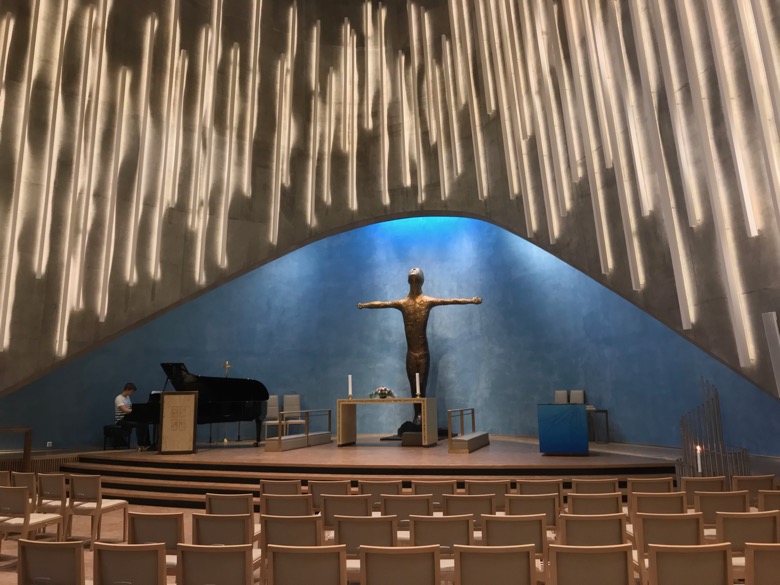 The floor, chairs and mouldings are all made of oak. The vertical moulding strips with LED lights behind them create an impressive visual effect, a warm atmosphere, and help with the acoustics.
This was immediately apparant upon entering as some kid was playing the piano – pretty well I might add.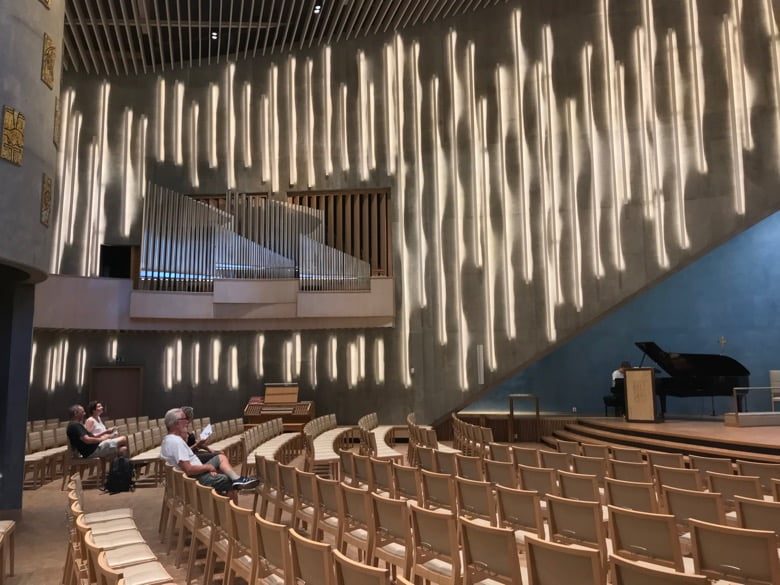 The impressive organ has 29 stops and 1,800 pipes. There are two church bells, both cast in Tønsberg here in Norway.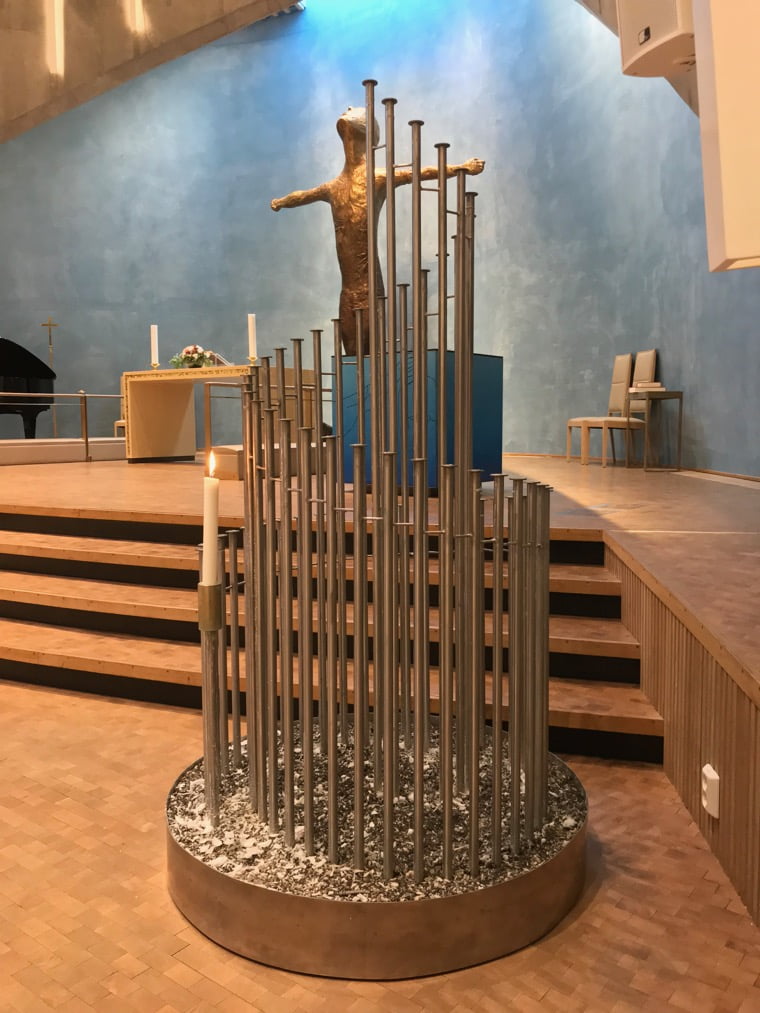 The light tower pictured above mimics the design of the exterior, and was made locally in Alta.
The lights are only lit during church services, but the structure is always in place to take a look at.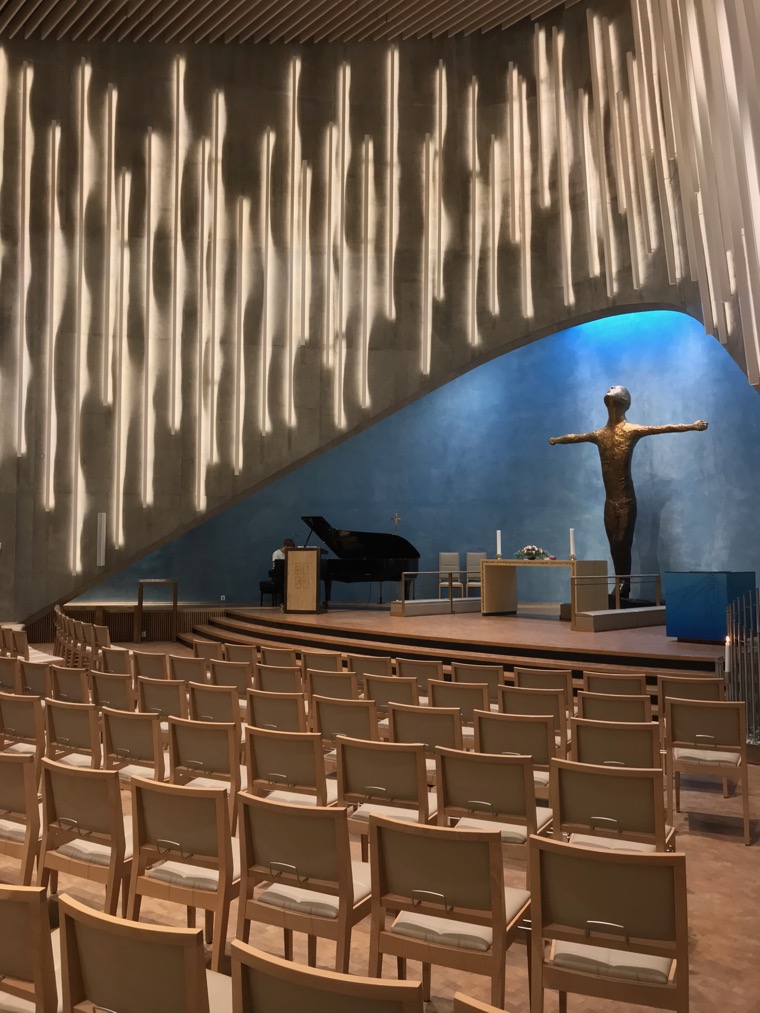 The altar wall is treated with a blue glaze meant to highlight the 4.3-metre-tall bronze sculpture of Christ. And it does – my eyes were immediately drawn to it as soon as I entered the room.
The marble baptismal font also uses blue, with a clear glass basin featuring an inlaid Star of Bethlehem and golden fish.
As impressive as the church is inside, it doesn't keep an atheist's attention for longer than a couple of minutes, so with that, I headed downstairs to a recent addition…
The northern lights exhibition
An additional 50kr gets you entrance to an interactive exhibition about the northern lights called Borealis Alta.
Maybe it's just because it was 31C on the day I visited (yes, really) but reading about the northern lights at the height of summer didn't really do it for me.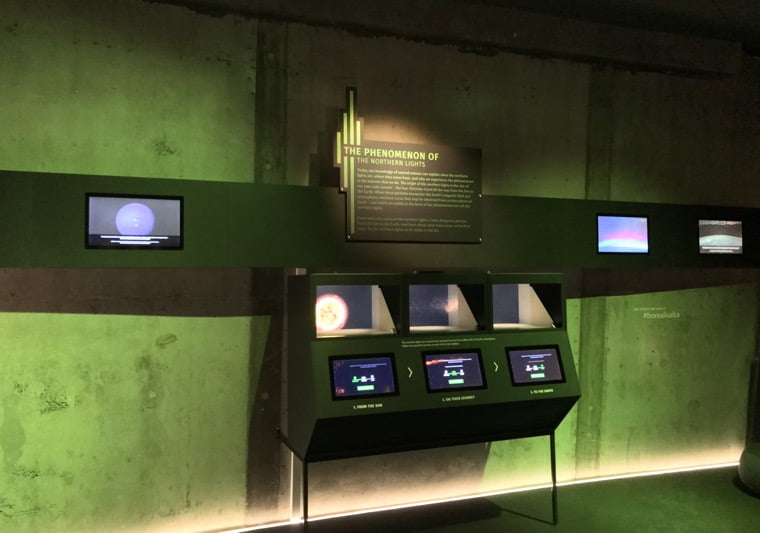 For someone new to Norway and/or who hasn't seen the aurora borealis before, this exhibition would be a worthwhile visit. That said, there's a couple of fun exhibits, one involving singing to the lights and watching the result.
While I wouldn't recommend a trip to the exhibition on its own, it's worthwhile if you're visiting the cathedral and are curious about the lights. I imagine it has more impact in the winter!
In addition to the Sunday services, the church also hosts regular piano concerts and even a monthly 'language cafe' aimed at students and other new arrivals to Alta, so it has quickly become an important building for the community.
The only downside to visiting is the short opening hours, typically 11am-3pm weekdays. Alta isn't really somewhere you linger for long, more somewhere you might stop off on a road trip, and maybe spend one night. Having said that, it is first and foremost a place of worship, so you can't really expect extended opening hours for tourists.
Have you been to Alta's Northern Lights Cathedral? What did you think of the design, inside and out? If you've been inspired to visit, why not share your plans on Pinterest, with this handy pin. Just hit the Pinterest button to get started.