Tourist interest is growing in Alta in the far north of Norway. But what does the city have to offer? Find out with this handy list of Alta facts.
Often overshadowed by more prominent tourist destinations, this small town holds a surprising depth of cultural secrets, waiting to be discovered by intrepid travellers. This is especially true in the winter when Alta comes alive, despite the cold.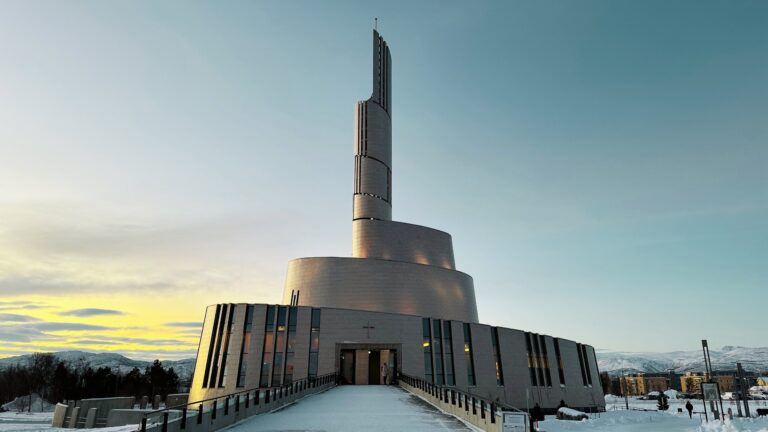 From historic rock carvings to the northern lights, and from quirky architecture to a deep-rooted indigenous culture, Alta offers a fascinating blend of things to see, do and learn.
Surprisingly rich in cultural heritage, Alta is a place that I have gradually learned to appreciate over several visits. While I still do prefer other places in northern Norway such as Tromsø, Senja and Lofoten, Alta is somewhere I'll definitely return to.
In this article, I'll reveal 15 fascinating facts about Alta. If you're planning a tour of the north or perhaps making a cruise call, this list should inspire you to discover more about this corner of Arctic Norway.
1. Alta is farther east than most of Sweden
When you consider Norway and Sweden, most people would say Norway is to the west of Sweden. And that is true, until you consider the odd geography of Northern Norway, which wraps around the top of Sweden and Finland.
Alta is actually farther east than almost all of Sweden. In fact, it's as far east as Sofia in Bulgaria and Athens in Greece. You can see this on any map, but it's best explained on a globe thanks to the curvature of the earth.
2. Alta is the biggest town in Finnmark
Alta is by far the biggest urban area in the Finnmark region, yet that doesn't mean it's big! Only 15,200 people live in the town itself, with 21,300 in the wider Alta municipality.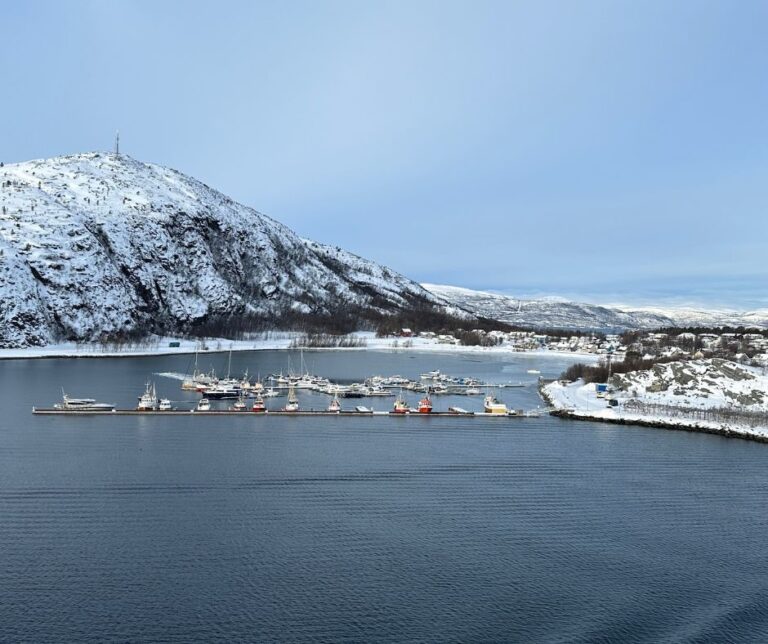 Finnmark was the name of Norway's northernmost and easternmost county, which has now merged with neighbouring Troms to form Troms og Finnmark. Because of the vast area and unique challenges of life in the high north, Finnmark remains a distinct area in the minds of almost all locals.
The closest bigger town in Norway is Tromsø, a 295km drive that will take more than 5.5 hours and includes a short ferry crossing.
3. Alta has a UNESCO World Heritage site
There are few better places than Alta to get an understanding of Northern Norway's prehistoric past. The Rock Art Centre, also known as Alta Museum, is a fascinating cultural treasure, so much so that it has become a UNESCO World Heritage site.
The museum is at the heart of one of the most extensive and well-preserved collections of rock carvings in Northern Europe. They provide valuable insights into the lives and beliefs of the indigenous people who once lived in this remote area.
These historic artworks date back as far as 4200 BC, depicting everyday life such as fishing, hunting and rituals. They illustrate the close relationship that the historic inhabitants had with their natural environment and the animal life that shared it with them.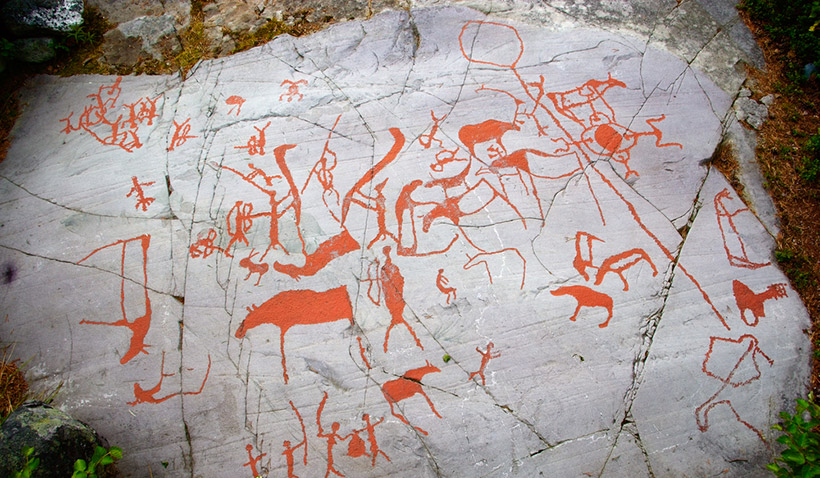 By far the best time to visit is during the snow-free times. That's because the real attraction here is the long walkways that lead you around several original rock carving sites.
4. The Sorrisniva Igloo Hotel is rebuilt every year
Tourist trap or an true Arctic experience you'll remember for a lifetime? Ice hotels are a bit of both!
Alta's Sorrisniva offers a winter wonderland where you can spend the night in a cozy room made entirely of ice and snow, surrounded by mesmerizing sculptures and illuminated by the soft glow of candles.
An overnight stay is much warmer than you'd expect thanks to the reindeer skins and thermal sleeping bags provided. There's even a bridal suite as so many couples want to get married here.
About 20km away from Alta, Sorrisniva is open every year from approximately December to April. That's because it has to be rebuilt from scratch every single year, using ice from the nearby Alta river and snow from the surrounding landscape.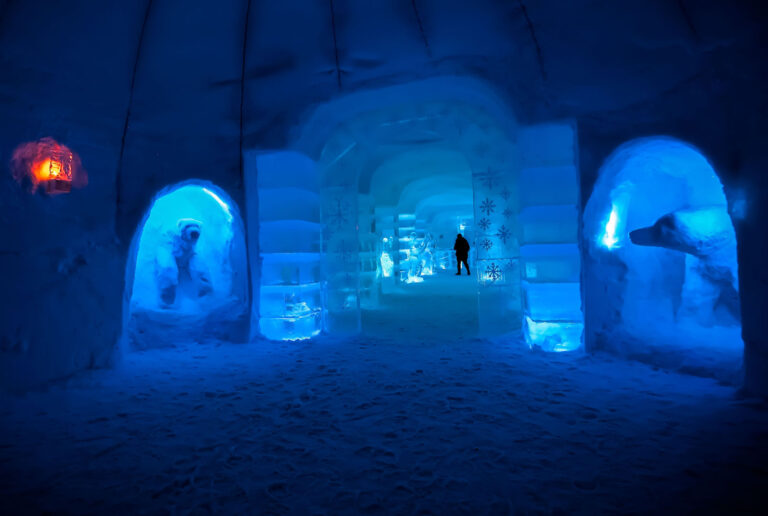 Talented artists and sculptors work tirelessly to create an enchanting atmosphere, carving intricate designs and themed sculptures that change every single year. The sculptures are truly remarkable and it's well worth a visit for these alone.
If you don't fancy the pricey overnight stay, day visits are offered and are extremely popular especially with cruise ship visitors. There's so much to see including an ice chapel and an ice bar where you an enjoy a drink in a glass made of ice.
5. Alta experiences the midnight sun and polar night
Alta is a long way inside the Arctic circle and as such, the town experiences the lighting phenomena unique to the polar regions: the midnight sun and the polar night.
For a few weeks every summer, the sun doesn't set. For a weeks every winter, the sun doesn't rise. It doesn't get completely dark in the winter, but the lack of true sunlight means the days are very short around December and early January.
6. It's a great place to see the northern lights
Much of Northern Norway is considered an ideal place to see the aurora borealis, so why does Alta pitch itself so heavily as a northern lights destination?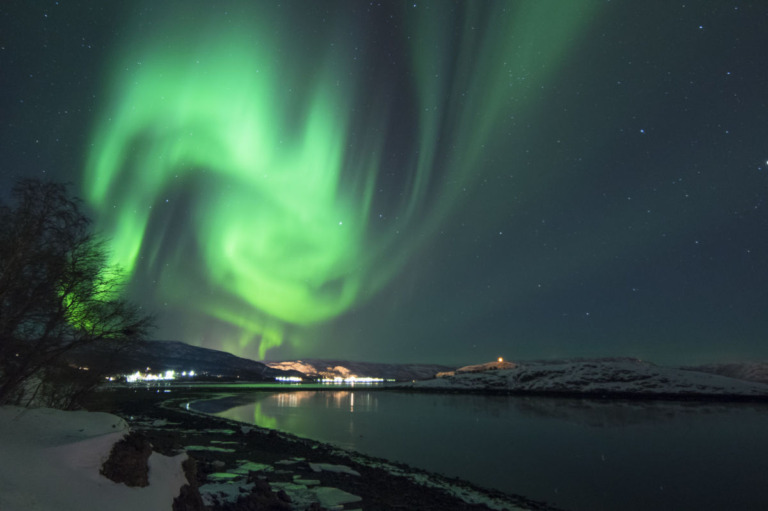 The town is situated on the shore of the Altafjord, which provides a largely unobstructed view of the northern sky. The cold, dry climate means there are often clear skies here. Due to Alta's relatively small size, there is less light pollution here than some other popular destinations.
7. Alta's cathedral is aurora-themed, inside and out
The striking cathedral in downtown Alta is known for its aurora-inspired spiral architecture. But whatever you think of the exterior, it's well worth going inside.
Here, the northern lights theme continues. The basement of the church functions as a small northern lights museum, including a brief film about the phenomenon. This comes at an extra charge, but is worth it if you're interested in learning more.
But where the theme really shines is inside the church hall itself. Pictures speak louder than words here…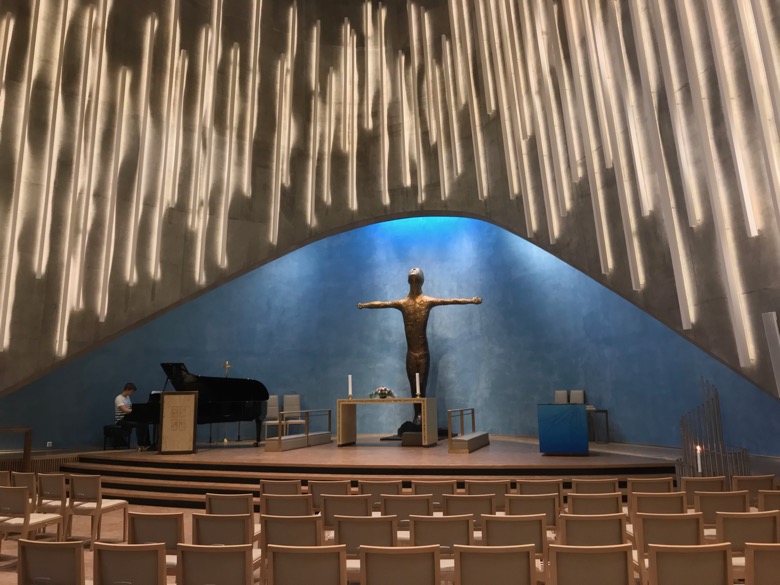 As well as the striking walls of the hall, there are other small details like the spiral candle holder.
8. Alta is an example of a 'new town' in Norway
During my geography lessons at school many years ago, I learned about the concept of British 'new towns' such as Milton Keynes and Hemel Hempstead. These post-war urban planning projects remain controversial to this day.
Most of Northern Norway had to be rebuilt after World War II, but this was more about rebuilding than constructing new towns. One big exception is Alta.
In the year 2000, the villages of Bossekop, Alta, and Elvebakken were merged to form the town of Alta. In between the villages, a 'new' town centre has gradually emerged made up of a shopping mall, office buildings, and car parks.
This structure can give Alta a somewhat anonymous, quiet feel as most people live out in the Bossekop and Elvebakken districts.
While there are hotels and a couple of bars and restaurants in the downtown area, it doesn't have the organic, lively feel as many other Norwegian towns too.
9. Alta is a centre of Sami culture
While the Sami parliament is located in Karasjok, Alta as the biggest urban area in the region is an important centre for Sami lifestyle and cultural heritage.
Written sources from the 16th-century show that a couple of hundred Sami lived along the Altafjord, making a living from hunting, fishing and some livestock farming.
10. The Alta controversy
Mention the town to a Norwegian and chances are they will think of Altasaken or Altakonflikten. Known in English as the 'Alta Controversy', the social and political conflict pitted the rights of the indigenous Sami people against the Norwegian state in the late 1970s and early 1980s.
The controversy was centred around the construction of a dam and hydroelectric power plant on the Alta River, which required flooding a Sami settlement. Sami people and their supporters protested against the project, arguing that it would violate their rights and damage the environment.
The dam project went ahead albeit with some modifications, but the controversy had a lasting impact on Sami rights and the environmental movement in Norway.
11. Alta plays host to a long-distance sled dog race
Europe's longest sled dog race takes place in the wild open wilderness of Northern Norway, with downtown Alta as its start and end point.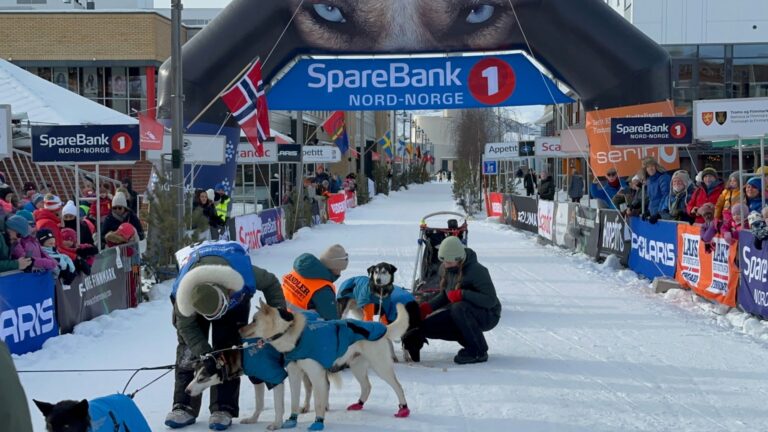 The longest race in Finnmarksløpet is an astonishing 1,200km, which takes participants several days to complete.
I got to see a few participants complete the 600km race, along with many locals, schoolchildren and several other confused tourists! The endurance race has been held annually since 1981 and is a real cultural highlight in this part of Northern Norway.
12. Borealis festival brings people together in the cold
Finnmarksløpet takes place alongside the Borealis Winter Festival. This festival is designed to embrace the cold winter and get the people of Alta together, outside. One of the main elements of the festival is the outdoor ice sculpture park.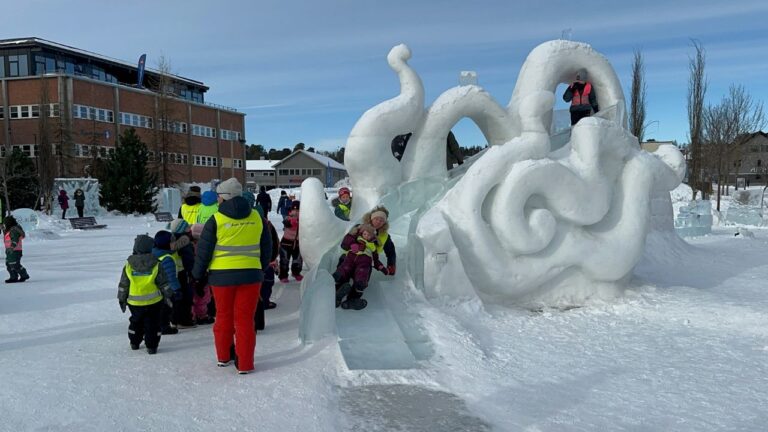 The month-long event features a sculpture-lined trail for skiing or walking around Alta but the ice sculptures downtown are the easiest highlight for visitors to enjoy. When I visited in March 2023, there was even an ice slide for youngsters to enjoy!
13. Alta is a growing cruise port
Many cruise ships visiting northern Norway typically call at Tromsø. Given its status as northern Norway's biggest town and with so much to see and do in the surrounding area, that's understandable. But Tromsø is a busy port.
Alta has seen an opportunity and now pitches itself to cruise companies as an alternative to Tromsø. Many outdoor activities such as dog sledding, snoeshoe hikes, Sami camps and midnight sun camps are available in Alta, too.
While Alta is not a stop on the Norwegian coastal voyage, Hurtigruten's sister company Hurtigruten Expeditions does make use of Alta. As does Fred Olsen, for some of its northern lights cruises to the north of Norway.
14. Alta Canyon is a wonderful hiking destination
At about 12km long and 300 to 420 metres deep, Sautso is northern Europe's largest canyon. Also known as Alta Canyon, it's one of the best-kept secrets of Northern Norway.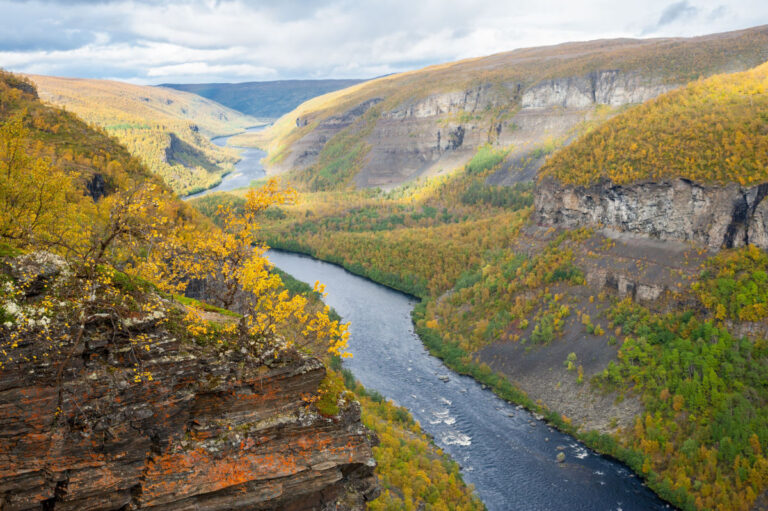 Organised trips to the accessible northern part of the canyon are available from Alta. Independent hiking trips are possible too, but you'll need to be prepared especially if you choose to hike in the late summer or early autumn for the beautiful colours.
15. Alta River is known for its salmon fishing
Locals claim the Alta River is world-famous. While chances are you've not heard of it before, it genuinely is well-known in the world of salmon fishing.
700 fishing licenses are distributed by lottery among Alta, Loppa and Kautokeino locals every year. Every year, about 1,200 eager salmon fishermen from the rest of the world sign up and participate in another draw for just 70 licenses that are sold to so-called "out-of-town fishermen."
Have you been to Alta? Let us know what you did in the comments below.