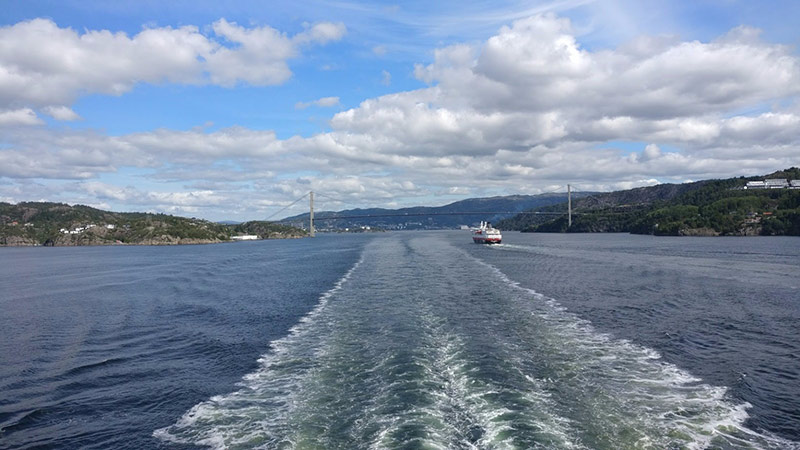 Travelling from Britain to Norway? There is an alternative to flying.
As a regular visitor to Norway, until this summer every single one of my journeys had taken me up 30,000 feet to get there.
However, with a five-week stay pencilled in throughout July and August, this time around I decided a road trip would be something different and the decision to drive to Norway was made.
Is there a ferry to Norway from the UK?
Unfortunately gone are the days where you could hop onto the Newcastle-Bergen ferry, that sailed for the last time in 2008 after being established for over 140 years. The advent of cheap flights means there are currently no direct ferry routes between the UK and Scandinavia.
Read more: Ferries to Norway
As a result, to get your car into Norway, you'll need to go on a bit of detour, but on the plus side you'll see more of Europe, get to put your foot down when you hit the unrestricted autobahn and avoid some of the general annoyances that only seem to ever crop up at UK airports.
Why Take Your car to Norway?
For a short stay, taking a car is pointless, but if like me you've got an extended trip, or if you're moving to Norway for a longer period, then taking a vehicle has many advantages.
Firstly, the minute you set off, your holiday commences. You can take detours, stop in cities you have never visited before and travel at your own pace.
The other plus point is that you can carry far more items with you when compared to flying; bikes, camping gear, sporting equipment etc. and it's much less hassle packing. Finally, if you plan on exploring Norway, a car makes things far more accessible for seeing Scandinavian scenery and landscapes.
What's the best way to leave the UK and get to mainland Europe?
The first decision you'll have to make is how to leave UK shores, and there are six options, one of them by rail, the others by sea:
Eurotunnel: 35-minute crossing
Dover to Calais: 120-minute crossing
Harwich to Hook of Holland: 8-hour crossing
Hull to Rotterdam: 11-hour crossing
Hull to Zeebrugge: 15-hour crossing
Newcastle to Amsterdam: 16-hour crossing
Which one you take might depend on whereabouts in the UK you are starting your journey from, but the easiest, quickest, likely cheapest and one I recommend is the Eurotunnel.
What about the Immingham to Brevik freight ferry?
If you've been Googling ways to get over to Norway via Ferry from the UK, you have probably seen some blogs and forums talking about the Immingham to Brevik Freight Ferry.
Up until 2016, this ferry did allow general passengers to board with their vehicles. However, this option is now unavailable after UK border agency cutbacks meant they refused to do immigration checks. You can however still load your car onto the ferry, but you cannot travel with it. So you will have to fly and collect it when it arrives.
Tips for getting from the UK to Norway by car and ferry
The journey I took started in London. Then it was Folkestone to Calais, up through France, Belgium, Holland, Germany and Denmark. The end destination before Norway is Hirtshals in Northern Denmark, and from Calais, that's around a 12-hour drive excluding stops.
Book yourself onto an early Eurotunnel
For my trip, I set off from Central London around 5 am and for the 7.50 am Eurotunnel from Folkestone. Choosing an early train has two advantages:
They're generally cheaper
You have got a full days driving ahead of you to take a big chunk out of the journey to Denmark.
If you live closer and can get there even earlier then do it, the earliest departure is usually 5.50am. With one at 3.27am before that.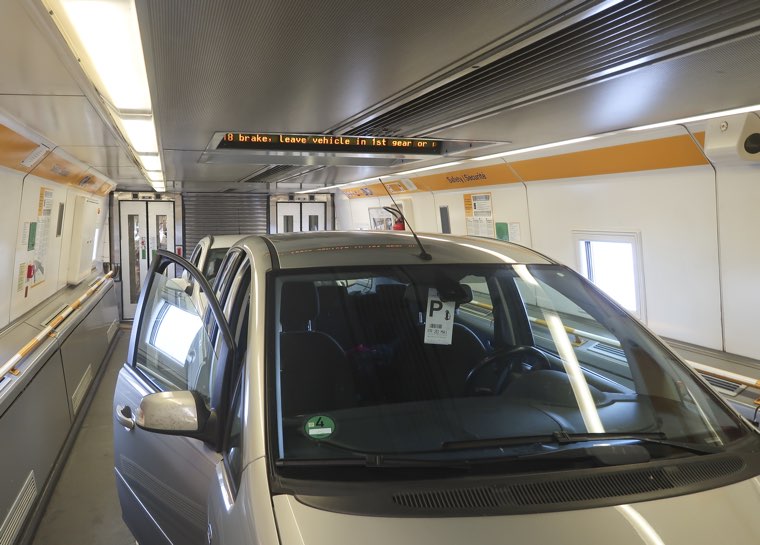 Make sure you give yourself a decent amount of time to get sorted and check-in. The good thing is if you do get there earlier and there's a train ready to depart, the staff will fast-track you onto that one if there's room. I ended up getting the 7.20am train for that very reason.
Use Waze for Navigation
If you have a smartphone then I can't recommend Waze enough, it's saved me a ton of hassle by rerouting me past traffic jams I'd otherwise have been none the wiser to. It's basically Google Maps with a community aspect where users update the maps in real time along with Google's own live traffic data.
Luckily my car has Android Auto so I can hook it up to the main display making it very easy to use and follow. If you can't do that, get a Mega-Mount and run it from your phone screen.
Be aware though Waze does use mobile data so depending on your allowance you might want to get a bolt on or use a different SIM card for it. I've got a dual SIM phone so pre-journey I picked up an EE Flex SIM that gives you a set amount of data, no contract or credit check, just a pre-paid SIM. I got 10GB for £25, and that lasted me the whole trip and EU/Norway roaming is included. But there's a few to choose from on the comparison site I used.
Spend the night in Northern Germany or Southern Denmark
You can certainly stagger the trip to Hirtshals over as many days as you want, but if you want to get to Norway as quick as possible then try to get well into Denmark in one day and spend the night there.
Depending how on early you get to Calais, it's certainly possible to get to Hirtshals in one day to make one of the early evening ferry crossings to Kristiansand or Larvik.
For my own trip, I drove from Calais to Kolding in Denmark in around 13 hours, stopping in Antwerp for lunch in and amongst a couple of other stops. Kolding is around a 3-hour drive from Hirtshals, so after a night in Kolding, you can make the 11.45am sailing to Kristiansand comfortably. More on that below…
Which ferries sail from Hirtshals, Denmark to Norway?
There are seven options for you and which you take depends on where in Norway you are heading. I recommend the Fjordline ferry to Kristiansand which is the quickest and ideal if you are wanting to see the West Coast and Fjords. It's a modern fast catamaran ferry and takes just 2 hours and 15 minutes.
| Departing | Arriving | Company | Daily Times | Duration |
| --- | --- | --- | --- | --- |
| Hirtshals | Kristiansand | Fjordline | 11.45 & 18:00 | 2h 15m |
| Hirtshals | Kristiansand | Color Line | 12.15 & 20.45 | 3h 15m |
| Hirtshals | Larvik | Color Line | 12:45 & 22:15 | 3h 45m |
| Hirtshals | Langesund | Fjordline | 09:00 | 4h 30m |
| Hirtshals | Stavanger | Fjordline | 20:00 | 10h 30m |
| Hirtshals | Bergen | Fjordline | 20:00 | 16h 30m |
A further option is a ferry from Kiel to Oslo via the Stena Line, this is usually pricier and a 20 hour sailing time making it almost a mini cruise.
Can you drive from the UK to Norway without taking a ferry?
Yes, you'll obviously need to take the Eurotunnel. But it's possible to drive through Germany, into Denmark then cross the Öresund Bridge (a toll bridge) from Denmark to Sweden.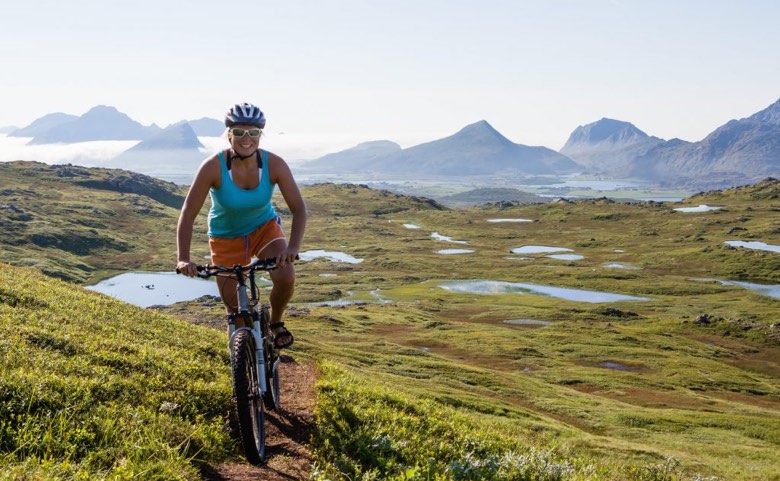 You then continue up along the Swedish coast until you have reached the Norwegian border. This is a long way around and you will be racking up the mileage but if you want to see a cool bridge and some of Sweden, then go for it.
What about the return journey, is there a ferry from Norway to the UK?
There's no ferry running in the opposite direction either, so to get back you'll take the exact same route through Denmark, Germany, The Netherlands, Belgium and France before getting to Calais.
I took the Hirtshals – Kristiansand ferry to Norway with a one-way booking, so my return leg I decided to take the Bergen to Hirtshals overnight ferry.
This departs at midday and arrives in Hirtshals at 7.30am the next day. The reasoning being I'd driven up the West Coast for my trip, so rather than a 7-hour drive back down to Kristiansand, a night on the ferry with an early morning arrival meant a full days driving again in Europe to get to Calais.
Overall though I much prefer the shorter ferry time to between Kristiansand and Hirtshals, so if I were to do the journey again I'd drive to Kristiansand, spend the night there and catch the 8.30am ferry to Hirtshals.
Will there ever be a UK to Norway Ferry again?
Right now it looks unlikely as the ferry companies clearly don't see it as a viable business model. Over the years there have been a smattering of petitions for the reinstatement of a ferry from the UK to Norway and some sailing firms have hinted at a new route being established but unfortunately, nothing has ever come to fruition.
What things should I be aware of about driving in Europe?
There are a few things to consider specifically for this trip. For driving in France you'll need a European driving kit which contains:
Headlamp converted
Hi-viz vest for each passenger
GB sticker (if you have an EU GB numberplate this is fine)
Warning Triangle
Spare Bulbs
Breathalyser
Remember to make sure your car insurance has European Cover too. Most firms offer it in your standard policy but it's often only third-party so you might want to ring them and arrange full cover for the duration of your trip.
There are no tolls on the route from Calais to Hirtshals so you don't need to buy any Vignettes or stickers.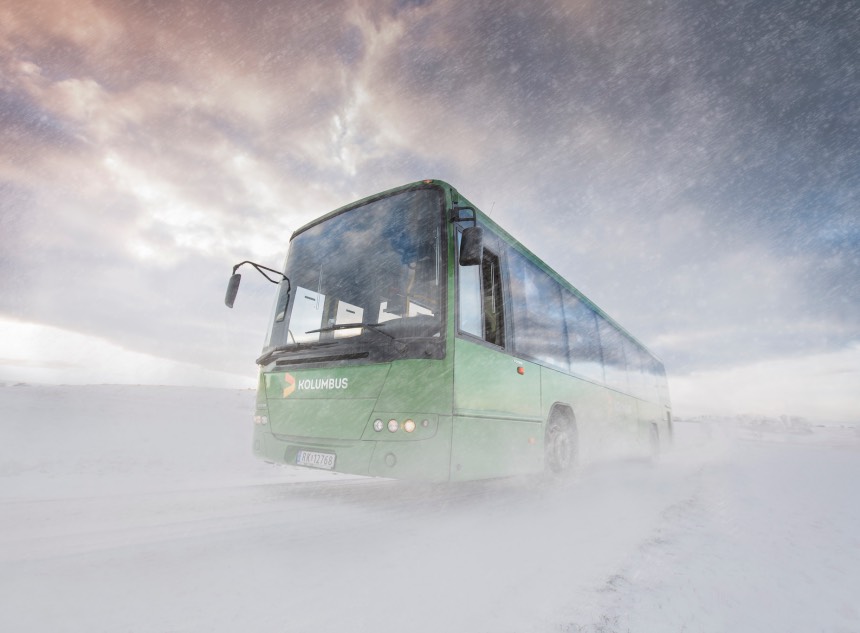 Depending on the time of year, you'll also need winter tyres to be fully road legal in Norway. That being said, if this is a holiday I recommend only taking this sort of trip in Summer.
Finally, petrol prices are usually cheaper in Europe. Germany and Belgium are the cheapest, but it's better to fill up in Denmark before you cross into Norway where the prices are higher.
Is driving a right-hand drive car difficult in Europe and Norway?
This trip was my first time driving a right-hand drive car in Europe so before landing in Calais I was wondering how tricky it would be. That question was answered pretty quickly and it's not difficult at all.
The roads are much quieter in Europe, generally better quality, and when there are other cars on the road around you then it's easy to reset the mind to drive on the right. Just take it steady for the first few miles of the journey and it soon feels like you've been driving on the right for years.
The only issue you'll have is if you're a solo traveller trying to overtake on a single carriageway road, sitting on the right does restrict your view of oncoming traffic somewhat if you are trying to get around a slower large sided vehicle.
Got any questions about taking the ferry from the UK to Norway and the drive itself? Leave a comment below and I'll do my best to answer.