A winter road trip in Norway is a tempting prospect due to the breathtaking scenery on offer. But care needs to be taken if you're not used to the conditions. Here's what you need to know about winter driving in Norway.
Norwegian cities, fjords and mountains covered in snow with the northern lights dancing overhead. It's a prospect that draws many people to Norway in the winter, despite the cold temperatures and short days.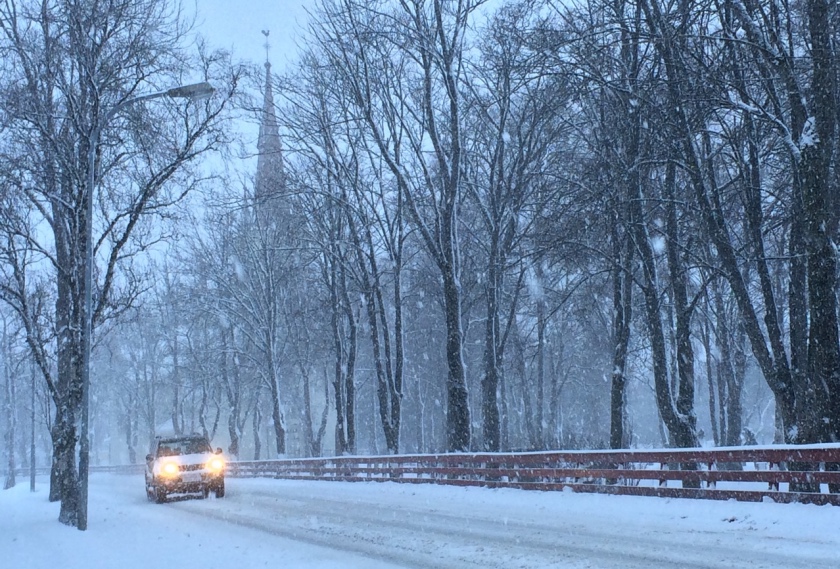 However, seeing the best of the country in the winter requires a rental car. Driving in Norway in winter conditions is a challenge and therefore is not recommended for the inexperienced driver.
Handling a vehicle in such weather–especially on mountain roads in the darkness–requires careful attention and at least some experience.
Note that although the season for snowfall runs December – April in most cities, snow can settle on the ground for almost every month of the year at higher altitudes, and not just in the high north.
Search for the best car rental rates in Norway
Snow in June is a common sight on the road to Dalsnibba, above the popular tourist resort of Geiranger. You'll also probably find at least patches of snow in places like Hardangervidda and Aurlandsfjellet.
Winter tyres
One of the most important driving rules in Norway is regarding the use of the correct tyres.
Summer tyres should not be used in winter conditions. The tyres you use must secure sufficient road grip. During the winter (the exact times are defined by the weather each year), the tread depth on car tyres must be a minimum of 3 mm.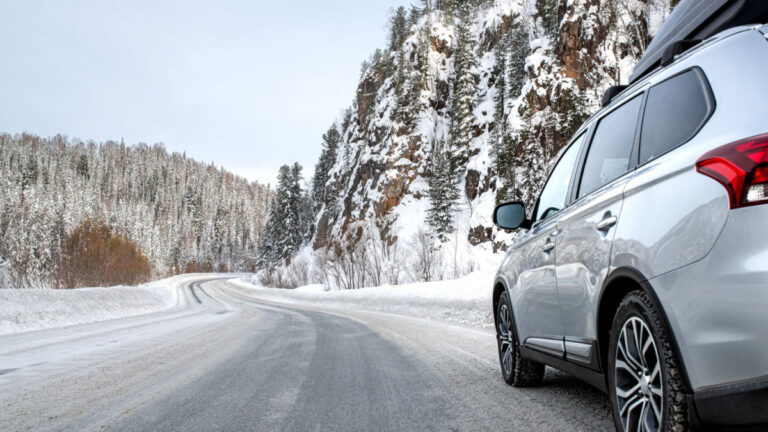 Studs may be used only on winter tyres (except for motorcycles) but if a car is fitted with studded tyres, you must have studded tyres on all wheels. Different rules apply for vehicles in excess of 3,500kg.
How to drive in snow
If you're planning a road trip in Norway during the winter, bear in mind that Norwegians are used to driving with ice and snow on the roads and during heavy snowfalls. Traffic generally runs as normal during snowfall, albeit at a slower speed.
An impressive range of trucks and tractors are employed to keep the main roads – especially around cities – open, but some roads at high altitudes can be closed temporarily.
Some mountain passes are always closed during the winter. Keep reading for more details. Visitors to Norway in winter must be prepared to drive on pure ice and fresh snow.
Driving sensibly during these times is essential so stay calm, don't rush, leave plenty of distance between your car and the vehicle in front of you, brake gently, and slow down well in advance of junctions and bends.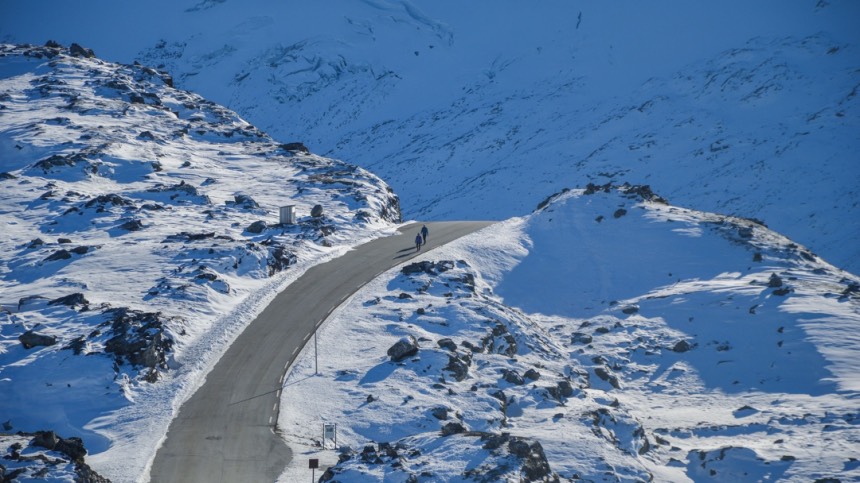 Stop regularly to clear snow from your headlights and number plates. This is especially important if you're driving in the darkness.
It's a good idea to allow extra time if planning a lengthy journey in the winter, and to keep a flask of hot drink, bottled water, snacks and warm blankets in the car, just in case.
Winter road closures
Some of the higher mountain passes are closed for the winter as it is simply too difficult to keep them clear of snow. This includes many of the well-known national scenic routes.
Exact dates very each year based on the weather, so check with Statens Vegvesen close to the time for the most up-to-date information.
Roads that are closed during the winter include the Trollstigen mountain pass (part of Fv63 from Åndalsnes to Geiranger), route Fv257 (Gamle Strynefjellsvegen) from Grotli to Videsæter, Fv55 over Sognefjellet, and part of Fv243 from Lærdal towards Aurland.
Tips for safer winter driving
For those of you contemplating a winter drive in Norway, here are some driving tips.
Most of these are common sense, but some you may not have thought about.
Allow significantly more time to complete your journey
Make sure your car is fitted with winter tyres (a legal requirement)
Stop regularly to clear snow from your headlights and number plates
Check the weather forecast but don't rely on it – conditions can and will change rapidly
When contacting a car rental company, be sure to ask about winter driving conditions and equipment. This includes winter tyres and what emergency equipment is included with the rental.
Search for the best car rental rates in Norway
Here are some more tips, including some things to take with you in the car.
Take a flask of hot drink and some water
Take warm clothes and blankets
Take an ice scraper, brush, and old rags/cloths
Take two orange warning triangles in case of difficulties/breakdown
Make sure your mobile phones are fully charged before starting your journey
Have you successfully done a winter road trip in Norway? What advice would you give other drivers? Let us know in the comments.