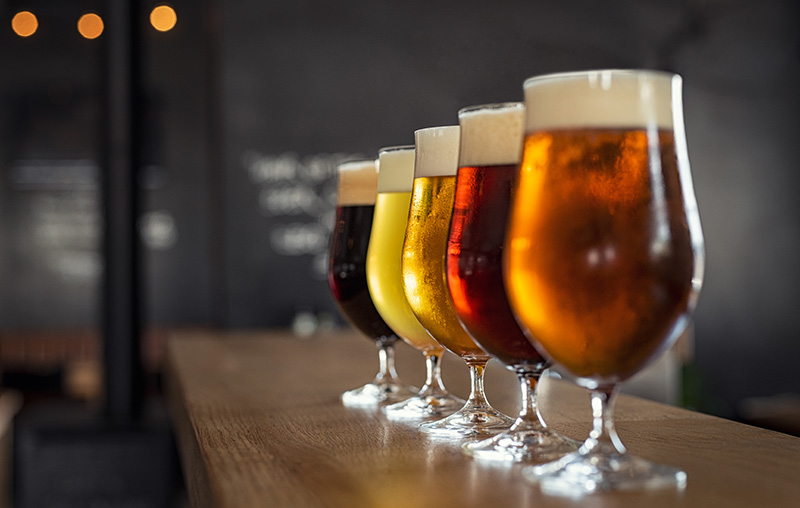 From the major pilsner producers to the recent craft ale craze, here's our guide to the best Norwegian beer.
Norway is a nation of beer drinkers. Pilsner of the style enjoyed in Germany and the Czech Republic is especially popular, but as with the rest of the world craft beers are gaining market share.
Due to government restrictions, beers above 4.7% ABV are only available from licensed premises (bars, restaurants and clubs) or from the Vinmonopolet, a state-run alcohol retail store. As a result, many breweries reduce the alcohol content in their beer in order for them to be sold in supermarkets.
Read more: Norwegian food and drink
Quench your thirst with our guide covering everything you need to know about buying and drinking beer in Norway.
A long history of brewing
Beer has been brewed and enjoyed in Norway for at least 1,000 years.
During the late Middle Ages and the long unions with Denmark, farms commonly had a brewing operation on site. The name 'bryggehus' (brewing house) refers back to these days.
This practise was common until around 100 years ago. Brewing rapidly industrialised and home brewing was made illegal.
Over the last fifty years or so, the Norwegian brewing industry has undergone significant consolidation. There are now just two major names: Carlsberg-Ringnes and Hansa-Borg.
Drinking culture in Norway
Alcohol is a social lubricant for Norwegians of both genders. French blogger Lorelou from A Frog in the Fjord puts it well:
"The French saying 'A bottle of alcohol is ugly in the hands of a woman' probably never existed here. Everyone gets wasted. So when I say 'Norwegian' I mean women AND men."
All the social awkwardness that usually defines Norwegians goes out of the window when alcohol flows! You may be thinking that happens to everyone and indeed that's true, but I've never seen the difference more pronounced than here in Norway.
That's not to say Norwegians get drunk a lot. There's no 'round buying' culture that results in so many Brits feeling compelled to get drunk. I remember thinking. "Oh no, there's four of us here, that means four drinks". Norwegians buy their own beer, often getting up one after the other to the bar.
Drinking 'sessions' are usually confined to special occasions including birthdays and cabin trips. The Christmas party (julebord) is the prime example.
Why is beer so expensive in Norway?
Most regular readers of this website will know all about the high cost of living in Norway compared with many other countries. But the cost of alcohol takes things to new heights.
You can expect to pay 65-85kr for a regular 400ml or 500ml glass of pilsner in most Norwegian bars, more in restaurants and places such as airports. Ales and craft beers will be more like 85-125kr.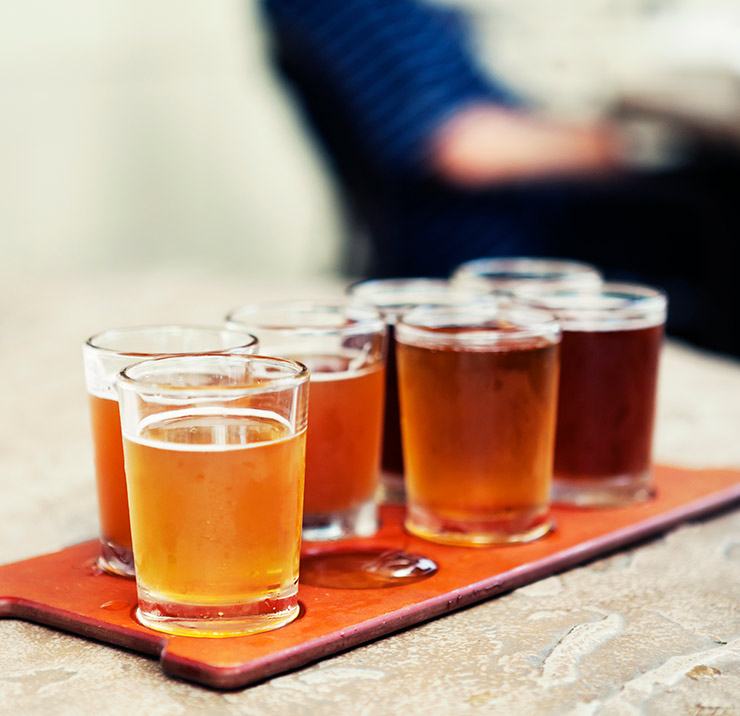 Prices are even high in supermarkets, where a 500ml can of pilsner comes in at around 25-30kr, while bottles of imported beer or local craft ales are around 30-65kr, with similar prices in Vinmonopolet, the state-run off license.
The reason is simple: The Norwegian government taxes on alcohol are the highest in Europe. Any beer over 0.7% ABV is subject to tax, with the rates on a sliding scale depending on the strength.
2019 rates: Beer between 3.7% and 4.7% ABV is taxed at an astonishing 22.4 kroner per litre, while beer above 4.7% ABV is subject to 5.01 kroner per percentage point per litre. These rates are applicable to all alcohol, which goes a long to explaining why spirits are so expensive.
When and where to buy beer in Norway
As explained above, you can buy beers up to 4.7% ABV in a supermarket. Anything over that level is sold in the state-owned Vinmonopolet. Here in Trondheim there are three in the city centre, and five others in the suburbs, but many smaller cities will have just one.
Something that trips up new arrivals to Norway for months on end is adjusting to the restrictive licensing hours. While licensed bars and restaurants can serve alcohol when they are open, the hours are more strict for retailers. It is not possible to buy alcohol from a shop after 8pm weekdays, after 6pm on Saturdays, and not at all on Sundays.
All this makes the duty-free stores at Norwegian international airports incredibly popular. If you're arriving into Norway on an international flight, just watch the Norwegians…
Norwegian pilsner
If you ask for a beer in a British pub, you'll get an unimpressed stare back from the bartender, accompanied by some variation of "which one"? If you ask for a beer (en øl) in a Norwegian pub, they'll pour you the house lager, which is almost always one of the pilsners from the main Norwegian breweries.
More often than not, the choice will be dependent on geographic location of the brewery (at least traditionally). In Tromsø, it's going to be Mack. In Trondheim, it's going to be Dahl's, and so on.
Of course, all these brands also brew a range of other beers and ales, but they are all best known for their pilsner. Some of the biggest brands include:
Ringnes: Founded in 1877, the brewery's original Grünerløkka location produced its first beer in 1877. From 2004 Ringnes has been entirely owned by Carlsberg. Ringnes is also the sole Norwegian bottler and distributor of PepsiCo drinks including Pepsi, Pepsi Max, 7Up, Gatorade, and Lipton Ice Tea.
Hansa: Known across Norway as a Bergen brand, Hansa Bryggeri merged with the Østfold-based Borg Bryggerier in 1997 to become one of the country's biggest. Hansa takes its name from Bergen's history as a Hanseatic trading port.
Dahls: Founded in 1856, E.C. Dahls Bryggeri remains the pride of Trondheim despite now being owned by Ringnes – and therefore Carlsberg. The Dahl's pilsner is ubiquitous throughout the city.
Mack: Perhaps more so than any other brewery-city combination, it's impossible to avoid Mack in Tromsø. Founded in 1877, Mack brewed its beers in the centre of Tromsø until 2012 when it moved to a modern production facility in Nordkjosbotn.
Norwegian craft beers
As with the rest of the world, Norway has seen an explosion of interest in craft beers in the last 5-10 years. Microbreweries and brewpubs are now a common sight throughout the land.
When I first visited Trondheim – the city that would eventually become my home – I discovered Trondhjem Mikrobryggeri,  which has gone on to become the closest thing I have to a 'local'. I particularly like their unfiltered Trondhjemspils, a twist on the regular pilsner, and the fresh, fruity taste of the Upstate pale ale.
Trondheim is also home to Austmann, one of the country's most successful microbreweries. Their Tre Gamle Damer (Three Old Ladies) Belgian Pale Ale is a common sight in bars in Trondheim and increasingly so throughout the country.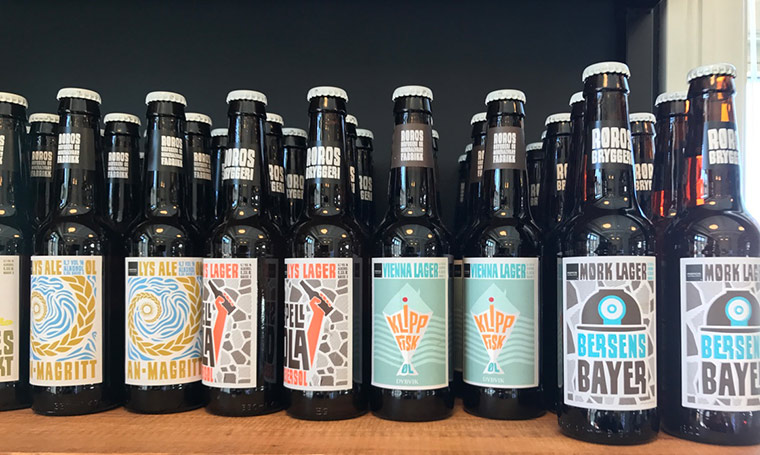 Some of the other prominent microbreweries in Norway include Nøgne Ø and Lervig. They both make the list of best Norwegian microbreweries according to Untappd, based on average user ratings across their range, along with Cervisiam, Monkey Brew, and Amundsen Bryggeri.
The best Norwegian beers
If ever there was a topic to start a flame war in the comments, it would be picking out the best microbrews! Everyone has their personal favourites and of course, much depends on what kind of beers you like.
So once again, I've turned to Untappd for their weighted average list of best Norwegian beers. The top end of the rankings are dominated by stouts and other dark beers, perhaps surprising given the love of pilsners in Norway.
At the time of writing (February 2019) the current best rated beers are:
Sippin' Into Darkness (Barrel Aged) from Lervig
Eternal Rest 2017 from Nøgne Ø
Dark Horizon 4.5 from Nøgne Ø
The home brewing trend in Norway
Growing hand-in-hand with the popularity of craft beer is homebrewing. Given the high prices of ales in the bars and supermarkets, it's perhaps no surprise that the hobby has become increasingly popular in Norway too!
Most major cities have at least one 'brewshop' which makes it easy to buy supplies such as fermenters and quality ingredients such as brewing sugar and specific hops. Both main types of home brewing – all-grain and extract – seem to be popular in Norway.
We started home brewing a few years ago and tend to alternate between the two methods. Much depends on how much time we have! It's a fun hobby but it helps enormously have to have two pairs of hands.
Kveik yeast
Draft Mag called Kveik "the hottest new centuries-old beer yeast you've never heard of". Remember earlier on when I talked of the farm brewing tradition? Norwegian farmers used kveik, a domesticated yeast that was passed down among family and friends.
In more recent times, a few enterprising Norwegians have begun to collect and sell the yeast. It's proving popular in Norway, but also among keen craft brewers in the USA. I won't go into detail here but for those interested there's an excellent article on the origins of the yeast here.
The curious tradition of juleøl
Although pilsner is popular throughout Norway, when the dark times fall Norwegians turn to a much darker malt beer known as juleøl – Christmas beer!
Juleøl is a dark, rich, strong ale based on more traditional Norwegian beers that helped people cope with the long, dark, cold winters.
Øl Akademi are among the many Norwegian websites to rank the various Christmas beers, which are produced by virtually all Norwegian breweries every year. These three tied for first place with 96 points:
Ringnes' Julebokk 2018 (dark lager)
Færder's Færder Røkelse (stout)
Haandbryggeri's Fatlagret Bestefar (traditional beer)
You can read the full story of juleøl over here.
Beer festivals in Norway
Growing in popularity across the country, beer festivals can be found in most major towns and cities. Typically they showcase special beers from major breweries alongside local microbrews.
Usually they feature some combination of live music, brewing demonstrations and/or classes, and talks. Some of the biggest include:
What's your verdict on the best Norwegian beer? Let me know in the comments!