Norway's Nusfjord is one of the most eye-catching fishing villages in the wonderful Lofoten archipelago. Here's everything you need to know about this charming destination.
Earlier this year, a team from the BBC spent several weeks filming at the Nusfjord Arctic Hotel in Lofoten. Now the hotel and fishing village is to be showcased to millions of viewers from around the world.
When I was researching the first edition of Moon Norway, I made a road trip through the stunning Lofoten Islands. On my travels, I arrived at Nusfjord purely by chance. Ever since then, this remarkable place has been etched into my memory.
When Nusfjord comes under the spotlight this weekend on 'Amazing Hotels: Life Beyond the Lobby', interest in Nusfjord is sure to skyrocket. Here's what you need to know about one of Norway's most picturesque places.
Introducing Nusfjord, Norway
Nusfjord is one of Norway's oldest and best-preserved fishing villages, located on Flakstadøya in Flakstad municipality, part of Lofoten. It's a beautiful 91km drive from Svolvær, the main town on the islands, and 27km from Leknes.
In UNESCO's Architectural Heritage Year (1975), Nusfjord was designated as one of three pilot projects in Norway, focusing on the preservation and showcasing of unique wooden house environments.
Fishing has been conducted in Nusfjord since the mid-1800s. But these days, only around 25 people are permanent residents of this charming village, and it's kept alive through tourism.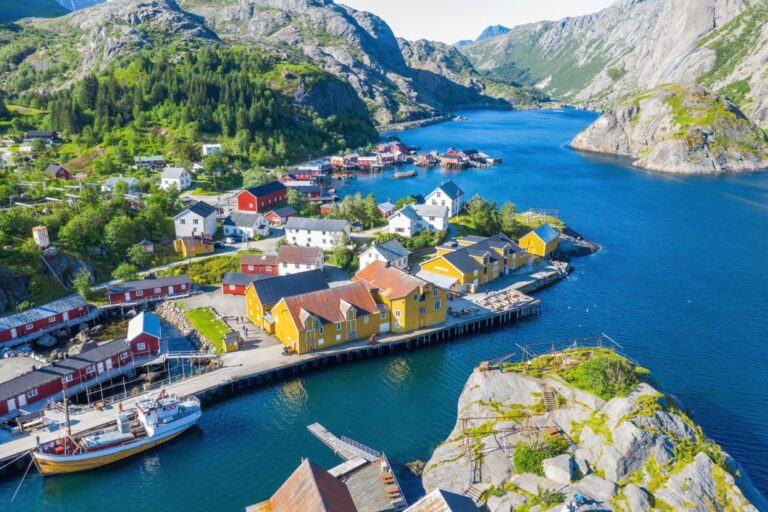 But with so few residents and such a small physical space, it's a very delicate balance. If successful, the new TV show could present a major challenge for the small community.
Nusfjord in the global spotlight
The popular BBC travel show "Amazing Hotels: Life Beyond the Lobby" has nearly 10 million viewers and is broadcast in 150 countries. This weekend, Nusfjord Arctic Hotel comes under the spotlight.
"It's absolutely incredible and truly unique. But it's a confirmation that we've achieved something authentic, exciting, and different when the BBC thinks this is one of the world's most amazing hotels," said real estate investor Carl Erik Krefting to NRK.
The Krefting family has spent recent years refurbishing some of the distinctive red wooden fishing cabins, transforming them into a popular hotel.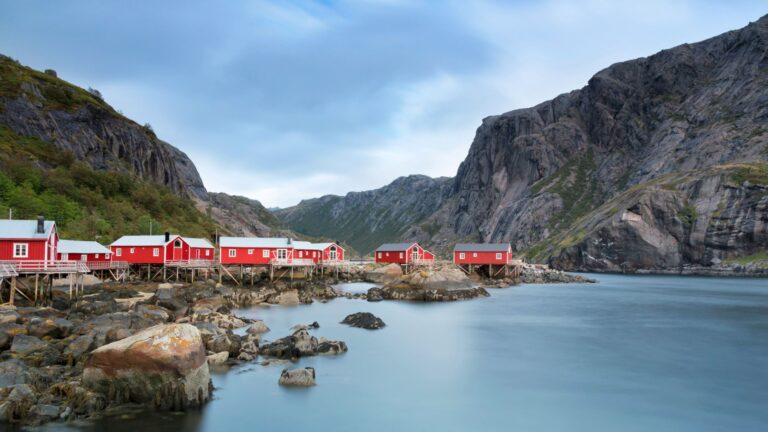 When the Krefting family bought the facility, five of the seven protected buildings in Lofoten were on the property. They describe the hotel as a living museum of coastal culture and the fishing that has taken place in Lofoten for over 1000 years.
"We are very proud. We hope others will be proud too," said Caroline Brun-Lie Krefting. She shared that they are passionate about conveying the history of Nusfjord. "That's one of the things we found most enjoyable," she added.
Would a tourism boom be welcome?
Back in 2019, we published a story about the handful of locals saying "enough is enough", with up to 50 tourist buses a day visiting the village in high season. Now, it could be about to get a lot worse.
The fishing village with less than 25 permanent residents will shortly be viewed by 10 million people worldwide. Other hotels showcased in the previous season of the program were fully booked for a long time.
"A natural consequence will be more visitors to Lofoten and also to Norway," said Carl Erik Krefting. But while an increase in tourism might bring economic benefits, it also poses significant environmental, cultural, and social challenges for Nusfjord and Lofoten in general.
An increase in visitors places greater strain on the already vulnerable environment of Lofoten. Hikers, in particular, are causing noticeable scars on the landscape, with areas looking as worn as highways due to frequent use.
There has also been an observed increase in human waste in nature, contributing to the pollution of drinking water in the area. The lack of facilities is one of the major arguments for introducing a tourist tax in Lofoten.
With the surge in tourism, there's a risk that areas might become privatised for tourists. This could mean that Lofoten's permanent residents lose access to their local environment, and their way of life.
This almost happened back in 2016. A proposal to erect a high fence around the fishing village to block entrance to paying visitors only upset locals, and the plan was shelved.
A focus on year-round tourism
Those working in the tourism industry in Lofoten are excited about the BBC program. "Lofoten is a small community that takes care of its surroundings and lives in balance with them. I believe this is very positive," said Destination Lofoten's Line Renate Samuelsen to NRK.
BBC filming took place in February and March, a picturesque time that also happens to be a period with far fewer visitors than in the summer high season.
Samuelsen believes the episode can make Lofoten more attractive for winter tourism: "We need to develop a year-round tourist destination with steady jobs throughout the year so that we can actively host tourists during the winter."
How to visit Nusfjord, Norway
Are you keen to visit Nusfjord and see it for yourself? You'd best be quick. Demand is sure to be high following the BBC broadcast.
You can check rates and availability at the Nusfjord Arctic Resort with our friends at Booking.com. We'll receive a small commission if you book using our link, but you'll pay exactly the same.
To get to Nusfjord, you'll likely need to hire a car. Car rental in Lofoten is best done from Svolvær Airport, but should be arranged in advance especially during high season.
Have you ever been to Nusfjord? Share your favourite memories in the comments below. If you enjoyed this article, why not share it on Facebook or Pinterest so that others can find and enjoy it too? Just hit those social sharing buttons.