While many gravitate towards the allure of Copenhagen when visiting Denmark, there's an often overlooked gem awaiting curious travellers: Odense.
Regular Life in Norway readers will know that we don't just cover goings-on in Norway. When you live in Norway, the wider Scandinavian region is easily accessible and shares so much history and culture.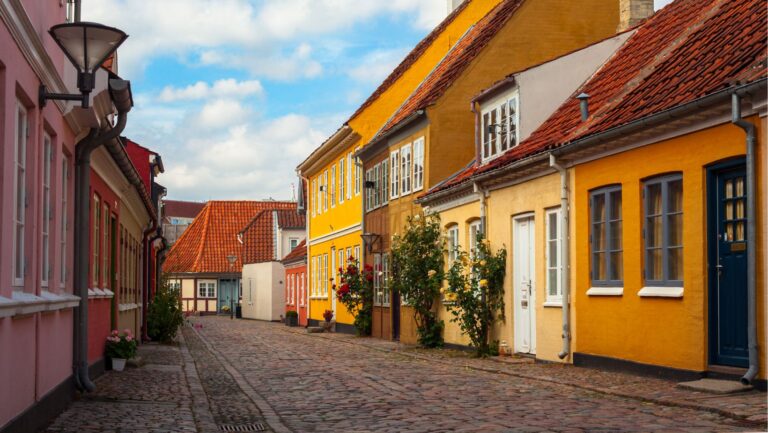 We continue on our Scandinavian adventure this time with a trip to Denmark's third largest city, which combines over a millennium of rich history with contemporary culture.
Introducing Odense
With merely 200,000 inhabitants, the city offers a cozy, small-town ambiance, intertwined with lush parks and a vast network of cycling trails.
Just a brief train journey of 80 minutes from Copenhagen, Odense makes for an interesting detour or day trip. To truly appreciate this Scandinavian treasure, let's dive into five intriguing aspects of Odense.
1. Hans Christian Andersen's birthplace
Odense is the birthplace of one of the most cherished authors in literary history, Hans Christian Andersen.
Though he penned a diverse range of works, spanning from plays and novels to poems and travel accounts, his fairy tales have left an indelible mark on world literature.
Despite his humble beginnings in a quaint, yellow, half-timbered house on Munkemøllestræde, Andersen rose to monumental fame in Copenhagen. Odense honors his legacy with the state-of-the-art H.C. Andersen House, a museum that dives deep into his fairy tales' enchanting worlds.
This family-friendly attraction is much more than a museum – it's a magical realm replete with a children's cultural center, an underground museum, and an ethereal garden.
2. Odense has a rich Viking Age history
Odense's roots can be traced back to the Nordic Iron Age and the Viking Age, with the 10th-century ring fortress at Nonnebakken bearing testimony to its significance.
This fortress, a marvel of ancient engineering, once stood as a symbol of power and protection. Although time has taken its toll and left only a noticeable elevation of what was once a formidable stronghold, the ground beneath still whispers tales of the Vikings.
Delving into the depths of this historic site, archeologists have been rewarded with a treasure trove of artifacts from the Viking Age. These discoveries range from intricate jewellery and weapons to everyday household items.
The city's historical importance doesn't end there. King Canute IV, Denmark's last Viking monarch, met his fate in an Odense church in 1086. Canonized posthumously, his shrine has evolved into a revered pilgrimage site.
3. Odense is a cycling city
Denmark's commitment to creating a sustainable and accessible environment is evident in its dedication to cycling infrastructure.
While Copenhagen often garners international attention for its cycle-centric urban planning, it's good to recognise that this passion for pedal power extends beyond the capital city.
Odense boasts an impressive 348 miles of well-maintained bike trails, ensuring that both residents and visitors have ample space to ride, whether for leisure or daily commuting.
The presence of 123 bike-specific bridges and 65 bicycle tunnels further emphasises the city's focus on ensuring safe and efficient routes for cyclists.
Visitors wanting to see the city under their own steam can easily rent a bicycle from one of several rental shops, with guided tours by bike also available.
4. It is a hub of Denmark's railways
Odense's strategic location makes it the heartbeat of Denmark's railway network. All east-west trains and those headed to Germany transit through the city, fortifying its stature as an easily accessible destination.
The construction of the Great Belt Bridge in 1997 further slashed the rail time between Copenhagen and Odense.
Train enthusiasts have an added reason to visit: the Danish Railway Museum. This museum houses 50 historic locomotives and carriages, with the 1869 steam engine being the showstopper.
5. Odense is twinned with Columbus, Ohio
Did you know Odense shares a special bond with Columbus, Ohio? Since 1988, these two cities have embraced a sister city arrangement.
This led to an educational delegation from Ohio State University visiting Odense in 2016 to gain insights into Denmark's sustainable practices.
Moreover, Odense's global outreach extends to 19 other cities, including Funabashi in Japan. This Japanese city pays tribute to Hans Christian Andersen with its unique H.C. Andersen Park, which marries the scenic beauty of Denmark with educational programs for youngsters.
Have you ever been to Odense, Denmark? Let us know your experiences in the comments below.