The Danish capital Copenhagen is a hugely popular weekend break for Europeans. That's especially true for Norwegians. Here's how best to spend your time in Denmark's biggest city.
Denmark's vibrant capital effortlessly marries contemporary Scandinavian design with a treasure trove of historic landmarks, catering to a wide range of travellers.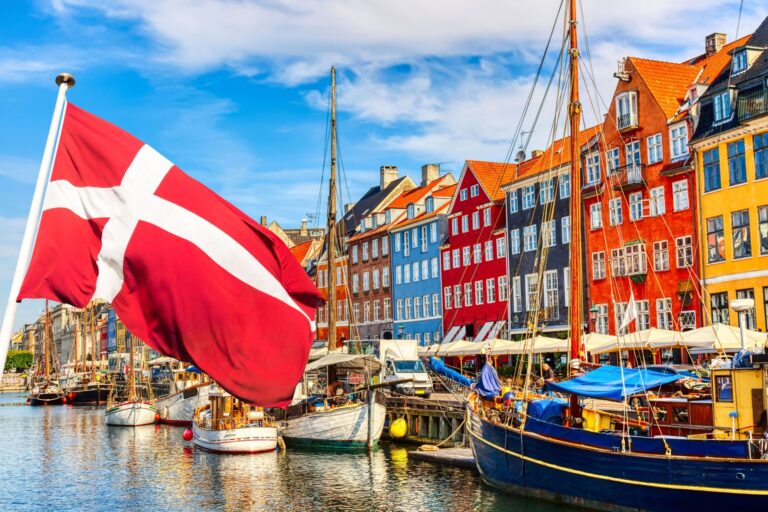 From Norway, it's easy to get to Denmark by air. You can also take an overnight ferry, or travel through Sweden by road or rail.
An introduction to Copenhagen
Whether you're intrigued by Denmark's reputation as one of the world's happiest nations or simply eager for a city break replete with world-class museums and culinary delights, Copenhagen is an essential destination.
A full week would offer a comprehensive experience of all that Copenhagen has to offer. However, even just a weekend provides ample opportunity for a sampler into all things Scandinavia.
Copenhagen Travel Resources: Book Hotels – Book Tours – Car Rental
No family trip is complete without a whirl through the historic Tivoli Gardens amusement park, while Rosenborg Castle beckons with its meticulously curated museum that houses royal relics and an impressive array of crown jewels.
Whether you're stopping for just a few hours on a cruise ship itinerary, enjoying a weekend break, or spending longer to get to know the city, I'm sure you'll find something to interest you and your family.
Top things to do in Copenhagen
Let's get started with a look at some of the very best things to do in Copenhagen.
1. Tivoli Gardens
A timeless Copenhagen treasure, the Tivoli Gardens amusement park has been a cherished destination for generations of Danes, standing as both an emblem of tradition and an evolving amusement park, nestled in the heart of the city.
With its rich history and delightful array of attractions, Tivoli has earned its reputation as a must-visit, especially for those travelling with children. However, Tivoli is not just about thrilling rides. It boasts meticulously landscaped gardens that provide a serene retreat from the city's bustle.
As you wander through the verdant pathways, you'll encounter a variety of plants, enchanting light displays (especially during seasonal events), and captivating live performances that cater to all ages and tastes.
The thoughtful ticketing system, which separates entrance from ride fees, ensures visitors can tailor their experience according to preference and budget.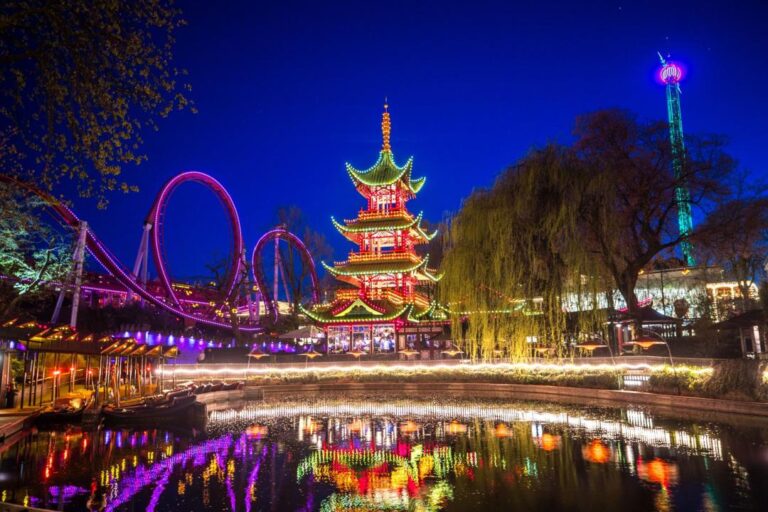 Whether you're an adrenaline junkie craving roller coaster excitement or someone simply seeking a peaceful afternoon amidst nature and culture, Tivoli Gardens promises an unforgettable experience for every visitor.
2. Stroll along Nyhavn
Nyhavn, meaning "New Harbour," is the most picturesque spot in Copenhagen. Once a bustling commercial port, today it's renowned for its vibrant, colourful townhouses and historical wooden ships lining the canal.
The 17th-century waterfront, with its cobbled streets and lively ambiance, has become an iconic symbol of the city. Here, visitors can relax at waterside cafés, listen to street musicians, and soak in the history.
The famed Danish author Hans Christian Andersen once called Nyhavn home, penning several of his tales in this enchanting setting. A visit to Copenhagen isn't complete without a stroll along Nyhavn's historic quay.
3. The Little Mermaid
Perched gracefully on a rock by the waterside at the Langelinie promenade, the Little Mermaid Statue is one of Copenhagen's most cherished landmarks. The bronze figure embodies the poignant tale penned by the nation's celebrated storyteller, Hans Christian Andersen.
The story of "The Little Mermaid," a tale of unrequited love, sacrifice, and longing, has touched the hearts of readers worldwide. The statue, with its contemplative gaze looking out towards the horizon, encapsulates the mermaid's deep yearning for an unattainable life on land and love for a human prince.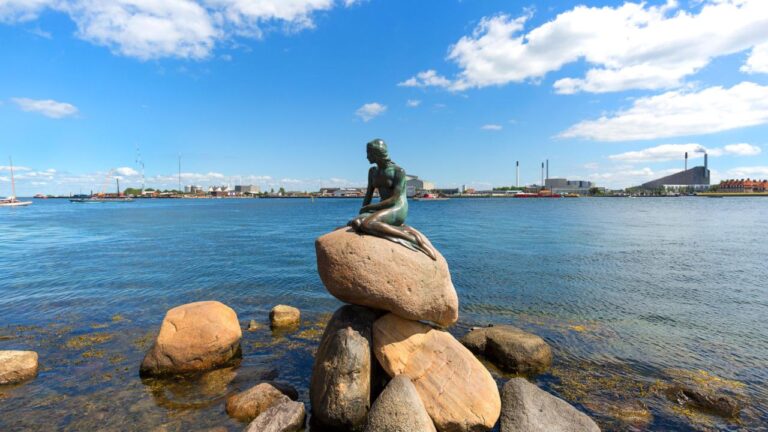 Sculpted by Edvard Eriksen in 1913, the statue's intricate details, from the delicate scales on her tail to the serene expression on her face, capture the essence of Andersen's character.
Over the years, the Little Mermaid has weathered both natural elements and acts of vandalism, yet her spirit remains unbroken, much like the character she represents.
4. Freetown Christiania
Christiania is a unique, partly-autonomous neighbourhood known for its alternative lifestyle, colourful murals, and handmade houses.
Born out of a squatting movement in the 1970s, Christiania has grown to symbolize resistance, freedom, and a radical alternative to mainstream urban life. It's a cultural experience unlike any other in the city, but it's not for everyone.
While Christiania is a hub of creativity, it has also faced its share of controversies, particularly concerning its open cannabis trade. Over the years, this has led to tensions with the authorities, adding another layer to the area's complex narrative.
Castles, palaces, and gardens
Perhaps more than anything else, Copenhagen is known for its grand castles, palaces and gardens. Here are some of the best to consider adding to your itinerary:
5. Rosenborg Castle
Originally constructed as a summer residence for King Christian IV in the early 17th century, Rosenborg Castle now serves as a repository for Denmark's royal treasures, including invaluable art and crown jewels.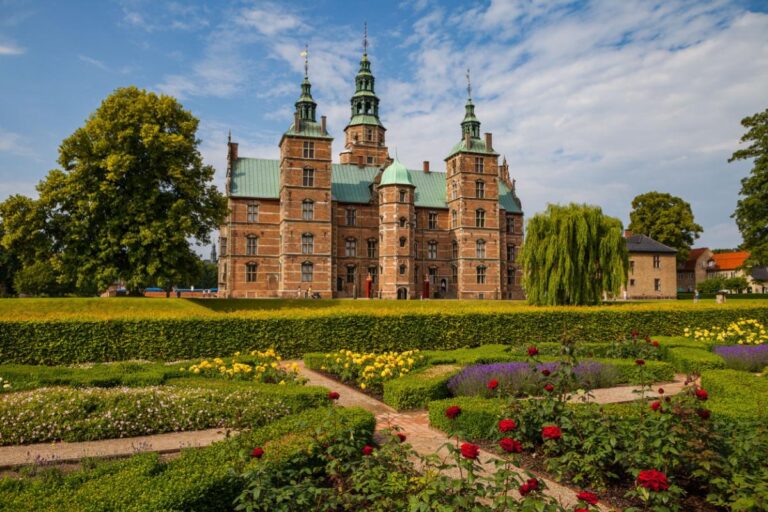 This stately building has transcended its initial purpose to become a compelling museum that invites exploration into the country's royal lineage and cultural heritage. Yet the appeal of Rosenborg Castle extends beyond its walls.
Encircled by lush parkland, the castle offers visitors a rare fusion of nature and history in an urban setting. The meticulously designed formal gardens that stretch out in front of the castle offer a tranquil escape from city life. A stone's throw away, you'll find the calming Botanical Gardens.
6. Copenhagen Botanical Gardens
Denmark's largest Botanical Garden, located near Nørreport Station, boasts ten hectares featuring a butterfly house and a historic palm house from 1874.
Visitors can freely explore rare plants, trees, and shrubs, with over 13,000 species categorized into sections like Danish, perennial, and annual plants. Highlights include rock gardens, Conifer Hill, and a recent rhododendron addition.
Established in 1600 and relocated to its current spot in 1870, its design was finalized in 1874. The 27 impressive glass houses include the Palm House with a 16m tall cast-iron spiral staircase. An air-conditioned greenhouse simulates Arctic conditions.
Additional features include a growth house, café, flower shop, and a seasonal butterfly exhibit.
7. Frederiksberg Palace
Once the cherished summer haven for Denmark's royal family until the mid-19th century, Frederiksberg Palace has undergone meticulous restoration and now houses the Royal Danish Military Academy.
Guided tours through the palace's opulent rooms are relatively rare, but well worth planning for, offering an intimate glimpse into royal Danish decor and architecture. These tours showcase the palace's rich history and the military academy's modern-day significance.
The palace is embraced by expansive English-style gardens, resplendent with well-maintained lakes, winding canals, and intricate shrubbery. These gardens are accessible during daylight hours for those who wish to explore at their leisure.
Among the garden's key highlights are the enchanting Chinese Pavilion and the Temple of Apis, each offering a different aesthetic experience.
8. Christiansborg Palace
Located on the islet of Slotsholmen, Christiansborg Palace houses the Danish Parliament, the Supreme Court, and the Ministry of State. Visitors can explore the royal rooms, stables, and the ruins beneath the palace.
This impressive structure is unique, as it's the only building in the world that houses all three of a nation's branches of government: the Danish Parliament (Folketinget), the Supreme Court, and the Ministry of State.
Copenhagen Travel Resources: Book Hotels – Book Tours – Car Rental
The palace's majestic architecture, with its refined details and soaring towers, reflects various styles from Baroque to Neo-Baroque, showing the multiple reconstructions it underwent after devastating fires.
9. Kastellet
One of Northern Europe's best-preserved star fortresses, Kastellet has a pentagonal shape defined by bastions at its corners. It is a hallmark of 17th-century military architecture, designed to provide optimal defence against invading forces.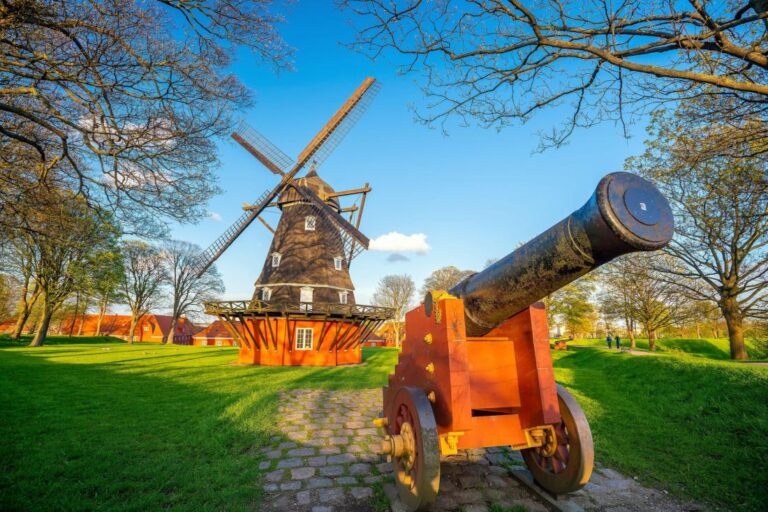 The calm waters of the moat reflect the fortress's robust earthen walls, which have stood the test of time and war. Graceful bridges connect Kastellet to the surrounding city, acting as gateways between the present and a bygone era.
Dominating the landscape within Kastellet are the iconic windmills, their sails turning slowly against the backdrop of the Danish sky. These windmills were once integral to the city's grain production.
10. Amager Strandpark
Not a garden, but a beach! Amager Strandpark is a more than 4km stretch of sandy man-made beach on an island with a lagoon, watersports, kiosks & cafes. On a sunny day, this is a wonderful spot to enjoy the Scandinavian outdoors lifestyle.
Copenhagen by bike
Cycling is as much a part of Copenhagen's fabric as its canals and spires. At rush hour, there are many times more bicycles than cars.
A brief bike rental can serve as both an excellent way to familiarize yourself with the city's compact layout and a cultural immersion into the daily rhythms of Scandinavian life.
11. Rent a bicycle
Do as the locals do and rent a bicycle, or even take a guided tour by bike if you prefer. Companies like Bike Copenhagen offer two-hour guided tours and full-day rentals for the more adventurous explorers.
12. Discover the diverse districts
Your bike will also be your passport to the city's diverse neighbourhoods, such as Nørrebro and Vesterbro.
The kaleidoscope of street art in the multicultural enclave of Nørrebro is ideal to explore by bicycle. The vibrant colors and dynamic designs make this district a haven for art enthusiasts and casual observers alike.
The district of Vesterbro is the perfect blend of trendy and traditional. With your bicycle, you can meander through its streets, stopping at chic cafes for a coffee or visiting avant-garde galleries that showcase local talent. As you cycle, you'll notice that you aren't just observing the Vesterbro lifestyle – you're living it.
Museums of Copenhagen
Give some context to your visit by diving into the history of the city, nation, and all of Scandinavia. Each museum offers a unique insight into the diverse facets of Danish heritage, from ancient Viking tales to modern design marvels.
13. The National Museum of Denmark
The National Museum offers an expansive overview of the Danish history, making it an ideal destination for history buffs.
One can't discuss Danish history without delving into the Viking Age. The museum prominently features this era, giving visitors a chance to witness the famed Viking ship, the Roskilde 6, and immerse themselves in a cinematic representation of life during this fascinating period.
Additionally, the treasure trove known as Fæstedskatten unveils precious artefacts from the Viking Age.
Apart from its focus on the Vikings, the museum boasts an extensive collection from the Middle Ages and the Renaissance. This is complemented by a candid exploration of Denmark's colonial history, ensuring that visitors receive a holistic understanding of the nation's past.
14. Design Museum
Explore Denmark's prominence in the world of design at the national Design Museum. Where past meets present, the Design Museum is a celebration of aesthetic and functional art.
The museum spotlights the evolution of modern Danish design, tracing its roots and observing its impact on the global stage. It offers a comprehensive narrative, allowing visitors to understand the intricate nuances and philosophies driving Danish creativity.
This is a great choice for those interested in the evolution of Scandinavian furniture design. Thoughtfully curated displays elegantly showcase iconic pieces, while examining the blend of form and function that Scandinavian design is renowned for.
15. Ny Carlsberg Glyptotek
Visitors to the art museum Ny Carlsberg Glyptotek are transported to different eras as they explore a vast collection of ancient Roman and Greek sculptures that whisper tales from the past.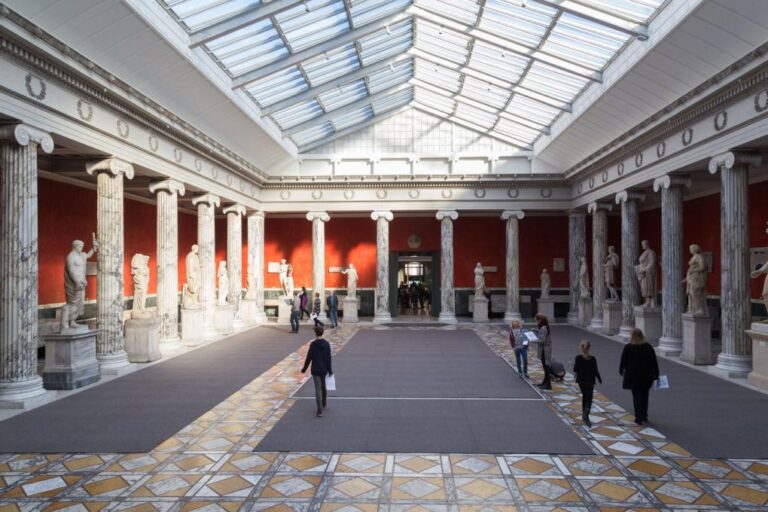 The journey through the private collection of Carl Jacobsen, the son of the founder of the Carlsberg Breweries, continues with a curated selection of 19th-century Danish and French masterpieces.
16. Museum of Copenhagen
Dedicated to the history of the city and its people, this museum traces the development of Copenhagen from its early days to the modern metropolis it is today.
From the trading and crafts of the Vikings, through the building boom and plague, fires and bombings, to the free city of Christiania today, Copenhagen is described in vivid detail. It's the perfect introduction to the city.
17. ARKEN Museum of Modern Art
On the south side of Copenhagen, ARKEN Museum of Modern Art is a must-visit for contemporary art lovers. The museum, with its modernist architecture, is as much a piece of art as the treasures it houses within.
With a dynamic collection that showcases works from modern-day maestros like Damien Hirst and Anselm Reyle, ARKEN promises an immersive experience into the ever-evolving world of contemporary art.
18. The David Collection
Renowned for its exquisite array of Islamic art, this museum provides a captivating insight into the rich story of Islamic culture, showcasing artefacts that span regions from Spain to India.
The museum also boasts a diverse ensemble of European fine and applied art, offering a glimpse into the continent's artistic evolution. For those enthralled by the tales of ancient civilizations, a collection of age-old art awaits.
19. The Round Tower
Rising majestically above the urban landscape of Copenhagen, the Round Tower, or Rundetårn in Danish, stands as a beacon of the city's past.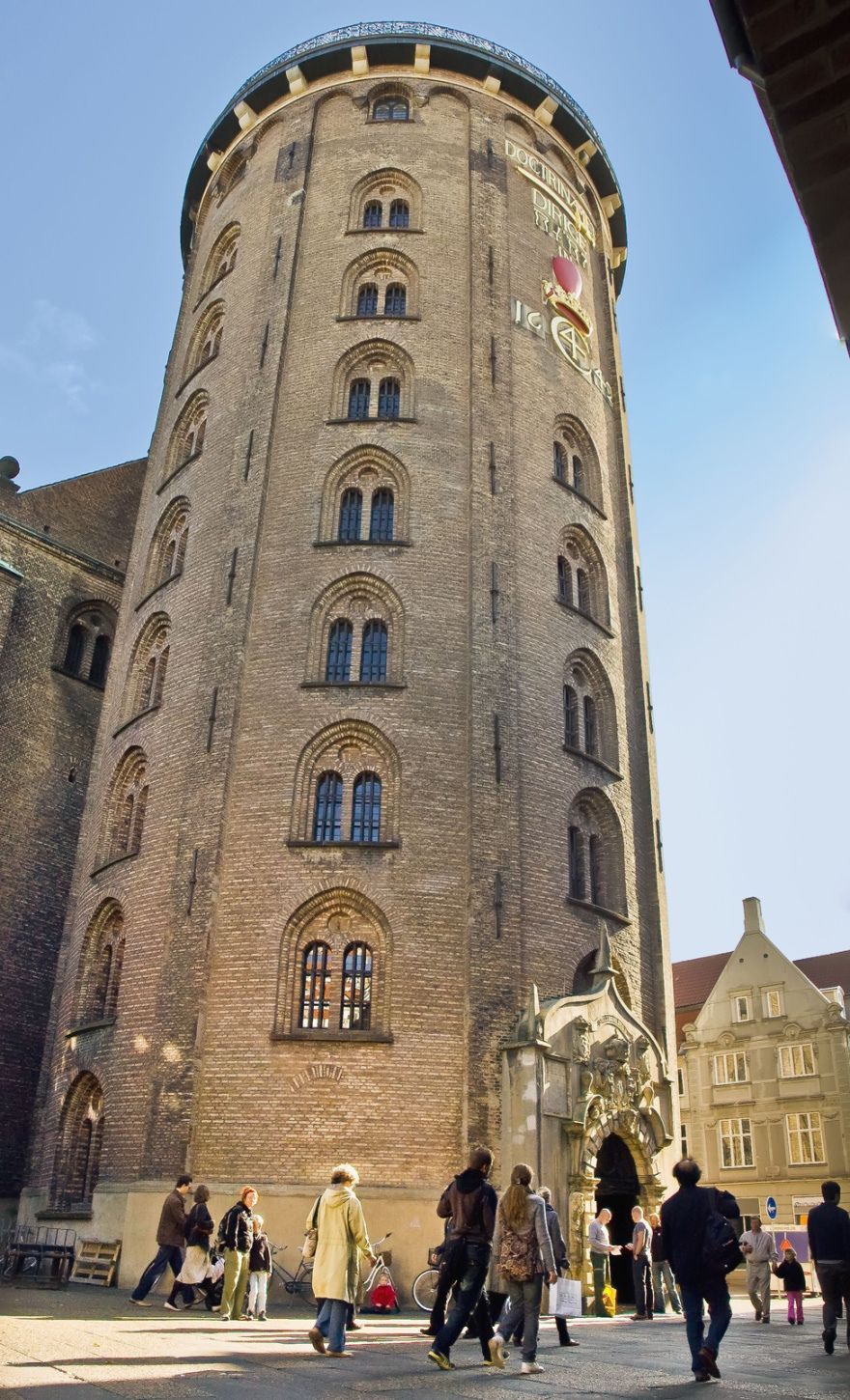 More than just an architectural marvel, this cylindrical tower is steeped in history, originally serving as an astronomical observatory. Today, it continues to wear its astronomer's hat, housing an active observatory that invites visitors to gaze at the cosmos.
For those who ascend its winding spiral walkway, a rewarding panoramic view of Copenhagen awaits at the summit. Within its walls, art aficionados can explore a dynamic exhibition space that regularly showcases works from various artists.
20. National Aquarium
Also known as The Blue Planet, Copenhagen's aquarium is best-known for its sleek, whirlpool-shaped architecture. Inside, one is transported into a watery realm teeming with both freshwater and marine creatures from around the globe.
The aquarium is organised into distinct zones, each replicating specific habitats, ranging from tropical rainforests and coral reefs to Arctic seas and freshwater lakes. They are thoughtfully designed to cater to all age groups.
Food and drink
Culinary aficionados will find much to savor in Copenhagen, a city sprinkled with Michelin stars, yet dining here doesn't necessarily entail extravagance.
21. Dine under a Michelin star
With 15 Michelin star restaurants, Copenhagen is the undisputed culinary capital of the Nordic region. Booking in advance is essential to get into any of them, though! Waiting lists can be many months long, so book as far in advance as you can.
22. Visit the Meatpacking district
For a more down-to-earth experience, head to the meatpacking district in Vesterbro. Understandable, it's best for meat lovers.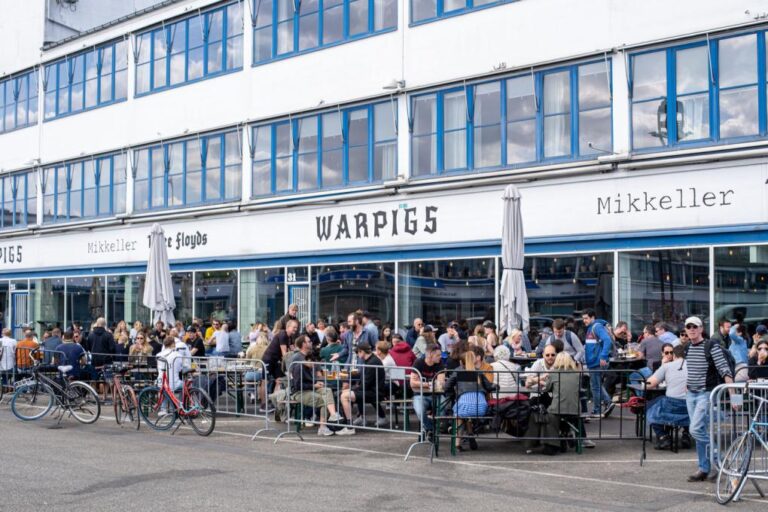 Enjoy Texas barbecue washed down with one of 20+ craft beers at WarPigs brewpub, check out the trendy butcher-restaurant Fleisch, or indulge in good value, homemade burgers at Tommi's Burger Joint.
23. Enjoy a simple smørrebrød for lunch
A truly Danish food experience, enjoy an open-faced sandwich from one of the many cafes. Known in Danish as smørrebrød, the sandwiches are usually based on rye bread. Toppings are many and varied, anything from herring, to raw beef, seafood, and egg.
A little farther afield
When you've explored the wonders of Copenhagen and wish to venture out, the surrounding region and even the neighbouring country offer experiences just a short drive or train ride away.
24. Visit Sweden on the Øresund bridge
Bridging the gap between Denmark and Sweden, the Øresund Bridge is a marvel of modern engineering and a powerful symbol of Nordic cooperation. As you drive, cycle, or take a train across this 8km-long structure, you'll be treated to views of the strait and the coastlines of both nations.
Upon reaching the Swedish side, the vibrant city of Malmö awaits, known for its historic architecture, modern waterfront developments, and diverse cultural scene, Malmö makes a great day trip.
25. Louisiana Museum of Modern Art
Located north of Copenhagen in the coastal town of Humlebæk, the Louisiana is not only renowned for its outstanding modern and contemporary art collection but also for its captivating architecture and seaside location.
While its collection, featuring masterpieces by artists such as Picasso, Giacometti, Warhol, and Hockney, is undeniably world-class, the museum's setting amplifies its allure.
Copenhagen Travel Resources: Book Hotels – Book Tours – Car Rental
Have you ever been to Copenhagen? Let us know your favourite things to do in the comments below. If you enjoyed this post, why not share it on Pinterest or Facebook so others can find and enjoy it too? Just hit those social sharing buttons.