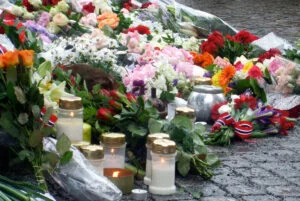 I can't quite believe a year has passed since the twin terror attacks on Oslo and Utøya. Oslo, Norway, and the world will come together on Sunday to remember the 77 lives taken on 22nd July 2011.
The buildings will take more time to rebuild, the trial is finished but not yet resolved – these are open wounds that are going to be hurt on Sunday. But it's an occasion for Norway to not only remember, but to be proud of the way the country and its society has dealt with the aftermath.
There was no knee-jerk political reaction to introduce rushed anti-terrorism legislation. Breivik received a fair trial focusing on the question of sanity. Armed police are still a rare sight on the streets of Oslo. This democratic, peaceful and thoughtful approach to society is something Norway is quite rightly proud to keep alive.
As I write this I'm hearing the disturbing news of at least 14 people being shot dead in a cinema in Colorado, USA. It's bringing back memories of last July when I first heard the Oslo bomb, discovered the Utøya shooting, experienced the aftermath, and attended the memorial events. My heart goes out to the family and friends of those affected by this tragic event in Denver.
Back to Norway, where Sunday will see memorial events held all over the country. In Oslo there will be a service at the Cathedral to be attended by the Royal Family, and a concert in front of the City Hall. It's especially nice to hear that Jens Stoltenberg, Norway's Prime Minister, will be attending a memorial event on Utøya along with members of the Labour Party's youth wing. Returning to the scene of such an atrocity on the first anniversary will make for an emotionally charged day for all involved.
Wherever you are on Sunday, please take a moment to pause and remember the 77 people, mostly teenagers, who lost their lives a year ago.