When the snow falls in Oslo, locals head for the sled run known as Korketrekkeren. Here's how you can join in the fun.
Oslo is one of few cities in the world where winter sports are just a short subway ride away. Some sports like skiing and skating require a bit of practice, but others like sledding are a bit more accessible.
So if you're curious about barrelling downhill on a luge or feel like you need a (relatively) inexpensive adrenaline rush, the Oslo toboggan run might be just the thing for you.
We'll tell you everything you need to know to plan your day: how much it costs, what to expect, and tips to ensure you have a great day.
Kjelke: the Norwegian sled
To try out the toboggan run in Oslo, you'll need to rent a kjelke, the Norwegian word for a luge or sled. The kjelke (roughly pronounced shell-kuh) is traditionally made of wood.
It consists of a little platform which functions as a seat, with two runners underneath that work on the same principle as skis. The runners' underside consists of a piece of metal, to make sure they can "bite" in the snow and help you steer properly.
And since we're learning Norwegian vocabulary: aking is what you call the activity of sledding. Incidentally, aching is what your body will do afterwards, potentially.
Introducing 'Korketrekkeren'
The Oslo toboggan run is called Korketrekkeren: which means "the corkscrew". Contrary to popular belief, it has never been used as a run for Olympic events. It has always been for leisure.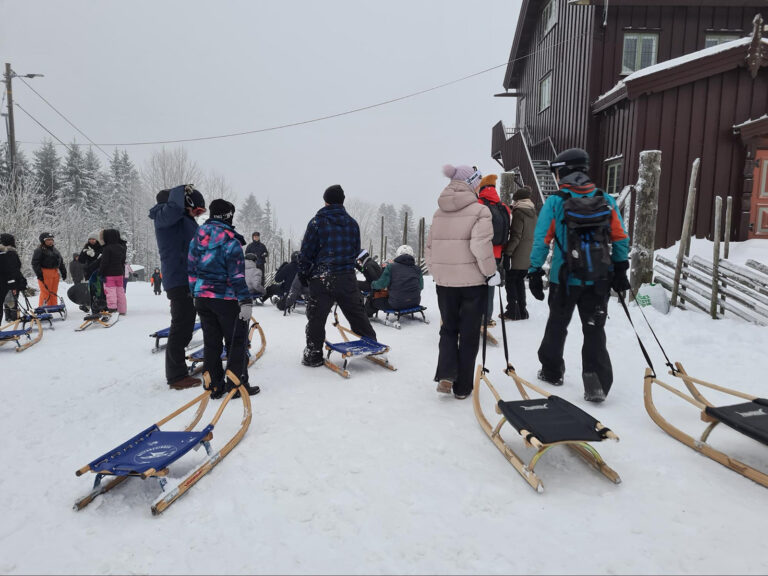 It was built in the early 20th century, and has a running length of 2,000 metres with a vertical drop of 255 metres. Both the top and bottom of the run are conveniently located next to subway stops, which makes going back up a breeze.
Weather and snow conditions
While the sled run is popular in Oslo in the winter, the exact opening times do vary. It goes without saying that sledding requires snow. But the presence of snow in itself does not guarantee that the run will be open.
As the run gets used, the snow gets more hard-packed. Cycles of melting and refreezing may then make this hard-packed snow into very hard (and dangerous) ice.
The problem with ice, other than it being a hard surface to land on at high speed, is that it makes sledding really, very fast indeed. It also prevents the runners from biting properly into the snow, which makes turning extremely difficult.
For this reason, the run is often closed because of bad conditions. Ideal conditions are when there is either fresh snow or when the temperatures have remained below freezing since the last snowfall.
Luckily, local authorities monitor conditions and will close the run. To see if the run is open before you get there, check out the site of the Oslo sledding association.
The link is in Norwegian, but we prepared a Google translate link to the Oslo sledding association website for your convenience.
How to get to the Oslo toboggan run
Getting to the top of the run is as simple as taking line 1 of the T-bane (subway) to the end station of Frognerseteren. From the city centre, this takes just over a half hour.
From the station, the run meanders down the hill until its end near the station of Midtstuen. Sledders then take the subway back up seven stops and are ready to barrel down again.
For this reason, it may be a good idea to get a day pass for the subway, to avoid having to buy several single tickets. Another thing you'll need of course is a sled.
If you don't have one: no problem. There are several rental options.
How to rent a sled in Oslo
To rent a sled, start walking down the hill from the Frognerseteren station. The first option you'll encounter is Skimore Oslo, with rental prices at 150 NOK for adults and 115 for children (up to 16 years of age and 160 cm of height).
If you continue on, turning left, you'll arrive at Frognerseteren, which also rents out sleds. Prices here are 180 NOK for adults and 140 NOK for children under 16.
Continue walking even a bit further and you'll get to the Akeforeningen (the Oslo sledding association). Their prices are 130 NOK for adults and 80 NOK for children under 18.
Prices at all locations include helmets, which are not obligatory by law, but are strongly recommended. Bear in mind that the number of helmets is limited, so bringing your own is recommended.
When we visited, Skimore had the longest line by far – probably because it's the first and most visible rental location. The sledding association, in contrast, had no line-up but also no available sleds.
This problem resolved itself within just a couple of minutes, as there is a constant flow of people either renting or returning sleds.
Making your way down the run
Once you have rented your sled, you're all set to experience the rush of sliding down the hill. But before you go for speed, we recommend taking a trial run once, to familiarise yourself with the geography – not to mention the sled.
The sleds you can rent in Oslo are relatively easy to steer. They have a length of rope tied to the tips of both runners.
Sit down on the sled and grab hold of the rope with both hands, then move your hands apart to about shoulder width. This will effectively shorten the length of rope between each of your hands and the respective runners, allowing you to manoeuvre a bit more effectively.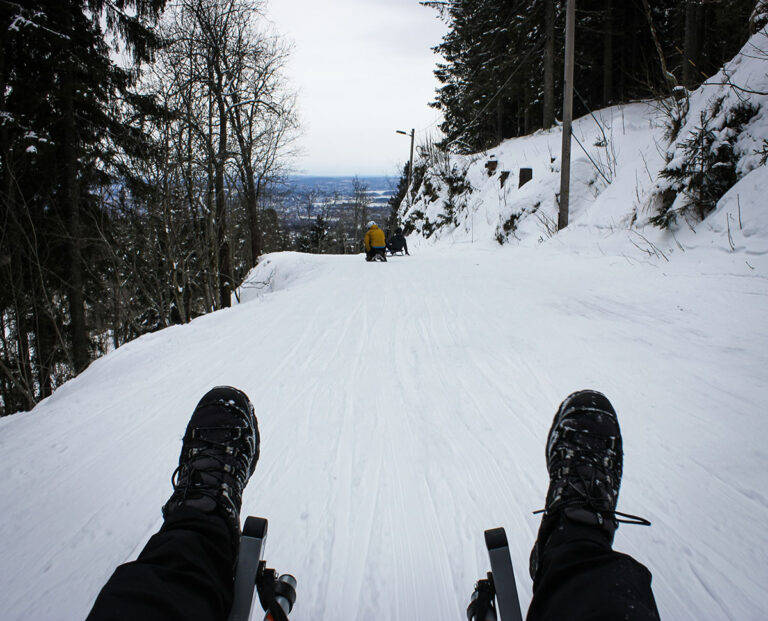 When turning right, lean towards the left and pull with your right hand. When turning left, lean towards the right and pull with your left hand.
Turning is a little tricky at first, so try to go at a slower speed until you get the hang of it. To control your speed, keep your feet to the front, on either side of the sled, and use them as brakes.
Safety on the run
Norway is definitely not one of those safety-obsessed societies where authorities put guardrails everywhere for fear of getting sued. There is a general sense in Norwegian society that everyone is responsible for their own personal safety, to a degree.
This means that there is nothing stopping you from getting seriously hurt if you're not careful or if you behave like an idiot. Be mindful of other sledders – the run can get very crowded on weekends.
If you must go on a weekend, we recommend arriving early to beat the crowds: this will make your first few runs – the most difficult ones if you have never done this before – a little easier to manage.
For your own safety, do not stop in the middle of the run. If you fall over or if you stop to wait for a friend, pull your sled to the side quickly to avoid being in the way.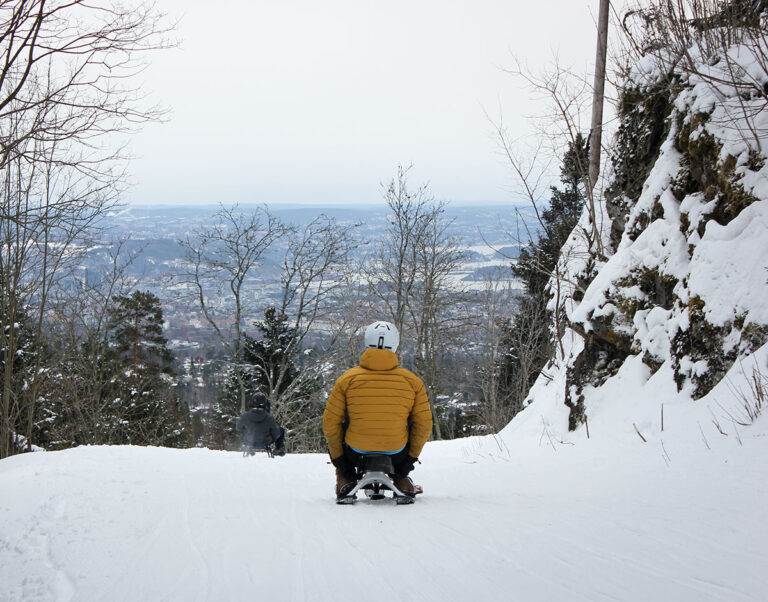 Remember: other people may also be new to this and not very good at steering or braking.
Sheer fun
Now I am going to describe the experience for those of you who prefer reading about it than experiencing it. I am from Canada, so I have gone sledding multiple times, but never with this particular type of sled (typical Canadian sleds are runnerless, and have a flat bottom that is in contact with the snow all the way along).
Once I figured out how to steer, I was able to have a bit of fun with speed. There were a lot of people around, including many who had never done this before.
The atmosphere is one of fun, with little judgement or pressure to perform. Most people don't really know what they're doing and there are lots of laughs and minor accidents.
Had I had the run to myself, I would have certainly gone even faster, but I didn't, and was quite eager to avoid a collision. That being said, I was at times going fast enough to feel a rush of excitement.
The intensity of the experience was compounded by the fact that snow tends to accumulate in humps in any kind of downhill winter sports situation. When you pass over several of these humps at speed, in quick succession, it really gives your butt a beating you won't be able to forget for a few hours.
Before you know it, you are down at the Midtstuen station, craving more and ready to go back up again.
The after-sled experience
Once you are done and have returned your sled, we recommend a stop at the Frognerseteren cabin. This very old-timey Norwegian-looking building has a nice sit-down restaurant and a self-serve cafeteria.
The cafeteria has hot and cold meals, pastries and cakes, coffee and hot chocolate. Prices are what you would expect in Norway.
The place was packed when we got there so we were grateful when a nice lady and her friend who were having a beer agreed to let us share their table by the fireplace. We got some pastries and hot chocolates and asked her, in Norwegian, if she had just been sledding.
"Oh no," she replied in perfect Norwegian, with a Spanish accent and a bright smile. "I'm not that Norwegian. The kids are out sledding and we're waiting for them here."