With a central location, generous breakfast and fantastic views, there's a lot to like about the Radisson Blu Atlantic in Stavanger. Read our hotel review for more.
Stavanger is somewhere I used to visit frequently. Long before Life in Norway became my full-time job, I worked for a software company headquartered here, so visited the city regularly.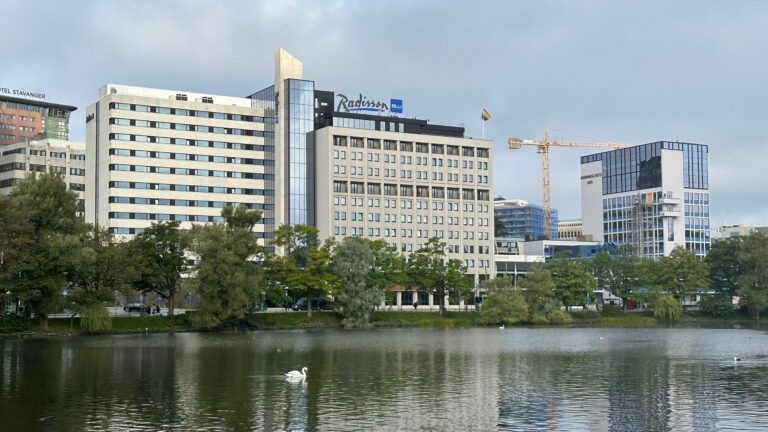 But it had been far too long since my last visit. As I wanted to see what had changed and make some new content for our YouTube channel, I booked a trip to Norway's oil and gas capital.
I've stayed in several different Stavanger hotels over the years, including a very quirky hospital hotel!
If you are deciding where to stay in Stavanger, there are many options at different price points, but it can be tough to find a good value room during midweek due to the high level of business travel.
Introducing the Radisson Blu Atlantic
One of the most established hotels in the city, the Radisson Blu Atlantic overlooks the city lake Breiavatnet. It is located just a couple minutes' walk from the central bus mall and train station.
At 365 rooms, the hotel is one of the largest in the region and is well geared up for conferences and events. But it's a good choice for tourists too, as you'll see.
Check-in
I checked-in online a few days before arrival, which made the arrival process quick and straightforward.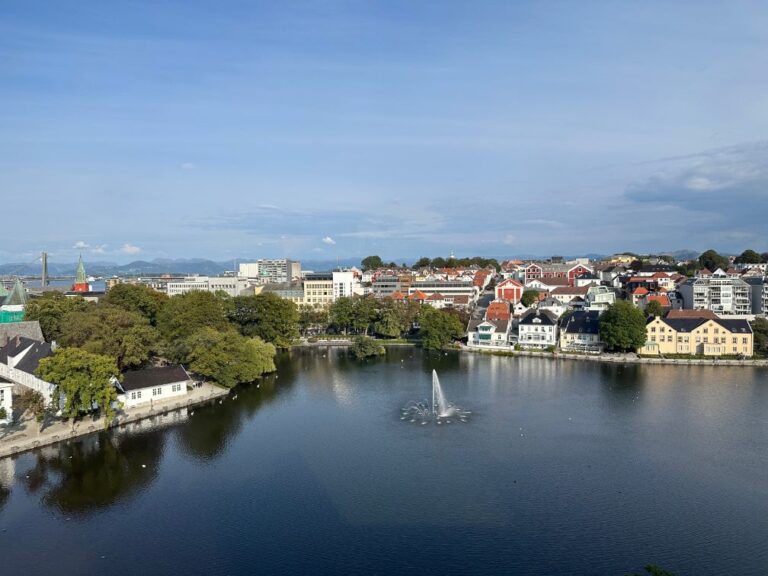 As a frequent Radisson Blu guest I was upgraded to a premium room on the tenth floor away from the lifts.
Ready to book? Check rates and availability on Booking.com
The room
My first impression of the room was striking because of the view. As the curtains were pulled back, I could immediately see the fantastic lake view.
The room was comfortable with a couple of different seating options in addition to the double bed.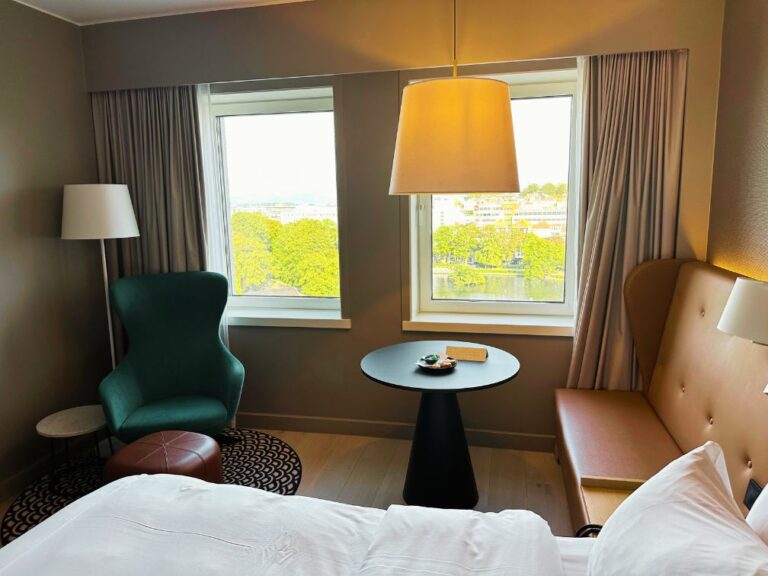 As this was very much a working trip for me, I made good use of the sofa-like seat and table as a makeshift office. There were power sockets either side of the bed, with USB-A power outlets also provided.
Both a Nespresso machine and a kettle were provided together with a glass bottle to fill from the tap. I much prefer this to plastic bottles, so good job, Radisson!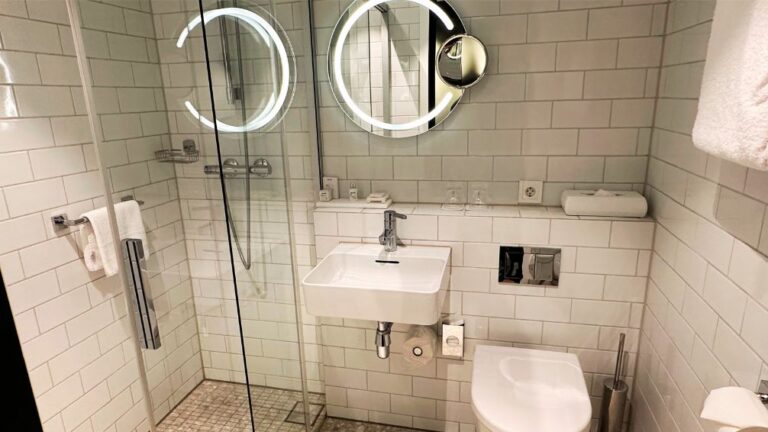 The bathroom was a good size, clean and with an excellent shower. Shower gel, shampoo, conditioner and a small bar of soap were all provided.
Breakfast
I'm always a fan of the Scandinavian breakfast buffet on offer in Norwegian hotels. The Atlantic didn't disappoint with a good range of fresh bread, cold cuts, hot dishes, yoghurts and fruit.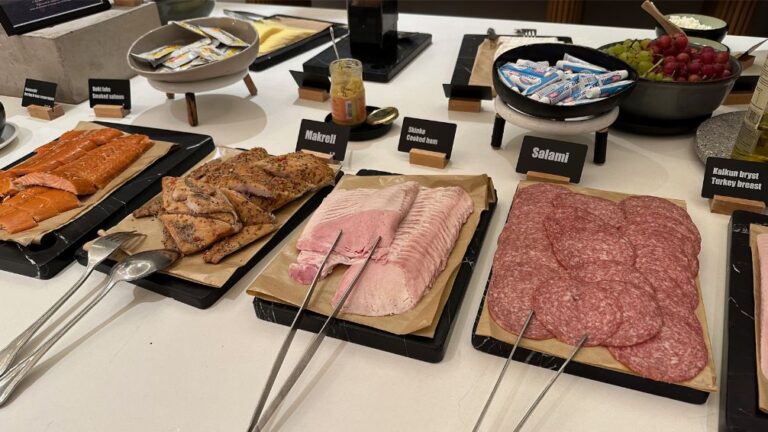 There was plenty of seating, and at least half the tables already had a pot of brewed coffee waiting. An additional coffee machine was useful to grab a latte to-go after I'd finished eating.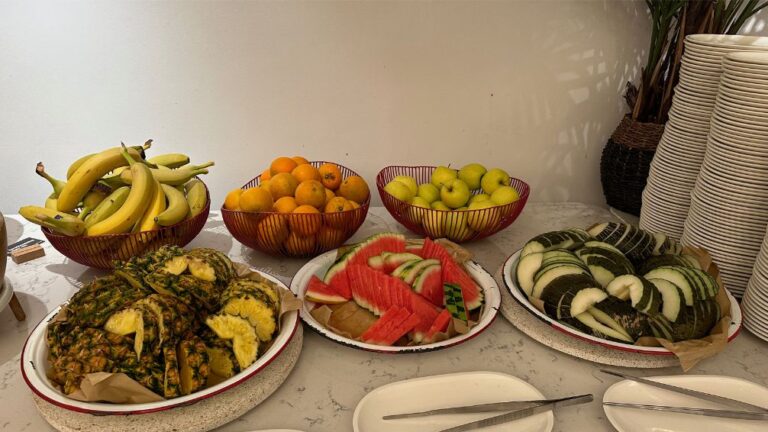 On weekdays, the breakfast buffet opens at 6.30am, with slightly later opening on weekends.
Bar and restaurant
On the ground floor of the hotel, there is a bar and restaurant open in the evenings. Firelake Grill House and Cocktail Bar is known for its North American roots in Minnesota, and it's now arrived in Stavanger.
The menu features a selection of steaks the likes of which I don't think I've ever seen in Norway. You'll pay through the nose, but the quality is outstanding. There is also a selection of burgers if you want something more reasonably priced, including a vegan option.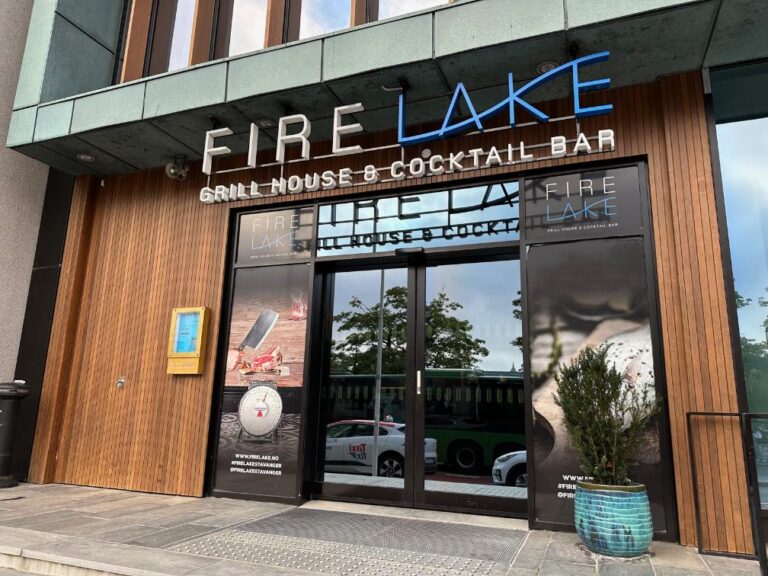 The bar and restaurant is open 5.30pm to 10pm for dinner on Monday-Thursday. On Fridays and Saturdays, it opens 5pm to 10pm, while it opens on Sundays from 6pm to 10pm. It has a separate street entrance but can also be accessed from the foyer.
Other facilities
Up on the 12th floor there is a sauna and well-equipped gym with cardio machines and free weights. The view is sensational, even from the sauna!
Unlike some hotels, the fitness room is open all day, from 6am to 11pm. The sauna is open for several hours in the morning and in the evening. The hotel has substantial conference facilities too, although this wasn't something I explored.
Overall impression
I highly recommend a stay at the Radisson Blu Atlantic in Stavanger. It's not the cheapest hotel in the city, but its location, quality breakfast and modern rooms offer good value.
Ready to book? Check rates and availability on Booking.com
I paid NOK 4,230 for a three night stay in a standard room. Although, I was upgraded to a premium room because of my Radisson Blu loyalty programme status.