Your travel budget goes further if you choose to stay outside central Stavanger. Here's a review of one cheaper Stavanger hotel option with an unusual location.
Because of the number of business visitors, Stavanger occasionally suffers from a shortage of hotel rooms during midweek.
So for my first work visit to Stavanger, my client was forced me to book me into the St. Svithun Hotel, a hotel inside a hospital!
I didn't mind at all: It was hot, it was dry, and the opportunity to explore Stavanger on foot was appealing. Not to mention the intrigue of staying at a hotel in a hospital!
The experience is made all the more bizarre by having to enter through the hospital's main entrance.
Outside was the usual gaggle of smokers (seriously, why are there always so many smokers outside a hospital!?), a couple of wheelchair-bound folk, and a proud mother giving her recently born baby her first glimpse of the outdoors.
Step into the hospital and you are greeted with this bizarre dual-reception:
The receptionist was super-efficient and I had my keycard in seconds. You need to use the card in the hotel lifts, presumably to stop any confused patients wandering the corridors!
The room was typically Norwegian: small, clean, functional, but nothing more. The flat-panel TV offered a good selection of channels (including BBC World News) but was mounted a little too high on the wall.
The view of the hospital grounds was fine, but my room being at a 90 degree angle to the wing meant I could see the windows of several other bedrooms, although even when open the blinds did a reasonable job of ensuring privacy.
The bathroom as expected was small, but the shower was good, and for me that's one of the biggest plus points a hotel can have.
So many hotel showers I've used are either too hot, too cold, or lacking any water pressure at all. This one was just right.
Back downstairs, I discovered the hospital cafe, Café Morgenrød, doubles as the hotel restaurant! At breakfast, this matters not, as it's only open to hotel guests.
Breakfast and hotel cafe
The traditional Scandinavian breakfast buffet is included in the room rate and there's a reasonable spread of hams, cheeses, fish, cereals, jams, yoghurts, eggs, breads, and juices. And of course, there's as much coffee as you can drink (and Norwegians can drink a lot!)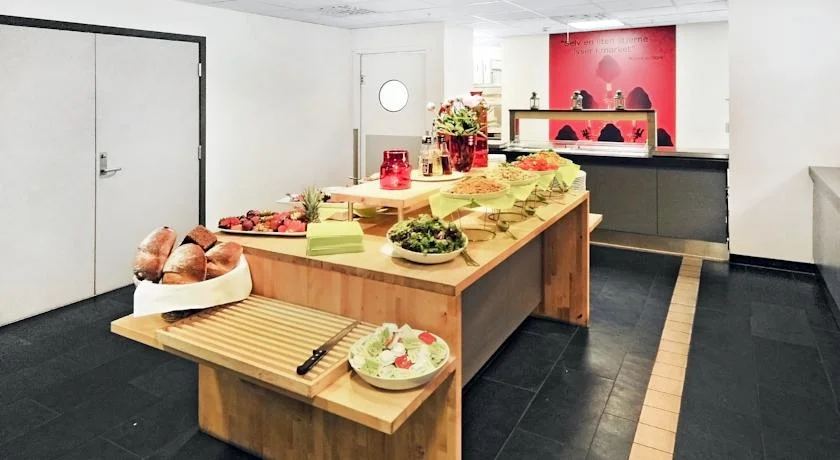 But at dinner, the café is open to all hospital visitors. This includes a popular segment of the hospital's temporary population, parents with their new-born babies.
Together with their families, who inevitably bring young kids with them. This part of the hospital is so popular with families there is even an area of the café for children, complete with a huge TV showing cartoons.
What did this mean? Well, unfortunately for me, it meant kids running past my table. It also meant newborn babies in plastic trolleys joined their parents for dinner. A very bizarre sight!
I ate here both nights and despite the odd environment, the food was very good. The first night I chose the lasagne and was rewarded with a generous portion which was clearly home-made.
The next night I chose the quesadilla. Ordering Mexican food in Europe is always a but of a lottery but this time I drew the winning ticket – it was surprisingly big and tasty.
There is a buffet available at dinner that offered a good range of hot food, but was pricey compared to the standard menu. One word of warning though, the café closes early.
I can't remember the exact time (bad blogger!) but it's around 7.30pm. Not good if you're arriving late or you're unprepared as there is very little alternative nearby other than going into the city centre.
Despite being a fair distance from the city centre, the hotel has good transport links with two local bus services and one of the Airport bus routes serving the perimeter road.
If you're in a rush, the reception will call you a taxi which costs about 120 Kroner into the city.
Ready to book? Find rates and availability at Booking.com
From taking a look at their website, it's clear the hotel is squarely aimed at visitors to the hospital, as they provide specialist rooms for the disabled, allergy sufferers and post-natal guests.
If you fall into one of those categories, this hotel is perfect for you! But as the hotel appears on all booking sites, it should also be geared towards business and tourist travellers, yet it's not quite there yet.