Archaeologists recently uncovered a phallic standing stone found near Gothenburg. People can't help but notice a resemblance, but it's not as big as Norway's…
It's not often we cover a story from over the border, but I couldn't resist sharing this one. After all, Norway has its own phallic rock for comparison.
A standing stone at 52cm high was discovered during an archaeological excavation in Rollsbo, close to Kungälv outside Gothenburg. The discovery was made by The Archaeologists, Sweden's leading consultants on cultural heritage. They had been asked to survey the planned construction site of a future industrial building.
Read more: Hundreds of Medieval Skeletons Found in Trondheim
"There is no debating the matter, it does has a very penis-like shape," said Gisela Ängeby, one of the archaeologists who made the discovery. She explained to Swedish newspaper Göteborgs-Posten that they originally thought it was a simple gravestone from the Bronze Age.
A big surprise
However, upon further investigation, their original expectation turned to surprise. What they found was a stone monument in a very distinctive shape, likely marking a sacrificial site. Preliminary datings put the find in the Swedish Brone Age, somewhere between 1800 and 500 BC.
"When we excavated among the stone, we saw something that deviated from everything else. It was on its side but had clearly been raised in the past," said Ängeby. She said the team couldn't believe the shape. "I thought when I saw it 'oh my god it can't be true.' I showed the picture to my colleagues and there is no debate about it, it has a very penis-like shape."
Read more: A Viking Grave Mystery in Norway
She suspects that the stone may have had the phallus shape naturally, but it's likely been reinforced over years of wear.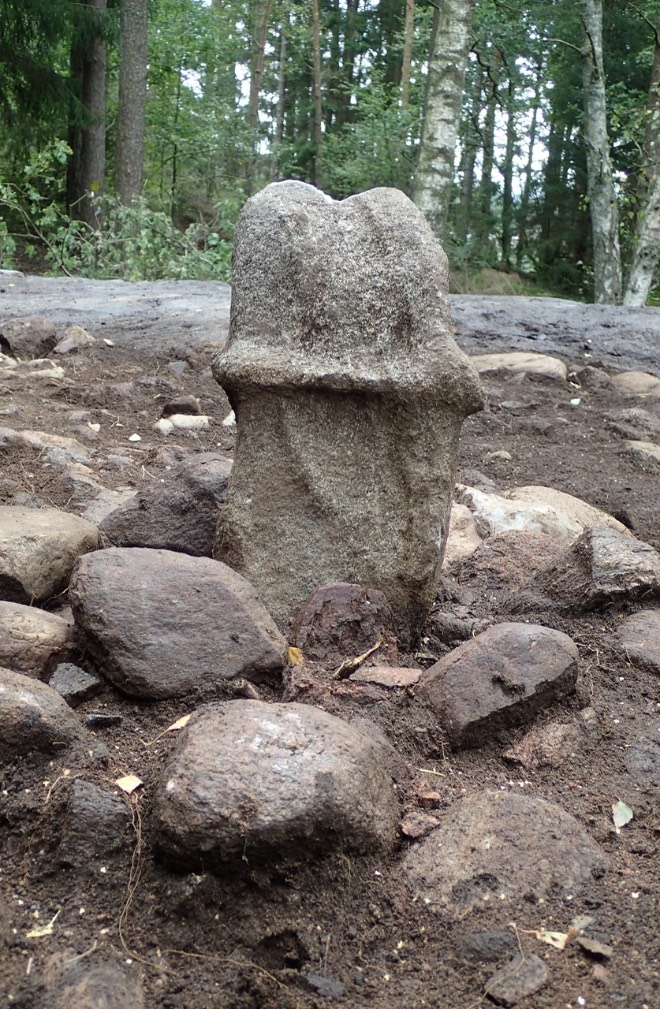 In addition to the curious stone, two burned bones were found, likely to come from animals. A small round red stone and a hammer stone. As no other bones were found, the first suspicion of a burial site was quickly ruled out. The team now believe the stone collection could have been a place of sacrifice.
Given that no more bone finds were made at the site, the first suspicions that it could be a burial ground were excluded. Instead, Gisela Ängeby now believes that the stone collection may be a place of sacrifice from the later part of the Bronze Age.
Read more: Viking Burial House Uncovered in Norway
Forthcoming archaeobotanical analysis could reveal burned grains from an offering, perhaps in relation to sacrificial fertility rituals. Regardless of the context, Ängeby called the find "remarkable."
It's not as big as Norway's…
When this story first came on my radar, I couldn't help but be reminded of Norway's Trollpikken. The rock, which translates into English as The Troll's Dick, is so-named because, well:
Trollpikken shot to worldwide fame a few years ago. Joggers near Egersund on Norway's south coast found the unique rock formation had been severed with power tools.
Such is the Norwegian love of the outdoors that a crowdfunding campaign set up to raise funds for its restoration easily beat the 200,000kr target.
The incident caused a tourism boom for the rock. Around 30,000 people reportedly tuned in to watch the restoration works on a live stream from the local newspaper.
When local contractor Bertelsen & Garpestad and Norwegian engineering firm Aker Solutions finished the works, there was a little spare cash left. That was used to improve the trail to cope with increased visitors, including better signage and extra parking.
Well, that's about all that can be said about the phallic rocks of Sweden and Norway. The only question that remains: Which one do you prefer?