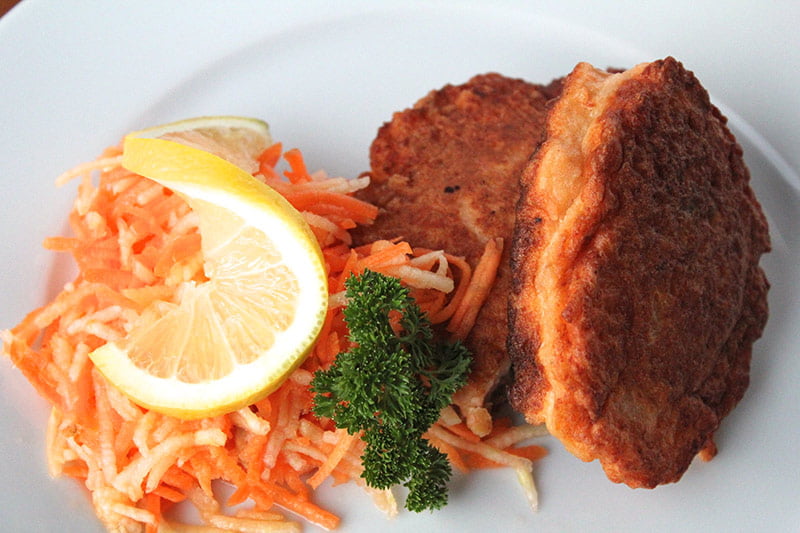 How to make salmon fishcakes with an apple and carrot salad
I can honestly say that fish cakes were the first traditional Norwegian dish I ever learned to make.
However, my first batch of fish cakes were made with cod not the salmon you'll find in the recipe. Although Norwegian fish cakes are traditionally made with cod or a similar type of white fish I like to make mine with salmon instead. Salmon is more flavourful and healthful than cod, especially if caught wild.
Try your hand at making these with your family or a group of friends. They are the perfect dish to make with others as forming and shaping the cakes can be delegated to one person and cooking them to another.
I enjoy the zing, crispness and freshness apple and carrot salad bring to fish cakes, so I've also included my recipe for it as an alternative to boiled potatoes or creamy cabbage which is also traditionally served alongside fish cakes.
Makes 12 small or 6 medium sized fish cakes
Ingredients: What you'll need
500g (ca. 18 oz.) fresh fish filet, deboned and skinless
30g (1/4 cup) potato flour
10g (2 teaspoons) sea salt
200 ml (3/4 cup) milk
1 egg
1 teaspoon baking powder
Instructions
1. Place all ingredients in a food processor and pulse on a medium speed until mixture becomes mostly smooth and consistent. Some fish chunks may remain but mixture should be relatively smooth in texture.
2. Wet hands with water, shape dough into patties and fry in a 50/50 mixture of butter and oil.
3. Serve warm and enjoy.
How to make the accompanying salad
Ingredients
2 apples, grated
4 carrots, grated
Freshly squeezed lemon juice
Freshly ground black pepper
Salt
Instructions
1. Combine the carrots and apple in a medium sized mixing bowl.
2. Season to taste with freshly squeezed lemon juice, salt and pepper.
Did you enjoy this recipe? If so, why not share it on Pinterest so others can enjoy it too? We've got just the pin for you: