Discover the blend of form and function that defines the Scandinavian aesthetic as we dive into some of the most famous furniture from Scandinavia and the Nordics.
When you think of Scandinavian furniture your first thought will likely be IKEA. The giant Swedish furniture company has provided affordable furniture to Swedes since the 1940s and worldwide starting from 1963 with their first store in Norway.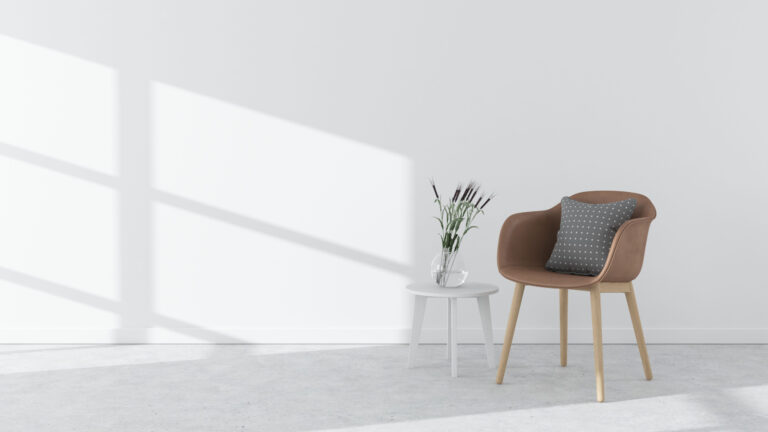 But IKEA isn't the only contributor to Scandinavian design. In fact, arguably, it's the least important, at least in terms of design. Throughout history, Scandinavian designers have been creating furniture that has gone on to become iconic and renowned around the globe.
Let's take a look at some of the most striking examples of furniture design from the Scandinavian countries and their Nordic neighbours.
A modern design developed over centuries
The Scandinavian style developed organically over a number of centuries, but what we mostly think of today was really honed in the mid-20th century, when global trade in both goods and ideas became much easier. As with most major styles, the Scandi style grew up around two main factors.
Firstly, you have the materials that are available. Scandinavia is rich in forest land so it's only natural that wood has always played a key role. Natural textiles are also easily crafted from both plant and animal sources. There's also a slight lack of the more vivid dyes required to make bold, vibrant colours so shades would tend to be more muted.
Secondly, there's the conditions you have to deal with. Scandinavian winters, especially in more Northern areas can be long, cold and dark. This means that lighter colours dominate, to reflect more of the natural light available.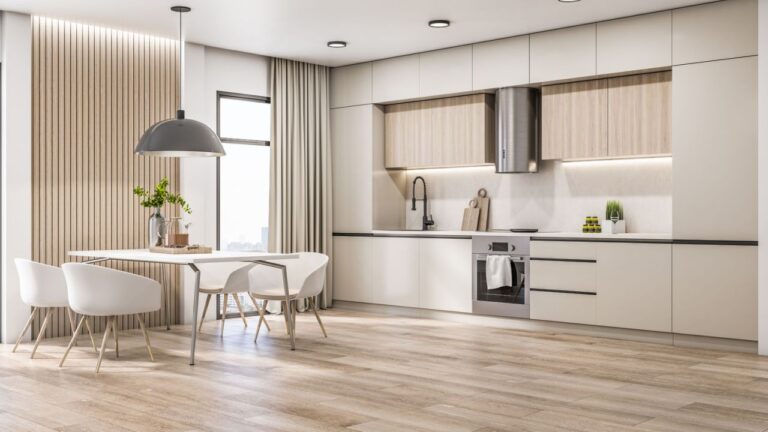 Also, with a fair amount of rain and snow around, carpets are a rarity. Wet carpet is more of a liability so homes will mostly have wooden floors, which help make smaller rooms feel bigger and also cleaner. Warmth gets added to rooms with rugs in the commonly used areas.
Pinpointing design principles
We can characterise the Scandinavian style broadly as being fairly minimal, with monochrome bases accented with pastels and earthy tones. Splashes of colour are often included for visual interest but on the whole, there's great use of brown, beige and light green tones.
There's also an emphasis on lighting, as the dark nights mean people need to maximise the light from powered sources, without wasting too much. Lamps are common, to focus the light where it's needed. After all, if a person is only occupying a corner of a room, there's no need to waste resources lighting up the whole place!
The minimalist ideas, and the desire to avoid clutter, means that it's easy to overdo. Once you add too much furniture you move past Scandinavian design into something else. A couple of chairs and a small sofa makes a nice Scandinavian room, but add much more and it loses its core identity.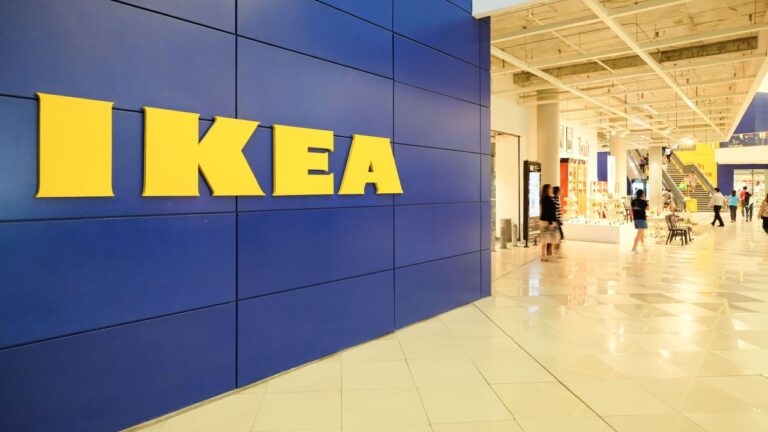 The design principles also both feed into and extend out of the culture of cosiness and contentment that are known as hygge. In contract to the stark minimalism of come countries, Scandi design lends itself to creating places that have a cosy simplicity.
Arne Jacobsen
Many, but by no means all, of the most famous designers associated with Scandinavian design are Danish. In fact, at least ten of the most iconic chair designs are the work of just two Danish designers.
Arne Jacobsen was primarily an architect, who happened to create some of the world's most enduring furniture too! His architecture was primarily functional, but inspired by others such as La Corbusier, refused to accept that functional had to mean ugly or boring.
Three of his most loved chair designs came about in the late 1950s when he took on the job of designing the SAS Royal Hotel in Copenhagen (now the Radisson Collection Hotel, Royal Copenhagen). This was the city's first skyscraper.
Designing everything from the building, through the interiors, to the cutlery in the restaurant and the ashtrays sold in the hotel shop, Jacobsen gave us the iconic Egg, Swan and Drop chairs as part of this project.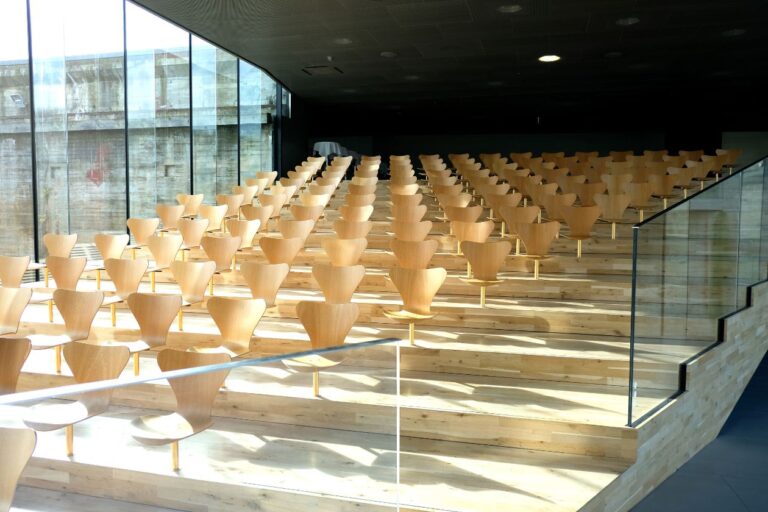 Among other designs of his, we have the Series 7 Chair, one of the most practical, and copied, stacking chair designs created, as well as the Egg table and the Oxford Table Lamp.
Hans J. Wegner
The second of our prolific Danish dynamos was Hans J. Wegner. Despite Jacobsen giving us many iconic chair designs, Wegner is truly the 'Father of the Chair". Over his career he designed over 500 different chairs.
At least 100 of those entered mass production and many are iconic designs that are still available today.
From the age of 14, Wegner worked as an apprentice cabinetmaker under H.F. Stahlberg, where he developed an affinity for working with wood. He designed his first chair at the age of 15 before joining the army at 17. An exhibition by the Copenhagen Cabinetmakers Guild inspired him to become a furniture designer
As a student, one of his first commissions was to work under Arne Jacobsen and Erik Møller to design the furniture for the Aarhus City Hall, which they were designing together.
In 1938 he took a break from his studies to work on the project but delays due to World War II meant he ended up working firstly on the Nyborg Public Library.
He never returned to his studies and ended up opening his own studio in Aarhus. After the war he returned to Copenhagen and it's there that he produced his most recognisable designs.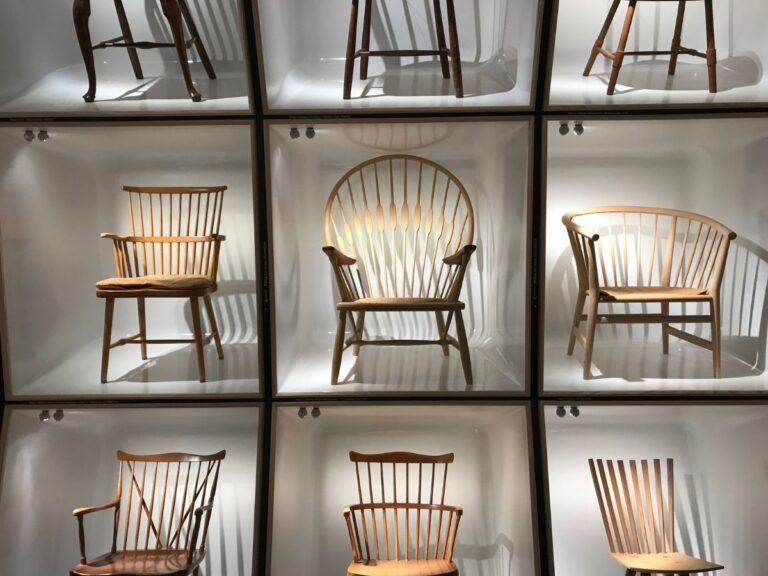 The Peacock Chair came in 1947 and the Wishbone Chair and Round Chair both came in 1949.
The 1950s brought us the much lover Papa Bear Chair and in the 1960s, the playful Ox Chair – with or without horns – and the beautiful Shell Chair that was admired by designers but hated by people who actually had to sit in it!
Other notable Danish designers
Kaare Klint is often referred to as the Father of modern Danish furniture design. His most notable piece is the Safari Chair. Inspired by the directors chairs of American movie productions, Klint set about making a stylish version for home use.
It features a wooden frame with fabric seat and back with leather straps for arms.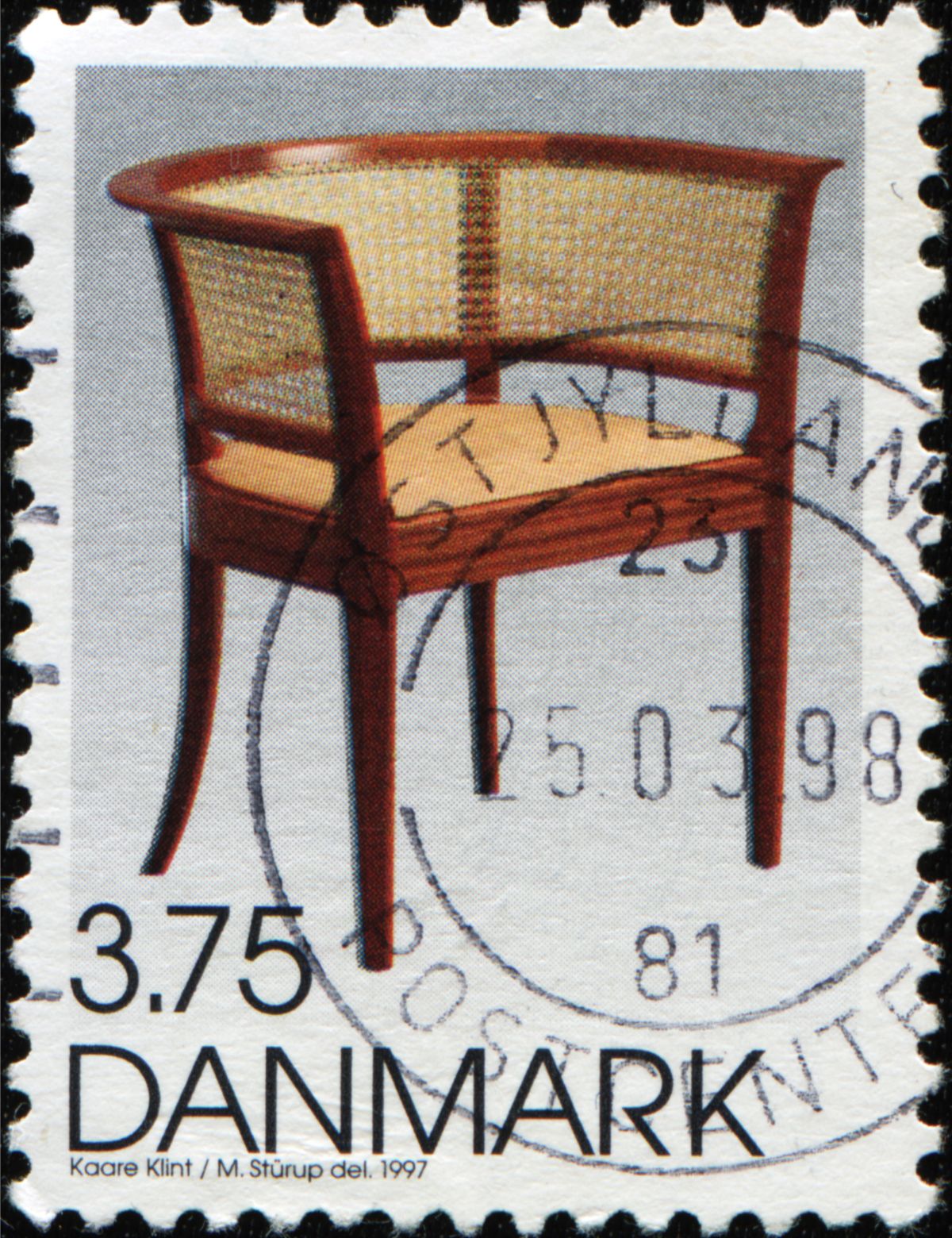 Coming a little later than the others, Verner Panton was a designer who is most notable for using plastic. The Panton Chair, his most enduring legacy, is a stackable chair moulded from a single piece of plastic – the first of its kind in the world.
Finn Juhl was known for pushing wood to its very limits. Creating curved wooden pieces, usually out of dark woods such as teak rather than the more popular oak, his major legacy is the Chieftain Chair. It features a curved wooden back, curved seat and curved arms, upholstered in leather.
A contemporary of Hans J. Wegner, Borge Mogensen actually employed his fellow designer for a time. The best example of his design is the Spanish Chair, a wooden armchair with saddle leather for the back and seat.
Nanna Ditzel studied under Klint and others in Copenhagen in the 1940s. She designed jewellery, textiles and cabinets but her best loved work is the Hanging Chair. Often known as the Hanging Egg Chair.
Not to be confused with Jacobsen's Egg Chair, the appearance is more like Henrik Thor-Larsen's Ovalia Egg Chair, best known as the chair Will Smith drags across the floor in Men in Black.
The Hanging Egg Chair is a self-contained chair hanging from a chair attached to a metal pole. It allows free movement with rotating and swinging motions.
Norway and Sweden
While it's true that the worldwide image of Scandinavian design comes mostly from Denmark, there are a couple of notable designers from Norway and Sweden to know about.
The biggest contributor to Scandinavian design to come from Norway was Ingmar Relling. Working primarily in wood with leather upholstery, the Siesta Chair is a design classic that has been seen around the world, including in the White House!
Other designs include the Orbit, a beautiful chair with a curved wooden base on two legs, with a sumptuous matching ottoman to rest your weary legs. The Daybed is a sofa with attached table that folds out to give a comfortable pillow that's perfect for a quick nap.
As one of the few female designers in the mid-century Scandinavian design scene, Sweden's Greta Magnusson-Grossman did more than most to popularise the concept around the world. After establishing herself as an architect and designer in Sweden, she moved to California in 1940 at the height of World War Two.
There, Great opened a studio on Rodeo Drive, selling premium Scandinavian furniture and homewares to the rich and famous in Beverly Hills. Alongside this, she designed fourteen houses in Los Angeles, earning a reputation for making the most of 'difficult' plots that were oddly shaped, small or in awkward places like halfway up a hill!
Greta's most enduring legacy can actually be seen in the design of lamps. Most notably, the Cobra Desk Lamp and the Grasshopper Floor Lamp. The desk lamp featured an adjustable neck that has been copied in thousands of lamps since and the floor lamp has a thin, minimalist design to allow it to fit in the tightest of spaces.
Alvar Aalto
Moving slightly away from Scandinavia, there are several Finnish designers whose work embodies the principles developed in Denmark, Sweden and Norway.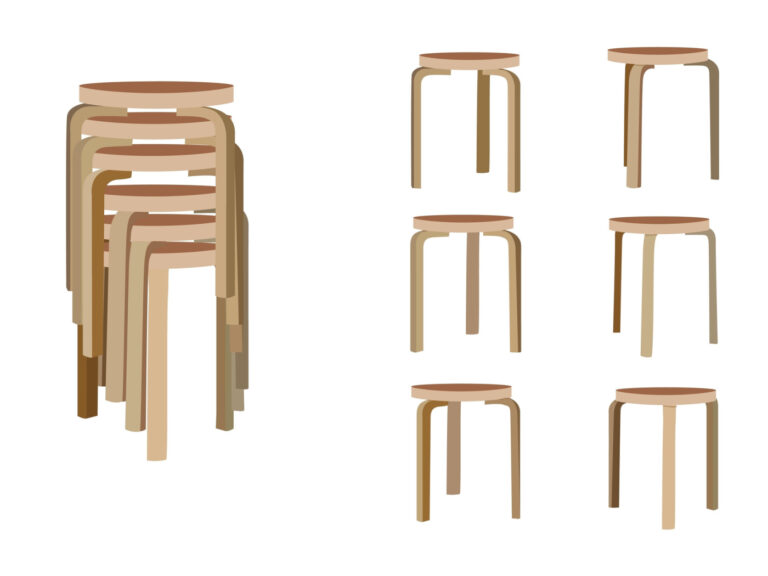 Born in the late 19th Century Alvar Aalto was one of the first Finnish designers. Also working as an architect, and including textiles and glassware, he is best remembered for two pieces.
The Model 60 Stool is a stacking stool from 1933 that is still in production today. It was originally designed for the Viipuri Library in Vyborg as a relatively cheap stool that could be stacked neatly when not needed.
Experimenting with bending wood, Alvar created a stool that required no joinery and so could be mass produced easily. With bent legs and seats in a variety of colours, the stools look as beautiful stacked as they do in use.
They can be seen the world over in Apple Stores where, along with his similar High Stool they provide seating for customers.
One other notable contribution to design is the Aalto Vase. Using rippled sides round an oddly shaped base, the vase cleverly evokes the shape of waves on the water, as a nod to the water inside.
Eero Saarinen
Possibly the most famous designer on the list to many Americans, Eero Saarinen is maybe best known as the designer of the Gateway Arch in St Louis and the main terminal at Washington Dulles International Airport. Born in Finland, Eero moved to the US with his family at the age of 13.
In furniture Eero designed the Tulip Chair. Instantly recognisable with its round base, thin stem and red upholstery, the design was one of a long line of collaborations with the American office furniture manufacturer Knoll.
This chair gave rise to the 'Pedestal Group' of similar furniture including a stool, side chairs, arm chairs and a range of tables.
Eero Arnio
Similar to Verner Panton of Denmark, Eero Arnio worked primarily in plastics. In the 1960s he produced the Ball Chair, a more rounded version of the Ovalia Egg Chair and then later produced the Bubble Chair, which was a similar chair but suspended from the ceiling.
Because of their avant garde nature, his works were often included in science-fiction films in the 1960s and 70s. Another notable design was the Pastil Chair, designed to mimic the appearance of a beanbag but moulded out of a single piece of plastic.
His Tomato Chair is moulded to look like three spheres, with a space cutout to form a seat, like a clump of tomatoes. Finally, unsurprisingly, his Screw Table was designed to look like a large screw that had been driven into the ground.
Many of these iconic furniture designs from Scandinavia are available to view in museums. MOMA in New York has an extensive collection of furniture designs and similar museums in cities around the world also showcase design excellence.
Do you own any of these iconic pieces of furniture? If not, which one would you most like to see in your home? Let us know in the comments below.