The extreme weather event in Norway has caused the evacuation of thousands of people due to flooding, while travel continues to be disrupted. Here's what you need to know.
The rain may be over but parts of Norway are still grappling with the aftermath of some of the strongest rainfall in living memory. River levels are expected to rise in the days to come, leading to even worse flooding.
Parts of rural Eastern and Southern Norway have been hit by extreme rainfall, swelling rivers to their highest levels in 50 years. Many landslides have been reported, some cutting off road and rail links.
Important infrastructure damaged
Both flooding and landslides have damaged important infrastructure. The main E6 highway between Oslo and Trondheim is closed, while the rail link is also closed.
In Hemsedal, onlookers captured on film the moment a temporary building washed into the river struck a bridge:
Thousands of people have already been evacuated, with more still at risk. Insurance company Gjensidige said on Tuesday that damage will total at least NOK 200 million, but that number is set to rise substantially given what has happened since.
"Red level" extended
Earlier this week, Norwegian authorities issued a severe weather warning for much of Eastern Norway. Even though the rain has now stopped, that warning was extended as floods and landslides began to strike throughout the vast region.
The official flood warning remains at the red level until Saturday, although the risk of more landslides has now dropped.
Norway's prime minister Jonas Gahr Støre has said the next few days are "critical" as river levels are closely monitored and travel infrastructure including rail lines and bridges continue to fail.
Many roads and rail lines are closed due to bridge collapses or flooding. Airlines Norwegian and SAS have put on extra departures between Oslo and Bergen and Oslo and Trondheim.
Town evacuations
Almost 2,000 locals have been evacuated from Hønefoss due to the rapid water level rise of the town's main river, Storelva. Leaders in the small town, which is less than a one-hour drive from Oslo, have described the incident as a "50-year-flood."
The municipality crisis team ordered residents in danger areas near the river to leave as soon as possible. "The police have said that people must be evacuated. It is not voluntary," said municipal director Tore Isaksen to NRK.
Shortly after the order, water began to flood the area. Water levels may still rise, and NVE has warned the risk of landslides is now increasing.
Such is the water level running through the power station at the Hellefossen water level in Øvre Eiker, upstream of Drammen, that authorities are going house to house to evacuate 80 households in Hokksund.
A representative from the Norwegian Water Resources and Energy Directorate (NVE) said the situation in the Drammen area is "critical."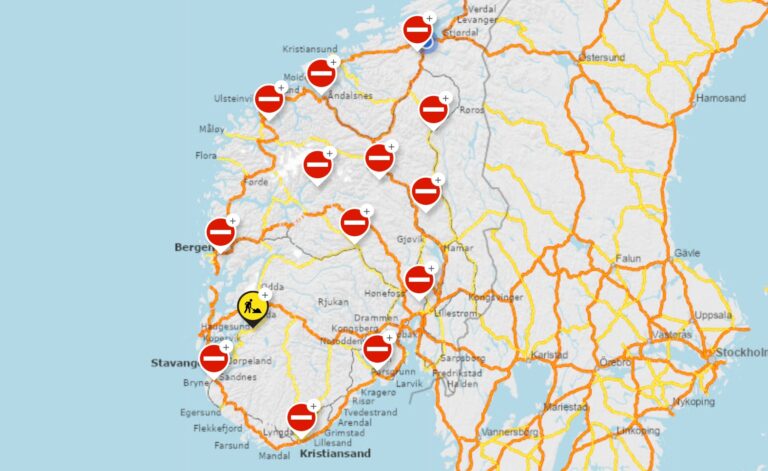 On Friday morning, an airspace closure has been announced above the areas of Hønefoss and Drammen. This also applies to drones. The reason is to protect emergency personnel, according to Police.
A further 2,000 residents have been evacuated from Ål, Hol, Nesbyen, and parts of Innlandet county due to floods and landslides.
Travel disruption
All trains on the Oslo to Bergen line, Oslo to Trondheim line, the Røros line and the Rauma Railway have been at a standstill for several days.
Some local commuter trains in and around the Oslo region were also impacted, including the Gjøvik line and trains to and from the main Oslo Airport. Bane NOR maintains a current status of the rail lines.
The advice for drivers travelling in the affected areas is simple–leave your car at home if at all possible. All main roads between Oslo and Trondheim are closed, while many roads in rural areas are closed.
Airlines Norwegian and SAS have put on extra departures between the capital and Bergen and Trondheim in order to help people move around the country. Norwegian reported the additional departures sold out quickly, and have promised additional flights over the coming days.
Although flights have been largely unaffected, passengers have faced a major challenge getting to the airport on time due to the railway closure. Extra bus transport was laid on from Oslo S, but passengers have reported chaotic queues.