This small passenger ferry has been an integral part of public transport in Kristiansund for almost 150 years. Here's what you need to know about Sundbåten.
Kristiansund's location spread over a handful of islands gives it a spectacular setting, but it makes getting around the town a challenge unless you have a car. There are buses, but it's the small passenger ferry known as Sundbåten that's loved by tourists and locals alike.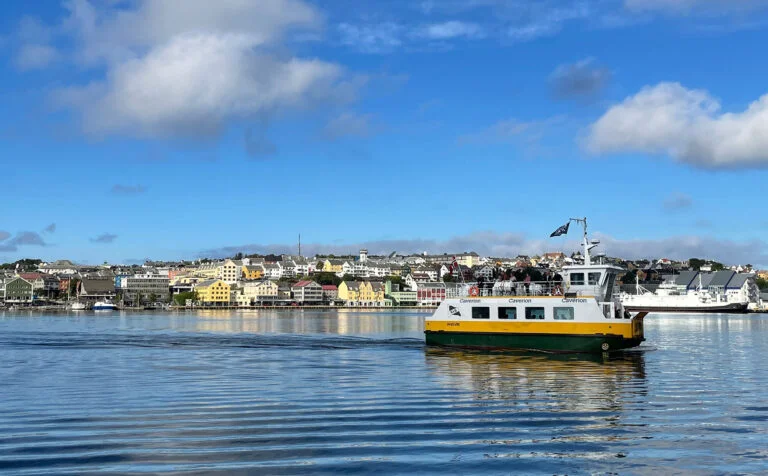 Since 1876, the small passenger ferry service has shuttled people around Kristiansund. It claims to be one of the world's oldest public transit systems and has carried more than 130 million passengers.
The service has changed many times over the years, but at present it's totally free and runs throughout the day on weekdays and Saturdays.
This means it's also a great choice for a quick roundtrip boat tour of Kristiansund. In fact, a return trip from the main stop on Kirkelandet takes less than 20 minutes.
Watch the video
On my recent trip to Kristiansund, I made this quick video to introduce the ferry. Enjoy!
Now that you've watched that, read on for all the details about Kristiansund's Sundbåten.
How to take Sundbåten
To board the boat, you simply walk on! Of course, you should let people leave the ferry before boarding.
There are two different boats operating the route and both can carry approximately 50 people. That may not sound like much, but there's usually plenty of space.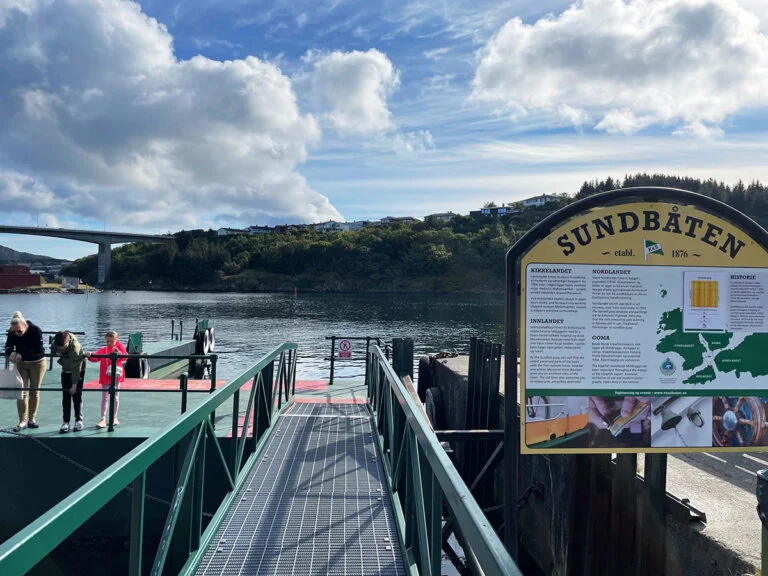 There's no charge during 2022, so there are no ticket checks. That might change in future years, so check in advance on the website or on the signs at the stops in advance if you're reading this in the future.
Generally speaking, you can expect a boat every 20-30 minutes. Timetables are available online.
Bear in mind that this service does not run 24/7. In fact, it stops relatively early in the evenings, around 5pm. It runs a slightly reduced service on Saturdays, and does not run at all on Sundays.
Where to take Sundbåten
There are four stops served by the ferry. Sundbåten travels between the four in an anti-clockwise direction.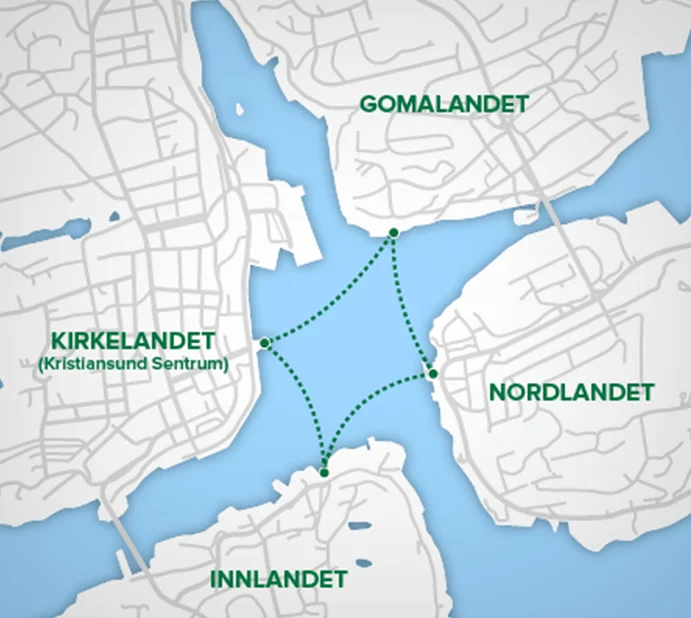 The main stop, Kirkelandet, is right by Kristiansund's town centre and the one you'll likely use if you're staying in town. Kirkelandet Church is located here.
Hotels including the Comfort Hotel Fosna, Quality Hotel Grand, Scandic Hotel and Thon Hotel Storgata are just a few minutes walk away, as is the express ferry to Trondheim.
The next stop, Innlandet is ideal for people staying at the Thon Hotel Kristiansund. The island is also home to several scenic spots, historic landmarks, a couple of cafes and a rocky beach at Skjærva.
Next up is Nordlandet. If you're doing an island hop tour, the obvious place to head is up a short hill to the Nordlandet Church. From here, you'll get a great view back across the water to the town centre. Also look out for Kristiansund's Hollywood-style sign in the hills as you approach.
Before returning to Kirkelandet, the boat makes one more stop at Gomalandet. This is actually on the same island as Kirkelandet, but is on the other side of a large inlet. While the ferry takes just a couple minutes, it would take about 35 minutes to walk. Of interest to tourists here is the Norwegian Clipfish Museum, open during the summer in a former fish warehouse.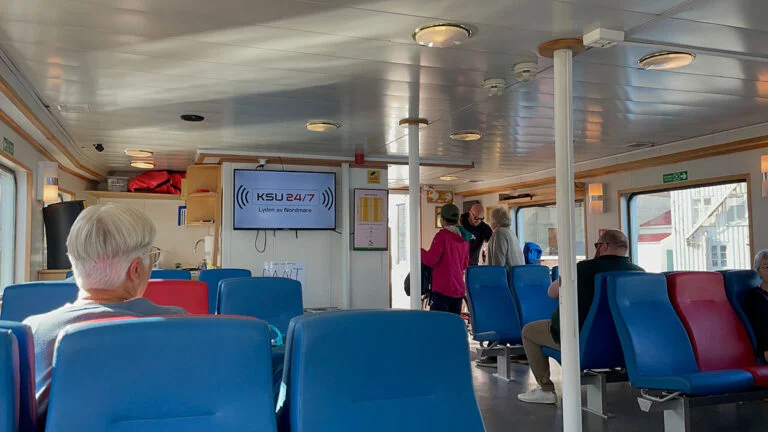 From Goma, the boat returns to Innlandet. Note that the boat always runs in this direction and it doesn't immediately leave Kirkelandet. So if you want to travel from Gomalandet to Innlandet, the boat will wait maybe 5-15 minutes at Kirkelandet before beginning its route again.
On the boat
There are few facilities on the boat, but that's exactly to be expected for a journey of just of a few minutes! There is covered seating inside the ferry, and steps up to a sun deck if you prefer to stand and take in the view.
A toilet is available and I did also see a small coffee machine, although I have no idea if it was working or available for use. Lifejackets for adults, children and babies are available by the entrance and also up on the sun deck.
The history of Sundbåten
The need for transport between the city's islands has always been great. Many people owned their own rowing boat. As the town's population increased in the 19th century, "ferrymen" began to transport people and goods across the straits.
Eventually the municiaplity began to employ such ferrymen but the need for a better solution was great. In November 1876, a new company launched bigger boats which locals quickly called 'the strait boat', or Sundbåten. The name stuck, and a great legacy was born!
While the service suffered great financial difficulties during the First World War, it was a different story in World War Two. Kristiansund was heavily bombed and sunk boats prevented many boats from accessing the town. During 1943-44, Sundbåten transported 2.6 million passengers, which remains a record to this day.
There had long been a small charge to use Sundbåten. In 2017 the city decided to make the boat free on Saturdays, a measure that proved extremely popular.
Since September 2019, Sundbåten has been free for passengers with the support of regional development funding.