Kristiansund is a small Norwegian town with a wonderful coastal location in the northern part of Norway's western fjords region. Here's everything you need to know about the town.
If you've ever taken the Hurtigruten coastal cruise of Norway, or driven to the Atlantic Road, you'll likely have called in to Kristiansund. This functional town with a picturesque location is also an increasingly popular stop for cruise ships.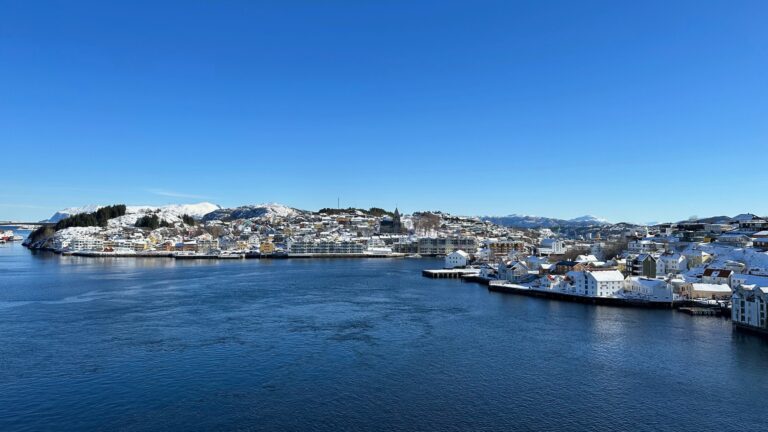 But what is there to do in the town? Thanks in part to the direct fast ferry service from Trondheim, I've visited the town several times. I've been to a football match, visited the museum, and also visited the town through the eyes of cruise ship passengers.
Read on to discover my highlights video, followed by my recommendations for things to do in Kristiansund.
Kristiansund basics
Not to be confused with the similarly-spelled Kristiansand at the southern tip of Norway, Kristiansund is a smaller town along Norway's lengthy western coastline.
Built on several islands and surrounded by water on all sides, Kristiansund is a waypoint for tourists driving towards the Atlantic Road but is worthy of a longer stay for those interested in coastal culture.
This map helps you identify the location of Kristiansund in relation to the Atlantic Road, Molde, and Trondheim. If you zoom in on Kristiansund itself, you'll see the islands on which the town has been built.
It's also easy to spot both the Atlantic Ocean Tunnel and the Atlantic Road. Speaking of which, let's start with the area's biggest draw.
Trip to the Atlantic Road
With stunning scenery and the remarkable bridges, the Atlantic Road is one of Norway's most famous road trips. And rightly so.
The mesmerising five-mile stretch of Norway's route 64 has featured in TV shows, movies and adverts many times since its opening in 1989, including James Bond's No Time To Die.
It's a wonderful experience to drive, but it's fantastic for passengers too, especially if you allow time to explore the area. There are several parking points along the road that lead to footpaths, providing a new perspective on the road and surroundings.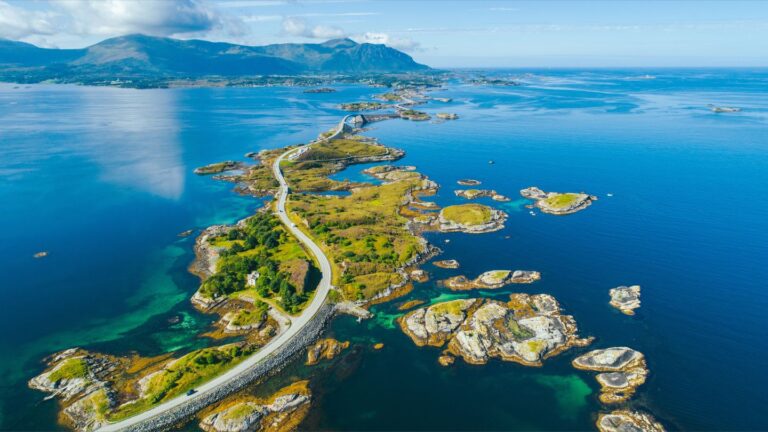 Kristiansund makes a fantastic base for those planning on making the trip. Drivers basing themselves in the town will travel through the impressive Atlantic Ocean Tunnel on the way to Averøy island, from where the Atlantic Road begins.
From Kristiansund, it takes about 30-40 minutes to reach the beginning of the Atlantic Road. The road itself isn't very long, but that just means there's plenty of time to drive the road in both directions, and pull over to explore each of the rest areas.
If you are planning a full day of driving, consider continuing on to Molde. If you do, allow time for a small detour to the picturesque fishing village, Bud.
Things to do in Kristiansund
But what about the town itself? You may just plan your stay in Kristiansund simply for a place to rest your head at night, but there's plenty to do in the daytime too.
Tour on the historic passenger ferry
Given its location on several islands, getting around Kristiansund without a car would be tiresome. Since 1876, the small passenger ferry service Sundbåten has shuttled locals and visitors between the islands.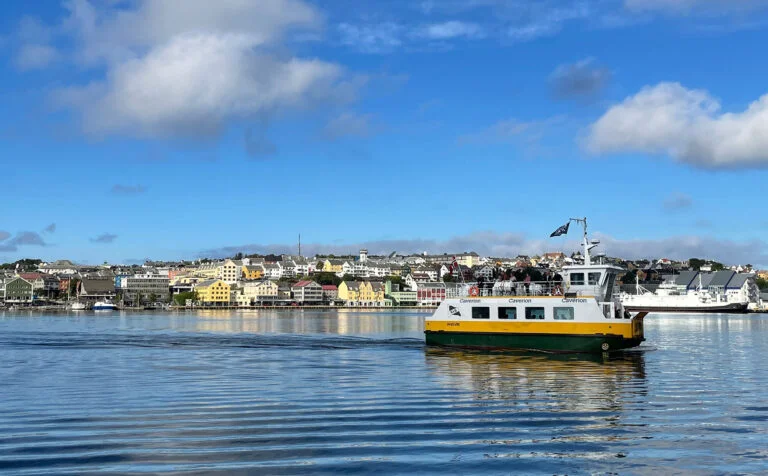 It claims to be one of the world's oldest public transit systems. The service has changed many times over the years, but at present it's totally free and runs throughout the day on weekdays and Saturdays.
This means it's also a great choice for a quick tour of the city on the water. A return trip from the main stop on Kirkelandet—without getting off at any of the stops—usually takes less than 20 minutes.
Visit Kirkelandet church
Known as Norway's first "modern" church, the architecture of Kristiansund's Kirkelandet church divides opinion. Were it not for the large cross standing outside the church, most people would assume this was an office building.
Personally, I'm not a fan. But, step inside and you see a different side of the church. The back wall—which looks even uglier than the front from the outside—is filled with small, stained-glass windows that provide a fantastic effect once you're inside.
Walk to Varden watchtower
It's only 255 feet above sea level, yet the former watchtower Varden provides a fantastic panoramic view of the city, mountains and surrounding islands.
The tower is a popular spot with local hikers and dog-walkers and is free to enter, open year-round. Only a 25-minute walk from downtown, Varden is a terrific spot to get a great perspective on the coastal environment of Kristiansund.
A surprise to many visitors from outside the town is the wonderful range of artwork and historic photographs inside. From the top, maps outline the mountains you can see through each window while free binoculars let you take a closer look.
Guided tour to Grip
More than seven miles out to sea, the island of Grip was once a thriving fishing community home to more than 100 people. Today, there are no permanent inhabitants but the island remains a popular tourist destination with overnight stays possible.
Highlights include Grip lighthouse—the second tallest lighthouse in Norway—and a fantastic example of a Norwegian stave church. Dating from the 15th century, it's believed to be the only building that has survived throughout its life on this exposed island.
The only realistic way for tourists to get to Grip is via the 3.5-hour roundtrip Gripruta tour, which includes entry to the stave church and a local guide.
Wander the shipbuilding museum
Across the bay, Mellemværftet is a shipyard turned shipbuilding museum. The historic shipyard from the last days of sail is open every day with free entry. Guided tours are available for a fee, but for me, simply wandering through the shipyard is enough.
Discover the history of klippfisk
Kristiansund is famous for klippfisk (clipfish), split and salted cod traditionally dried on rocks by the sea. Built by a Scotsman in 1749, a former fishing warehouse once home to 150 workers is now the Norwegian Clipfish Museum.
The smell of the former fish production is still very much present inside the museum, which is only open during the summer season.
No visit to Kristiansund is complete without paying a visit to Klippfiskkjerringa, a sculpture remembering the women who worked on the clipfish cliffs. You'll find the sculpture by the passenger ferry quay in the centre of town.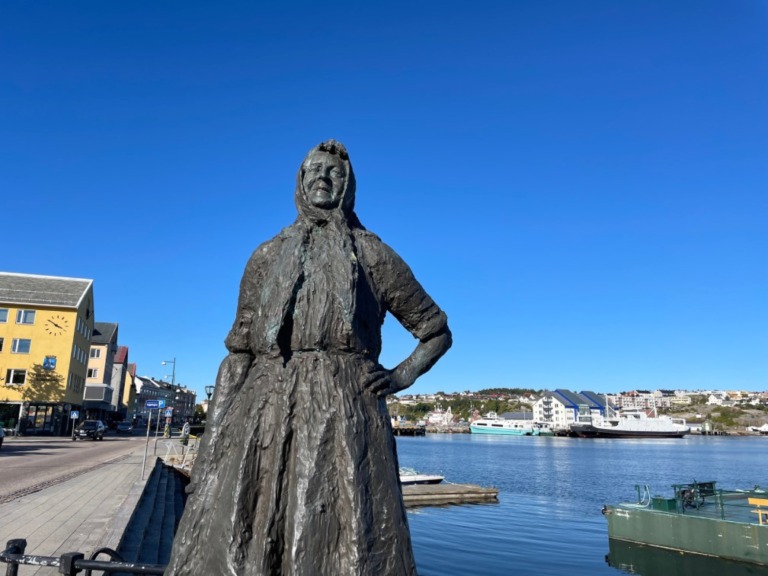 Hotels in Kristiansund: Where to stay
I've stayed in Kristiansund overnight just once, at the Scandic Hotel Kristiansund. Although the decor is dated, the hotel is a comfortable place to stay downtown. There's also a sauna with a view, so plus points for that.
Other places to stay in Kristiansund include the Comfort Hotel, Quality Hotel, and the Thon Hotel. The latter is located on Innlandet, so you'll ideally need a car to stay here, although you can of course use the local bus or passenger ferry to downtown.
Where to eat and drink in Kristiansund
Fish unsurprisingly dominates the restaurant scene in Kristiansund. Smia, Bryggekanten and Kranaskjæret are all popualar choices but none are especially cheap.
For an authentic local meal that won't smash your budget, the fish and chips (known locally as 'fishan') from the semi-permanent food truck Svensson Chips is hard to beat for value.
If fish isn't your thing, Cinammon next to the Scandic Hotel offers fantastic Indian food with modern touches. Order online to takeout and enjoy back at your hotel if you prefer.
How to get to Kristiansund
Kristiansund is a stop on the Norwegian coastal ferry run by Hurtigruten and Havila, so there are daily stops here in both directions. There is also a fast ferry from Trondheim that stops at some of the islands along the way.
By car, Kristiansund is a long way from everywhere unless you're doing a fjords road trip. From Oslo, you'll need to drive most of the way to Trondheim before turning off at Dombås or Oppdal. Allow a full day for the drive.
There is also, of course, the option to travel by air. Kristiansund Airport Kvernberget is a small local airport that typically offers just one or two daily flights to/from Oslo from SAS. There are also a handful of Widerøe flights to/from Bergen.
Have you ever been to Kristiansund? Let us know your experiences in the comments below. And if you enjoyed this post, please consider sharing it on Facebook or Pinterest so others can discover and enjoy it too. Thanks!