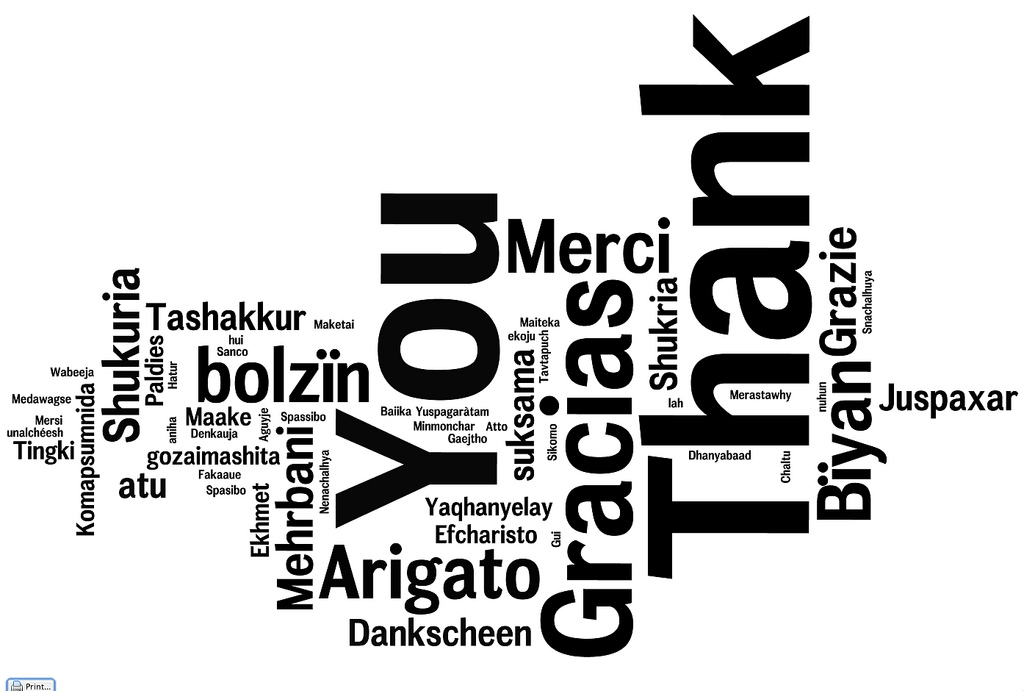 In my last contribution, we looked at how to not say "please" in Norwegian.  You may have gotten the impression (probably because I gave it to you) that Norwegians are rude queue-jumpers who constantly ask you to buy them beer without ever saying please.
Now that may or may not be always true, but there is one area of politeness where Norwegians exceed even the wildest dreams of bowler-hatted Brits: saying thank you. Norwegians say thank you all the time.  I can't decide whether it's a national pastime or some sort of endemic disease, but which-ever it is, I like it.
Thank you in Norwegian
In Norwegian, saying "thank you" is even easier than in English.  You just say takk. That's it.
No need for the "you", just say "thanks": takk. Make sure to pronounce the a short, and the k long, because fint, takk means "fine, thanks", but fint tak means "nice roof" (that was my best joke – hope you liked it).
Of course, you can embellish upon this to get even more specific types of thank-yous.  These include super-secret Norwegian thank-yous which you MUST say at the appropriate times if you want to maintain to be accepted in society.  Let's take a look at some of these:
Norwegian
English literal
English interpretive
Takk for sist
Thanks for last
Thanks for the last time we met
Takk for maten
Thanks for the food
Thanks for the food
Takk for no
[Takk for nå]
Thanks for now
Thanks for what we just did (between people who are close)
Takk for laget
Thanks for the company
Thanks for the company
Takk for i dag
Thanks for today
See you tomorrow
Takk for innsatsen
Thanks for your effort
Good work
Tusen takk
A thousand thank-yous
Thanks very much
Some of these you may have heard before, and if you start noticing them, the sound waves will create a permanent tattoo in your inner ear, because they really are used that often.
Let's start from the bottom, and then jump around a bit in a confusing pattern.
The first time someone said the phrase tusen takk to me it was for handing them a spoon, something which may have been worthy of a single thank-you, but probably not a thousand.  I assumed this thanker was being patronising, giving me the sort of thanks reserved for saving a cat, or giving someone a bicycle for their birthday (one with gear and bullhorn-shaped handlebars), and was therefor being sarcastic.  However, tusen takk is actually used in a way that is much closer to "thanks a lot", or "thanks very much" – looks like that thanker wasn't such a uh… thanker after all.
When a simple thank you isn't enough!
A lot of these thank-yous are said at specific times or in specific circumstances, and are mandatory.  When you meet your Norwegian friend for the first time since spending time together, you are required to thank them for that time by saying takk for sist.  This shows that you appreciate the time you spent together.
If you're working for a Norwegian company, then at the end of the day, you'll probably hear a lot of people letting off a round of takk for i dag randomly around the office, indiscriminately assaulting co-workers with politeness.  It's a really nice way of saying "I'm going home, suckers" (actually, you're saying thanks for all the little things your co-workers did for you today).  Another commonly heard thank-you at work is takk for innsatsen, meaning "good work", usually at the end of a difficult or long day, or a special effort to get something done.
If you're invited to a friend's house for dinner, then you should use a napkin.  What?  This is about thank-yous is it?  Alright, you must say takk for maten once you've finished eating, to show that you appreciate the time and/or money put in to making/ordering in the food.
If, after eating your friends your cooking, and inspecting their cat-rescue equipment, you decide it's time to go, then when you've got your wellingtons, waterproof-trousers, and heavy winter jacket on, and are half way out the door, you should say in a sort of sing-song voice takk for no!  Since, apart from the three-hour slide show of their trip to Agder, you had a good time, and want to thank your friend for this (if you're not interested in thanking your friends for anything, then leave after dessert – you've got what you came for).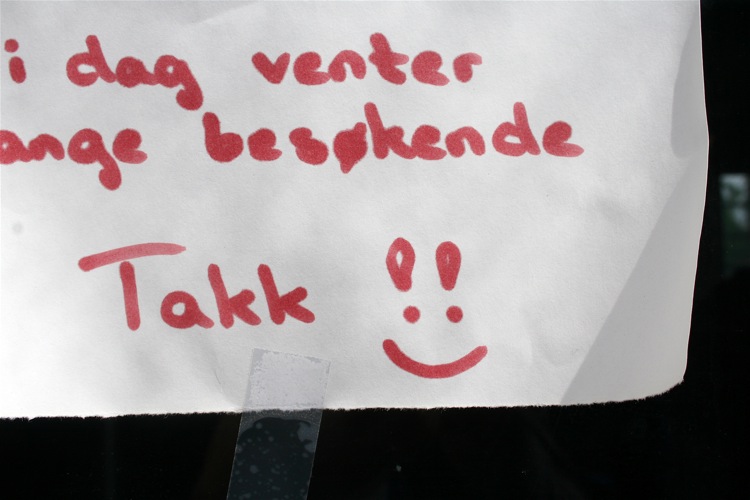 If you manage to use takk for laget, then your Norwegian friends will think you've been reading this blog, since it's only used quite rarely (it's the most secret of the Norwegian secret thank-yous).  You say it if you've spent a good deal of the day together, and want to say something lovely.  Again, you're telling the person that you appreciate that they're giving up some of their precious, precious time to sit around with you and eat ice cream/go to an antiques fair.
As with thank-yous in your own language, the most important thing in Norwegian is to be the one to say them first, because otherwise you'll look like you're just copying someone else, and will not get the full politeness-credit.  If you're not quick enough, then, in a one-on-one situation, you can reinstate your position in the politeness hierarchy by saying berre hyggeleg [bare hyggelig] – "don't mention it".
This list is not exhaustive (although making it was exhausting), so keep your ears out for other exciting(?) things Norwegians say thanks for. Speaking of saying thanks, this article did take up quite a bit of my time, and there is a comment section, you know…