Sarpsborg is an industrial town with a pleasant central area. Here are some recommended things to do in Sarpsborg, Norway.
I recently found myself heading to Sarpsborg for a weekend, with just a couple of hours planned out. Sarpsborg isn't exactly known for its tourist attractions, so I wondered how I would fill the time.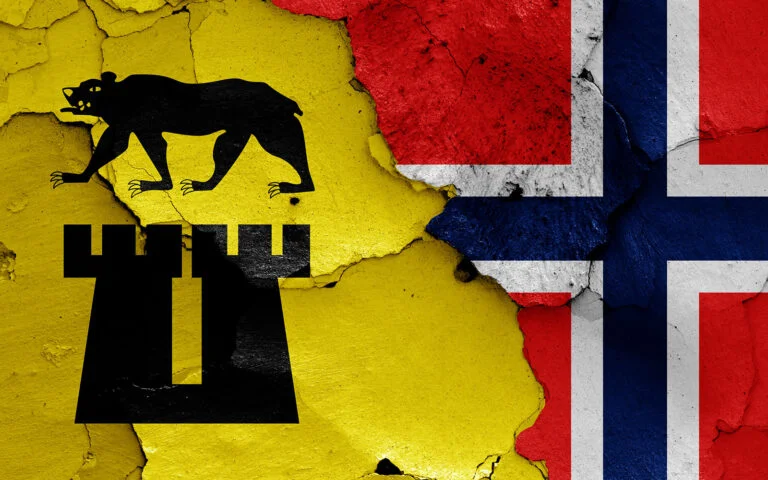 Having never been to the city before, I didn't know what to expect. I have to say all I knew about the city before my trip was that it was near Fredrikstad! As it turned out, there was enough to keep me occupied for a full weekend.
If you're heading to Sarpsborg for business or just looking for a different kind of day trip from Oslo, here's what I learned about the city.
An introduction to Sarpsborg, Norway
The city was founded as 'Borg' by the Viking King Olav Haraldsson in 1016. It was burned to the ground by 16th-century Swedish invaders, when much of the population was evacuated to nearby Fredrikstad.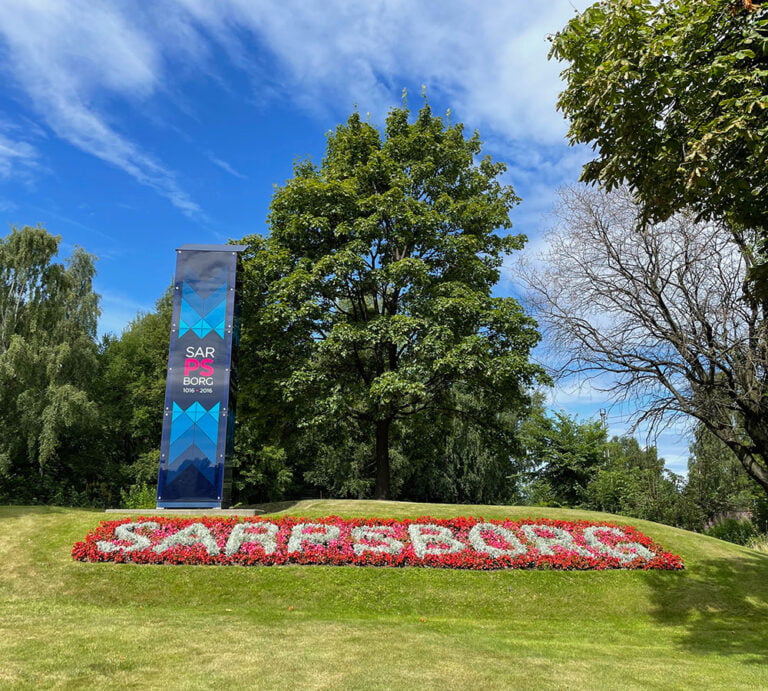 Tragedy struck again in 1702 as much of the rebuilt town disappeared once again, this time into the River Glomma following a mudslide. Today, about 55,000 people live in Sarpsborg municipality.
Borregaard ASA has long been the most important industrial player in the region. Originally a pulp and paper producer, the group today focuses on a bio refinery that manufactures products based on wood.
Best things to do in Sarpsborg
While not exactly overflowing with attractions, there are some interesting things to do in and around Sarpsborg.
Sarp Falls: This powerful regulated waterfall on the edge of Sarpsborg has long been harnessed for its energy. That's because Sarp Falls is one of the most powerful such waterfalls in Europe.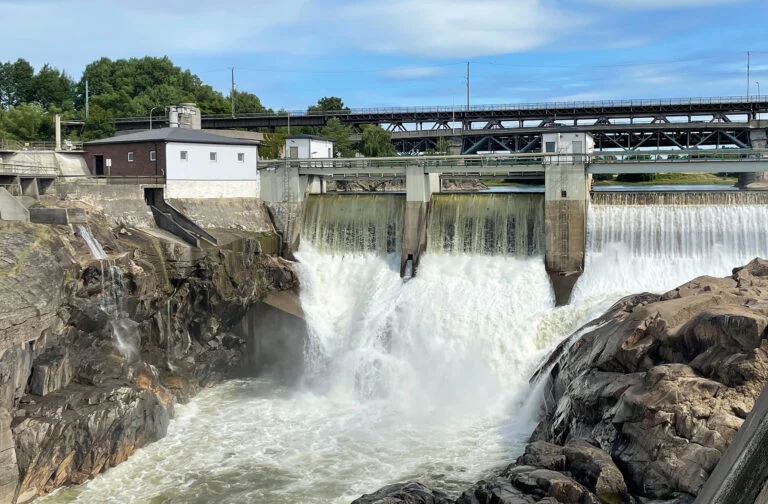 A viewing platform gives visitors an elevated view of the flow, while the riverside walk to get there is dotted with sites of historical interest. It takes about 25 minutes to walk there from downtown.
Explore Kulås park: This vast public park in the centre of Sarpsborg is well worth exploring. A small stage and outdoor amphitheatre plays host to a range of cultural events from concerts to the national day celebrations on 17 May. There's space for 6,000 people at such events.
There are several footpaths through the park, taking visitors past several sculptures and through more forested areas.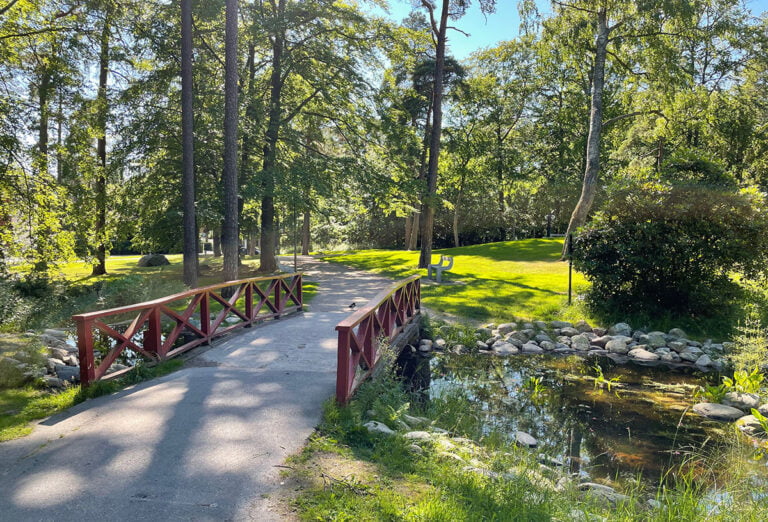 At the southern end of the park, a leafy residential street takes you down to the former manor house now events centre at Borregaard Hovedgård.
Other things to do in Sarpsborg
The compact city centre is easy to get about on foot. There are several other things to see and do depending on your interests. Orient yourself from the city square, home to the main shopping centre and plenty of space to sit and enjoy the sunshine–in the summer at least.
Public art and sculptures: It's not unusual to see public art in a city centre these days, but the oddity of the art in Sarpsborg was notable.
The weirdest was undoubtedly this giant silver head in a pond, located in the middle of a residential estate a few minutes walk from the city centre. I'm not sure how I'd feel about looking out over this every morning!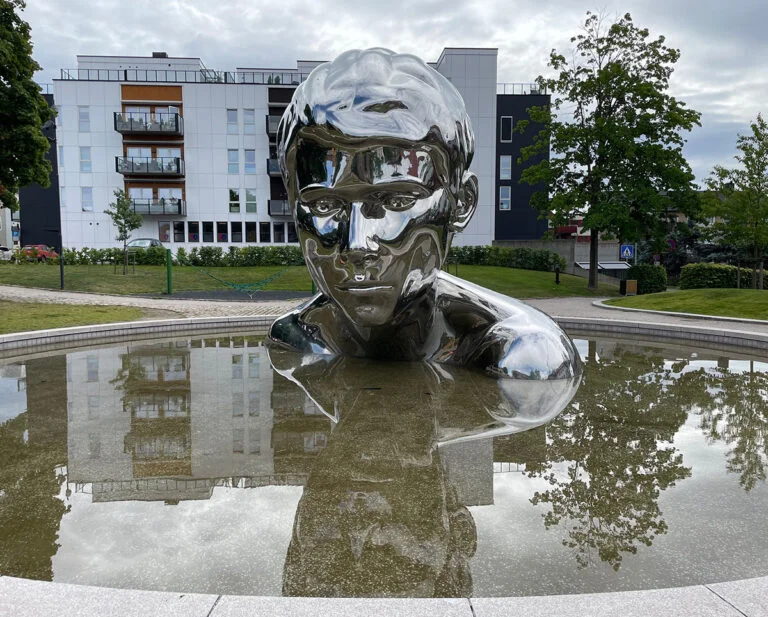 Other public art included a series of colourful oversized wooden deckchairs placed at various points around town. There's also various sculptures in Kulåsparken along with a golden bathing bear on Sankt Marie gate.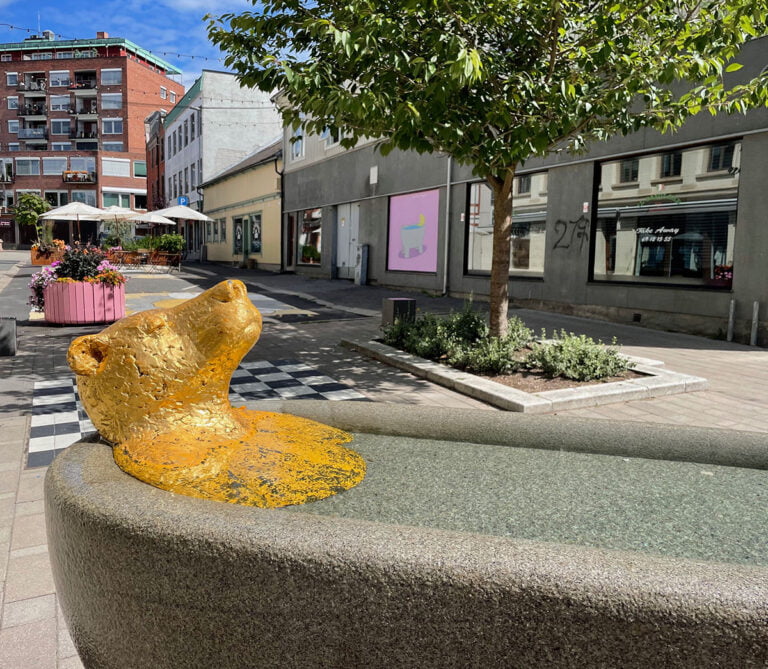 Inspiria Science Center: On the edge of Sarpsborg, Inspira is an educational centre for local schoolchildren throughout the week. But on weekends, it becomes a science-based adventure centre including a planetarium and outdoor bike park.
At the time of writing, the Dinosauria exhibition presents 20 life-size dinosaur models including the iconic species Tyrannosaurus Rex and Stegosaurus.
Superland: Next to Inspira, the indoor swimming centre Superland is a family-friendly swimming pool with slides and other attractions. It's owned and co-located by the Quality Hotel, so consider staying there if you want to spend the day here.
Shopping: Open since 1999, the Storbyen shopping mall is the best place for shopping in the city centre. Anchored by a Meny supermarket, the centre contains 70 shops and restaurants.
A few miles out of the city centre by the main E6 highway lies AMFI Borg, another shopping centre of similar size, with some additional supermarkets nearby.
Watch a football game: Formed in 2008 by the merger of several local clubs, Sarpsborg 08 play in Norway's Eliteserien, the top level of Norwegian football.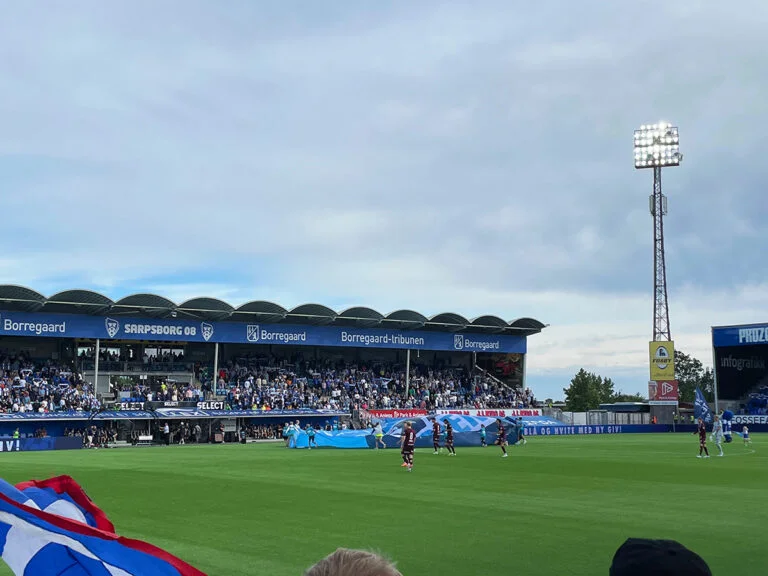 The team is based at the 8,000-capacity Sarpsborg Stadion and games usually take place on Sundays. Attendances are typically about half that, so it shouldn't be a problem to get a ticket for most games.
Watch an ice hockey game: Sparta Sarpsborg play at the top level of Norwegian ice hockey. They are based at Sparta Amfi, Norway's oldest ice hockey stadium.
Where to stay in Sarpsborg
There are a handful of hotels in the central area. Scandic Sarpsborg Hotel is based in the same building as the Storbyen shopping centre and bus station. The nearby Hotel 1016 Olav Digre is another budget option.
If you are planning on attending the Inspira Science Centre or Superland, consider staying at the Quality Hotel. Located by both attractions by the E6 highway, the hotel is really only suitable if you have your own transport, or aren't interested in going into the city centre.
How to get to Sarpsborg
Sarpsborg is on Norway's E6 highway, a 90km drive south of Oslo and just 30km from the Swedish border at Svinesund. Driving from either direction is straightforward.
By public transport, you have the option of the train or bus from Oslo. By train, Sarpsborg is about 1.5 hours from Oslo S. Look for the Vy train towards Halden.
If you prefer the bus, the journey from Oslo Bus Terminal by Vy Buss also takes around 1.5 hours. Booking either trip in advance saves money.