Discover the best places to stay at all price levels in Tromsø, the biggest city in Northern Norway.
Tromsø is the world's third biggest city north of the Arctic circle. It punches way above its weight in cultural attractions, and is one of the best places in Norway to see the northern lights.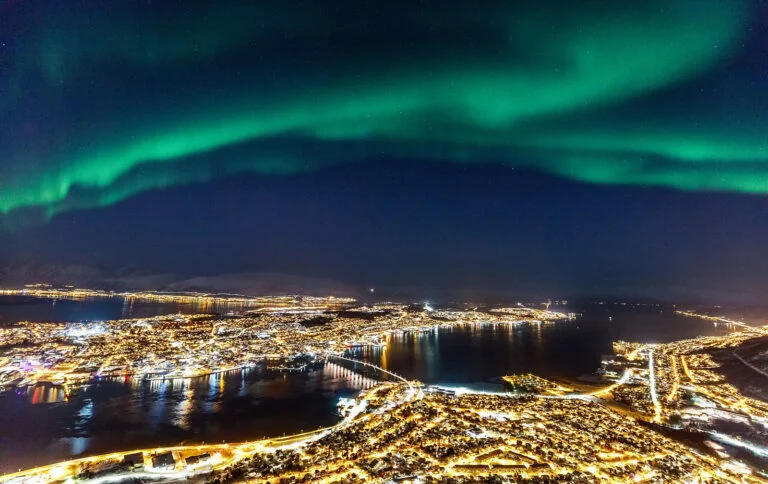 These factors have helped put Tromsø firmly onto the bucket list of many travellers visiting Norway. But like anywhere in Norway, visiting Tromsø can be an expensive experience.
No matter where you stay, accommodation will be one of the biggest chunks of your budget. Here are my recommendations of which Tromsø hotels will offer you the best value whether you're looking for basic and cheap, a true luxury experience, or something in between.
How to choose between Tromsø hotels
Of course, price is one of the biggest factors when it comes to choosing a Tromsø hotel. But it shouldn't be your only consideration.
For example, you might end up with a bargain if you pick purely on location. But if the hotel is a long walk from downtown, how much of a bargain is it really? You'll be faced with long walks through potentially bad weather or countless bus fares.
If you're visiting during winter, location is just as important as price. Also consider whether you get breakfast included, and if your room comes with tea/coffee facilities. If not, these costs can quickly add up.
Here are some recommend hotels in Tromsø for you to consider. When you use the Booking.com link, we will receive a small commission. This comes at no extra cost to you and helps keep the lights on here at Life in Norway HQ.
Waterfront hotels
I'll kick things off by looking at some of the accommodation available on the waterfront.
Scandic Ishavshotel
Known for its fantastic waterfront views and lavish breakfast buffet, Scandic Ishavshotel is arguably the best known hotel in the city. Many northern lights tours leave from directly outside the hotel.
Check out more information about the hotel here. Ready to book? You'll find great rates on Booking.com.
Note that there are two Tromsø hotels part of the same chain. Just a few minutes walk away, the Scandic Grand is not on the waterfront but the upper rooms still offer fantastic views.
Radisson Blu Tromsø
The entrance to the Radisson Blu Tromsø is directly opposite the Scandic Ishavshotel and provides easy access to the fun Rorbua pub. Many of the renovated rooms offer views across the water.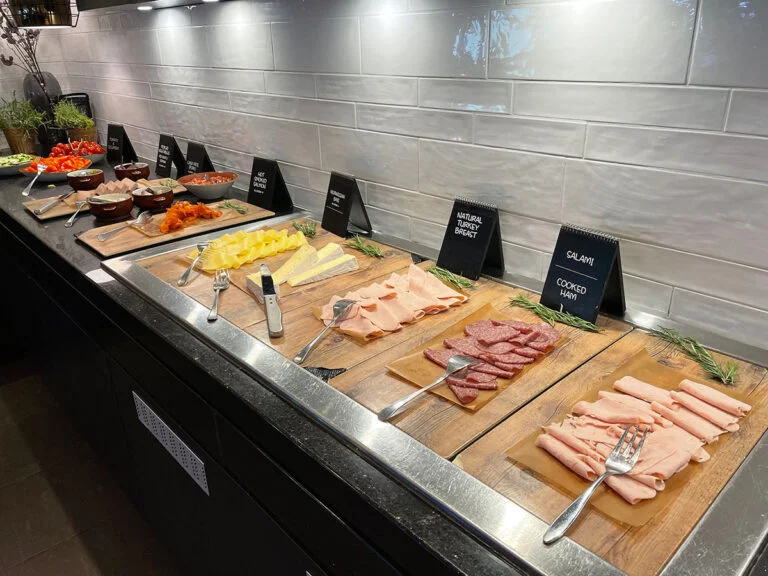 If budget is a concern but you want the reassurance of booking with a major hotel chain, check to see if there are any of the so-called cozy small rooms available. These are excellent value if you're travelling alone or for couples without too much luggage.
Ready to book? You'll find great rates on Booking.com.
Clarion hotels
There are three Tromsø hotels in the Clarion chain all located on the city's waterfront. Selecting between The Edge, With and Aurora is a difficult choice!
Of the three, I would suggest The Edge offers the best experience, whereas the With often has better deals. But you shouldn't be disappointed with any of the three options.
Budget hotels in Tromsø
Tromsø isn't the biggest of cities, but it does offer some cheaper options for accommodation. If all you're looking for is a bed for the night, check out some of these.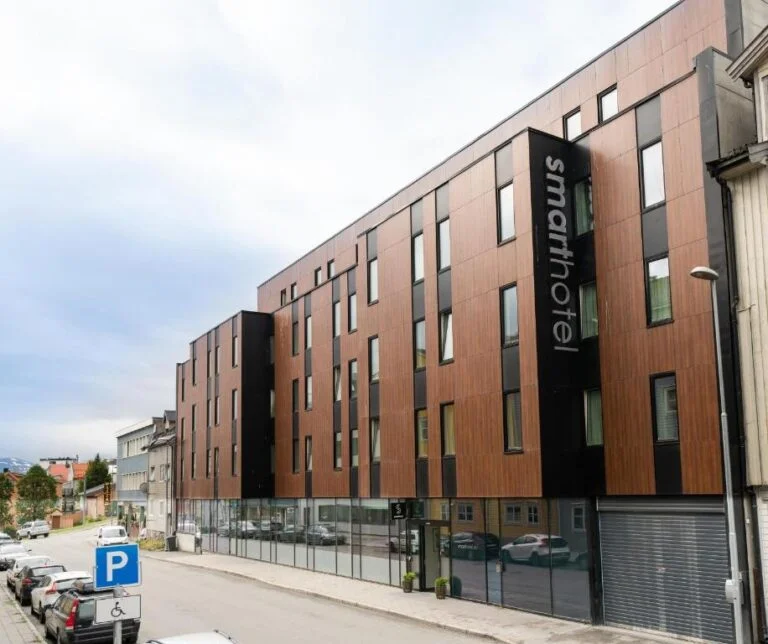 Smarthotel Tromsø
Since its opening in 2013, Smarthotel Tromsø has added some desperately needed budget accommodations to central Tromsø. The 160 rooms are tight, but all feature luxury Scandinavian beds, a work desk, and a private bathroom with shower.
The 24-hour reception doubles as a café serving light sandwiches, salads, and coffee throughout the day. However, the hotel isn't as cheap compared to the other hotels as when it first opened.
Check out more information about the hotel here. Ready to book? You'll find great rates on Booking.com.
Enter Viking Hotel & Apartments
Enter Tromsø offers various budget accommodation throughout Tromsø. I've previously stayed at the Viking Apartments.
While that was not a budget stay, the associated Enter Viking Hotel offers rooms that are usually a few hundred kroner cheaper than the waterfront hotels. I've also heard good things about the budget rooms at the Enter Amalie Hotel.
Comfort Hotel Xpress
Finally, if price is the most important factor for you, check the rates at the Comfort Hotel Xpress. Depending on the dates, this no-frills hotel often offers the lowest hotel rates in the city.
Just be aware that there's no restaurant, the hotel is cashless, and rooms are not cleaned daily. If you're interested, check out more information about the hotel here. Ready to book? You'll find great rates on Booking.com.
Airport hotels in Tromsø
Although a popular hub for regional traffic in northern Norway, Tromsø Airport remains relatively small. As such, there are no hotels at the airport itself.
The island of Tromsø is small and the bus trip to the airport takes no more than 15 minutes, and even quicker in a taxi.
This means that if you're facing an early departure or later arrival, there's no real need to worry too much about finding a hotel near the airport.