Tromsø is one of the most popular places in Norway to see the northern lights. But how can you maximise your chances of a sighting?
Recently, I welcomed some family visitors to Norway for the first time since you know what. They picked early March because they were keen to see the aurora borealis. So, after a couple days in Trondheim, I sent them north.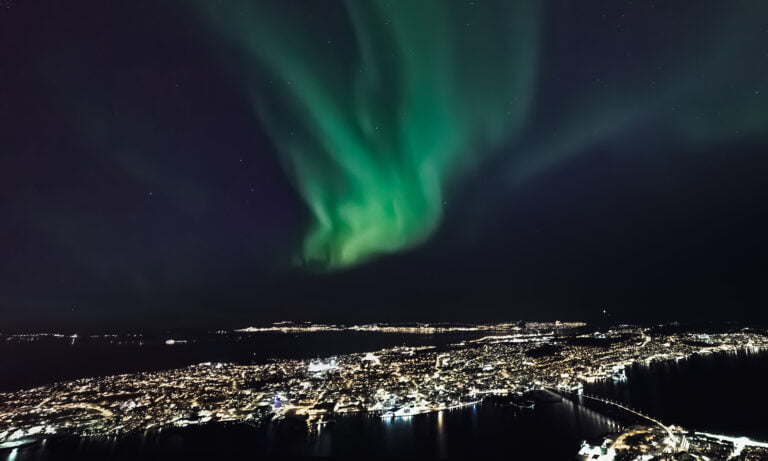 Tromsø was the first place I saw a decent northern lights display and the place I've seen them most often. It's always the first destination I suggest when someone asks me where they should go.
It's not necessarily the very best location possible. But it does combine great conditions for the lights with plenty to keep you busy in the daytime. I always feel a trip to Tromsø would be enjoyable even if the lights don't come out to play.
On their very first night in the city, they struck lucky. I was delighted to receive a text just before I went to sleep: "Just seen them, amazing! We are thrilled, been sitting up a mountain for hours!"
General northern lights advice
There's plenty of general advice on seeing the northern lights, including in this travel guide. But when it comes to hunting the aurora in a specific location, advice can change.
Some things are universal. For example, it must be dark, and the farther north you are, the better. September to April means dark skies at night in northern Norway.
Yet there are some specific things to bear in mind in Tromsø. So, if you're planning a trip north especially to see the northern lights, read on for my top tips.
Are northern lights forecasts relevant?
There are now many websites and apps claiming to forecast the northern lights. These are handy tools for those of us living farther south where a strong forecast is required to stand any chance of seeing the lights.
But in Tromsø, even a weak forecast can result in an enjoyable evening. The common KP metric is a prediction of the strength of an aurora display, and doesn't really give you must indication as to how likely you are to see one.
But in Tromsø, you are more or less always right underneath the aurora circle. That means that even with the weakest display, there's always a chance you'll see it, if you're patient enough and in the right place.
The forecast that matters more
In Tromsø, what matters far more is the weather forecast. In particular, the forecasted cloud cover. If thick cloud covers the sky, your chances of seeing the lights drop to zero.
That's why guided tours promise high success rates. If clouds cover Tromsø, they will drive for an hour or more to somewhere with clearer skies. Oftentimes this is far inland, sometimes as far as the Finnish border.
Of course, cloud cover is one of those pesky things that can change at relatively short notice. For example, my family were expecting cloudy skies on their first night. Earlier in the day, the forecast began to change. By the evening, the sky was completely clear.
Read more: What Causes the Northern Lights?
On clear nights, you might even see the lights from downtown Tromsø. So if you're wondering whether to book an aurora tour or hire a car, they are both good options if clouds are forecast above Tromsø itself.
If some cloud is forecast, then it's your call. Some light clouds can actually result in really cool photos if the lights do appear, but if the clouds thicken, you're set for disappointment.
Best northern lights locations in and around Tromsø
Ah, the magic question! As I said before, it's perfectly possible to see the northern lights from the city centre.
In fact, I've done so myself on both my winter visits to the city, including one time when I arrived back from a successful aurora tour!
Downtown Tromsø
The downtown area has one major advantage over heading out of the city and that is shelter. It is likely to be below freezing on winter evenings. If you're staying in and around the city, it's easy to warm up in your Tromsø hotel or in a bar while you wait for the lights.
But, the light from the city can mean it's harder to spot a weaker display. If you're coming all the way to Tromsø just to see the aurora, it makes sense to maximise your chances by leaving the city centre.
Other places in and around Tromsø
If you do venture out, you have to be prepared for a long wait in the cold. Dress warmly, including a thick hat, gloves, thick socks and a windproof outer layer as a minimum. Take a flask of coffee!
Prestvannet: This small lake at the highest point of Tromsø island is top of the list for most locals and visiting aurora chasers who don't want to leave the island. It's easy to reach by via a steep walk or on a local bus.
It's not completely dark up here but it's away from the worst of the city's light pollution. If you're interested in photography, you'll get much better shots up here.
Telegrafbukta: A popular beach on the southern tip of the island, Telegrafbukta is another top choice for locals. Again, it's reachable on foot or by the local bus service.
The open sea and distance from the city centre means it doesn't suffer from much artificial light pollution. If there is a good display to the west, south or east, you'll get a great view from here. A weaker display in the north can be a little harder to spot.
Other good places close to the city include the university campus and the ski arena towards the northern end of the island.
Many people also wonder about the cable car. However, while the view from the top can be spectacular, the cable car itself stops at 11pm and the cafe closes earlier at 9pm, so bear that in mind if you were planning a late night stay.
Best northern lights locations outside Tromsø
As mentioned earlier, the best location this far north is first and foremost where there is clear sky! This makes recommending specific locations outside the city difficult in advance of your trip.
However, good locations include beaches and other coastal areas with ocean views to maximise your view of the sky. Of course, somewhere away from artificial light gets you extra bonus points.
The beaches of Kvaløya–the large island west of Tromsø–are popular spots for drivers. Going in the other direction, many spots along the Lyngenfjord are ideal. Clearer skies are more common inland, but so are much lower temperatures.
Make the most of the winter
My final tip when visiting Tromsø in search of the northern lights is to not forget about all the other possibilities! Winter in Northern Norway means cross-country skiing, dog sledding, snowshoeing and many other fun activities.
There's also plenty of museums to keep you occupied if you want to be inside for a while. If the tricky lady decides not to grace you with her presence in the evening, you'll still leave with memories that will last a lifetime.